Debra Pressey: It's Your Business
It's Your Business | Clark-Lindsey Village expansion underway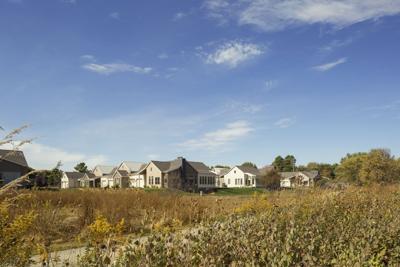 Clark-Lindsey Village in southeast Urbana has broken ground on the first phase of its four-phase expansion plans.
Phase one is bringing eight new independent living villas next to the current 16, according to the retirement community's director of marketing, Karen Blatzer.
The current villas are in four buildings, each with four units, and the next eight will be in two four-unit buildings, she said.
The newest villas will be 1,700-2,000 square feet, all on one level, with attached garages, Blatzer said.
They're also all pre-sold to people who were already on a waiting list for the units, she said.
Construction is projected to be completed by next summer, but that will depend on the weather, Blatzer said.
The first phase is also bringing an extension of the road running by the villas, which will continue through the Clark-Lindsey campus and end by the Greenhouse Homes, she said.
Coming in the next three phases will be a three-story apartment building with 38 assisted living and 22 memory care units and another three-story apartment building with 48 independent living luxury units.
Also included are an expansion of Clark-Lindsey's existing wellness center and a partial demolition of the nursing care facility with upgrades to one remaining wing, and a new grounds building.
For the holidays
Riggs Beer Co. at 1901 S. High Cross Road, U, is bringing back its German Christmas Market, last held in 2019.
It will be held for four weekends between Thanksgiving and Christmas, starting on Black Friday. Hours will be 4-8 p.m. on Thursdays and Fridays and 2-7 p.m. Saturdays and Sundays, said Caroline Riggs, one of the owners.
Plans so far call for vendors making crepes, potato pancakes and brats and craft vendors selling everything from Christmas wreaths, garlands and gift items to foods such as preserves and honey.
The market will be outdoors, though the taproom will be open, Riggs said.
And remember the glass Christmas tree that was on display on the 500 block of North Neil Street in Champaign last year? Glass artist Jason Mack will be building it on site at Riggs this year, beginning early next month, Riggs said.
You can come and sip hot spiced wine and watch the tree being built, she said. Ameren Illinois says it has funding available for small businesses and nonprofit organizations that have fallen behind on their electric bills.
The utility is making one-time economic hardship recovery program grants of up to $500 available through Oct. 31 or until the money is gone.
To be considered, businesses must have an active, non-residential account, 50 or fewer full-time employees, and a principal office in Illinois, the company said. Grants awarded will be applied to recipients' Ameren accounts.
Apply online or call the Ameren Illinois business center at 800-232-2477.
Home sales easing
Home sales in Champaign County were down 2.16 percent in September from the same month last year.
It was the first month sales declined after a 15-month span of year-over-year sales increases, according to the Champaign County Association of Realtors. Still, it was the second-most active September for home sales in 14 years, just behind 2020, according to realtors association President Stefanie Pratt.
There were 272 homes sold in the county in September, compared to 278 in September last year. But the number of days homes were on the market averaged 21 days last month, compared to 56 days for the same month last year, the group said.
The median home sales price in the county was $177,950 in September, down 1.14 percent from September 2020.