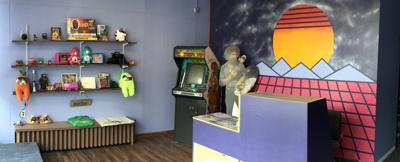 Has the pandemic got you wishing for a little escape from everyday life?
Adventure Arcade Escape Rooms has just opened its new permanent location in downtown Danville, at 20 E. North St.
The owners, Andrew Dudich and Racheal Anderson, had been offering mobile adventures for schools, parties and outdoor events, but when the pandemic began, they decided to take that time to start building a permanent location, Dudich said.
To start, they have one escape room — in which a group of people are given puzzles and tasks and work together for an hour to complete a story. Dudich said more rooms will be added.
Currently available for booking is "Escape from the 80s," described this way:
"You've just scored tickets to see your favorite band with your friends. All of the coolest kids will be there, but your lame mom grounded you for getting behind on schoolwork. There's got to be a way out of your bedroom without her knowing...
"Explore a classic 80s bedroom filled with nostalgia from a simpler time. Explore video games, secret codes and a pinball machine in your quest to meet up with your friends!"
To book a reservation to play: adventurearcadeescaperooms.com.
Owners honored
Richard and Lynn Yoerk, owners of the five Express Employment Professionals franchises in the area, have been named the company's franchisees of the year.
"Richard and Lynn's grit, determination and servant hearts have garnered tremendous respect in the communities they serve," said Bill Stoller, Express CEO. "They are an incredible team that inspires everyone they come in contact with."
The Yoerks started working for an Express office in Tualatin, Ore., then partnered with two other Express offices in Portland as franchisees before deciding to start franchises of their own, the company said
Today, the Yoerks have five franchises in Champaign, Danville, Rantoul, Urbana and Ottawa, Ill.
Oklahoma City, Okla.-based Express Employment Professionals, founded in 1983, is a staffing provider in the U.S., Canada, South Africa, Australia and New Zealand.
Now hiring
The new Burlington store under construction at 2006 N. Prospect Ave., C, is set to open in May, according to the company's website.
Want to work there? There's a sign on the building inviting you to text retail to 97211. The company will respond with a texted link to available jobs, descriptions and how to apply online.
Formerly known as Burlington Coat Factory, Burlington is a national off-price department store chain.