Debra Pressey: It's Your Business
It's Your Business | It's time to feast at Bayern Stube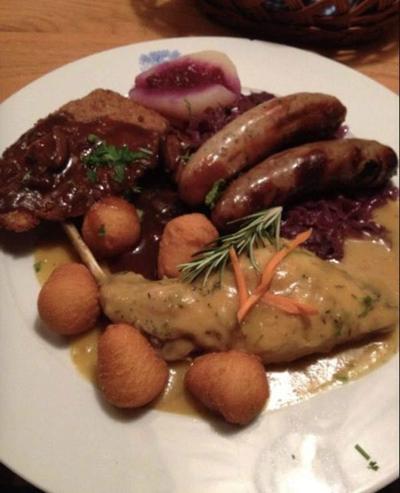 For 30 years, Gibson City's German restaurant Bayern Stube has made its hunters feast an annual tradition.
It's coming up this year March 5-20, and restaurant co-owner Jeanne Schnabel advises making reservations early for this popular event, because seating has been at half capacity since the restaurant reopened for indoor dining Feb. 4.
Featured this year will be rabbit legs, wild game sausage, wild boar and venison. Sides include red cabbage and potato krokettes.
"People look forward to it," Schnabel said.
Weekends are most popular, but the hunters feast is also available on weeknights, she said.
The restaurant is closed on Mondays and Tuesdays, and also serves a Sunday brunch.
Jobs to be had
It's about a 25-minute drive from Champaign to Monticello. Is that so far to commute for a job?
Monticello Economic Development Director Callie Jo McFarland said there are jobs to be had in the city, but local employers are struggling to fill many of them.
The unemployment rate in Piatt County as of December was 4.2 percent, lower than neighboring Champaign County at 5.1 percent and 7.6 percent for the state overall.
Before the pandemic, Piatt County's unemployment rate was even lower — 2.7 percent in February 2020, McFarand said.
"I think the biggest challenge we're facing is this perception that small towns don't necessarily have the opportunities people are looking for," she said. "Monticello has quite a diverse tax base."
It may also be that people living in larger cities nearby consider Monticello just a bit too far away to drive for a job, McFarland said.
"If you choose to live here, we have amazing schools, a great variety of housing stock and wonderful amenities," she said. "But we are also easy to get to for those who wish to commute."
For those who want to check out what positions are available in Piatt County, McFarland said she added a new job board to the Monticello city website this past November.
As of midweek, the job board was advertising more than 60 businesses in Monticello, Bement, Ivesdale and DeLand, with more than 120 full-time and part-time positions available in such fields as health care, maintenance, retail, teaching, manufacturing and food service, McFarland said.
Find the job board here: cityofmonticello.net.
Trio honored
Three local wealth advisers have been included on the 2021 list of Best-in-State Wealth Advisors published by Forbes magazine.
They include Douglas Bushue, with Bushue, Jones & Associates, Savoy, a private wealth advisory practice of Ameriprise Financial Services, and Busey executives Curt Anderson and Kevan Melchiorre.
Anderson is president of Busey Wealth Management and Melchiorre is senior vice president, regional management director, Private Wealth Advisory.
More than 32,000 advisers were nominated nationwide by their firms. Bushue, Anderson and Melchiorre were included on a list of 118 top advisers in Illinois
The top advisers, selected by SHOOK Research, are chosen based on such criteria as in-person interviews, industry experience, compliance records, revenue produced and assets under management.
Closed for good
The long-shuttered Gap store at Champaign's Market Place Mall relinquished its space when its lease expired at the end of January, and that space is now available for lease, according to mall General Manager Dennis Robertson.
The store closed during the pandemic-related shutdown in Illinois last year and remained closed after retailers were permitted to reopen.
Gap has 11 remaining stores in Illinois, all in and around Chicago.