Debra Pressey: It's Your Business
It's Your Business | Kombucha being brewed in Urbana's Lincoln Square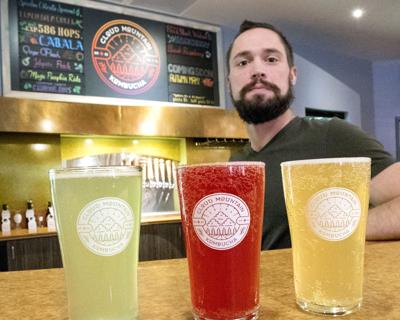 Kombucha, a fermented tea beverage, is now being brewed, bottled and sold inside Urbana's Lincoln Square at the new Cloud Mountain Kombucha.
Owners Aimee Baumgartner, her husband, Andrew Baumgartner and Kyle Schwenk are sharing a suite with gluten-free bakery RegCakes.
Cloud Mountain is open 9 a.m. to 4 p.m. Tuesday, Wednesday and Saturday and also has some pop-up hours as time permits on Thursdays and Fridays, when brewing and bottling is done, said Aimee Baumgartner
Customers can buy kombucha in several different flavors by the bottle or on tap in full- and half-pint drafts.
Aimee Baumgartner said Cloud Mountain uses locally-sourced ingredients.
Kombucha is made starting with sweetened green tea and some black tea, with a SCOBY (symbiotic culture of bacteria and yeast) added for the fermentation process, she said.
The beverage is chilled, carbonated and has flavors added from fruits, herbs, vegetables or spices.
It's legally non-alcoholic, Aimee Baumgartner said, because the end product is less than 0.5 percent alcohol. Cloud Mountain's is generally 0.2 percent alcohol.
A bottle of kombucha can be purchased at Cloud Mountain for $5 plus a $2 deposit that is refunded when the bottle is returned.
Follow Cloud Mountain Kombucha on Instagram.
Congolese food to go
Lauren Mulowayi of Champaign has launched Mama Meta's Canteen to fill a void for Congolese cuisine, she said. It's not yet in a restaurant location. Food is being cooked at The Refinery in Champaign and being made available for pick-up and delivery at certain times.
There's been one soft launch earlier this month and another one is planned for December, Mulowayi said, and she hopes to open in January.
Mulowayi works full time as a certified nursing assistant and is the mother of four, so she plans to start out being opened three days a week.
This is a family operation, and if all goes according to plan she may launch a food trailer six months after opening and establish a brick and mortar location in a year, she said.
Opening Saturday
Maple Street Garden will hold the grand opening of its new store, called The Hive, from 10 a.m. to 6 p.m. this coming Saturday at 601 E. Main St., Mahomet.
Maple Street Garden has been a garden stand at local farmers' markets since spring 2020, and now owner Jessica Trefzger is opening her first brick and mortar store.
It will sell honey, beeswax products, gardening, bread-making and fermenting products, stationery, decor items, dog treats and items for children.
Trefzger also plans to host activities for kids and adults focusing on beekeeping, honey infusing, gardening, sustainability, kombucha brewing, canning, botanical art and more.
Trefzger formerly worked as a physical therapy assistant for Christie Clinic and decided not to return after being called back from a pandemic-related furlough last year, she said.
The Hive will be open from 3-7 p.m. Thursday and Friday, 10 a.m. to 6 p.m. Saturday and 1-4 p.m. Sunday.