Debra Pressey: It's Your Business
It's Your Business | New dinner option coming soon at Carle at the Fields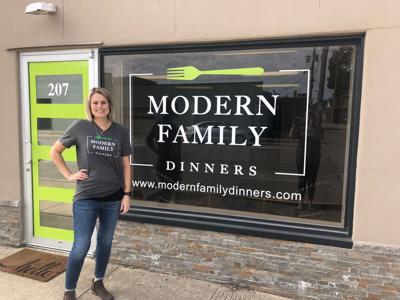 Restaurant questions? Click here
Coming soon to Carle at the Fields: Dinners to pick up that you don't have to cook yourself.
Allie Weber, owner of Modern Family Dinners, is opening a storefront at 3302 Mission Drive, C, at Carle at the Fields later this fall.
Her current projected opening date is Nov. 1.
Weber, who has been in business for two years, cooks meals for two, four or six at a commercial kitchen in Neoga.
Her customers order online and pick them up in Neoga and Effingham, and will soon be able to pick them up in Champaign.
New menus are posted each week for three refrigerated meals with sides and two frozen casseroles that will reheat from frozen in 90 minutes and keep in the freezer for 90 days, Weber said.
Casseroles can be ordered in 9-by-13-inch pans or in half-sizes, she said.
The refrigerated meals are made fresh each Friday and will keep through the following Thursday, she said.
Weber plans to be open for pickups in Champaign from 9 a.m. to 2 p.m. each Saturday and 3-6 p.m. each Monday.
More to know about Weber: She has an agribusiness degree from the University of Illinois, was raised on a central Illinois farm, and before going into business for herself, she worked for five years in operations and purchasing for Nestle and for seven years managing swine operations on her family's hog farm.
To learn more: modernfamilydinners.com
Tip of the cap
Retired Rantoul public works director Greg Hazel was presented with the Gary Mackey Lifetime Achievement Award last month.
It was presented at the joint Illinois Municipal Utilities Association and Illinois Public Energy Agency conference.
Hazel has served on the boards of both organizations and retired earlier this year after working 22 years for the village of Rantoul.
Change in Savoy
The former Willowbrook of Savoy at 406 Curtis Road is now a memory care facility called Autumn Leaves of Savoy.
Texas-based J&M Family Management bought the Savoy facility in April.
The Savoy location has three residences accommodating 12-14 residents in private suites with living and dining areas in each home, according to the website.
J&M Family Management, which is based in Grapevine, Texas, launched Autumn Leaves as a stand-alone memory care community for people with Alzheimer's disease and other forms of dementia.
The company operates memory care, assisted living and independent living communities in Illinois, Oklahoma, Texas and Wisconsin.
U-Haul in Savoy
U-Haul Company of Illinois has announced Blue Violet Furniture and Home Decor, 503 S. Dunlap, Suite F, Savoy, has signed on as a U-Haul dealer serving the Savoy community.
It will offer U-Haul trucks, trailers, towing equipment, moving supplies and in-store pickup for boxes, the company said.
U-Haul says it's been teaming up with independent dealers since 1945, and more than 20,000 dealers across the U.S. and Canada are earning extra income through their U-Haul partnerships.