It's Your Business | Positive press: Country Squire cleaning first repsonders' uniforms for free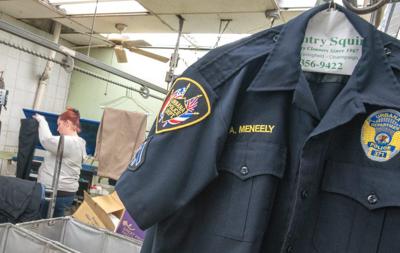 Consider this a local business owner's contribution to the community in the midst of a pandemic.
Country Squire Cleaners at 1805 W. Springfield Ave., C, is cleaning all uniforms of first responders for free.
That includes uniforms of police officers, paramedics, firefighters, doctors, nurses, pretty much all first responders, said Manager Stephanie Buskirk, daughter of owner Kevin Buskirk.
"He's doing it for his part for the community," she said.
Country Squire has traditionally given discounts on cleaning to first responders, Stephanie Buskirk said.
The offer of free uniform cleaning has been in effect since March 22 and has been extended until the end of this month, she said.
Chamber: Shop local
Want to help make sure your local businesses survive through the pandemic and beyond?
The Champaign County Chamber of Commerce said its joining other chambers and small businesses throughout Illinois in the new "I Love Local" campaign to urge shoppers to support local businesses during the week of April 11-18.
Every dollar spent at a local, independent business returns 50 times more money to the local economy than shopping at a mega e-retailer, according to the chamber.
Here are some tips suggested to support local business while staying home and maintaining social distances:
— Find out if your favorite local business has an online shop, or get in touch to find out how to make a purchase now for pick-up later.
— Buy gift cards to use later.
— Take online classes from local businesses.
— Buy carry-out food or food for delivery, and tip generously.
— Consider buying lunch or dinner for first responders to support them and local restaurants.
— Like and share your favorite local businesses on social media.
Craft Grower Update
Champaign Social Equity Growers says the Urbana City Council will consider its request Monday for a special-use permit to grow craft marijuana at 1906 Federal Drive, U.
The permit request won preliminary approval from the city plan commission March 19.
CSEG identifies itself as a 100-percent African American-owned company and says it's filed an application for a cannabis craft grower's license with the state.
The company has committed to pay its employees a minimum hourly wage of $15 and make employees eligible to enroll in a profit participation plan, according to Managing Member Tamala Green.
CSEG plans to develop a state-of-the-art craft growing facility in the disproportionately impacted area as defined by the state in north Urbana and to designate up to 2 percent of its gross revenues to providing cash grants to community groups and businesses serving the population within that area, she said.
Plans also include providing educational resources on responsible marijuana use.