Debra Pressey: It's your business
It's Your Business | Spotlight back on Urbana Public Television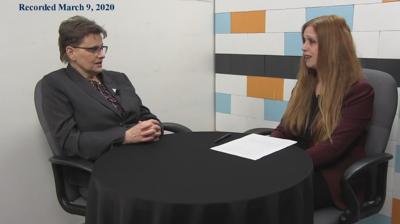 Urbana Public Television is being honored once again — this time with two awards at the ninth annual Best of the Midwest Media Fest and Awards Show recognizing best community access TV programs in the Midwest.
Champaign-Urbana Public Health District Administrator Julie Pryde and Elizabeth Hess will receive a Significant Community Program award for the weekly interview they've been doing throughout the COVID-19 pandemic.
The other award is a merit award in the student category going to WPGU's Illini Drive program for the video production of the show on March 4, 2020. That show was hosted by UI students Nathan DeHaan, Jake Hasan, Alex Aguilera and Brendyn Jones.
Station Manager Jason Liggett said UPTV, the city of Urbana's public, education and government access station, has been recognized with 25 regional media awards and three national media awards since 2014.
UPTV is available on Comcast Xfinity channels 6 and 1096, AT&T U-Verse channel 99 and i3 Broadband channel 6.
The awards program will be held virtually this year due to the pandemic on May 27.
Now accepted
OSF HealthCare says it has begun accepting the Meridian Medicaid health plan statewide.
"Medicaid is an incredible asset in the communities we serve as many of our patients count on this program for medical coverage assistance," said Bob Sehring, OSF's chief executive. "We are glad to partner with Meridian in addition to Molina and Aetna Better Health to provide options for Medicaid beneficiaries."
Meridian Medicaid members have access to OSF health services such as primary care, inpatient admissions, lab tests, x-rays and medical equipment.
Outdoor spaces
The city of Urbana said it's supporting the use of public spaces such as sidewalks and parking lots for businesses to use during the pandemic.
If an Urbana business applied to the city last year to use public space, that business is generally good to use that space for this year's outdoor season without having to reapply unless changes are being made this year, according to an announcement from the city.
"We want to continue to allow businesses to use public space such as sidewalks and parking lots to conduct business during the pandemic," said city Economic Development Supervisor Stepheny McMahon.
Note, businesses aren't required to get a permit for outdoor seating on their own private property unless a tent of 400 square feet or more will be in use, according to the city.