Debra Pressey: It's Your Business
It's Your Business | Venue CU has plenty to celebrate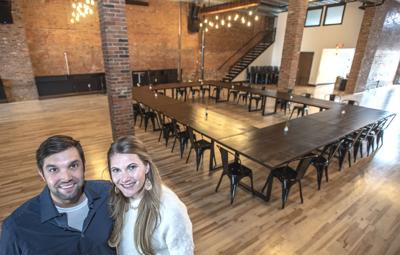 The Venue CU in downtown Champaign has finally gotten to hold its ribbon cutting and grand opening celebration this past week, more than six months after it opened for business.
Along the way, the family operating this wedding and event spot at 51 E. Main St. has had one challenge after another — among them medical issues for one of the partners.
Three weeks ago, Dan Church, one of the owners, donated a kidney to one of the other owners, his father-in-law, Greg Bugbee, and both are now doing fine, Church said.
Bugbee had been in kidney failure but had to wait on a transplant due to his heart condition, Church said.
"He's been incredible in terms of his energy and what he's been able to do, but not having him anywhere near 100 percent capacity has been difficult," Church said.
His father-in-law was cleared for the transplant at Barnes-Jewish Hospital, St. Louis, and at this point, "he's in good shape. I'm in good shape," Church said.
The Venue CU opened in September in two spaces formerly occupied by the 51 Main nightclub and Memphis on Main bar after an extensive renovation. The 10,000-square-foot space has exposed brick walls, custom lighting, restored tin ceilings and back bar and a replication of original flooring.
Pandemic-related construction delays and gathering restrictions combined with little government pandemic assistance for new businesses has created some challenges, Church said. But the city did provide $5,000 in help, and bookings for corporate and University of Illinois events are picking up, he said.
And postponed wedding events are being rescheduled. The facility now has 60 weddings booked for this year and next, Church said.
Events are being booked from as far away as Bloomington, Peoria, Kankakee and Chicago, Church said.
The Venue CU has some location advantages, he said. It offers a larger space in a vibrant downtown area, and many UI graduate couples may want to get married in the community where they met, rather than in either of their home towns and larger cities.
"It's kind of a destination feel for them and at a much better price point," Church said.
Along with Church and Bugbee and a third partner, Casey Gold, all three of the men's wives are also involved in the business. Miranda Church is the wedding event coordinator, Christine Bugbee is the bookkeeper and Grianna Gold is the graphic designer.
Dan Church is optimistic about the future.
"We're a resilient bunch," he said. "We'll get there."
New name
OSF HealthCare is renaming all its Urgo convenient care centers OSF OnCall Urgent Care.
New signs will be going up next week at Urgo locations in north and south Champaign, and on May 10 at Urbana and Danville locations, according to OSF spokesman Curt Squires. Upcoming locations in Rantoul and Danville also will carry the new name.
The new brand name includes both existing OSF OnCall Virtual urgent care as well as OSF Urgo clinics, he said.
"It's really a merger of our OSF OnCall virtual care options and the Urgo locations," Squires said. "The transition will include the physical OSF Urgo sites and the existing OSF OnCall virtual urgent care service. This allows us to expand our on-demand services while keeping all the things that make our OSF Urgos unique — care designed to meet the patient where they are, efficiency and ease of access."
Winning Realtors
Coldwell Banker Commercial Devonshire Realty has announced honors for five top-ranking sales professionals based on their transaction revenues for last year.
Named to Coldwell Banker Commercial Devonshire's Silver Circle of Distinction: Zach Wetherell, Ryan Murphy and Josh Markiewicz.
Jay Sikorski has been named to the Thomas E. Harrington Sr. level of the Coldwell Banker Commercial Devonshire Realty Circle of Distinction.
A.J. Thoma III has been named to the Coldwell Banker Commercial Gold Circle of Distinction.
All eyes on Henderson
The American Optometric Association has named Danville native Erick Henderson its 2021 Young Optometrist of the Year. He was born and raised in Danville and worked during his summers in college at Chittick Family Eye Care, Danville.
While he's been in practice less than 10 years, Henderson "demonstrates remarkable leadership when serving the profession, patients and his community," according to the national association.
Henderson is president of the board of the Western Pennsylvania Optometric Society.
He was made a member of the Pennsylvania Optometric Association Board of Directors in 2021.