Top of the Morning, Nov. 30, 2019 (w/video)
This week's stop in our video series on local businesses with stories to tell: A Champaign tavern given a holiday feel thanks to a creative Champaign Central grad.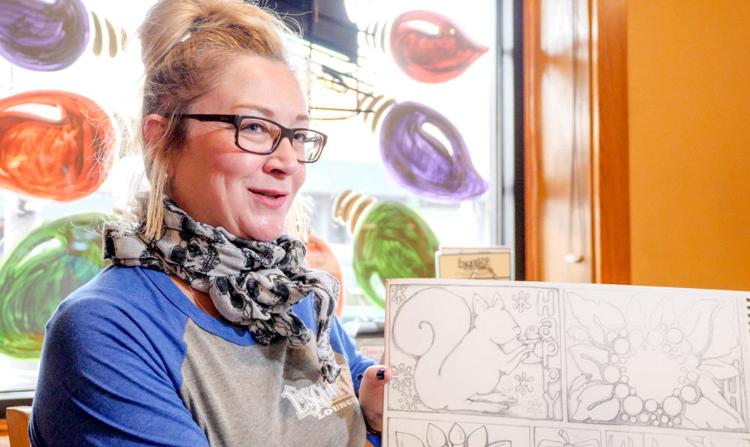 Growing up, there were two constants in Kris Fisher's life: kayaking and painting.
As a kid, Kayaking took her around the world. Her mother was an Olympian in Rome in 1960 and a coach for the 1984 Olympics in Los Angeles, where she said she acted as an pseudo assistant at age 16.
During those trips, she always had a sketchbook. And after her aunt, an artist herself, introduced her to Georgia O'Keefe, she dreamed of going to the Art Institute of Chicago and becoming a painter.
After leaving her own kayaking career behind, the Champaign Central graduate did just that. She eventually nabbed a job in Los Angeles for Propaganda Films, where she painted backdrops for music videos for Dr. Dre and Snoop Dogg, among other artists.
She also painted murals all over Los Angeles, including at Venice Beach and Santa Monica.
She's not painting murals here, but every year for the last 16 years, Fisher has made an artistic impact on downtown Champaign.
On Thanksgiving week, she paints the windows of the Esquire with Christmas-themed artwork. She also paints the bar's windows on Halloween and Mardi Gras. She first began because a friend worked there, but "at the start, I had never painted on glass before and I didn't really know what I was doing."
Sixteen years later, "It's a process. I'm an artist. I'm old, but I'm still learning."
As she draws in her sketchbook, Fisher doesn't pick a theme for the windows. At least not exactly.
"I just make it Christmas-y and make it happy and bright," she said. "The world's a sad place these days, so I just want to make it happy for everybody."