It's Your Business | On your mark, get set ... dine!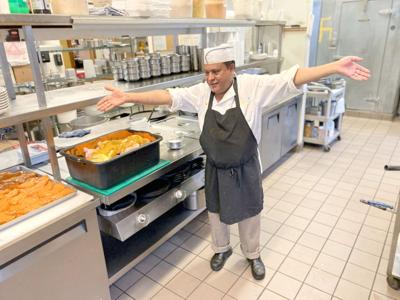 Maybe put off that New Year's diet one more month?
Champaign County Area Restaurant Week will be returning for a fourth year.
Visit Champaign County describes this week as a nine-day celebration of local food running from Jan. 24 to Feb. 1.
Participating restaurants will offer lunches at $9 and dinners for $19, $29 and $39.
Visit Champaign County is inviting those dining out at participating restaurants to share pictures and experiences with #CCRestaurantWeek. Those posting will be entered in a drawing to win a $100 gift card to one of the participating restaurants, according to Terri Reifsteck, vice president of marketing at Visit Champaign County.
This is a popular event, Reifsteck said. Last year, on the first day of Restaurant Week, the website got nearly 11,000 hits, she said.
Reservations are encouraged (where reservations are taken) and menus for the week will become available this month.
Here are the participating restaurants listed as of earlier this past week:
Clever Moose Cafe, Everyday Kitchen Restaurant & Bar, Baldarotta's Porketta & Sicilian Sausage, Baxter's American Grille, Biaggi's Ristorante Italiano, Big Grove Tavern, Caribbean Grill, Courier Cafe, Crane Alley, ET's Downtown Rantoul, Hamilton Walker's, Hank's Table, Houlihan's, JT Walker's Restaurant & Brewery, Kohinoor Indian Restaurant & Lounge, Nando Milano Trattoria, Neil St. Blues, Pizzeria Antica, Project 47 Smokehouse, Red Herring Vegetarian Restaurant, Silver Creek, Stickey Rice, Sunsinger Wine & Spirits, The Bread Company, The Pink Pig and The Wheelhouse.
There will likely be a few more restaurants signing up as advertising for this event begins, Reifsteck said.
Firm opens in Urbana
The multi-media production firm Transcendence Broadcasting Inc. has opened at Co-Lab Inc., 206 W. Main St., U.
This business led by Nancy and Gene Koprowski relocated from Chicago to Urbana, according to the Urbana Business Association.
The Koprowskis are the producers, directors and writers of content for such leading media outlets as PBS, CBS Newsradio, The Wall Street Journal, Forbes Magazine and others, according to the business group.
Their most recent film, "The Frank Capra Story: A Wonderful Life," aired recently on WTTW/PBS Chicago and is streaming nationally on PBS Passport.
Transcendence received some help from the city of Urbana for moving start-up costs — a $2,000 business development grant and $1,000 in business opening assistance, according to Stepheny McMahon, the city's economic development coordinator.
According to a city announcement, Transcendence plans to work with local and regional talent, and will be accepting resumes for voice-over and acting talent at genek@alumni.uchicago.edu.
New to Illinois Made
The Illinois Department of Commerce recently saluted Urbana's Riggs Beer Company as a new honoree in Enjoy Illinois' Illinois Made program.
Riggs joins such other local Illinois Made program makers as Prairie Fruits Farm & Creamery, The Great Pumpkin Patch, Curtis Orchard, Desthil Brewery, Flesor's Candy Kitchen, Prairie Fire Glass and Sleepy Creek Vineyards.
To be considered for the Illinois Made Program, artisans, crafts makers, food and beverage businesses and others "must embody the personal spirit of Illinois, demonstrating through their work what makes our state so unique," according to Enjoy Illinois.
"Makers exemplify what it means to be a local artisan," says a description of the program. "They represent the pinnacle of small businesses in Illinois — offering a one-of-a-kind experience that can only be found in the cities, towns, and rural communities of the Land of Lincoln."
Since opening in June of 2016, Riggs has used more than 30 tons of its own grown barley, wheat and corn in its beers, according to Matt Riggs.
The state Department of Commerce post last month included a picture of Riggs' American Lager next to its "Illinois Made" award sitting in a grain bin of Riggs-grown corn. The corn in the bin will all be used to brew Riggs Beer over the next year, Riggs said.
On the way
Champaign has issued a building permit to Changhao Zhao, Chicago, for a Meet Fresh restaurant at 209 E. University Ave., C.
Zhao couldn't be reached for further information, but according to the Meet Fresh website, it's a chain of restaurants serving traditional Taiwan desserts.