Ethan Simmons is a reporter at The News-Gazette covering the University of Illinois. His email is esimmons@news-gazette.com, and you can follow him on Twitter (@ethancsimmons).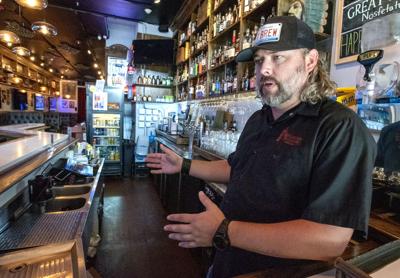 Listen to this article
Why is Stix Arcade Bar closing?
It'll soon be "game over" for downtown Champaign's first arcade bar, but there's still time to hop on the sticks.
But just know: The arcade machines aren't for sale.
Stix Arcade Bar owners announced via Facebook that the establishment will close its doors on an undetermined date in August after two-and-a-half years of off-and-on business.
"Our lease is up," co-owner Justin Taylor said. "We had talked to the landlord, and it became a mutual decision that now's the time to move on."
Taylor, owner of JT Walkers and Project 47 in Mahomet, opened the business with Wayne Lam, founder of 83 Vietnamese in Champaign, in February 2020.
"I love downtown, I hope it's able to bounce back, for right now, we have other business ventures we need to focus on," Taylor said.
Stix's first month was rollicking for business, but the arcade bar couldn't recover after the pandemic shutdown and subsequent closures.
A two-month hiatus after a December 2021 shooting outside the establishment didn't help, either. The bar has been closed to the public for almost half of its existence.
Plus, "the downtown crowd, late-night is where we made a lot of money, and that crowd kind of dissipated," Taylor said.
So, why announce it now? They wanted to "give people enough of a head's up" to join in the farewell.
"We're going to have a lot of specials, go through the last of our inventory and give people a chance to come out and play the games before we close down," Taylor said.
A final closing date is coming soon. After that, Taylor will continue running Project 47 and try to start the process of bringing a smaller version of JT Walkers to Mahomet.
Meanwhile, Lam is getting 83 Vietnamese reopened. He owns some of the arcade machines — the rest are the property of J&J Ventures.
"We just appreciate everybody that came out over the years, obviously through difficult times and tough schedules," Taylor said. "They made this place a fun place to hang out."