Poke bowl restaurant King Kuma opens second location at Carle at the Fields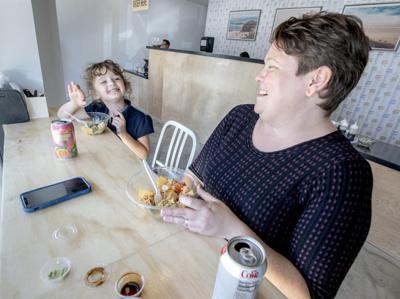 Drop your questions into Tom's Mailbag by clicking here
One of the most popular food stands inside Urbana's Broadway Food Hall has launched a second location in southwest Champaign.
King Kuma, which has been dishing out Hawaiian poke bowls at the food hall since early 2018, opened Oct. 21 in the Carle at The Fields complex at 3401 Fields South Drive, Suite 121.
The place is easy to find, just across the street from the new Hampton Inn.
Owner Matt Cho said the new eatery has the menu as the Broadway Food Hall location, which remains open.
Basically, customers build their own poke bowl creations, selecting from tuna, crab, shrimp or salmon; adding either white or brown rice; selecting some veggies; and finishing off with tasty toppings.
Cho said he was inspired to open the new location by his Urbana customers.
"Many of our most loyal customers were people who worked at Health Alliance when it was in Urbana," Cho said. "When they moved to The Fields, many of them suggested we open a place there where they could get their favorite food. We are already nicknaming our new restaurant 'Kuma 2'".
By the way, Cho said "kuma" means "bear" in Japanese.