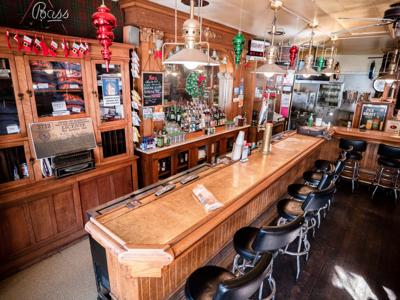 This week's stop in our video series on local businesses with stories to tell: Huber's in Champaign, a neighborhood tavern dripping in tradition.
***
Tucked away across the street from Eisner Park, Huber's is so close to neighborhood homes that it has to close by 11 p.m. instead of 2 a.m., like other Champaign bars.
The fact that the bar is in the midst of the community it serves, though, is what makes it special to manager Brian Christie.
"It's kind of an old-school tavern, a neighborhood tavern, so we get a little bit of an older crowd. Neighborhood folks come in, so it's a nice little quiet place. It can get rowdy sometimes when a band is playing."
On a given day, kids may knock on the window and pull out a few quarters to buy a piece of candy. Dogs walking buy are given treats by a bartender or, when the bar is busy, a regular customer.
They don't charge cover when bands are playing, and there's even a designated place to tie your horses if needed.
"The vast majority of customers that come in, I know them. I may not know them by name but I know what they drink," Christie said. "And most of the bartenders are the same way.
"To me, it's just a little bar where you know a lot of people, and neighborhood folks walk up here and enjoy a drink or two."