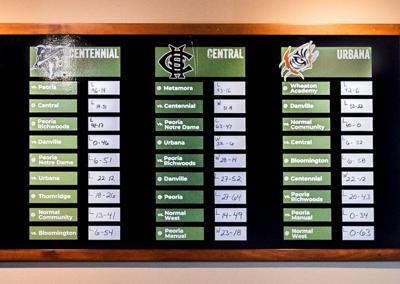 This week's stop in our video series on local businesses with stories to tell: Champaign's Meatheads.
Cheers rang out at Meatheads on South Neil Street last Saturday when an employee took a marker to giant scoreboard on the wall, writing in the score of the Illinois football team's historic 37-34 win — biggest comeback in school history — over Michigan State that made the Illini bowl eligible.
"As soon as we put it up right when the game was over, everybody goes into applause and starts cheering," general manager Dave Richards said. "It's kind of fun."
The scoreboard (top), a giant magnet with schedules for Illinois, Champaign Central, Centennial and Urbana printed on it, is a bit of a conversation piece.
"It's good to recognize some of the triumphs and then some of the tragedies of some of the schools here," Richards said. "Some of our employees have kids at Central and some of the football players themselves come in to eat and they'll talk about what other schools are doing and it's just another way to be part of that community."
The restaurant has 14 locations, most of which are in the Chicago area. For Richards, the scoreboard is a way to make this location unique to Champaign-Urbana.
"It's just another way to keep in touch with the local community, and some of our employees themselves have children on the football teams at some of these local schools," he said. "Everyone enjoys looking at it, especially if you're here when the team wins or loses. Everyone puts their two cents in whether that's cheering or booing or whatever, but the cameraderie is good."