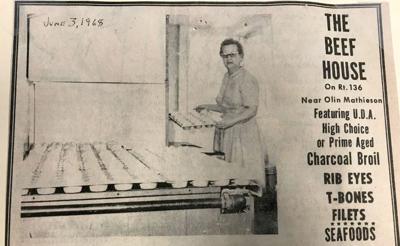 This week's stop in our series on area businesses with stories to tell: The Beef House in Covington, Ind., a favorite stop of Illini teams (Lovie Smith's crew was there Friday) to and from Purdue.
Beef House owner Bob Wright got plenty from his Purdue education, including the recipe for his restaurant's one-of-a-kind rolls.
A hotel and restaurant management major, Wright spent his sophomore year in Purdue's Home Ec cafeteria, "learning from three ladies who made homemade yeast rolls every day." After graduation in 1967, Bob introduced his tasty findings to the original Beef House run by his dad, Warren, a few miles from the current site just off Interstate 74 that opened in 1975.
A delicious, mouth-watering star was born.
"My dad always told me 'That's the one thing you got out of going to Purdue,'" said Bob, now 74. "I've always been a bread lover."
He has plenty of company.
This week, Bob and his 125 employees began preparing some 55,000 dozen rolls that the Beef House will distribute to schools and grocery stores to be used for holiday fundraisers.
"You can't start too early," Bob said.
Bob and his wife, Bonnie, still work seven days a week in what truly is a family operation. Over the years, they have befriended oodles of visiting (and hungry) Big Ten coaches, from Mike White to Bob Knight to Gene Keady to Lou Henson to Lovie Smith, "who is always gracious," Bob said.
While at Illinois, Bill Self "told me if they got beat one more time at Purdue, he wouldn't come back," Bob said. "He did anyway."