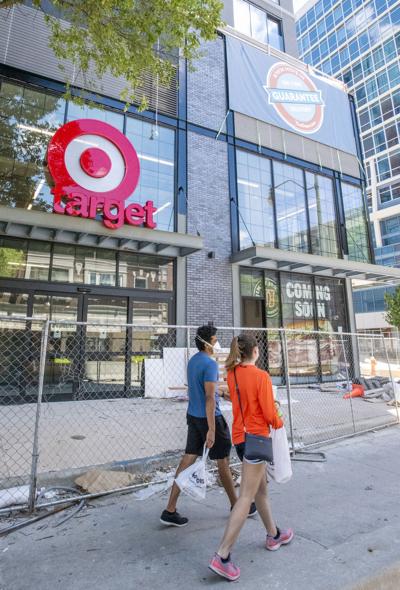 CHAMPAIGN — The new Campustown Target is opening next week.
"The grand opening of the store will be on Oct. 25," spokeswoman Jacqueline DeBuse said.
Stores often hold grand-opening events a few days after a soft opening, which appears to be currently scheduled for Oct. 21, according to the Green Street store's Google listing.
The small-scale Target will be on the first two floors of The Dean, the 17-story high-rise at Sixth and Green streets.
It will be about 17,000 square feet, according to Target's website.
Target has been opening smaller stores in more markets, often by college campuses.
The stores are placed in areas where a full Target wouldn't fit, and the campus ones focus on items geared toward college students and staff.
Target already has a full-sized store in Champaign on North Prospect Avenue.
Jimmy John's also has a location at the base of The Dean.
The 175-foot high-rise is being built on land where there used to be the Firehaus and Clybourne bars, Korean restaurant Woori Jib, HomeTown Pantry, InterVarsity's meeting space The Loft, Campus Ink and Jimmy John's.
The Dean has student housing above the first two floors of retail, and residents have access to a fitness center, meeting and study rooms, an outdoor lounge, and a rooftop deck with a pool and hot tub.