Welcome to Year 5 of High School Confidential, an award-winning project made possible by aspiring student journalists from every corner of our circulation area. Each Friday through May, they'll tell us what's happening in their hallways at news-gazette.com.
Once a week, we'll hand over our Snapchat account (News-Gazette) to our correspondents for behind-the-scenes tours. On Thursday, Villa Grove's Daniel Olson showed us around the hallways in Douglas County.
Feeback? Email N-G/VP Jim Rossow at jrossow@news-gazette.com.
This year's panel:
— Reese Anderson, Chrisman
— Jose Alvarez, Urbana
— Briana Ballard, Academy
— Chloe Becker, DeLand-Weldon
— Jada Bonam, Centennial
— Lillian Bouton, Georgetown-Ridge Farm
— Lexi Breymeyer, Hoopeston Area
— Bryce Burnett, Westville
— Raegan Cheek, ALAH
— Olivia Chew, Salt Fork
— Cassandra Colmenares, Academy
— Clara Rudolph, Monticello
— Ava Cothron, Tuscola
— Kate Cramer, Mahomet-Seymour
— Aaliyah Denius, Oakwood
— Kylie Duckett, St. Joseph-Ogden
— Charlotte Ebel, Uni High
— Malia Fairbanks, Unity
— Andrew Ferguson, Fisher
— Hailey Gadbury, Bement
— Haven Hathaway, Gibson City-Melvin-Sibley
— Leilani Islam, Danville
— Fabiola Jaramillo, Arcola
— Audrey Kaeb, Cissna Park
— Jordin Lucht, Milford
— Mason McMasters, Armstrong-Potomac
— Taylor Mennenga, Paxton-Buckley-Loda
— Morgan Miller, BHRA
— Daniel Olson, Villa Grove
— Tony Owen, Rantoul
— Kitty Rossow, Central
— Anna Sanders, Heritage
— Courtney Shane, Blue Ridge
— Emerson Tarr, LeRoy
— Felicity Tuan, Judah Christian
— Maci Walters, St. Thomas More
On to this week's report: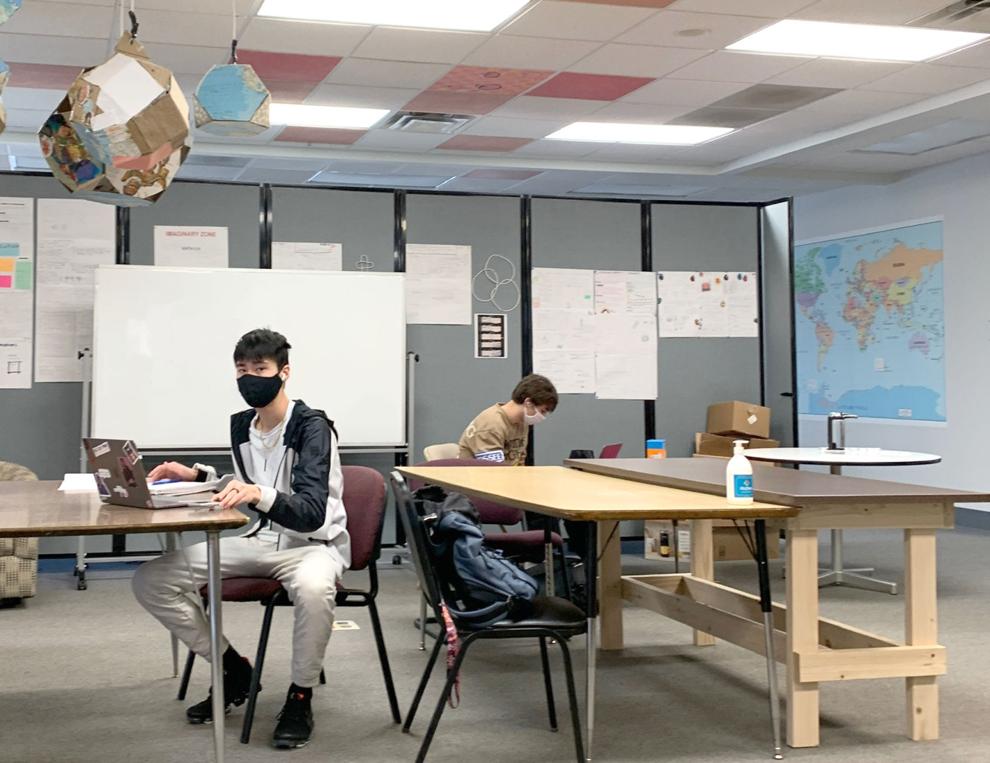 Academy High
In-person classes resumed Jan. 19. Pictured: Jack Wiarda (left) and Joey Giuliani prepare for calculus, the first class of the day.
— Cassandra Colmenares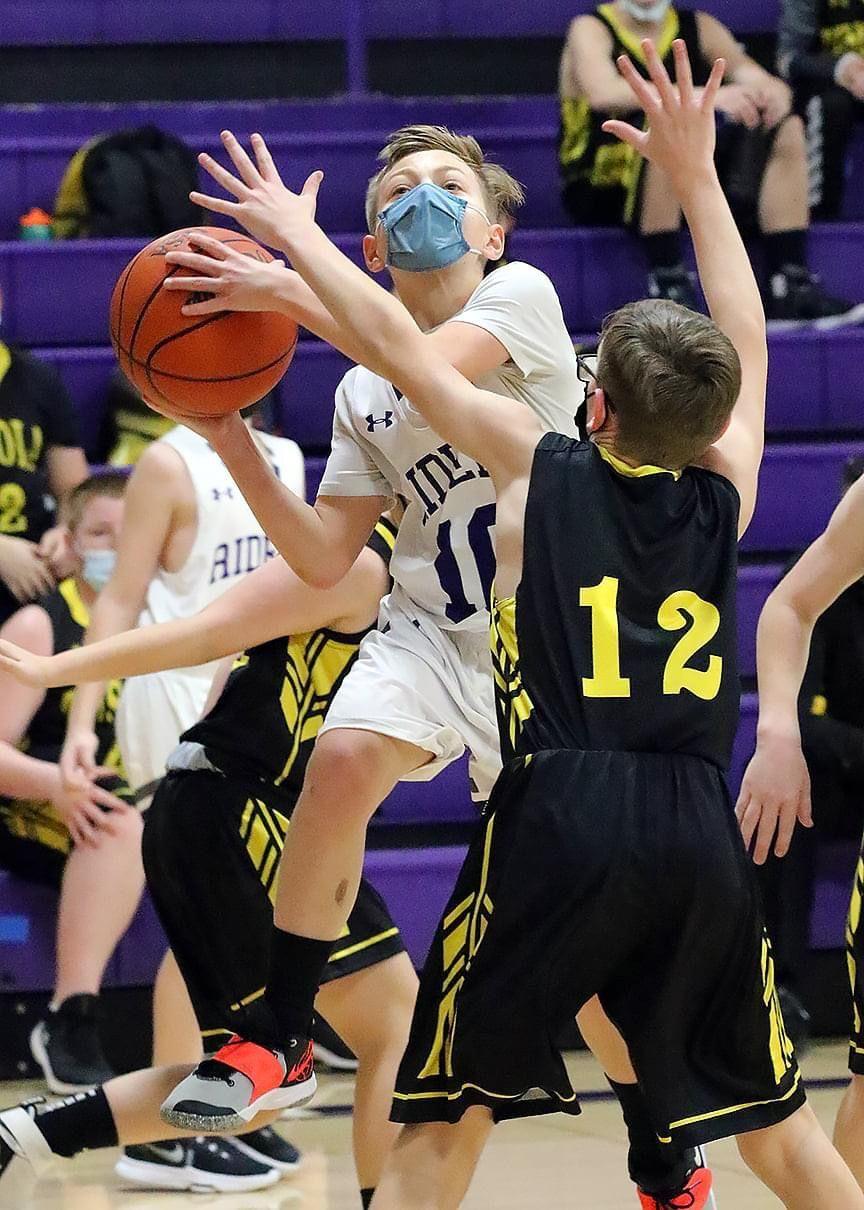 Arcola
Sports returns at all levels. Pictured: seventh-grader Aiden Myers goes up for a shot in Monday's middle school boys' basketball game against Tuscola, won by the visitors 37-18. Photo courtesy Nancy Rairden.
— Fabiola Jaramillo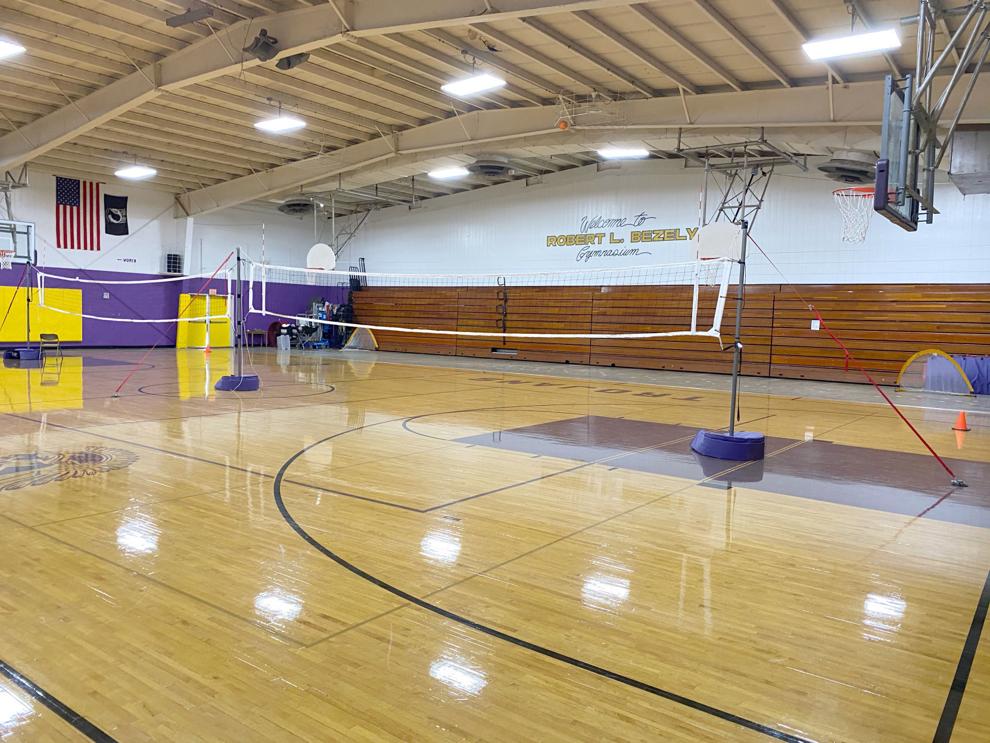 Armstrong-Potomac
Volleyball and basketball teams are once again back in the gym, practicing ahead of shortened seasons.
— Mason McMasters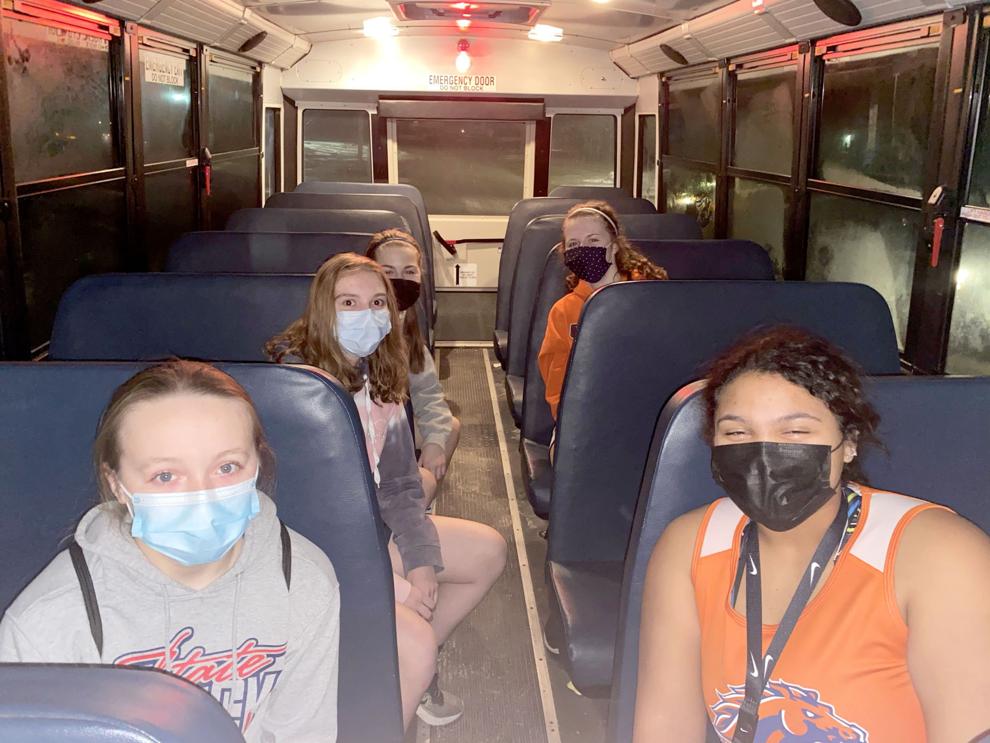 Bement
Cerro Gordo-Bement 's girls' basketball began practicing last week ahead of its Wednesday opener. Pictured: Some of Bement's players on their way home from a practice in Cerro Gordo.
— Hailey Gadbury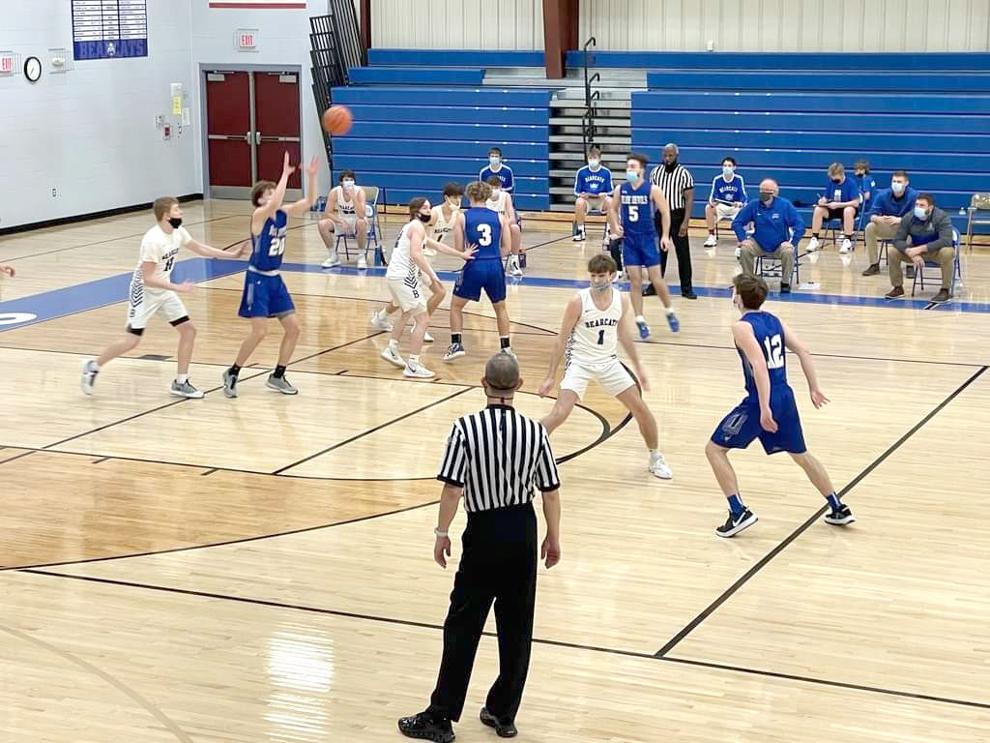 BHRA
The boys' basketball teams kicked off their season last Friday against Milford, varsity winning 42-36 and junior varsity winning 58-34. Pictured: Brett Meidel, Brody Sexton, Asa Ray and Elijah Tidwell.
— Morgan Miller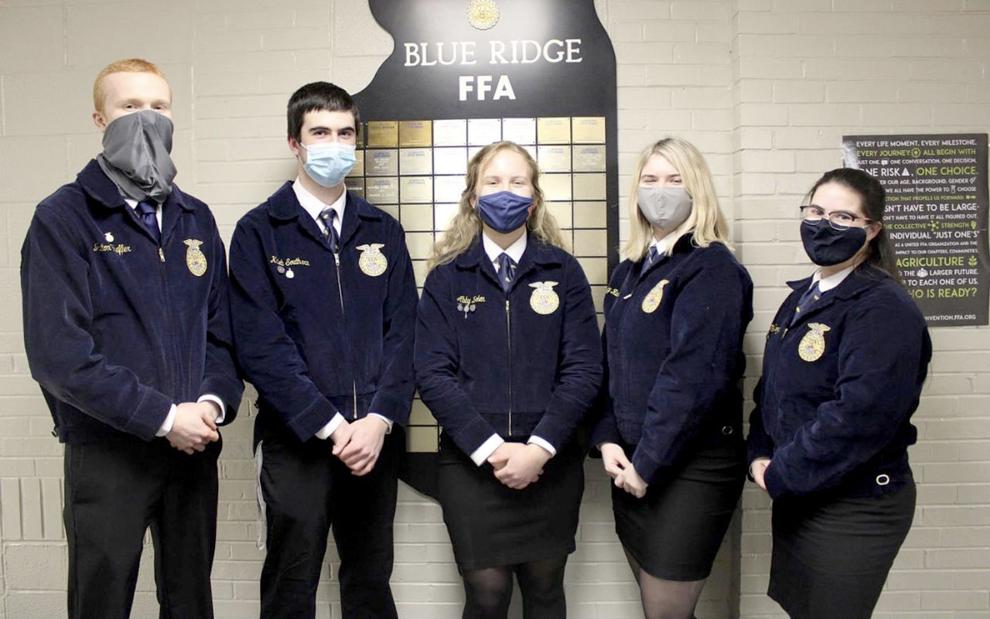 Blue Ridge
The FFA team competed virtually in the Section 16 Public Speaking event. Abby Bolen placed third overall in Varsity Prepared Speaking. In Varsity Extemporaneous Speaking, Jaton Shaffer finished first and Morgan Drozs was seventh. In JV Extemporaneous Speaking, Sydney Rausch finished second overall and Kaleb Southern sixth. Pictured, left to right: Shaffer, Southern, Bolen, Sydney and Drozs.
— Courtney Shane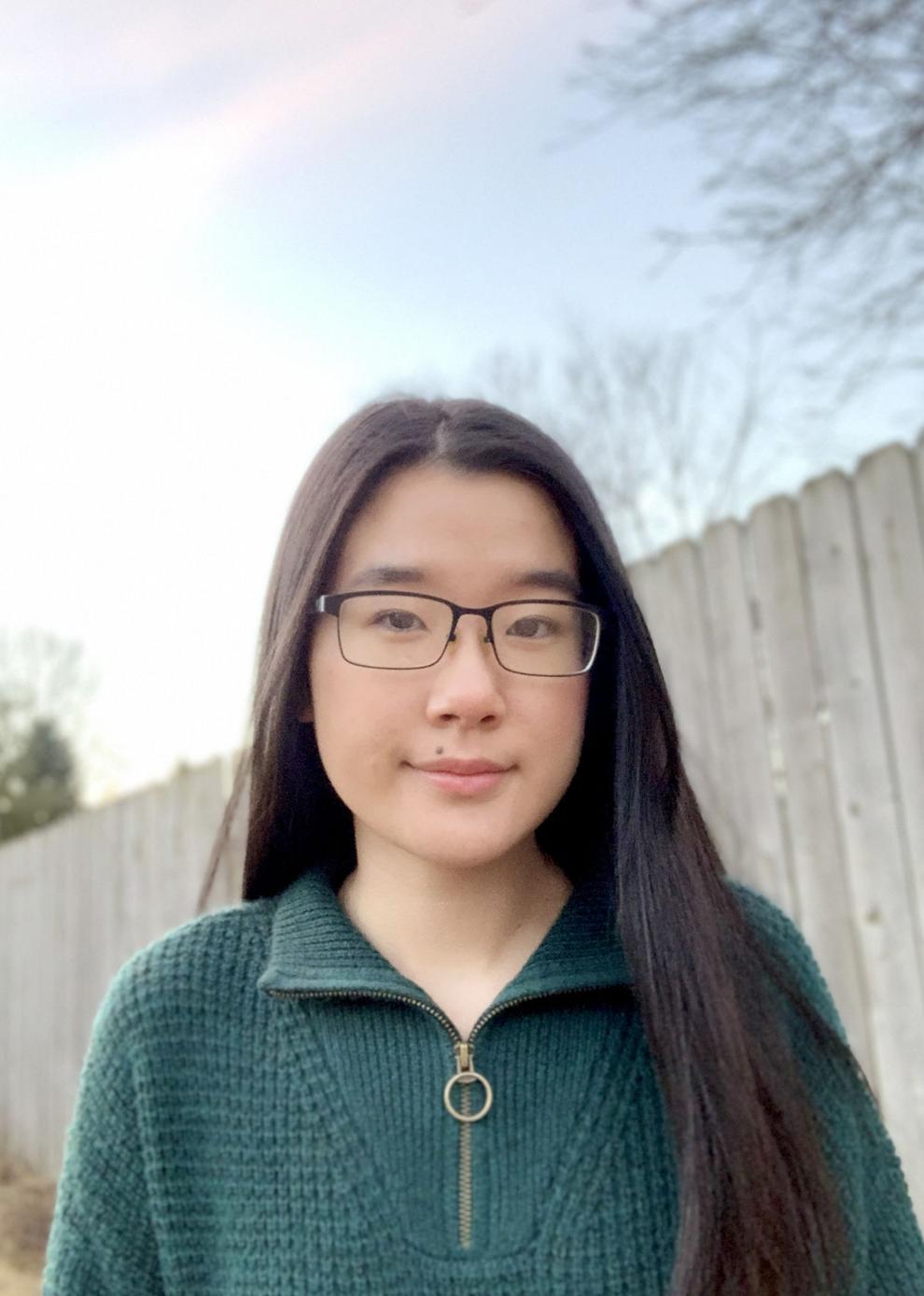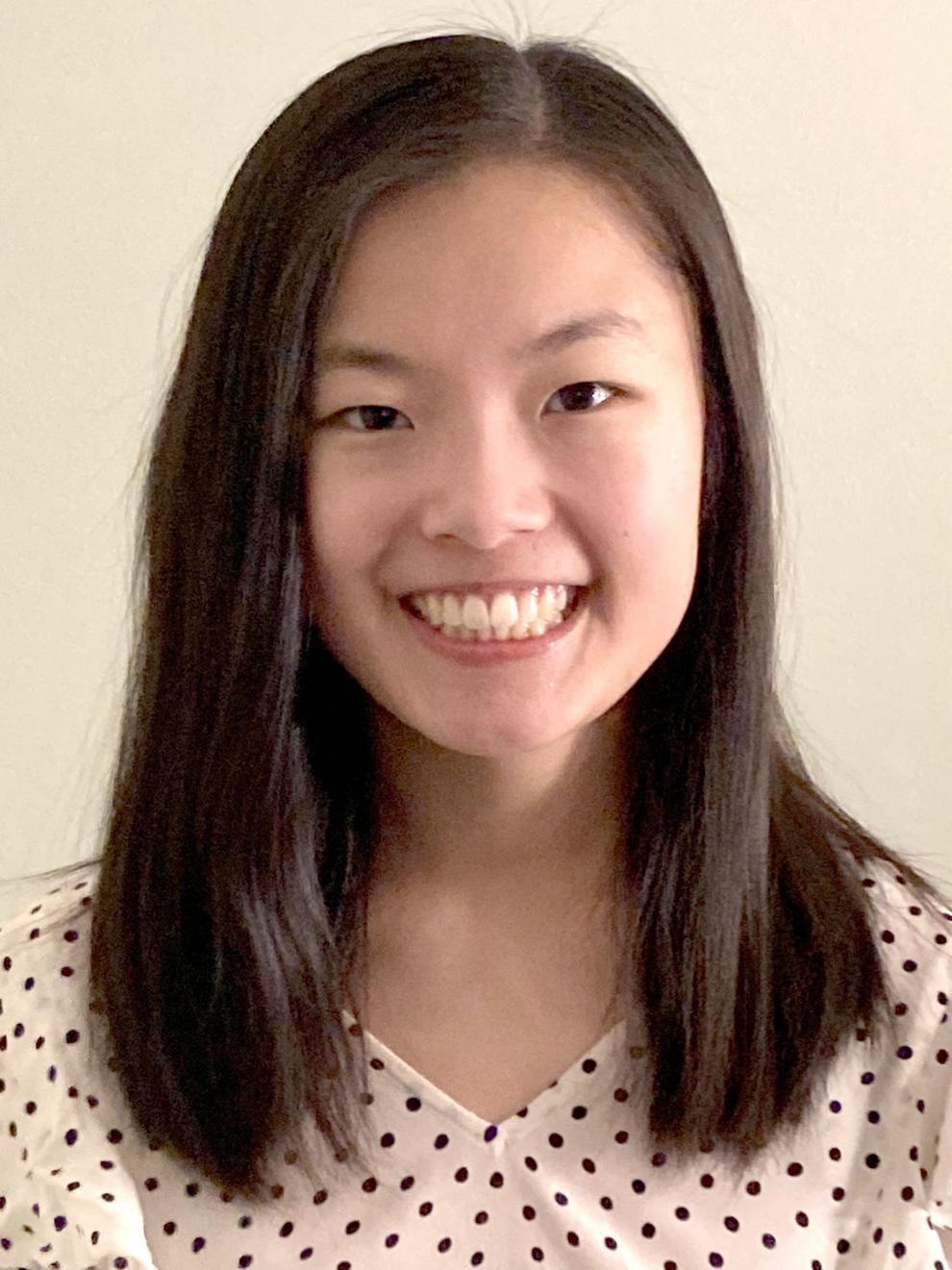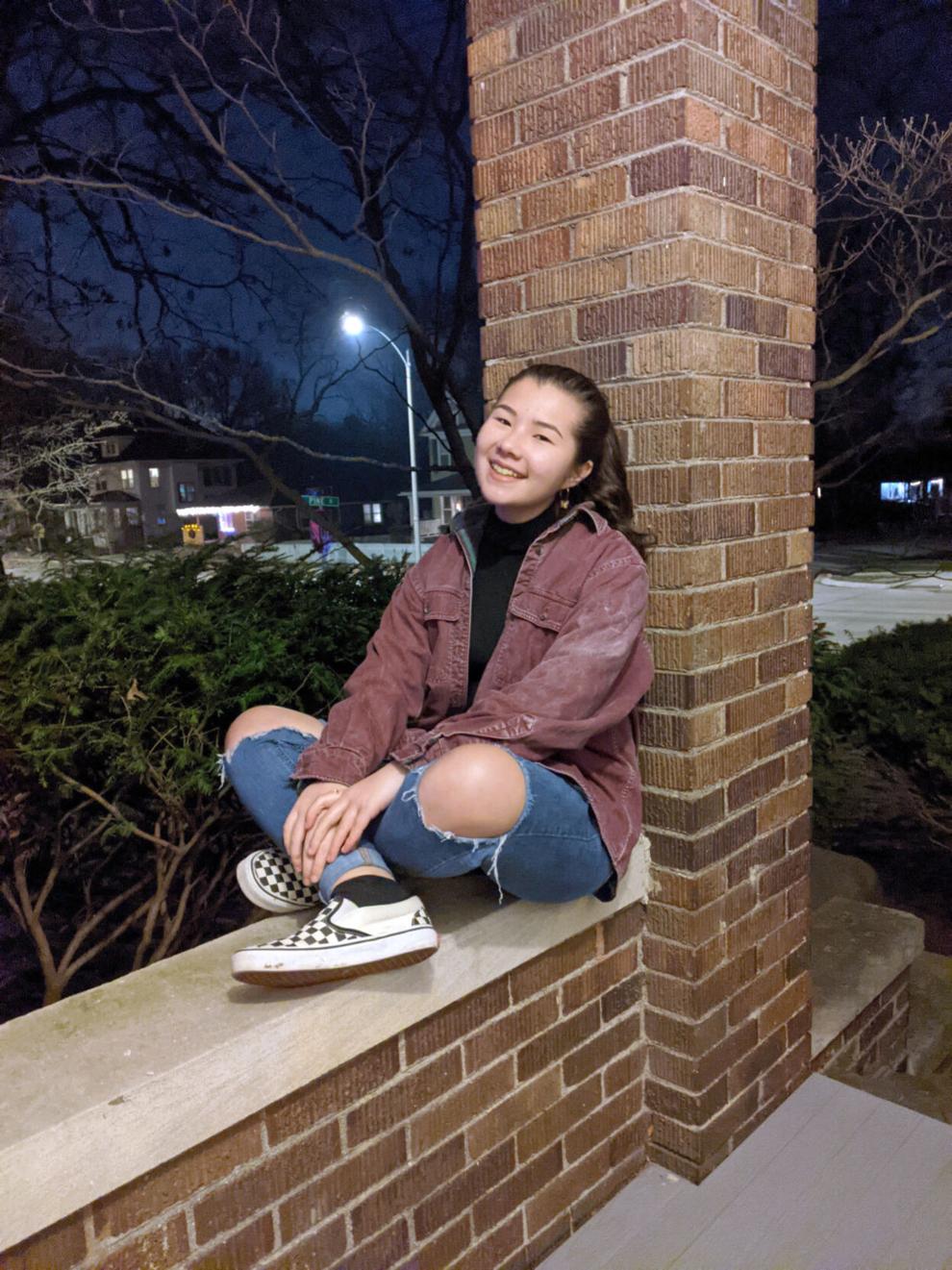 Champaign Central
Three Maroons were recognized by the Rotary Club of Champaign as Students of the Quarter: Jocelyn Kwok (academics), Allysen Welty Peachey (athletics) and Liesl Schrag (activities).
— Kitty Rossow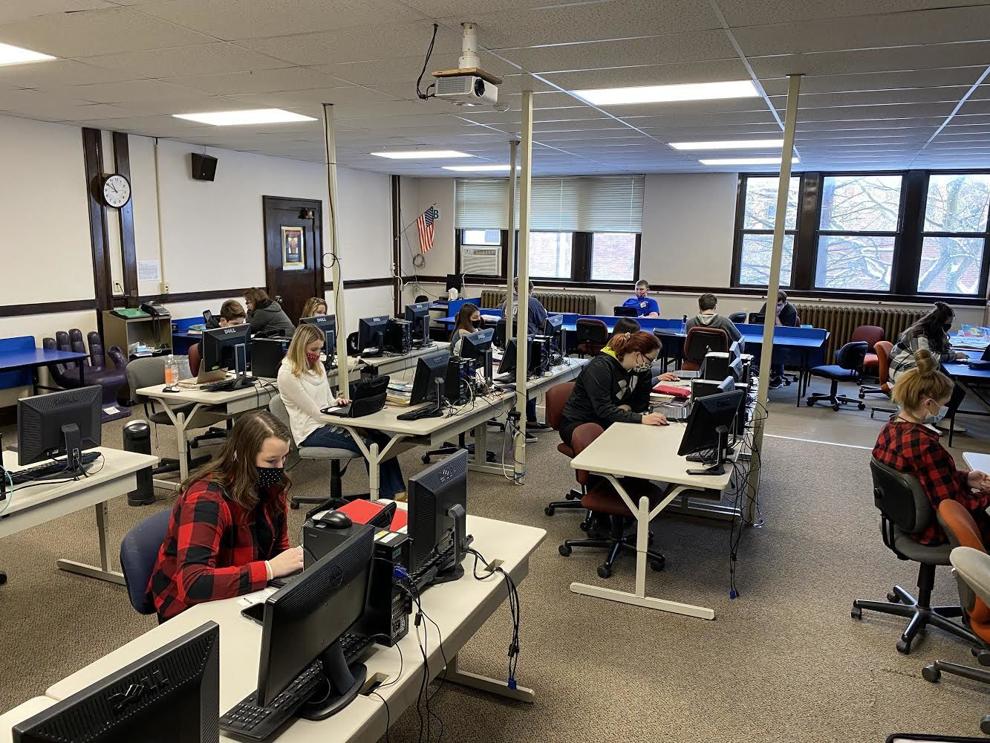 Chrisman
Students in grades 8-11 took a career survey about their interests and skills. The outcome will provide an idea for a future career that they might consider.
— Reese Anderson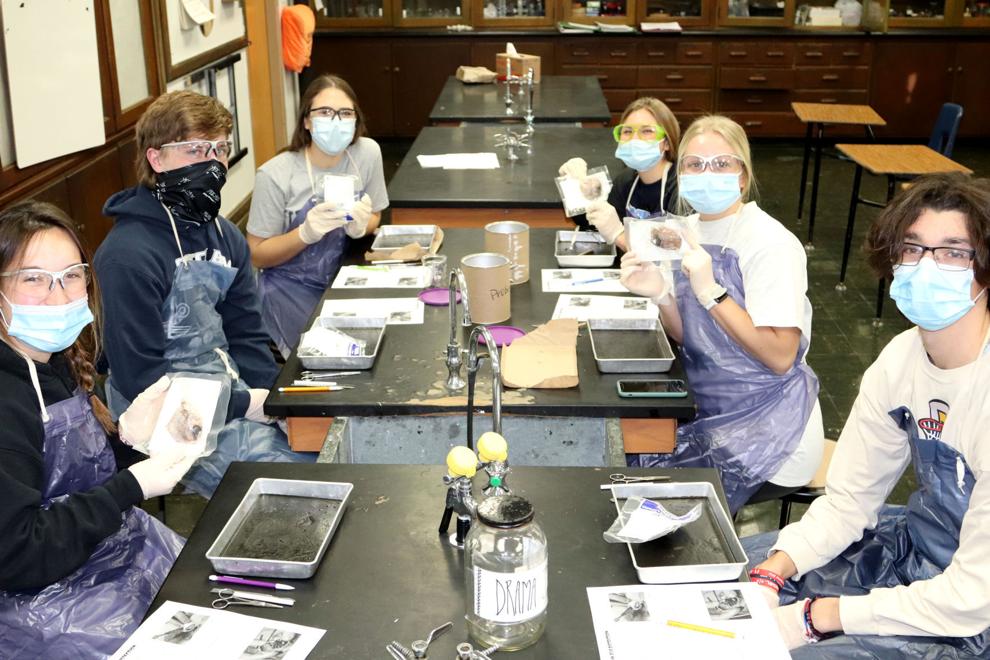 Cissna Park
The anatomy class had a fun — and interesting — time dissecting a cow's eye. Pictured: Kaylee McWethy, Bryce Sluis, Emma Morrical, Audrey Kaeb, Kristen Walder and Malaki Verkler.
— Audrey Kaeb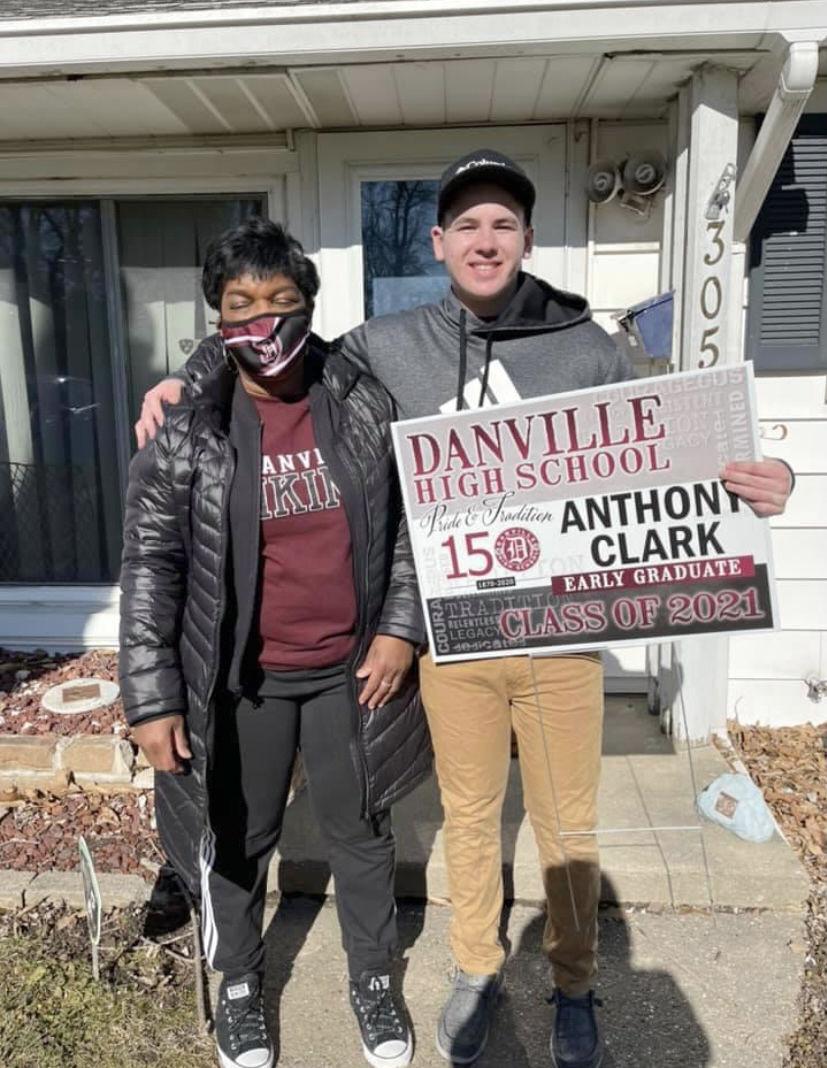 Danville
School administrators are making special stops at student's houses to congratulate them on early graduation. Pictured: Principal Tracy Cherry congratulating Chase Clark.
— Leilani Islam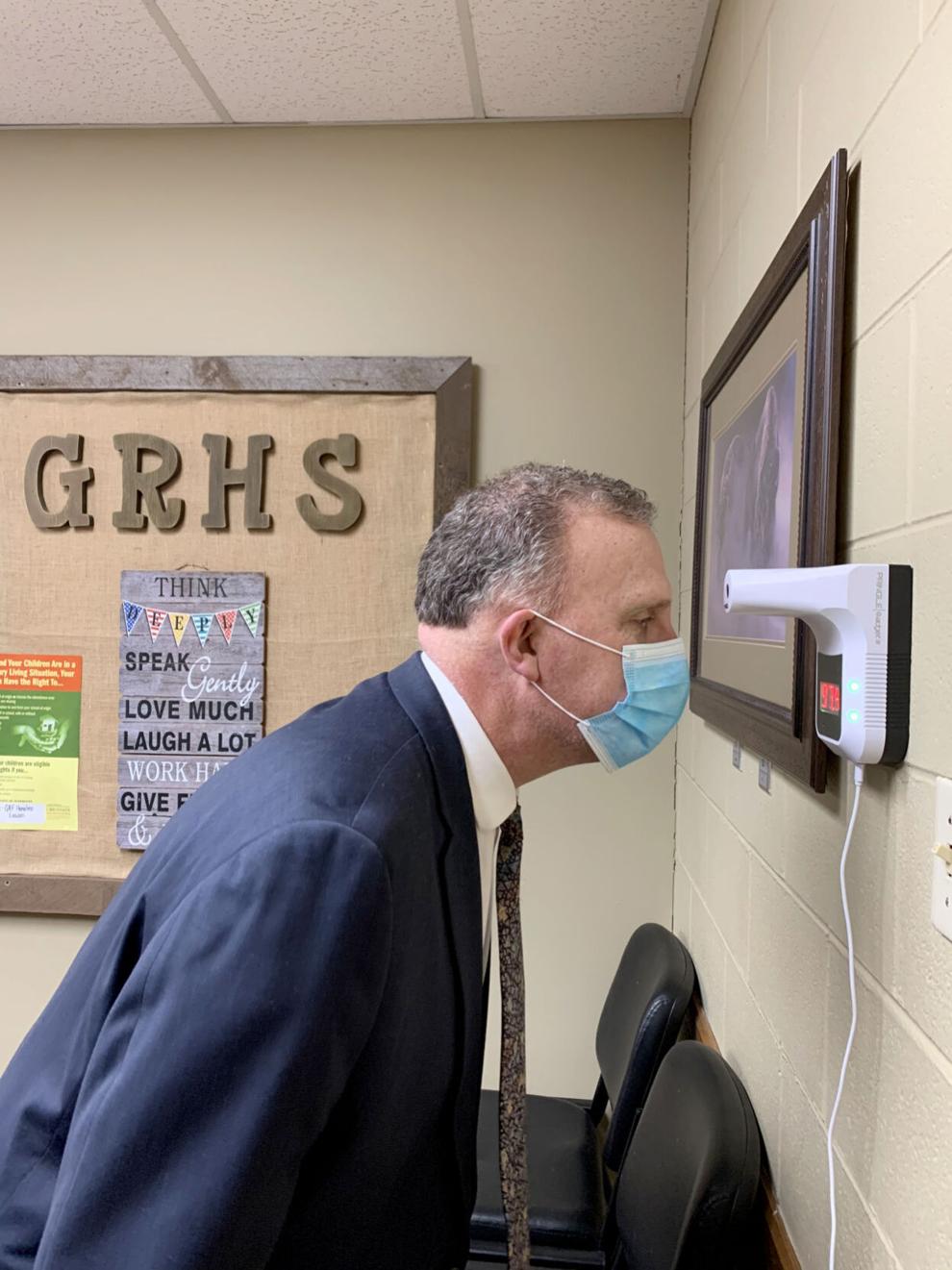 Georgetown-Ridge Farm
Principal Kevin Thomas shows how to use the new, hands-free temperature reader. Students' temperatures are taken each day to ensure safety during in-person learning.
— Lillian Bouton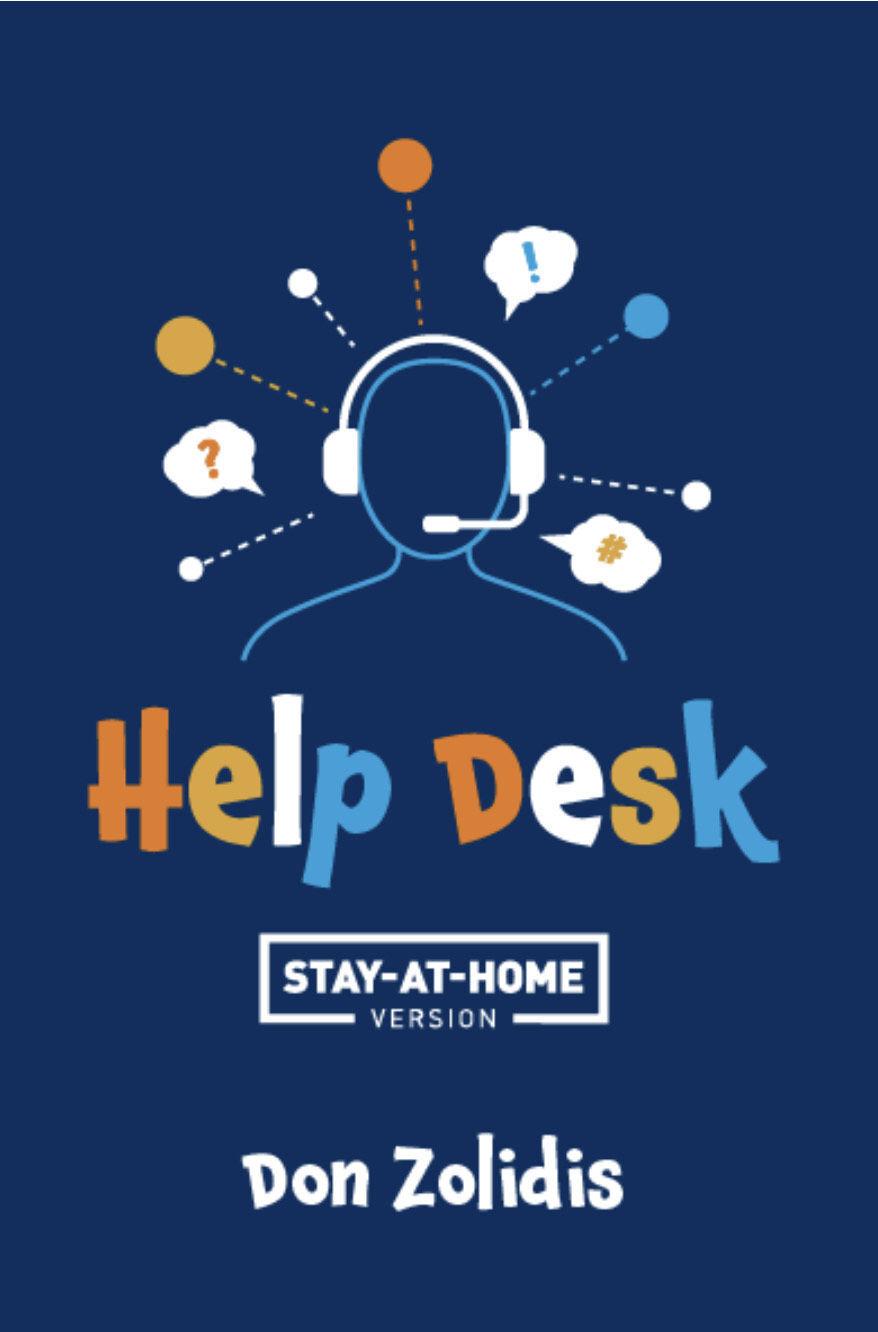 Gibson City-Melvin-Sibley
Rehearsals are underway this year's play, a virtual performance of "Help Desk" by Don Zolidis. All practices and performances will be done via Zoom. The date is still uncertain but the cast plans to either release the performance online or have a live performance for at-home audiences.
— Haven Hathaway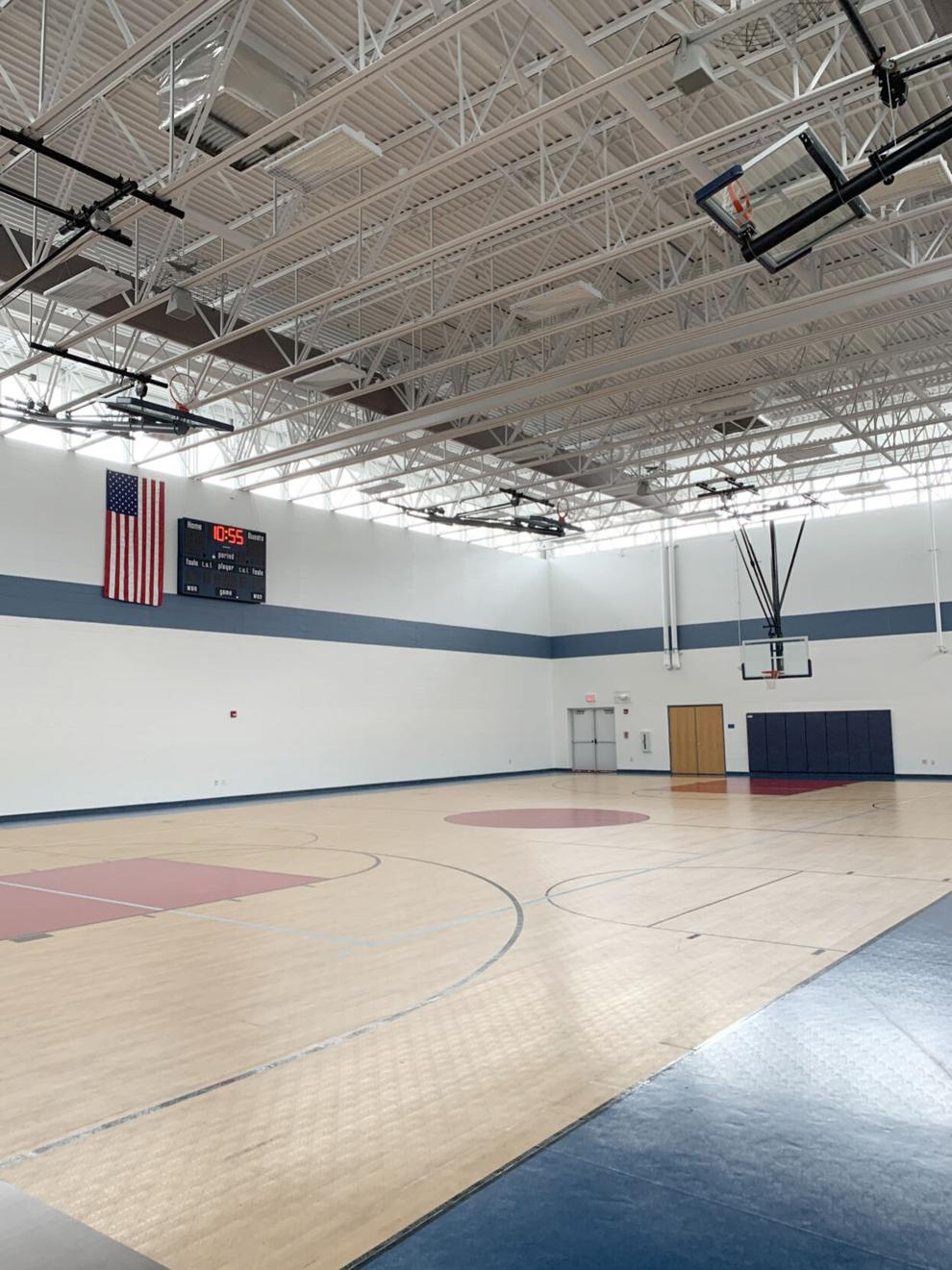 Heritage
The gym is back in use as athletes were given the green light from the state and IHSA.
— Anna Sanders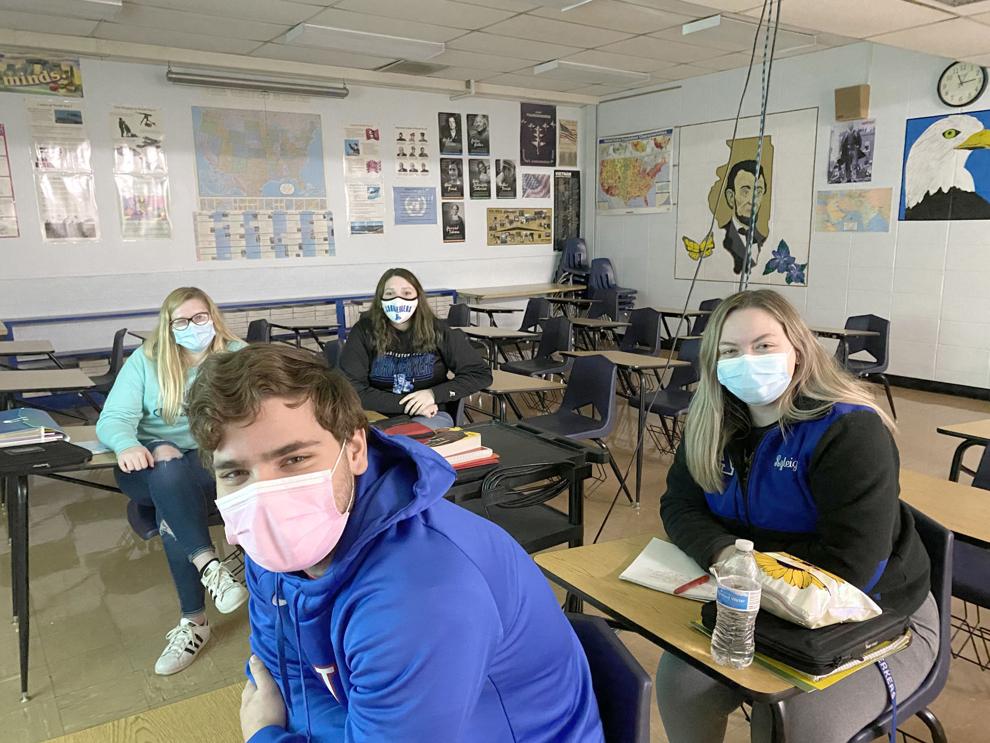 Hoopeston Area
The U.S. history through film class finished its second movie of the semester: "42," the story of Jackie Robinson. Pictured: (front row) Christopher Catron and Ryleigh Wardall and (second row) Logan Judy and Alyssa Alwardt.
— Lexie Breymeyer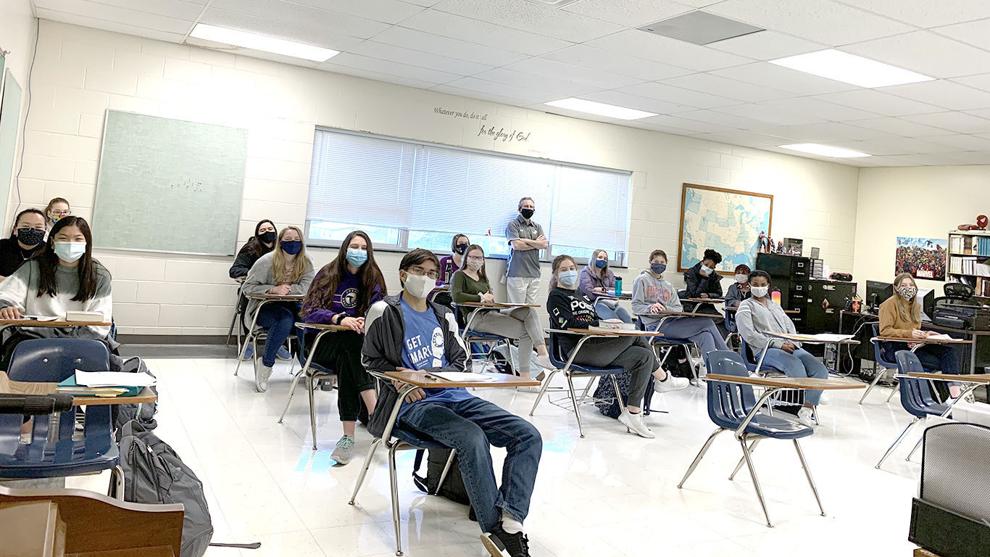 Judah Christian
Andrew Roger's "Purity For Life" class discussed the significance of balancing life, building margins and managing stress. Rogers shared with the students his advice on dealing with stress from school, work and family relationships. The class also reflected on Philippians 4:6-7 which says, "Do not be anxious about anything, but in every situation, by prayer and petition, with thanksgiving, present your requests to God. And the peace of God, which transcends all understanding, will guard your hearts and your minds in Christ Jesus."
Pictured, left to right: (first row) Zane Coulter (second row) Emma Schultz, Kaitlyn Januzik, Lydia Lowry, Feven Eisenmenger and Anna Eisenmenger (third row) Selah King, Ella Carder, Ally Aardsma, Natalie Pait and Masi Eisenmenger (fourth row) Mae Thomas, Abi Tapuaiga, Summer Hollis, Rogers, Megan Wolf and Jordan White
— Felicity Tuan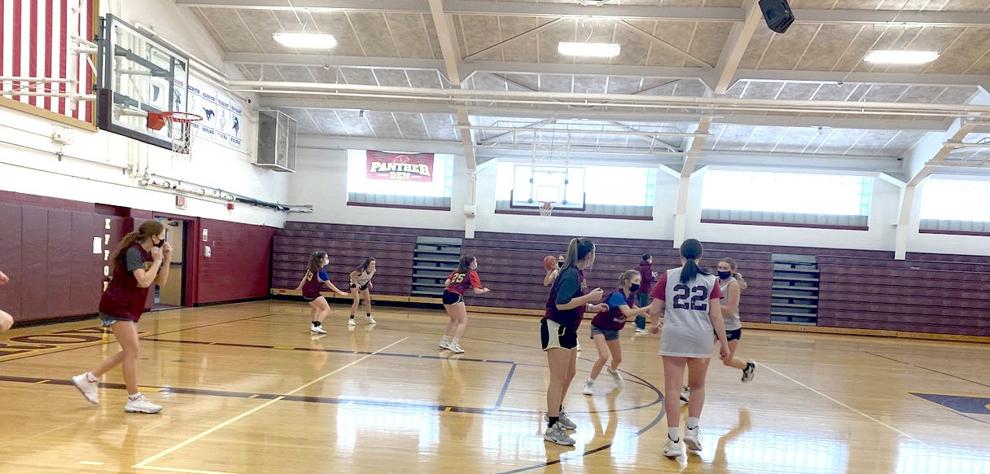 LeRoy
Seniors on the boys' and girls' basketball teams are happy for the opportunity to play one final season. Senior Logan Petersen said: "I was worried at the beginning that I wasn't gonna get a senior season but now I'm happy that we're getting the opportunity to play even though it's not the full season and that all our hours in the gym is going to pay off." Another senior, Grace Loy said: "I never imagined our senior year of basketball would be happening in this way, but I am grateful that we do get to play. Senior season is very different from the others because you know it is your very last time to compete for your school. It also comes with leadership, hard work and lots of patience. I hope that all of us enjoy every second of it."
— Emerson Tarr
Mahomet-Seymour
Virtual Variety Show 2021 is streaming through Sunday. Virtual admission is $10, with ticket sales and donations benefitting Drama Club and Drama Boosters.
— Kate Cramer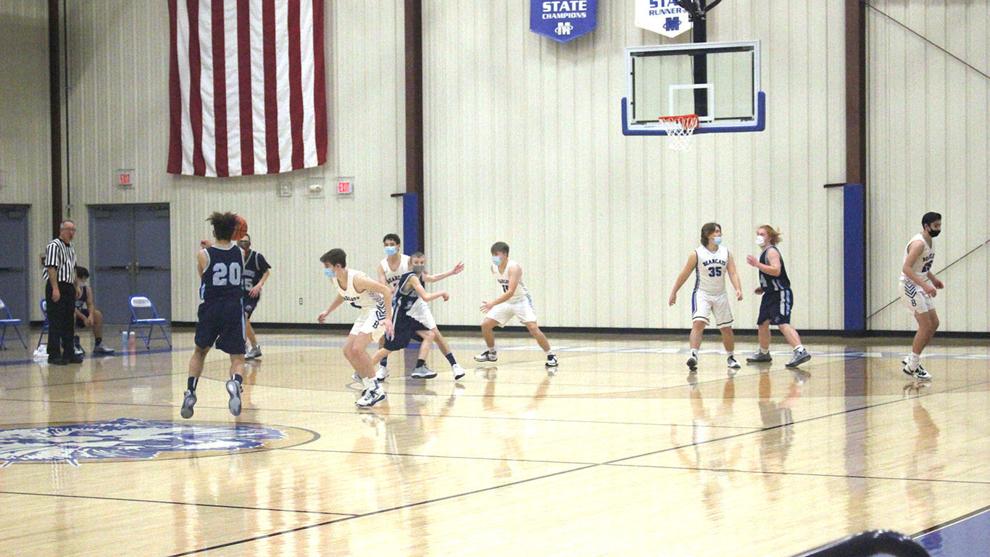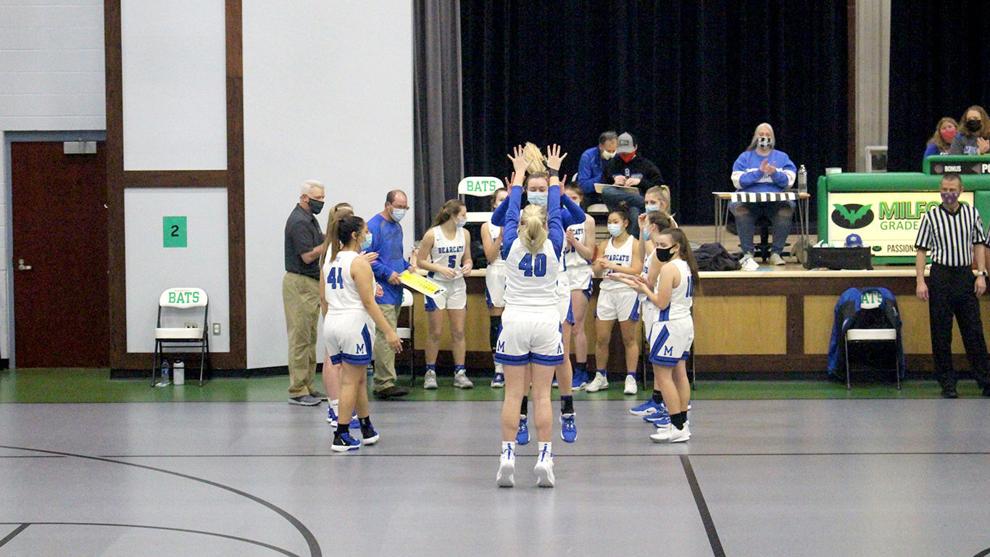 Milford
The boys' and girls' basketball teams had their first games on Saturday, the girls beating Donovan and the boys beating Cissna Park.
— Jordin Lucht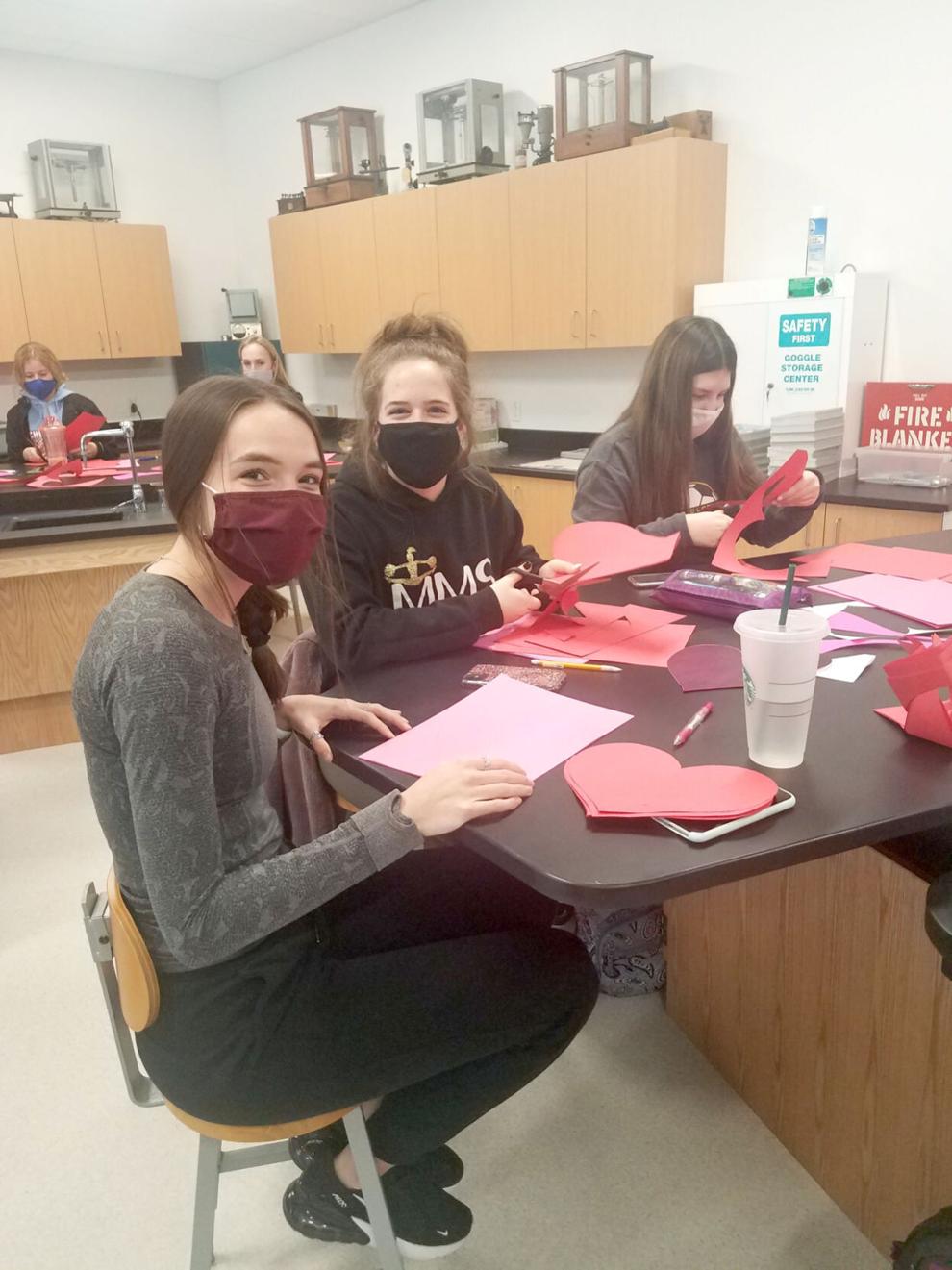 Monticello
Student council prepared hearts with sweet sayings on them to post on the doors of all of the rooms in the school. Every student will tack another heart onto a door for 10 days until Valentine's Day. Pictured: student council members Lucy Maxwell, Chloe Smith, and Sylvie Harvey.
— Clara Rudolph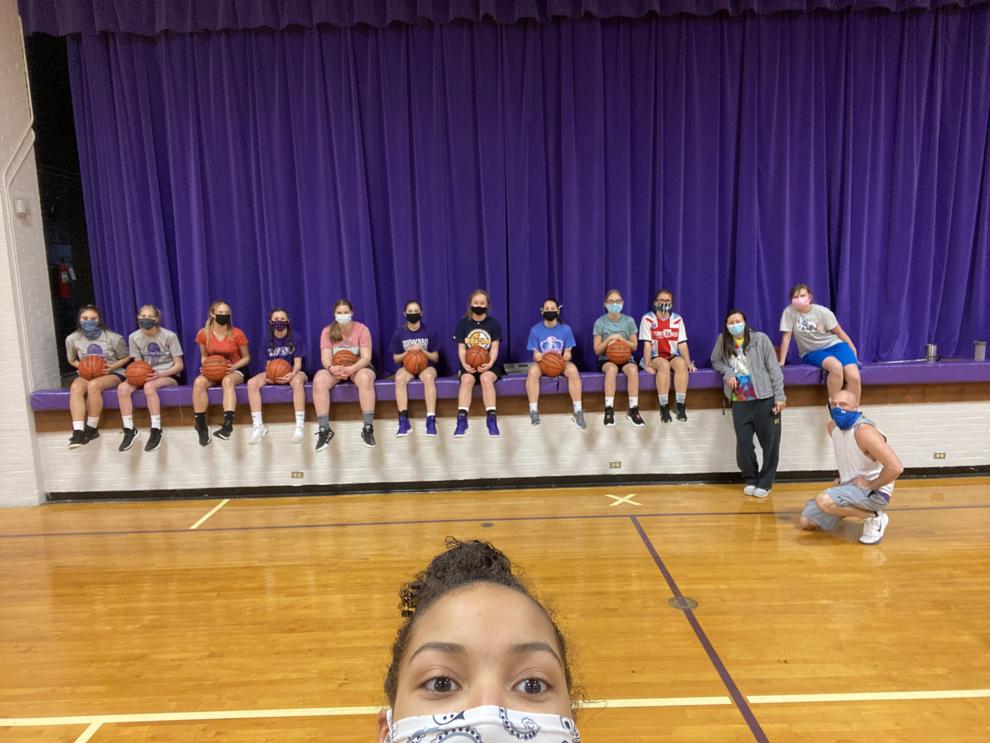 Oakwood
The girls' basketball team began all-in practices ahead of its Thursday opener against Salt Fork. Joining Aaliyah Denius and pictured on stage, left to right: Cherokee Hanner, Emilia Frerichs, Nikita Taylor, Jaydah Arrowsmith, Addie Wright, Karsen Rupp, Ashlynn Pinnick, Savannah Nevitt, Mayci Martin, Kalie Tison, coach Stephanie Marsh, Ali Reed and assistant Jesse Johnson.
— Aaliyah Denius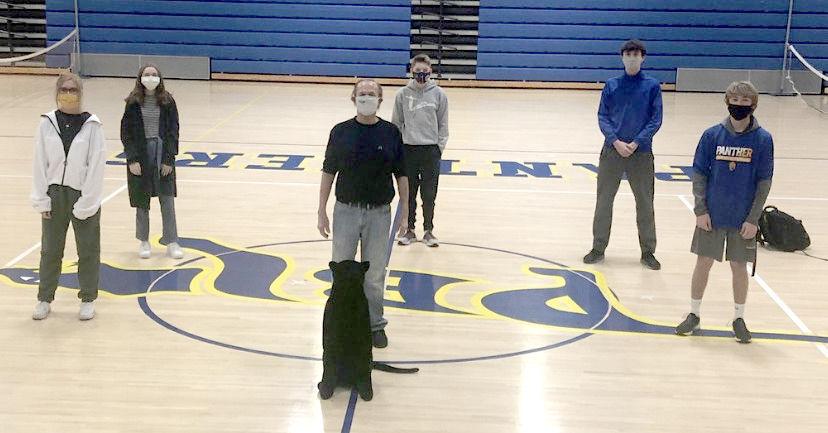 Paxton-Buckley-Loda
Pictured: Custodian Rick Vaughn was joined by students who nominated him for Staff Member of the Month. Also, the Scholastic Bowl gathered in person to compete virtually against Watseka, Dwight and Cissna Park, the other schools using an online buzzer system. PBL won against each team with Liam McMullin leading the way in the tossups. Landon Wilson, Ella Curry, Christina White, Reese San Diego, Paul Cleary and Abby Thompson all participated. Meanwhile, White placed first (Section 17 varsity) for the FFA team in Prepared Public Speaking. Trixie Johnson was third in Section 17 JV Extemporaneous competition.
— Taylor Mennenga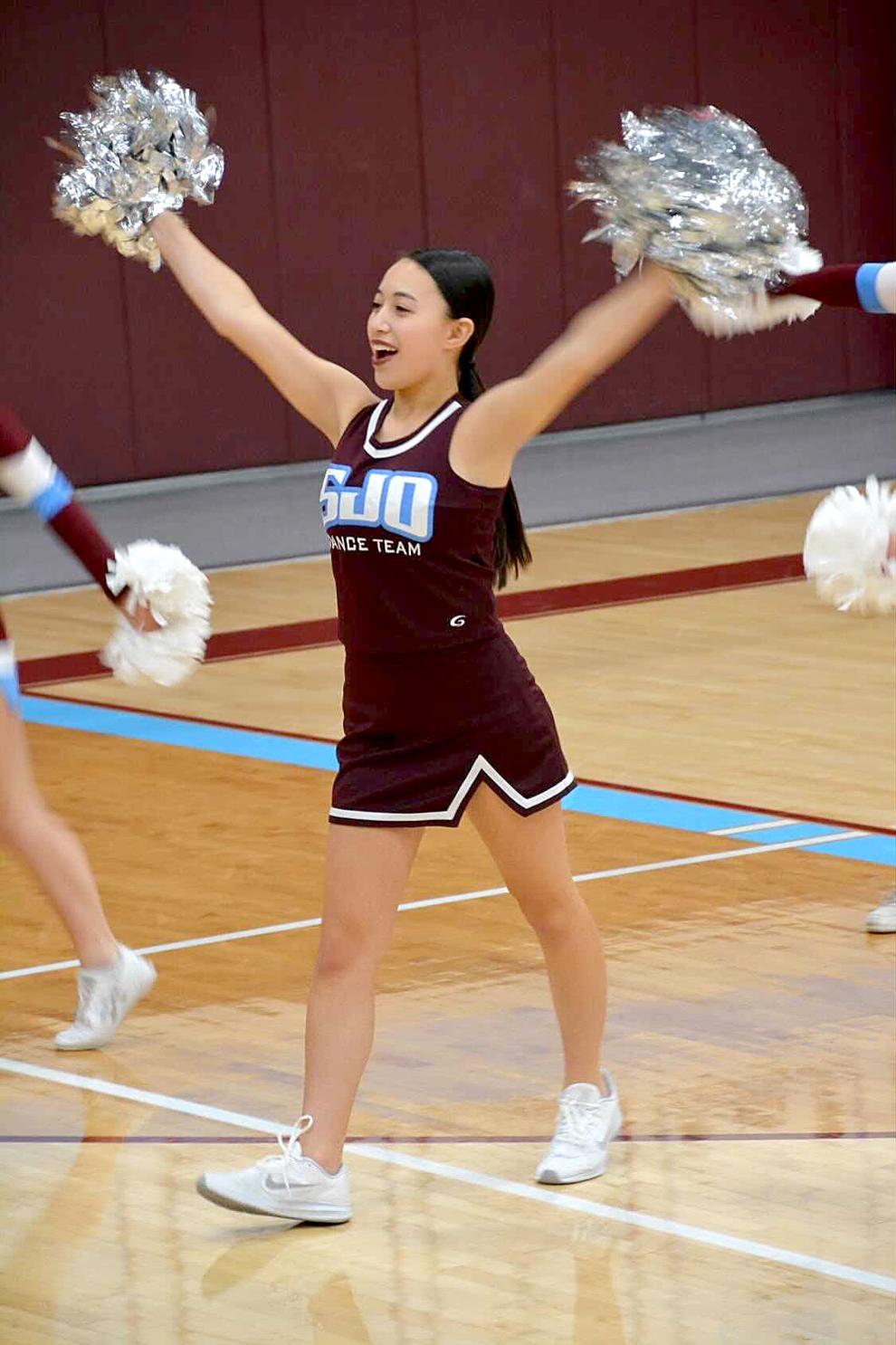 St. Joseph-Ogden
Dance Team resumed practices late last week, preparing for their upcoming season. Dance and cheer are the only two winter sports that will be allowed to have a state series due to COVID-19. The dance state series will be held virtually on Feb. 27. Senior captain Samantha Naylor (pictured) said: "I am definitely feeling grateful that dance has a chance to compete at a state series during this crazy time. This season is going to be very different than before, but it's still something that I look forward to. I have high hopes that things will get better and that our team can virtually qualify for state with our hip-hop dance this year. I'm trying to stay optimistic about the situation but overall I'm just happy to be dancing with my team again."
— Kylie Duckett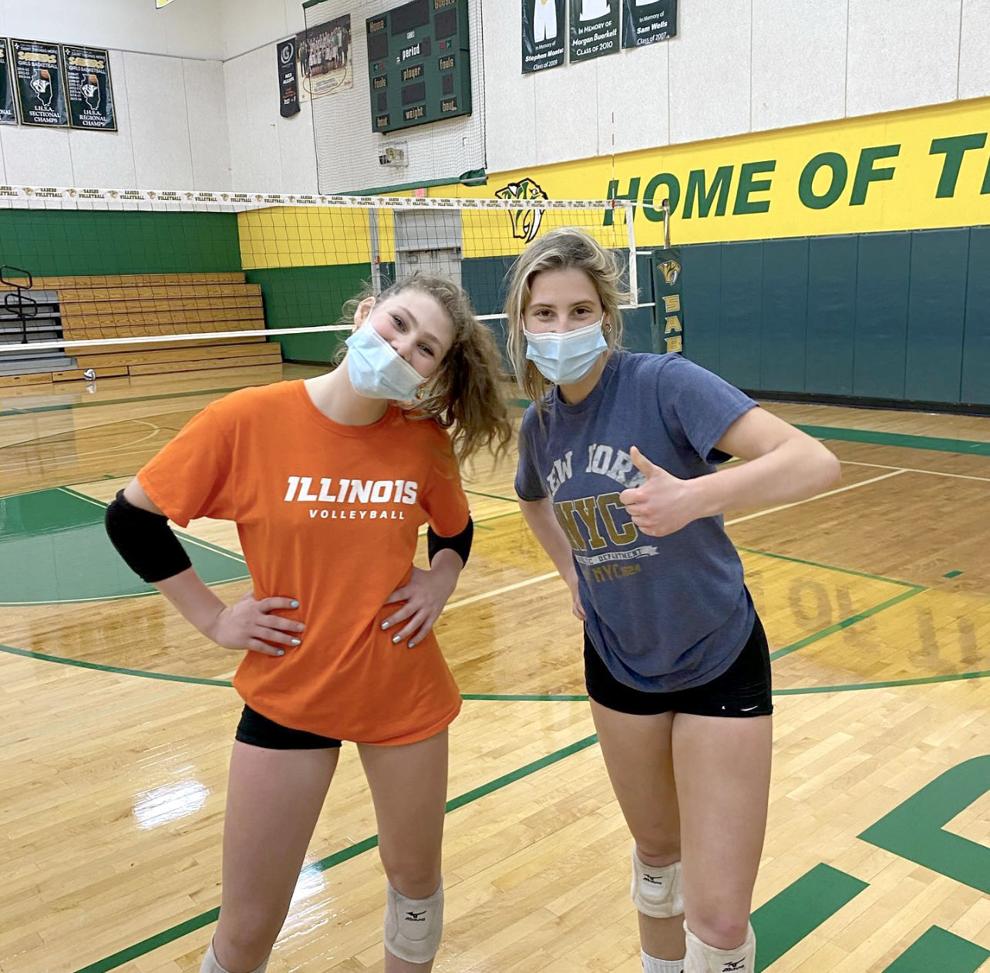 St. Thomas More
The volleyball team has been working out three times a week with excitement as its shortened season approaches. Players such as Colleen Hege and Camille Breen were anxious to get back on the court with teammates.
— Maci Walters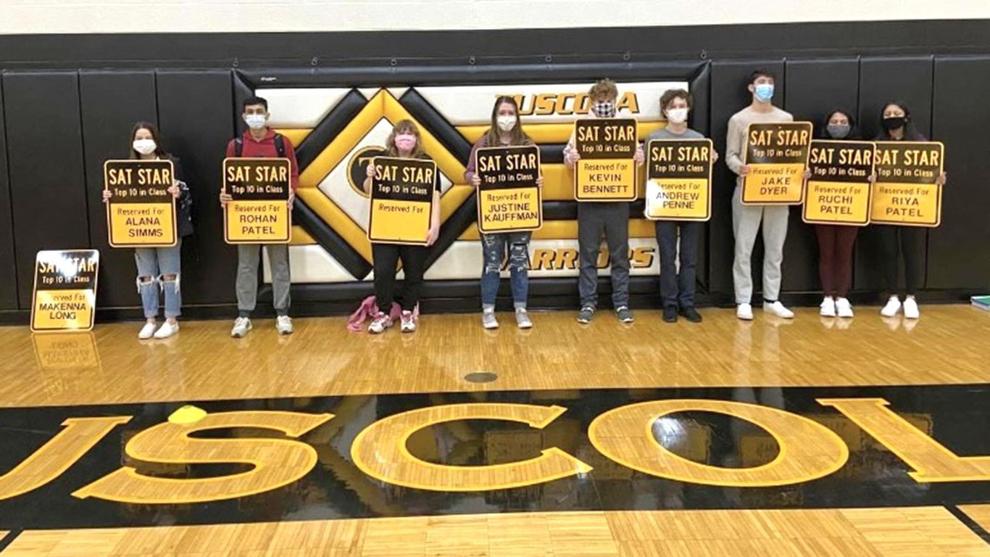 Tuscola
Congratulations to the Class of 2021 Top SAT Stars, whose reward is a reserved parking spot in the front row of the lot outside the high school. Pictured, left to right: Alana Simms, Rohan Patel, Maddy Boyd, Justine Kauffman, Kevin Bennett, Andrew Penne, Jake Dyer, Ruchi Patel and Riya Patel. Not pictured: Makenna Long.
— Ava Cothron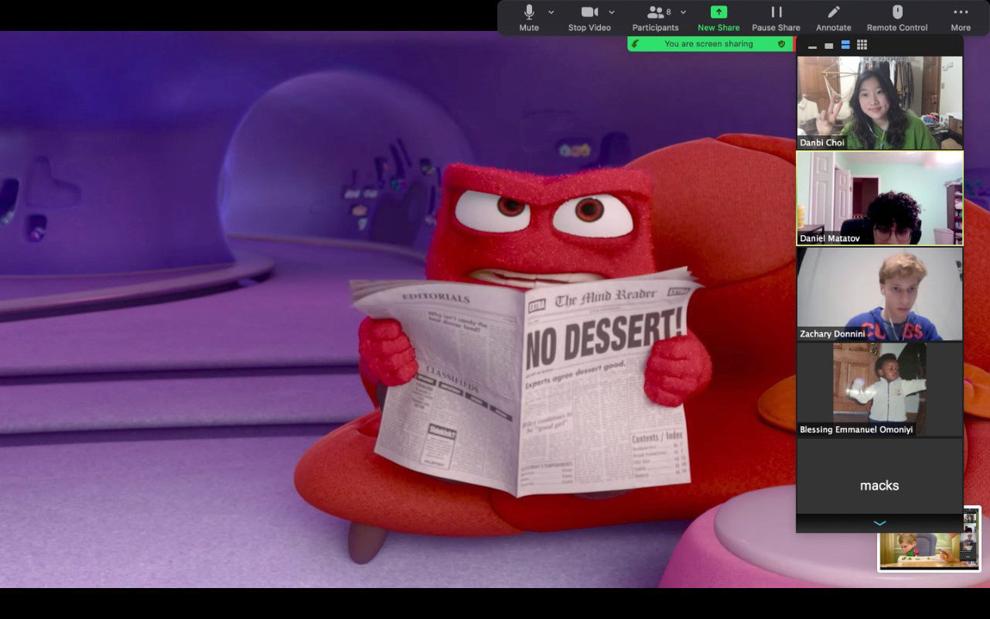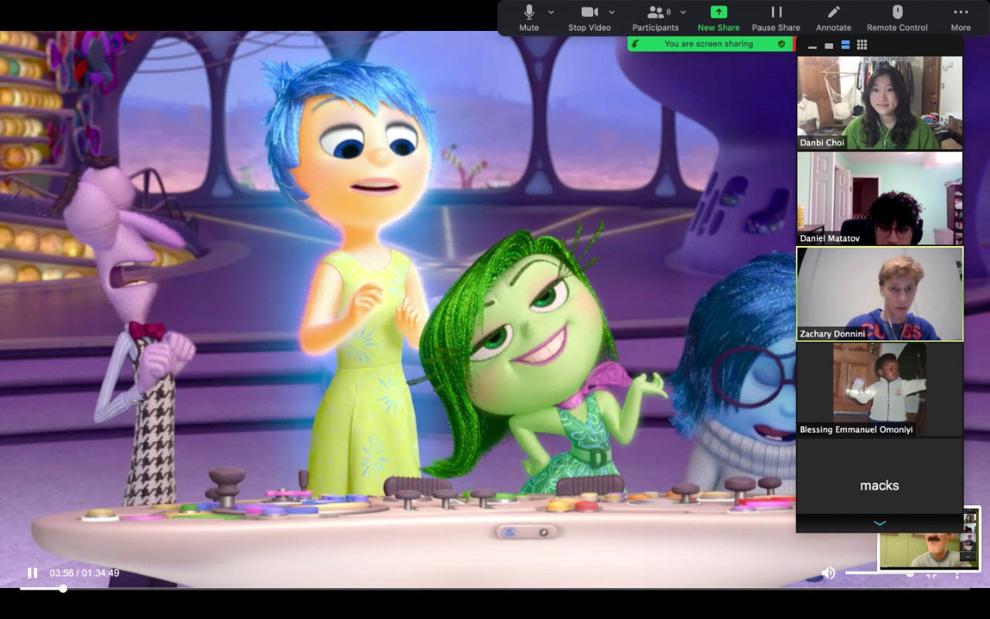 Uni High
Student council held its first monthly movie night last Friday, screening "Inside Out" over Zoom. Later in February, students can expect a virtual spirit week, sports game fundraisers and other engaging activities.
— Charlotte Ebel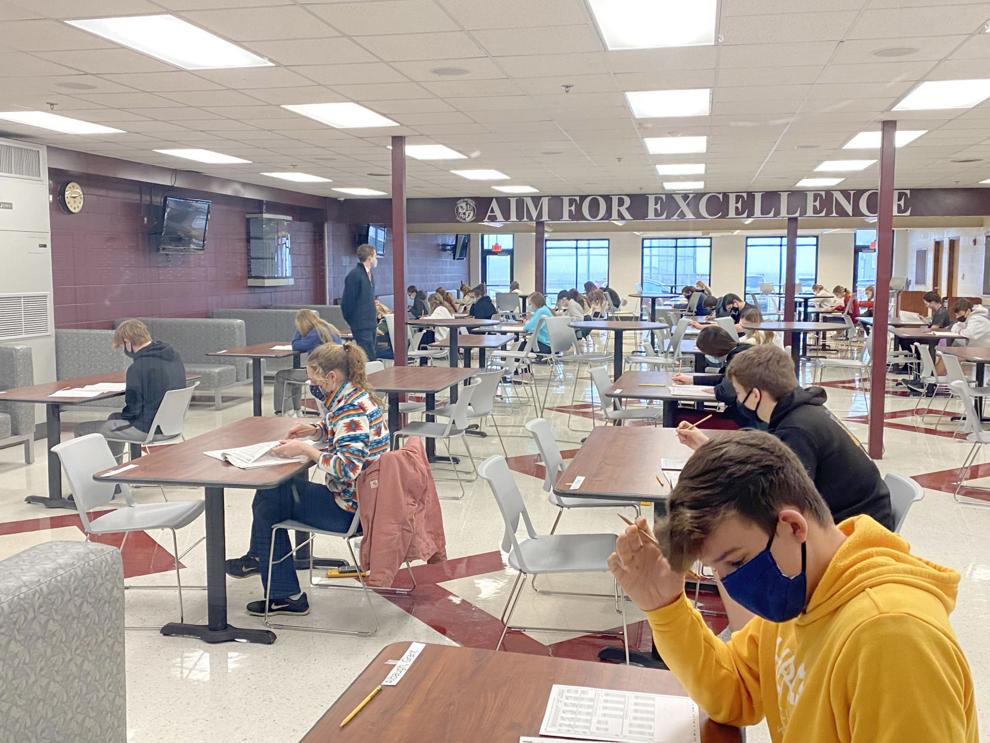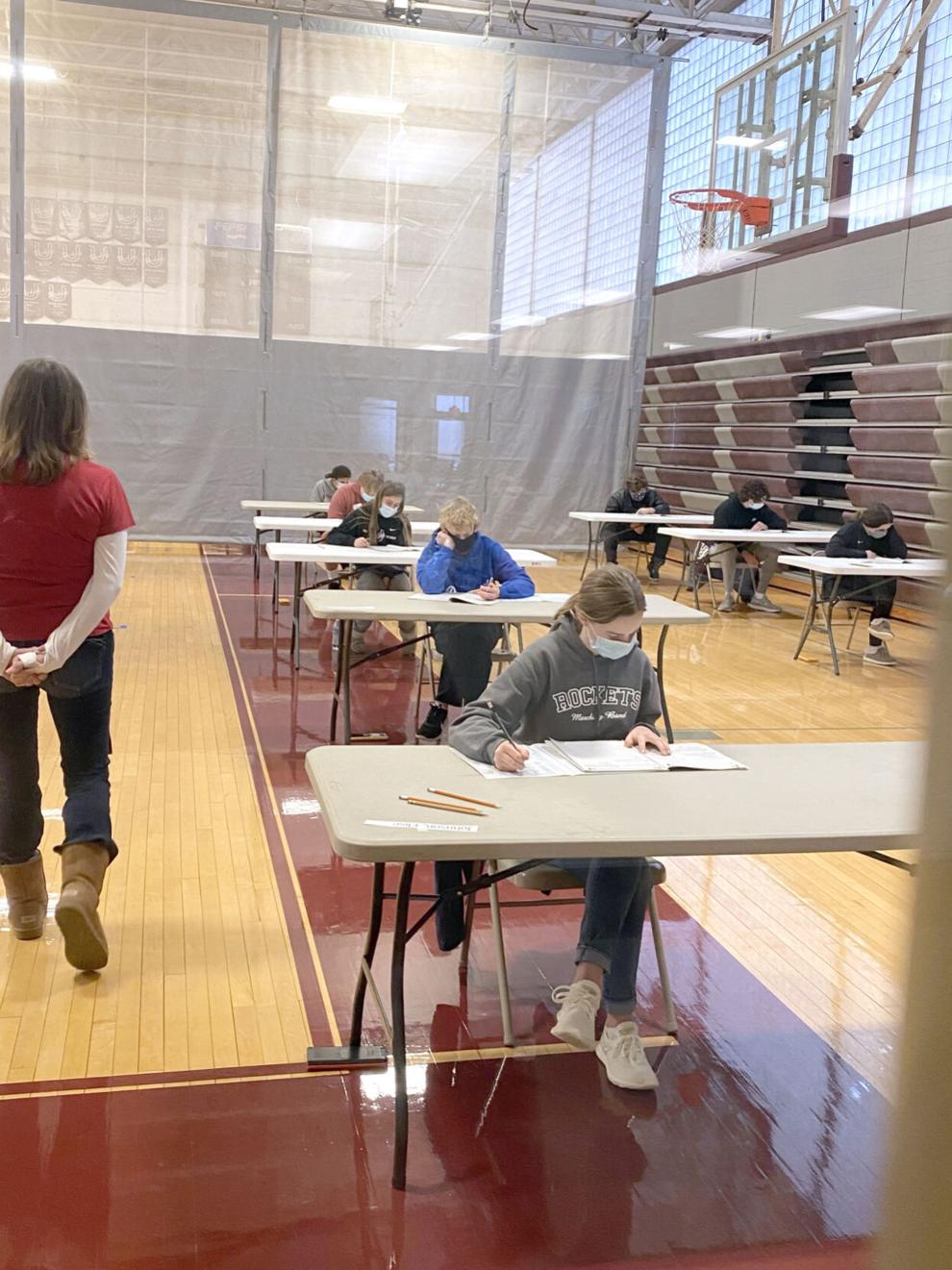 Unity
On Jan. 26, juniors took the PSAT/NMSQT. On April 13, they will take the SAT.
— Malia Fairbanks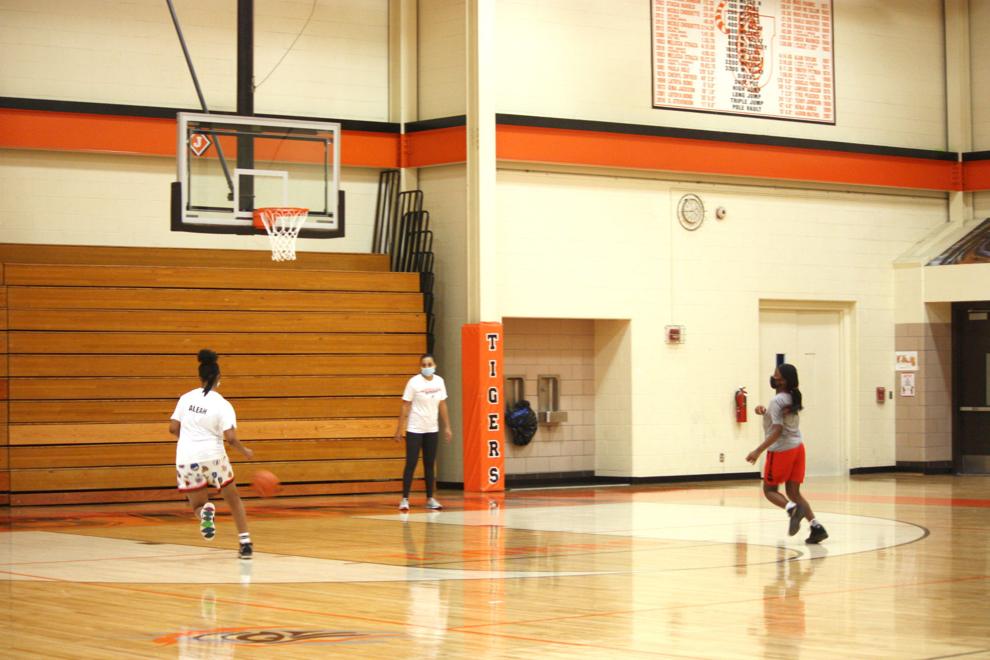 Urbana
Cleared to compete, the girls' basketball held tryouts last Wednesday. The boys' basketball followed suit, with football scheduled to take place in the spring.
— Jose Alvarez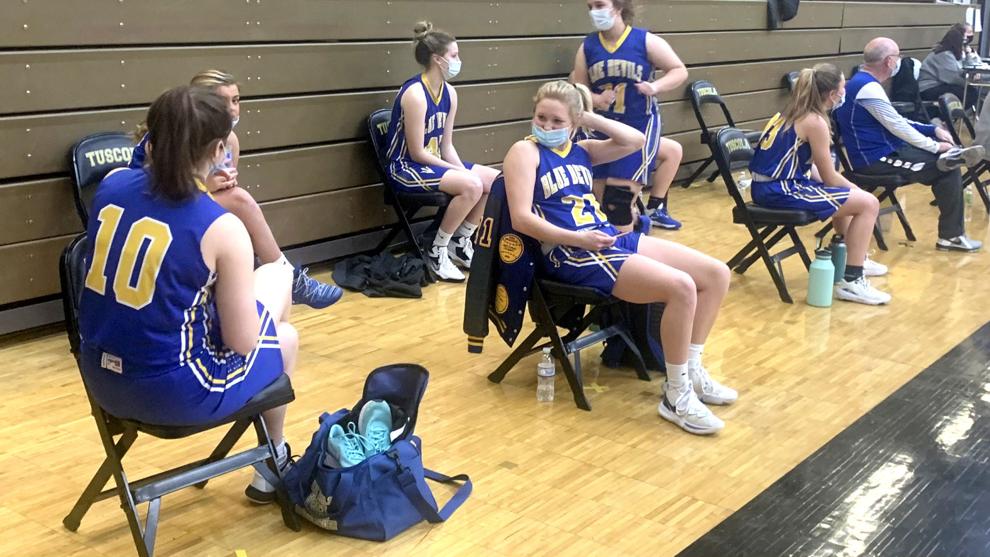 Villa Grove
Madie Burwell, Kyleigh Block and Hailey Stutz warm up for their first varsity girls' basketball game of the season against Tuscola on Saturday.
— Daniel Olson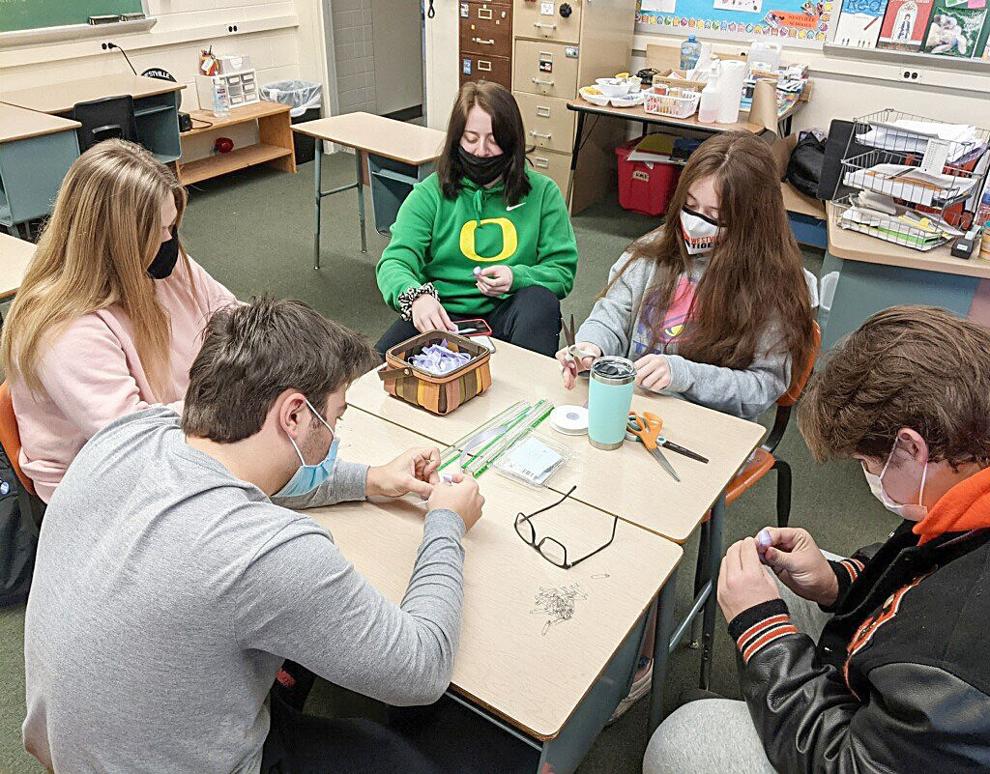 Westville
Class officers in each grade level have begun to plan yearly activities. The junior class officers decided to host a Cancer Awareness Day, meeting early in the morning to make lavender ribbons to pass out on Friday. The project also includes a donation to OSF's Cancer Care. Pictured, clockwise from left: class president Bryce Burnett, treasurer Luke Johnson,. Historian Amyah Goulding, vice president Mackynze Woodard and secretary Jasymn Meeker.
— Bryce Burnett