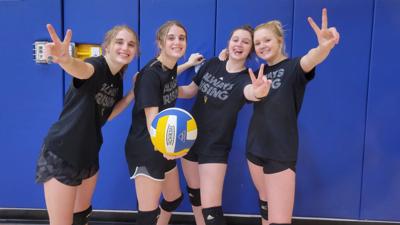 Welcome to Year 5 of High School Confidential, an award-winning project made possible by aspiring student journalists from every corner of our circulation area. Each Friday through May, they'll tell us what's happening in their hallways at news-gazette.com.
Once a week, we'll also hand over our Snapchat account (News-Gazette) to our correspondents for behind-the-scenes tours.
Feeback? Email N-G/VP Jim Rossow at jrossow@news-gazette.com.
This year's panel:
— Reese Anderson, Chrisman
— Jose Alvarez, Urbana
— Briana Ballard, Academy
— Chloe Becker, DeLand-Weldon
— Jada Bonam, Centennial
— Lillian Bouton, Georgetown-Ridge Farm
— Lexi Breymeyer, Hoopeston Area
— Bryce Burnett, Westville
— Raegan Cheek, ALAH
— Olivia Chew, Salt Fork
— Cassandra Colmenares, Academy High
— Clara Rudolph, Monticello
— Ava Cothron, Tuscola
— Kate Cramer, Mahomet-Seymour
— Aaliyah Denius, Oakwood
— Kylie Duckett, St. Joseph-Ogden
— Charlotte Ebel, Uni High
— Malia Fairbanks, Unity
— Hailey Gadbury, Bement
— Haven Hathaway, Gibson City-Melvin-Sibley
— Leilani Islam, Danville
— Fabiola Jaramillo, Arcola
— Audrey Kaeb, Cissna Park
— Jordin Lucht, Milford
— Mason McMasters, Armstrong-Potomac
— Taylor Mennenga, Paxton-Buckley-Loda
— Morgan Miller, BHRA
— Addison Musick, Fisher
— Daniel Olson, Villa Grove
— Kitty Rossow, Central
— Anna Sanders, Heritage
— Courtney Shane, Blue Ridge
— Emerson Tarr, LeRoy
— Felicity Tuan, Judah Christian
— Maci Walters, St. Thomas More
On to this week's report: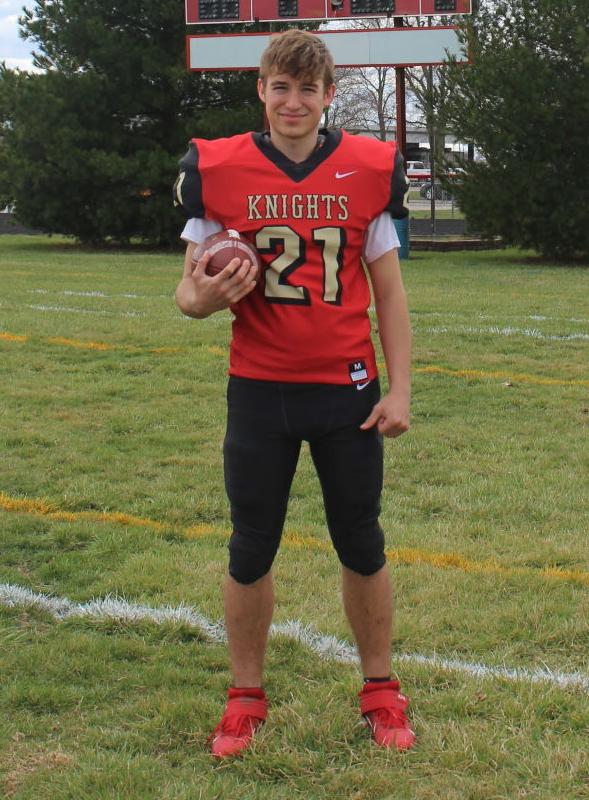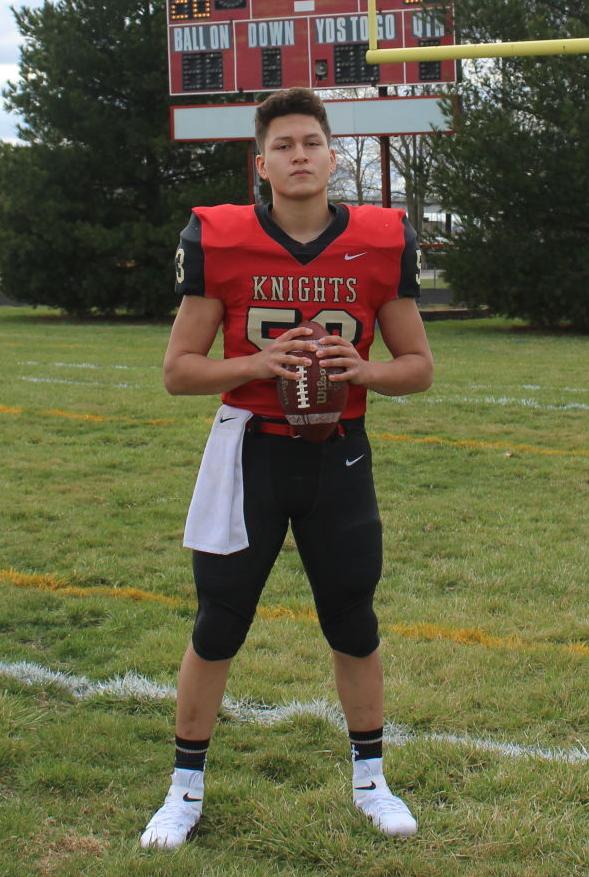 ALAH
Due to the revised IHSA schedule, fall sports portraits were taken this week. Pictured: Austin Plank and Rene Juarez Cueves.
— Raegan Cheek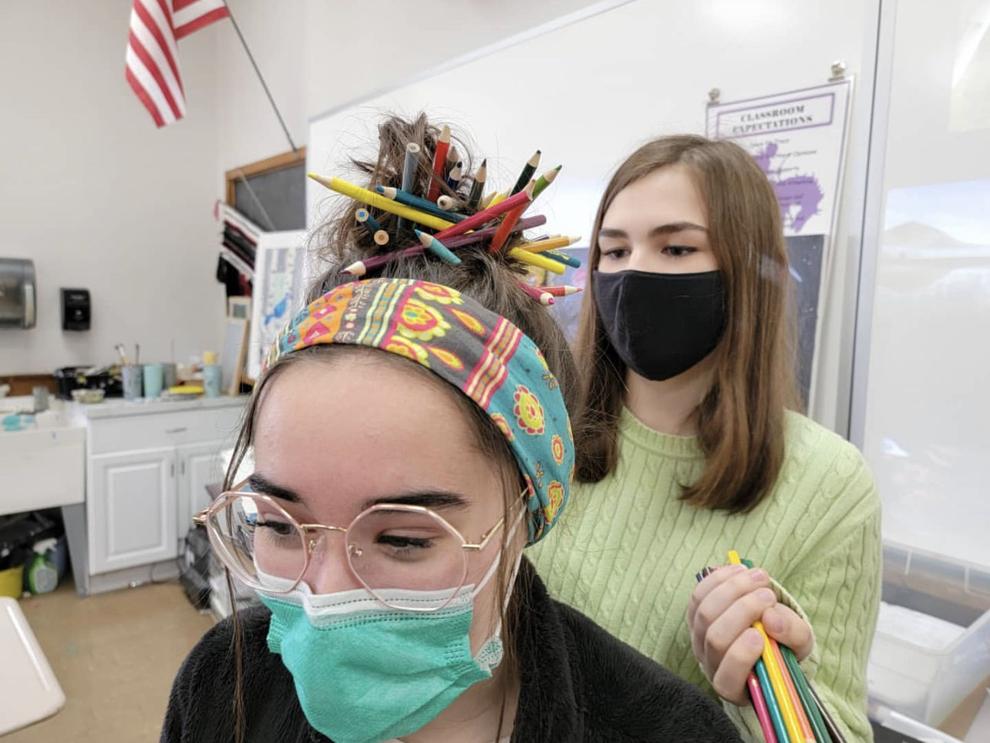 Arcola
Morgan Doud and Karina Warfel worked on their 3D model for art class.
—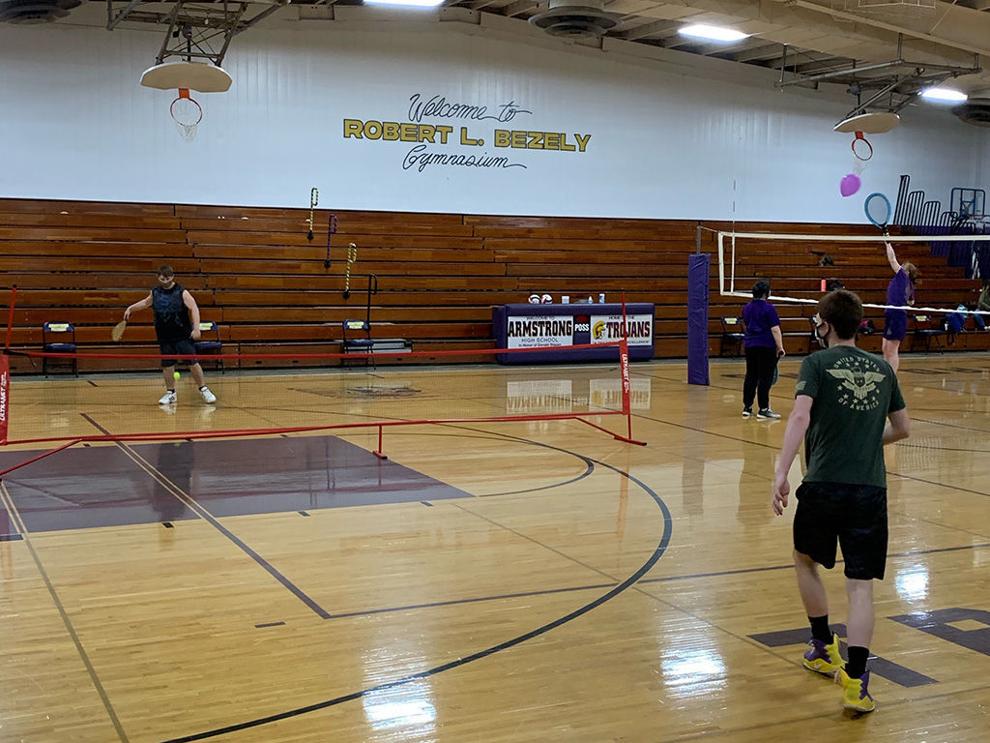 Armstrong-Potomac
In P.E. classes, students competed in singles and doubles pickleball tournaments. Pictured: Austin Rosenberger and Kaleb Truskosky-Corbin.
— Mason McMasters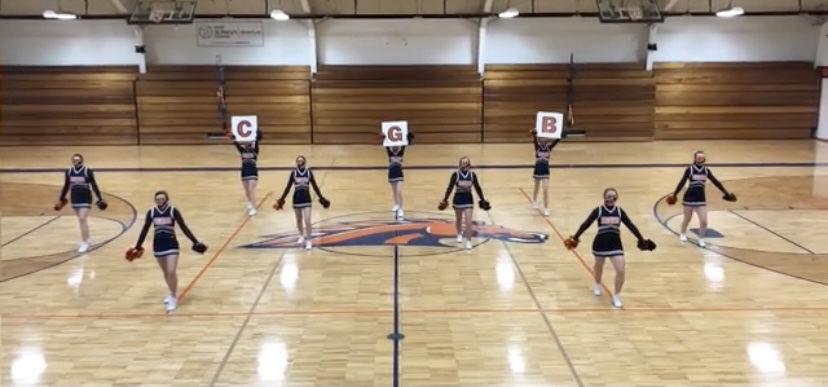 Bement
Cerro Gordo/Bement cheerleaders participated in a new Game Day competition put together by IHSA. Even with little time to practice, the cheer team finished second, missing out on first place by .05 points.
— Hailey Gadbury
BHRA
Under the direction of Fallon Kitchens, students produced the show "Door to Door," which tells the story of the many challenges, choices and opportunities of life. Pictured during a scene: senior Olivia Omundson and junior Layla Martinez.
— Morgan Miller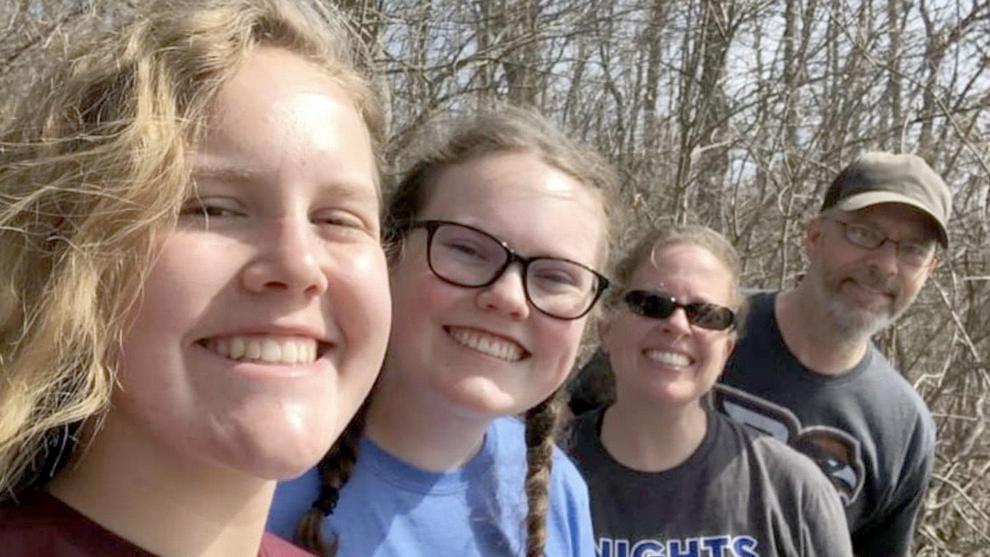 Blue Ridge
FFA put on its Barnyard Stampede virtual 5K, participants receiving a T-shirt and medal. Pictured at Comlara Park in McLean County: Chapter secretary Abby Bolen and her family.
— Courtney Shane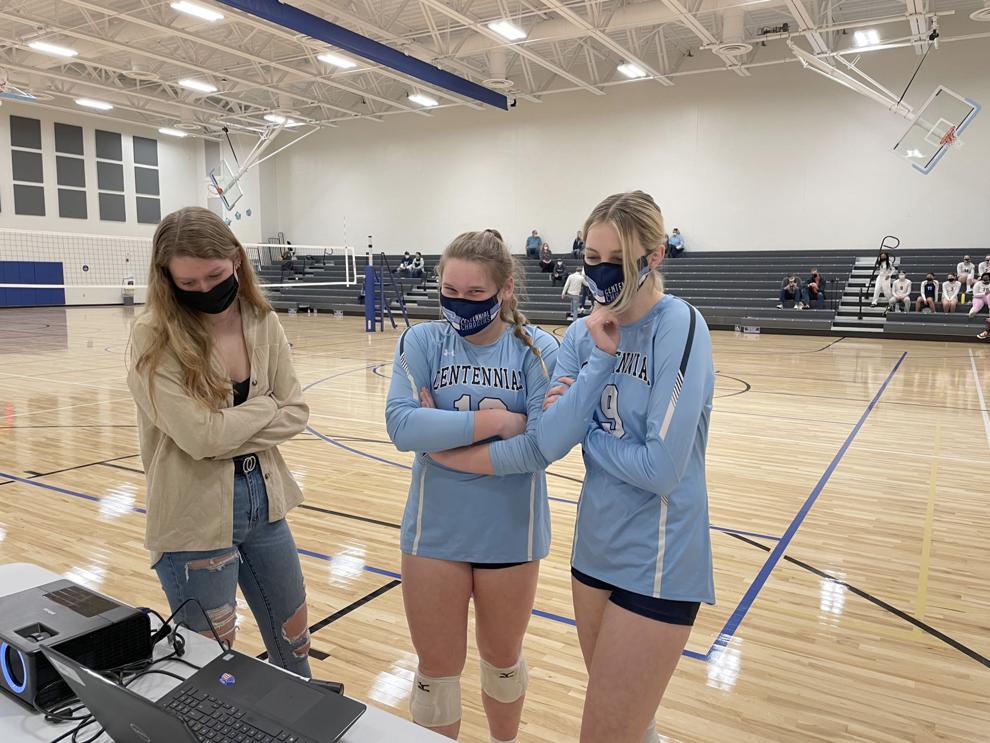 Centennial
The volleyball season started with Senior Night. Pictured, left to right: Maggie Pitcher, Leah Luchinski and Abby Good.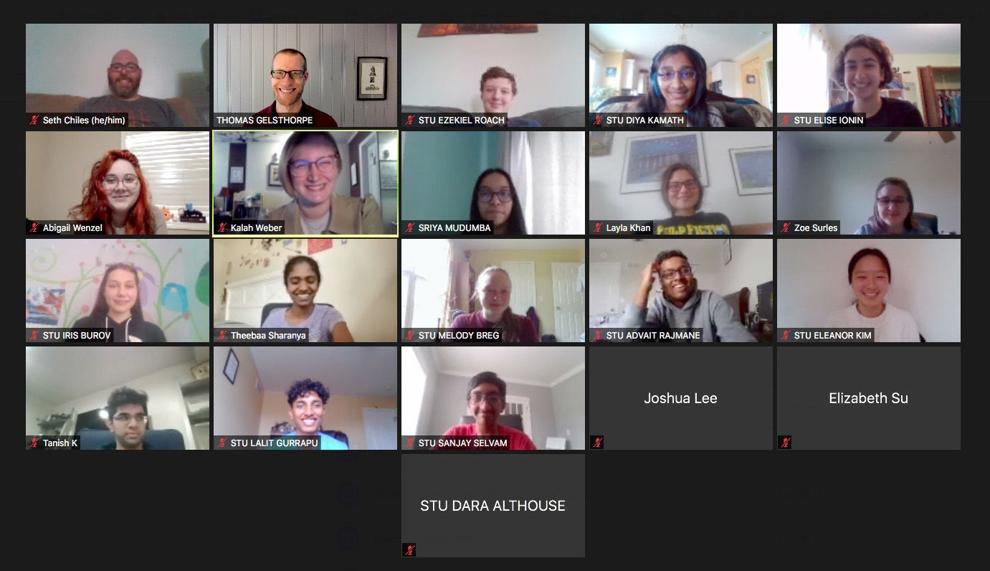 Champaign Central
The varsity Science Olympiad team (pictured at Wednesday's meeting via Zoom) placed fifth overall at a state competition held virtually on March 10. Advait Rajmane and Melody Breg placed first in boomilever. Other medalists included: Abby Wenzel, Zoe Surles, Sonam Jain, Layla Khan, Sanjay Selvam, Lauren Hunt, Theebaa Sharanya Senthilkumar, Tanish Khadse, Kalah Weber, Sriya Mudumba Diya Kamath and Ellie Kim. 
— Kitty Rossow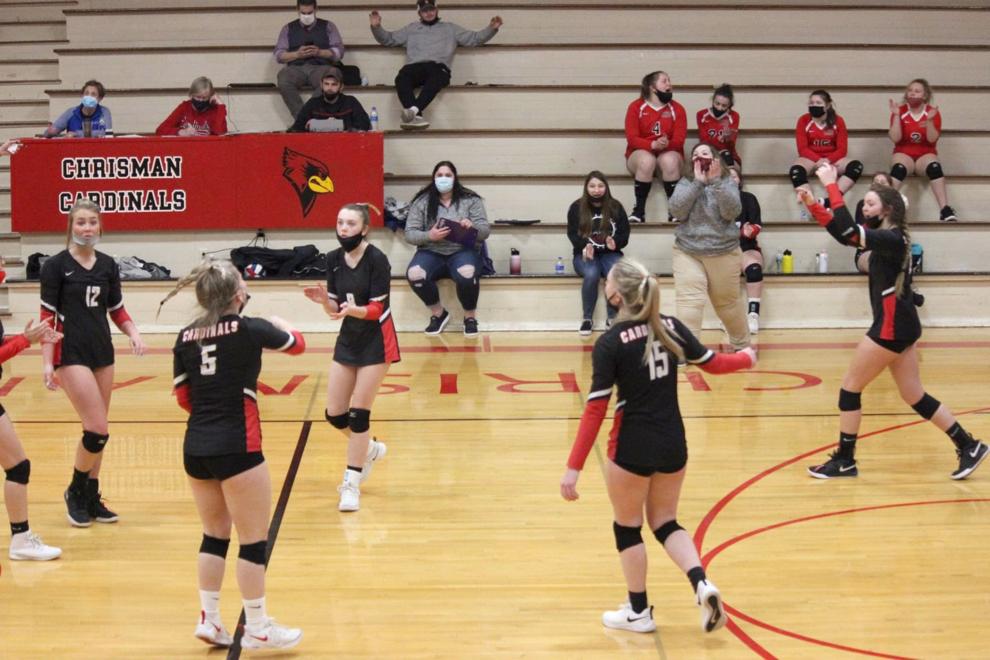 Chrisman
The volleyball team started its shortened season with three wins, excited to be back on the court and playing the sport they love.
— Reese Anderson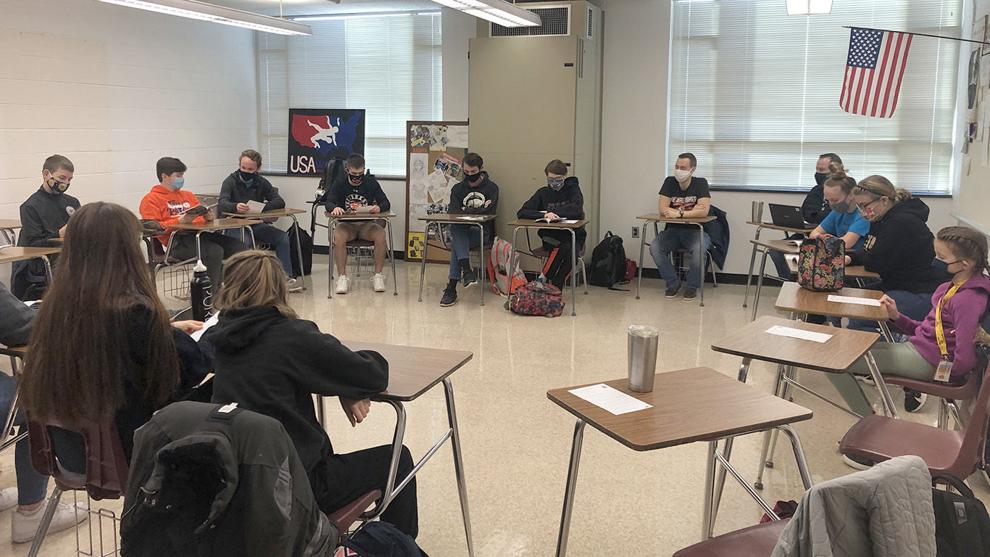 Fisher
The Fellowship of Christian Athletes club meets for a Bible lesson before school on Fridays. Student leader and senior Cale Horsch said: "FCA is a great way to socialize and really get to know other students that you may not have any classes with. However, I think the best part ... is how they give a great boost to your Friday. They have such a positive impact on your day that it sends you into the weekend with great spirits."
— Addison Musick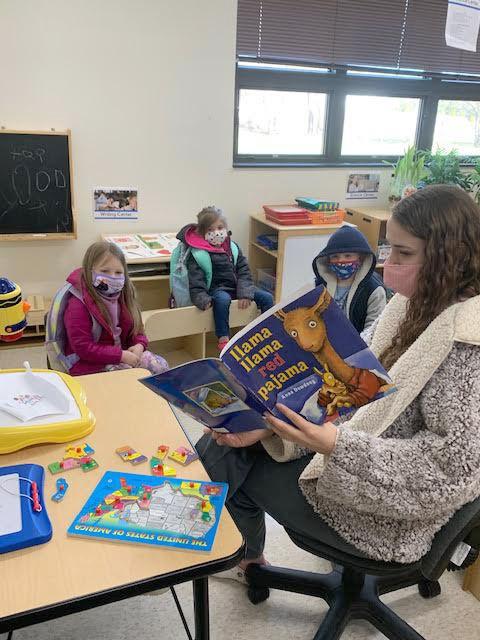 Georgetown-Ridge Farm
Buffalo Readers are members of the Student Advisory Committee who read to preschoolers during their free time. Pictured: Junior Trinity Collins sharing a story this week.
— Lillian Bouton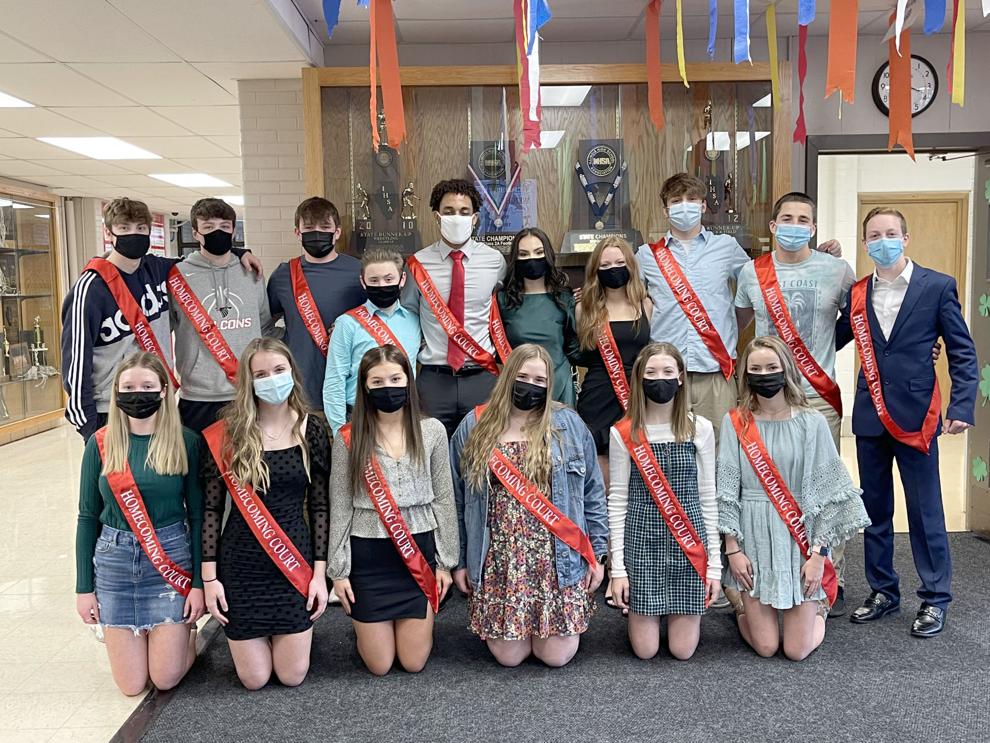 Gibson City-Melvin-Sibley
The school celebrated homecoming with hallway decorating, powderpuff volleyball games and spirit dressup days. The homecoming court includes: Jack Schultz, Austin Elliot, Mason Kutemeier, Jaden Franklin, Isaiah Chatman, Ashlyn Allemand, Kadyn Barnes, Alex Minion, Aiden Sancken, Getty Grier, Kenley Andre, Koran Plumbo, Ashley Hyatt, Kendyl Wright, Brynn Boundy and Kalynn Little. Not pictured: Alex Killian and Bella Amburgey.
— Haven Hathaway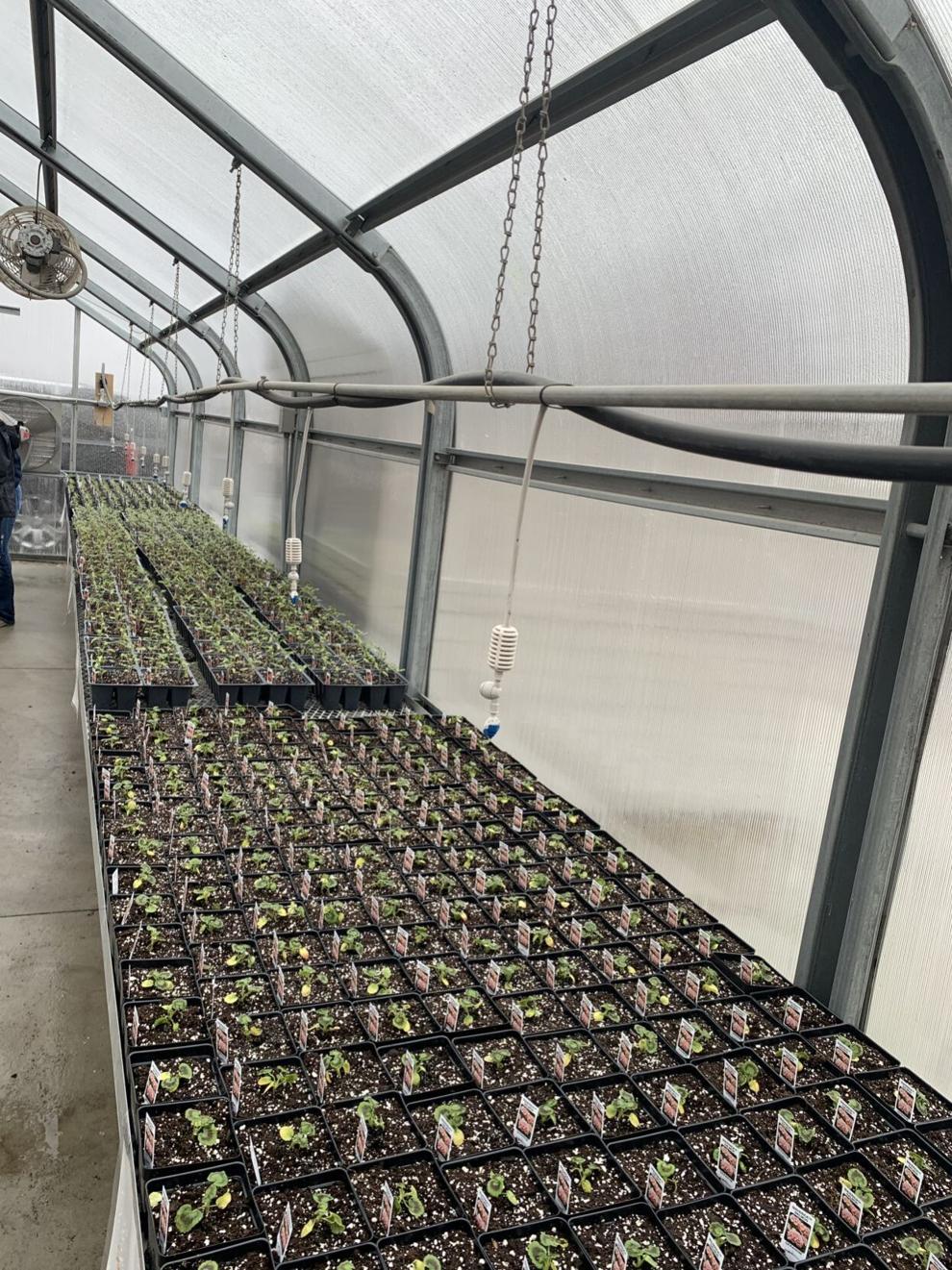 Heritage
Horticulture class potted plants last week and will take care of them until they are ready for the annual plant sale.
— Anna Sanders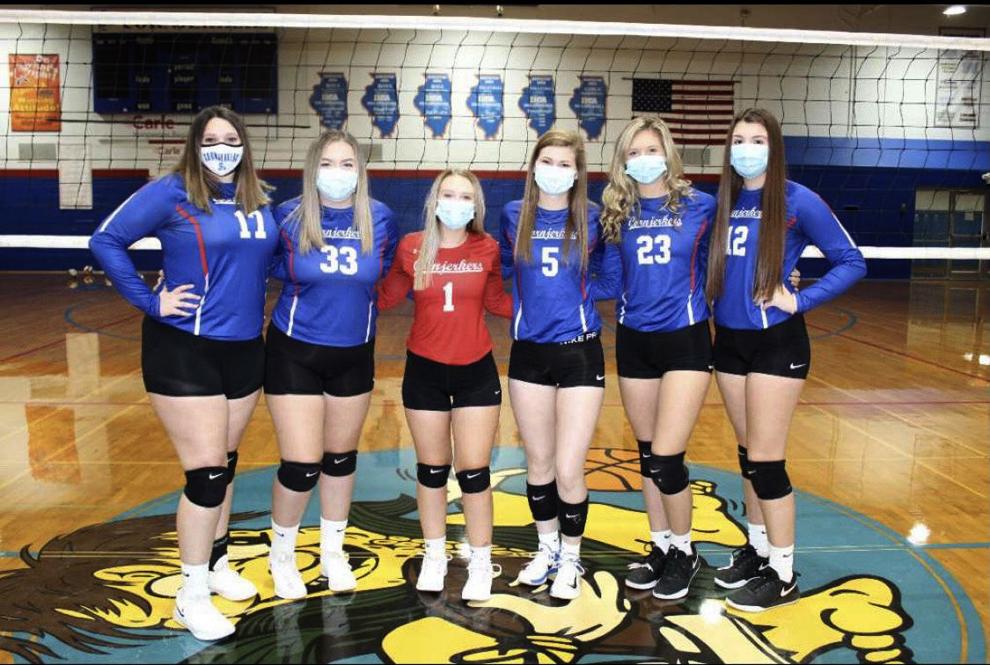 Hoopeston Area
The volleyball team kicked off its season against St. Joseph-Ogden. Pictured are the seniors, left to right: Alyssa Alwardt, Ryleigh Wardall, Marisa Rush, Emma Glotzbach, Ali Watson and Logan Robinson.
— Lexie Breymeyer
Judah Christian
Biology teacher Debra Herche shared with high schoolers World Vision's work and ways students can get involved in making a difference. Said Herche: "World Vision is a Christian humanitarian organization dedicated to working with children, families and their communities worldwide to reach their full potential by tackling the causes of poverty and injustice. One of the ways they do this is working with local people to establish clean, safe drinking water sources. Every 10 seconds, World Vision provides clean water to one new person around the world! One of the awareness and fundraisers that they do is a Global 6K for Clean Water. I am Team Captain for the CU 6K for Clean Water team. Anyone can join this virtual team and sign up to run or walk the Virtual 6K on May 22, 2021.If you are not into running or walking you can spread the world to family and friends or support team members by making donations of any amount!"
— Felicity Tuan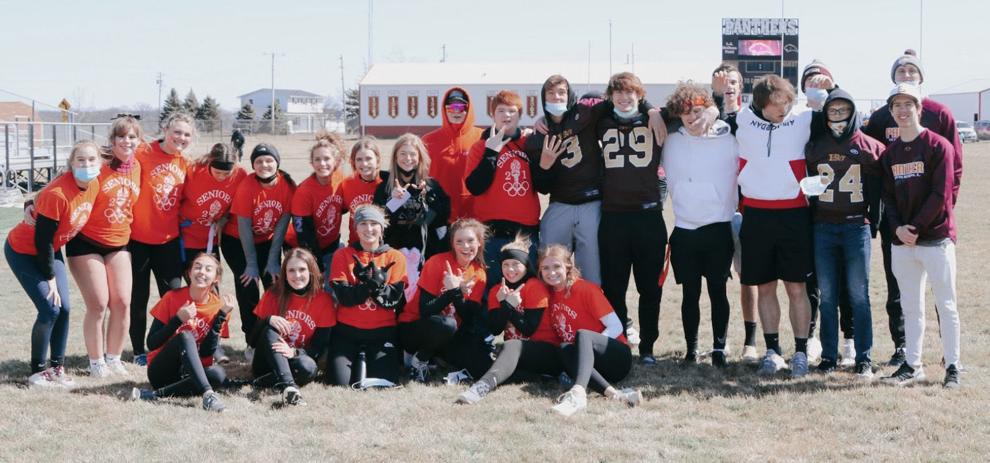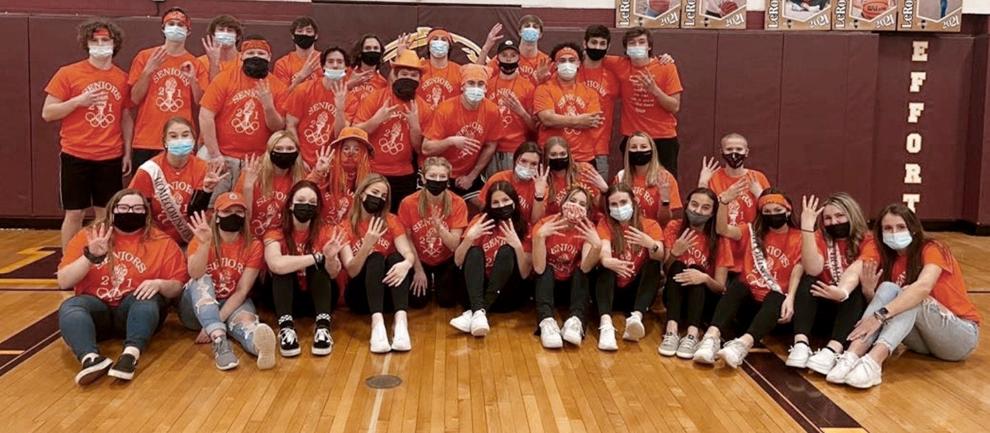 LeRoy
Students and staff celebrated homecoming week — at least a version of it — with dressup days, a pickleball tournament, coronation of king and queen, powderpuff games, macho volleyball games and pep rallies. It was made possible by the hard work of student council and business teacher Kelsey Winterland.
— Emerson Tarr

Mahomet-Seymour
The boys' soccer team celebrated Senior Night in impressive fashion, beating Taylorville 11-0. All seven seniors had a hand in the win: Daniel Renshaw, Clayton Kessler, Tucker Antonacci, Nate Lundstrom, Eli Warren, Logan Woodward and Aidan Hegarty.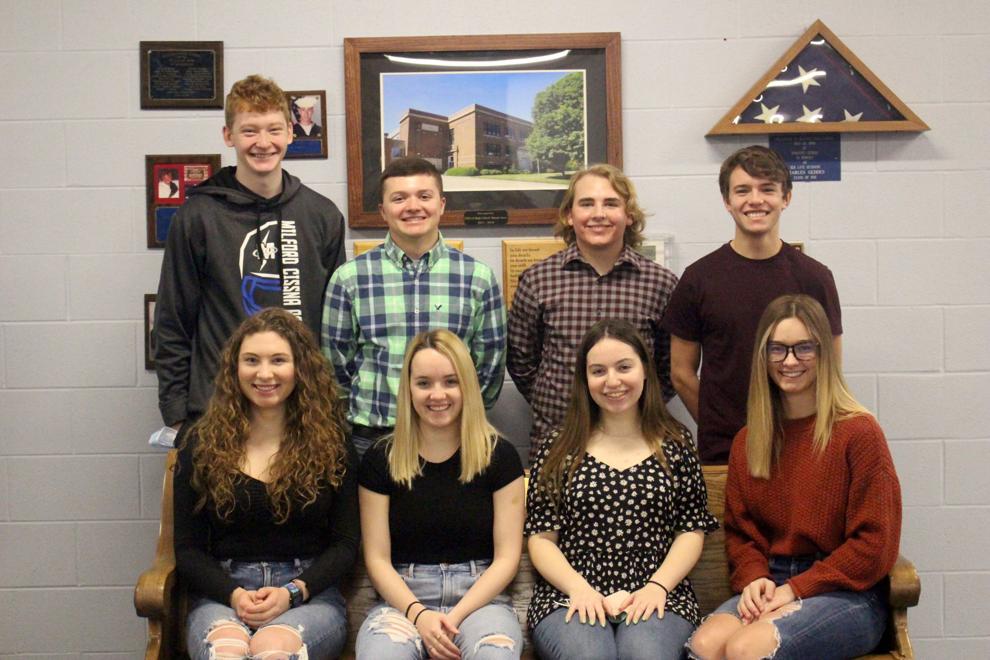 Milford
The school celebrated homecoming with many of the same activities that were to take place in the fall except  the dance. The court, back to front, left to right: Trey Totheroh, Jarid Woodby, Caleb Van Hoveln, Eddie Bushnell, Lily Atwood, Julia Bushnell, Emma Mann and Jordin Lucht.
— Jordin Lucht
Monticello
The LifeSavers held Round 2 of the retreat for new members. Newly elected students spent the weekend in the Allerton Mansion and played in the scenic gardens. Pictured in a game of freeze tag: Andrew Rudolph and Amelia Patterson. Watching from the sidelines are Evan Henrard and Cole Sowinski.
— Clara Rudolph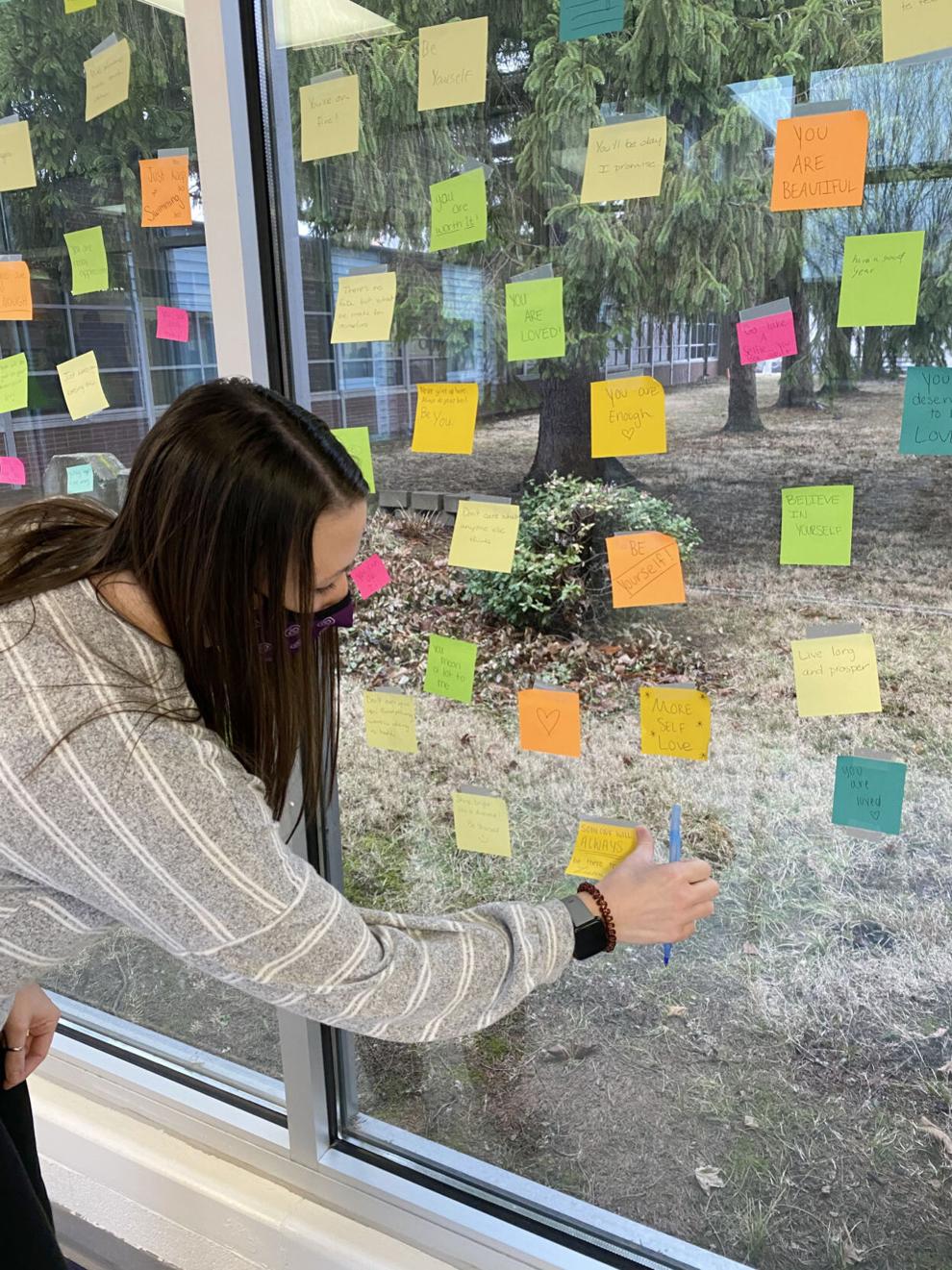 Oakwood
During Mental Health Awareness week— sponsored by student council — students participated in a positivity wall and learned of "Breaking the Stigma: the negative attitudes and beliefs toward people who have a mental health condition." Pictured: Tiffany Paris and Kacie Lappin with bags containing a stress ball and a "Breaking the Stigma" sticker; and secretary Stephanie Marsh placing her positive message on the window.
— Aaliyah Denius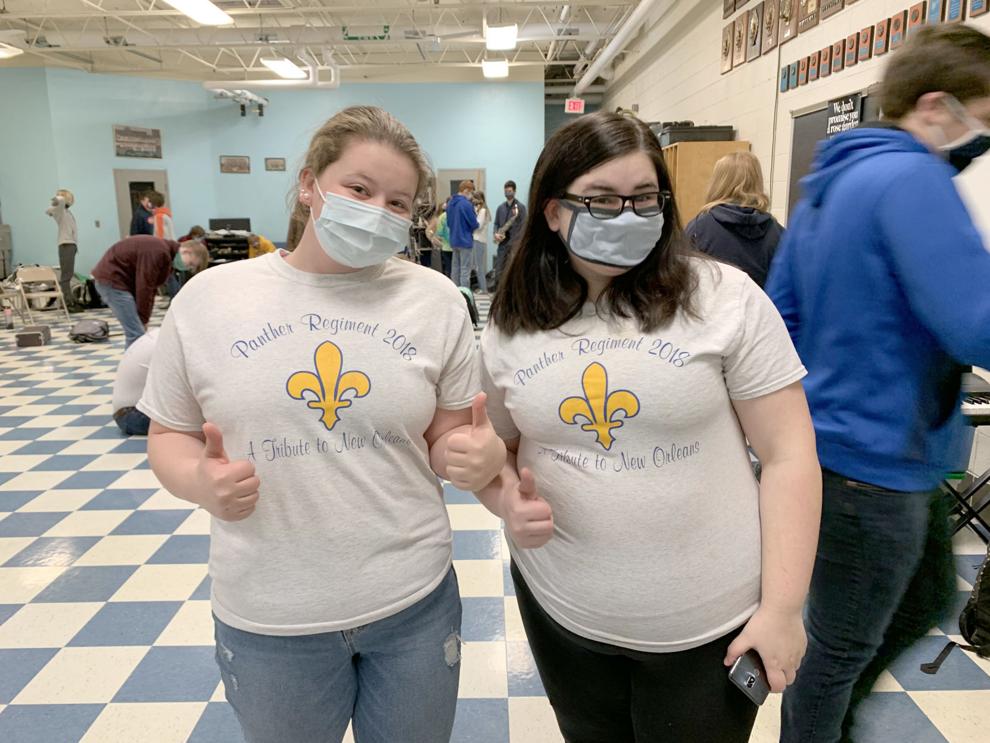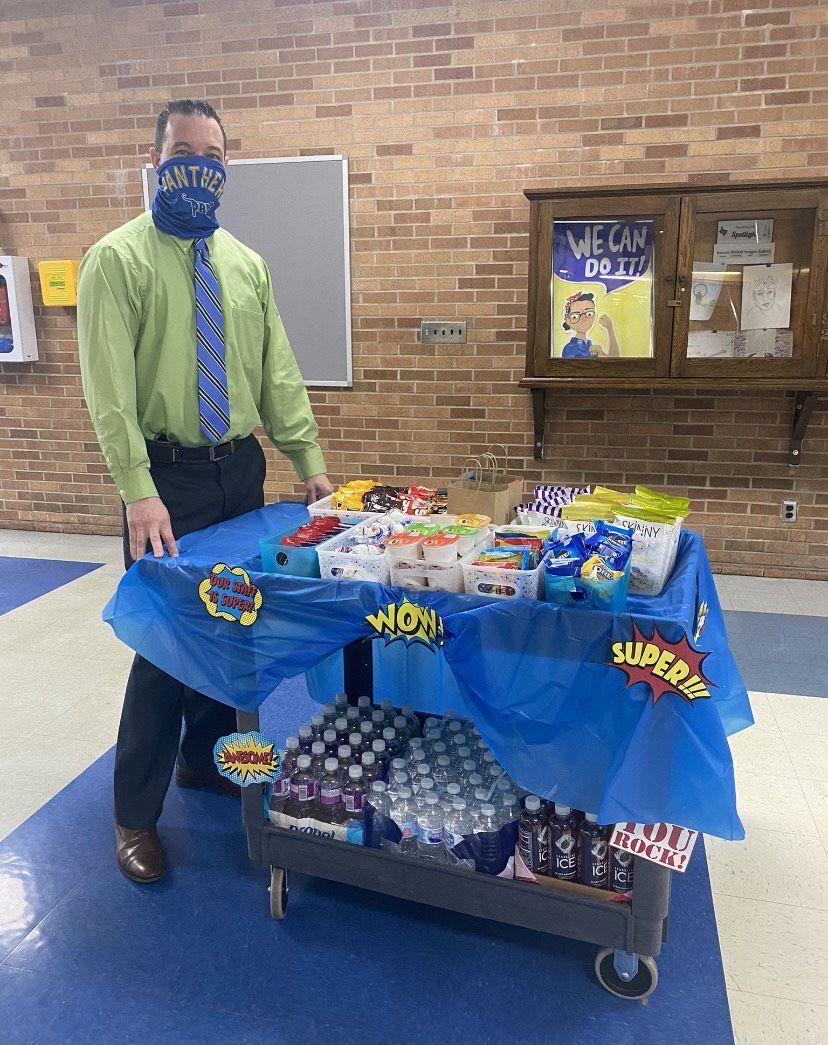 Paxton-Buckley-Loda
"Music in Our Schools" month was celebrated this week with dressup days: Monday (favorite album or band shirt), Tuesday (favorite music genre), Wednesday (favorite musician), Thursday (character from a musical) and Friday (PBL music shirt). Pictured: Taylor Mennenga and Sasha Jeffries. Also, principal Travis Duley's Appreciation Station was a way to thank staff for the hard work and celebrate 132 days of in-person learning.
— Taylor Mennenga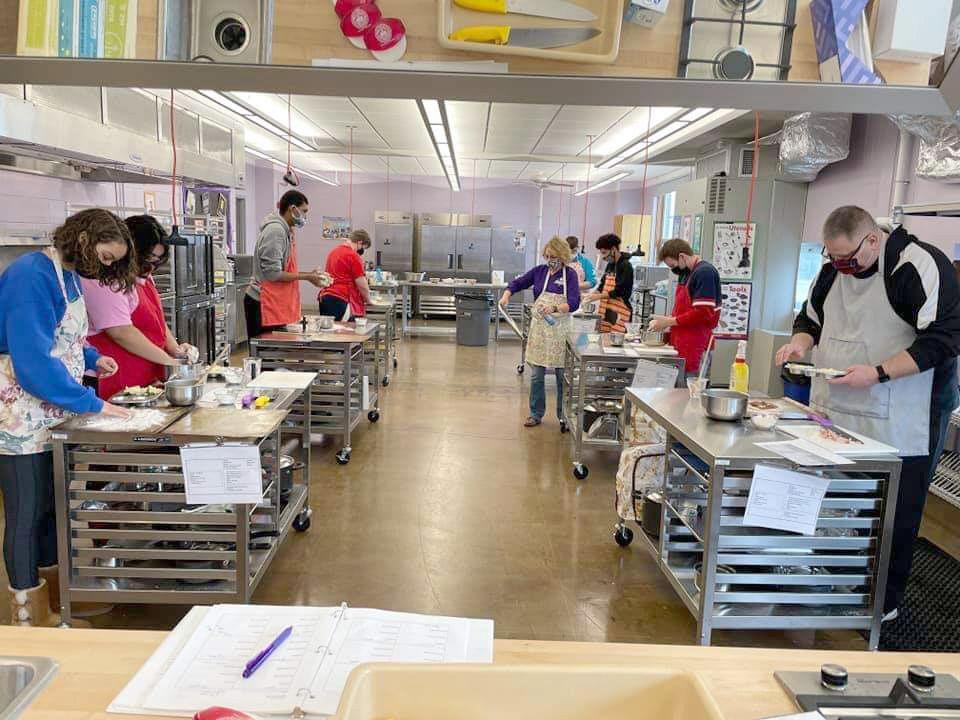 Rantoul
Students work in the remodeled foods lab. Summer upgrades saw the transition from residential-like equipment to a fully functioning commercial kitchen.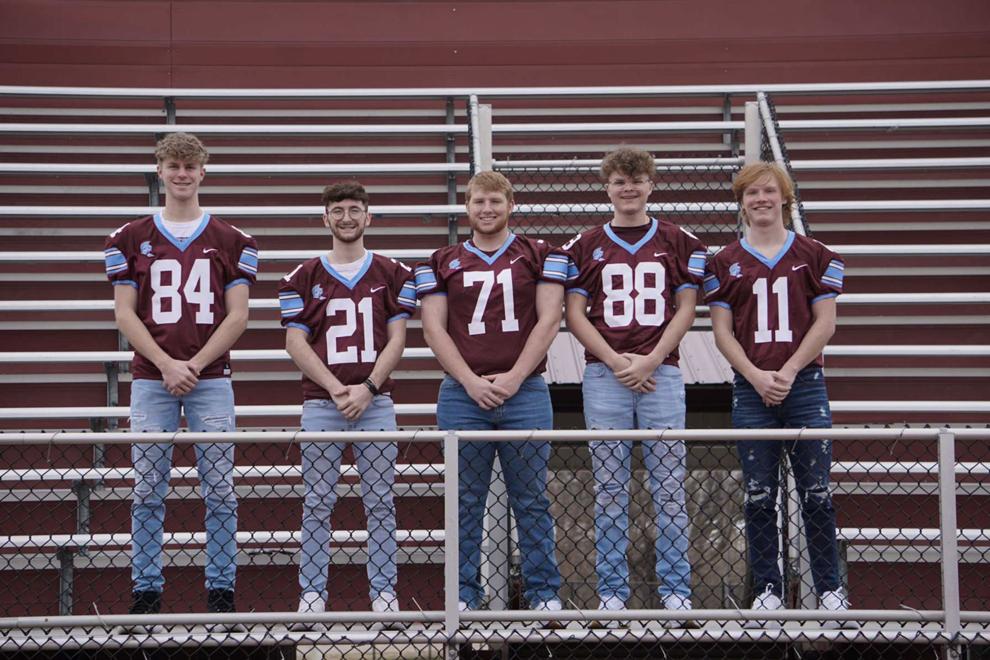 St. Joseph-Ogden
The shortened football season kicked off March 20. Friday's home opener against Pontiac also will be Senior Night. Pictured, left to right: Jackson Rydell, Brock Innes, Max Shonkwiler, Xander Rieches and Brady Buss.
— Kylie Duckett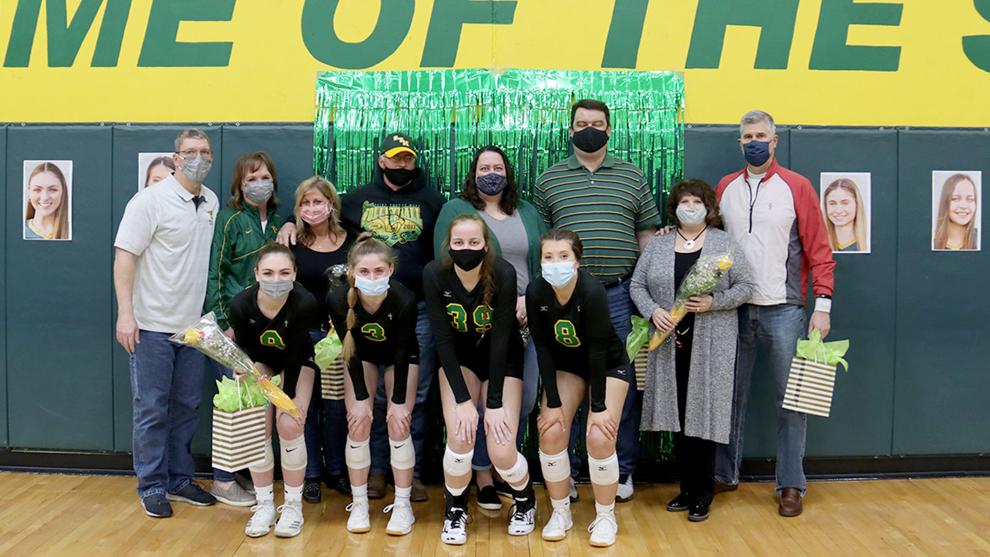 St. Thomas More
Volleyball celebrated Senior Night earlier than usual, players (left to right) Kylie Hopper, Maci Walters, Elise Henkel and Maris Green recognized along with family members.
— Maci Walters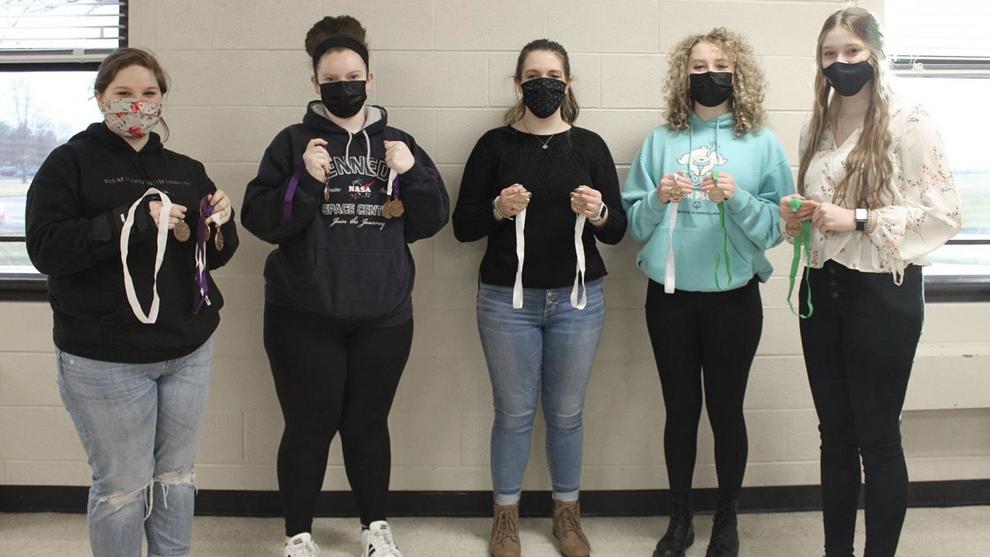 Tuscola
The Science Olympiad team medaled in six events at last weekend's competition, just missing advancing to state. Pictured: Alyssa Brazzell, Elle Jones, Justine Kauffman, Hannah Hornaday and Kyla Gough.
— Ava Cothron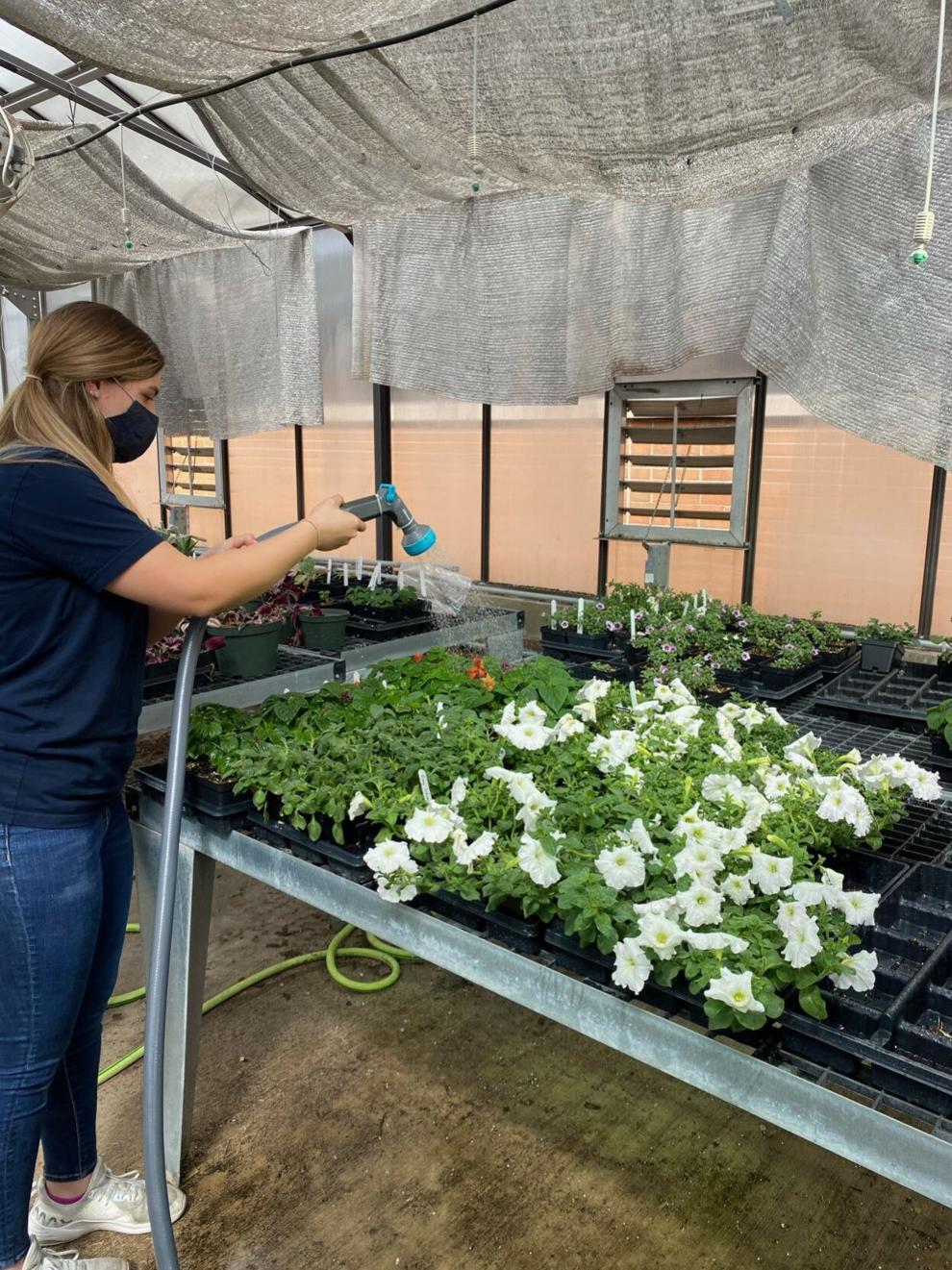 Unity
Horticulture class has been growing different types of plants and flowers, learning about watering, nutrients and soil types. Pictured: Reece Sarver.
— Malia Fairbanks
Urbana
Theatre is working on "Songs For a New World," which marks the first time that  students will present a show half-live and half- virtual. Ahead of the April performance, drama director Alyssa Pavlakis said "we are currently building the set, which will have rotating platforms and transform into a pirate ship, a New York City street, a jail cell and many other locations."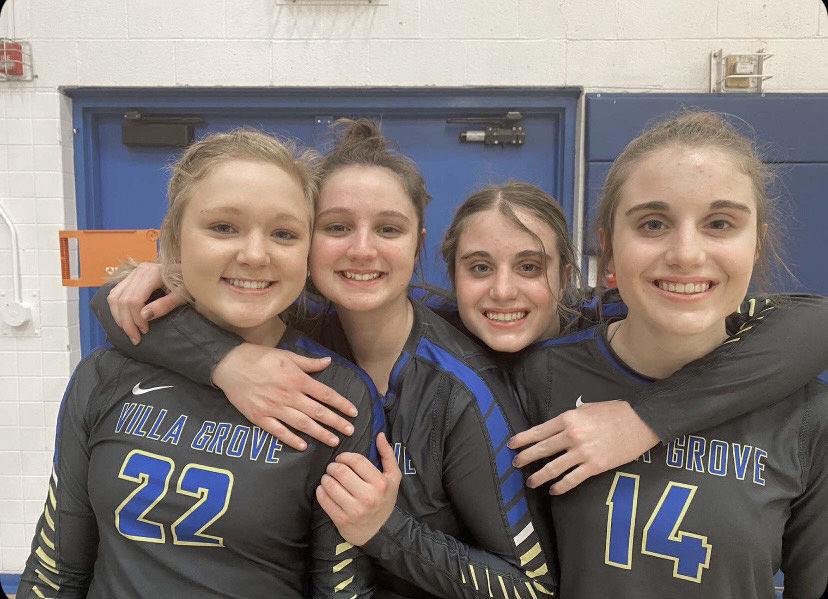 Villa Grove
Seniors on the volleyball team were honored at Tuesday's match, a win against Arcola. Pictured, left to right: Kyleigh Block, Madie Burwell, Lydia Howard and Alexa Howard.
— Daniel Olson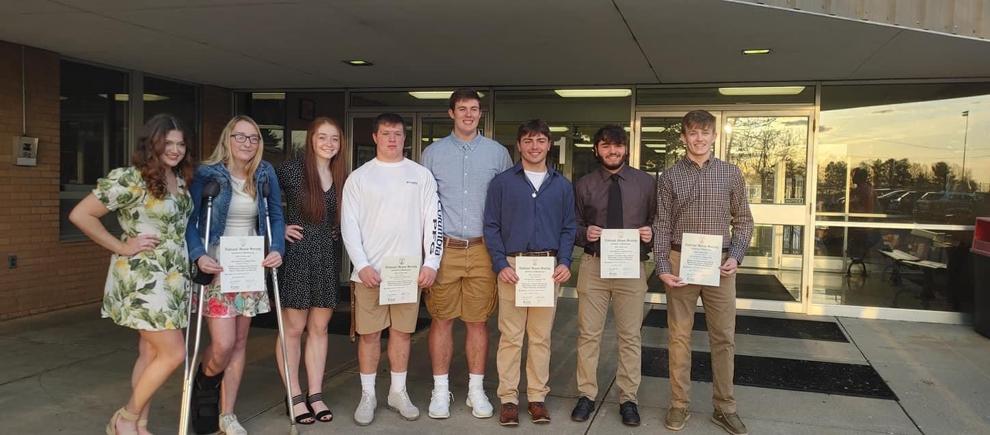 Westville
Congratulations to students inducted into Outstanding Westville Leaders (OWL) society. Pictured: junior members Mea Sparling, Chloe Brant, Jasymn Meeker, Rylee Edwards, Bryce Burnett, Luke Johnson, Gage Lange and Cole Maxwell.
— Bryce Burnett