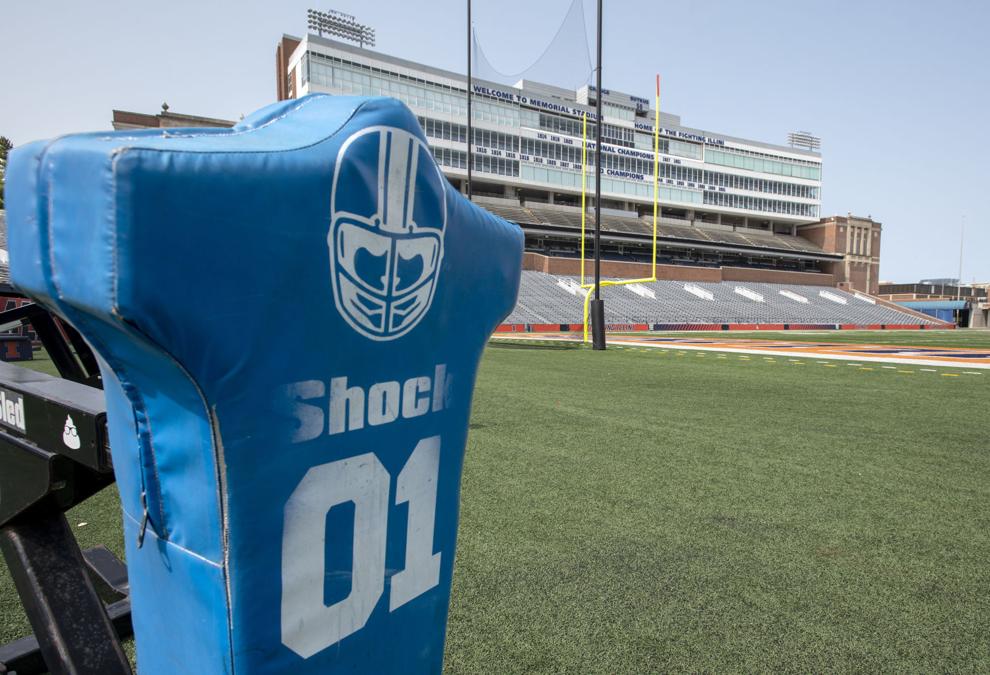 The on-again, off-again nature of Big Ten football in 2020 is on again.
The conference this morning said its delayed season will kick off Oct. 23-24.
The Big Ten Council of Presidents and Chancellors voted unanimously to resume, the league said. The reversal comes with a series of COVID-19 related mandates, including daily antigen testing for anyone on the field.
Wednesday's reversal comes approximately five weeks after the Big Ten postponed its fall season with a hope of playing again in the spring. That in itself was a reversal from just six days prior when the conference announced a revised schedule with a Sept. 3 start date.
"The medical advice I relied on when I voted five weeks ago said there was virtually no chance that we could do it safely," said Northwestern president Morton Schapiro, who is also chairman of the Big Ten COP/C. "We weren't going to have the testing and all the safety protocols and heart considerations and all that.
"The medical opinion changed. There's been a lot of advances in terms of understanding the pandemic and myocarditis and the like over the past five weeks. Paul Samuelson the great economist once was asked why he changed his mind and said, 'When the facts change, my mind changes.' The same thing happened. The facts changed, and my mind has changed."
Those changes mark what will be the Big Ten's new conference-wide protocols, which include daily antigen testing and enhanced cardiac screening. The league will require athletes, coaches, trainers and other individuals on the field for all practices and games to go through daily antigen testing. Test results must be completed and recorded prior to each practice or game.
Athletes who test positive for COVID-19 through point of contact (POC) daily testing would require a polymerase chain reaction (PCR) test to confirm the result of the POC test.
The daily testing will begin no later than Sept. 30 and will be funded by the conference for all fall athletes at all 14 schools. Per Big Ten commissioner Kevin Warren, further information about the return to competition for fall athletes outside of football would likely be announced Thursday.
"As we looked at the various testing options we became more and more convinced there was a path forward," said Ohio State team physician Dr. Jim Borchers, who was also the Big Ten's Return to Competition Task Force medical co-chair.
"I think that there were some issues around contact tracing that the testing helps us to solve inside our athletic environment," Borchers continued. "Then other issues around this infection in general we needed to continue to explore our protocols to assess for cardiac issues and other health issues we became as a group, a medical subcommittee and sports medicine committee, more and more comfortable with as a path forward four our student-athletes." 
All athletes who test positive for COVID-19 will have to undergo cardiac testing including labs and biomarkers, ECG, Echocardiogram and a cardiac MRI. Following those evaluations, athletes must receive clearance from a cardiologist designated by the university for the sole purpose of cardiac clearance for athletes who tested positive for COVID-19. The earliest an athlete could return to play in a game is 21 days following a positive COVID-19 diagnosis.
Each team in the Big Ten will also have a Chief Infection Officer (CInO) to help oversee the collecting and reporting of data to the league. Team test positivity rate and population positivity rate thresholds, based on a seven-day rolling average, will be used to determine recommendations for continuing practice and games.
Wednesday's reports follows a contentious two-month period of historic changes made by the Big Ten in response to the coronavirus pandemic.
The league first announced on July 9 it would play a league-only schedule in 2020 because of the pandemic and on Aug. 5, announced a revised schedule with each team playing 10 conference games.
But then, six days later on Aug. 11, Big Ten commissioner Kevin Warren announced a postponement of the season. Criticism was rampant about the move, especially with the ACC, Big 12 and SEC all preparing to play an abbreviated season. The Pac-12 decided on Aug. 11 to also postpone its season.
Teams in the ACC and Big 12 have already started their season, with the SEC set to start its conference-only season on Sept. 26, renewing calls for the Big Ten to attempt to play football this year.
The four-team College Football Playoff field is set to be revealed on Dec. 20. That will come the day after the Big Ten plans to play its conference championship game. Per Wisconsin athletic director, Dec. 19 will feature a full slate of Big Ten games beyond the conference title game.
The newest plan for the 2020 schedule is an eight-plus one format, which Alvarez said should be released later this week. Each team will play eight regular season games, with "championship week" featuring seven crossover games.
The preferred model is the top team from each division playing for the Big Ten championship and then the Nos. 2, 3, 4, 5, 6 and 7 teams also playing against each other. If those games include a rematch, Alvarez said the matchups could be shuffled outside of the title game.
"We wanted to make the season meaningful," Alvarez said. "You have a number of players trying to make a decision if they're opting in or opting out. We wanted to make it a meaningful season for all of them. Nine games was what we felt was very meaningful and very unique in how we decided on playing the ninth game."