Area mothers happy to have their day in person once again
Mother's Day 2021 will have a different feel than a year ago. Staff writer Anthony Zilis visited with three grateful moms who are looking forward to seeing family face-to-face again on their big day.
---
 Esther Lyons, Carriage Crossing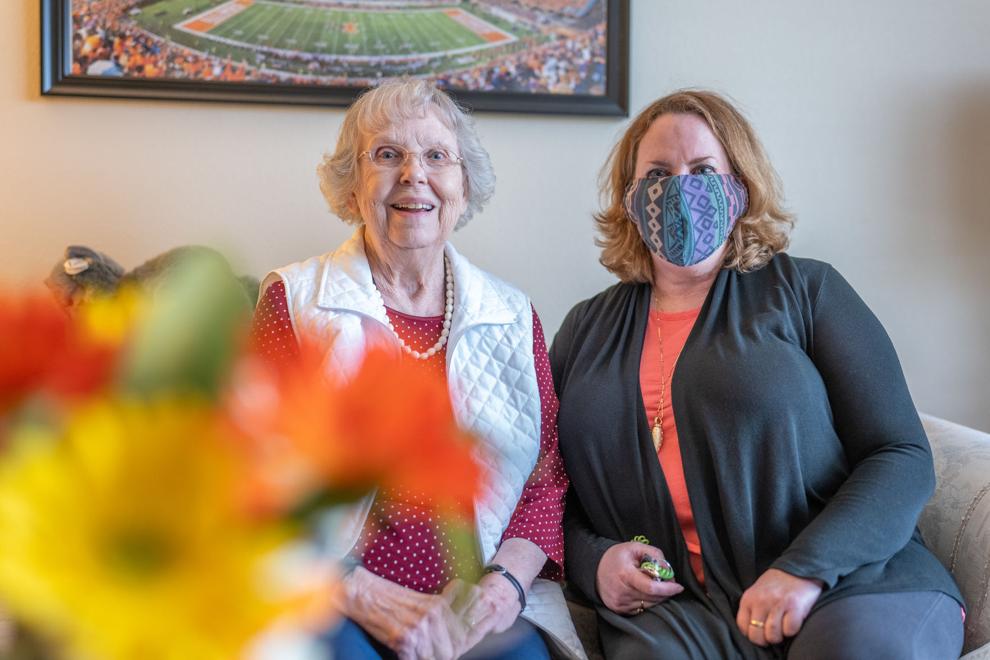 On the virtual picture frame in her mother's living room at Carriage Crossing Senior Living of Champaign, Beth Lyons has made sure to upload monthly photos of her grandniece for the last eight months.
The photos of Esther Lyons' first great-grandchild start with images of a newborn baby and, each month, they show the baby growing older and older, leaving those infant days behind.
"When the kids put the one-month, two-month, three-month pictures on Facebook, I put them (on the frame) so my mother can see her growing," Beth said.
After senior living facilities locked down last year, Esther Lyons was in good spirits, her daughter said. After moving in to Carriage Crossing three years ago, completely of her own volition, she had friends that surrounded her, and when they couldn't see each other, they'd call each other on the phone as they sat a few doors away.
She enjoyed reading books on the Kindle her daughter bought her, piecing together puzzles, and participating in the socially distanced activities the facility held.
"It's just a friendly place to live," Esther said.
The pandemic did steal away one life moment that stings, though. She still hasn't been able to meet her great-granddaughter.
As a mother, Esther Lyons was never one to stand back while her three children grew up before her eyes. She was constantly involved, and she made sure her children were involved in activities that included tap dance, ballet, tumbling, piano, band, and Girl and Boy Scouts.
When Beth went to college to become a nurse, Esther made sure she pursued a four-year bachelor's degree instead of the two-year degree she planned on earning, something Beth is thankful for today. When Beth would come home to Champaign from college, Esther would put out snacks and she'd join in as Beth had her friends over to chat and catch up.
To this day, Beth calls her when she's making a major decision, like when she's buying a new house or committing to going on a vacation.
"She's always kind of looked toward the future, and she's a smart woman," Beth said.
In her own life, Esther has always been decisive as well.
Three years ago, she decided she wanted to move to Carriage Crossing, even though her kids were slightly worried about her moving away from her house and her friendly neighbors.
For Esther, the decision has been a good one, even as the pandemic restricted what she could do. Beth thinks living in the facility has provided her mother a network of people in her life that simply wouldn't have existed if she were isolated in her own home.
Things, though, are slowly getting closer to normal.
Last Mother's Day, her kids spoke to her on the phone. On Thursday, though, Beth paid her a visit for an early celebration, taking her to lunch before heading to Prairie Gardens, and one of her sons was set to visit Sunday.
And soon, she'll finally be able to hold her great-granddaughter.
"Everything is different in person," she said. "You can see how they're growing. I just know that it's better in-person rather than on the phone."
---
Sharon Mounts, Prairie Winds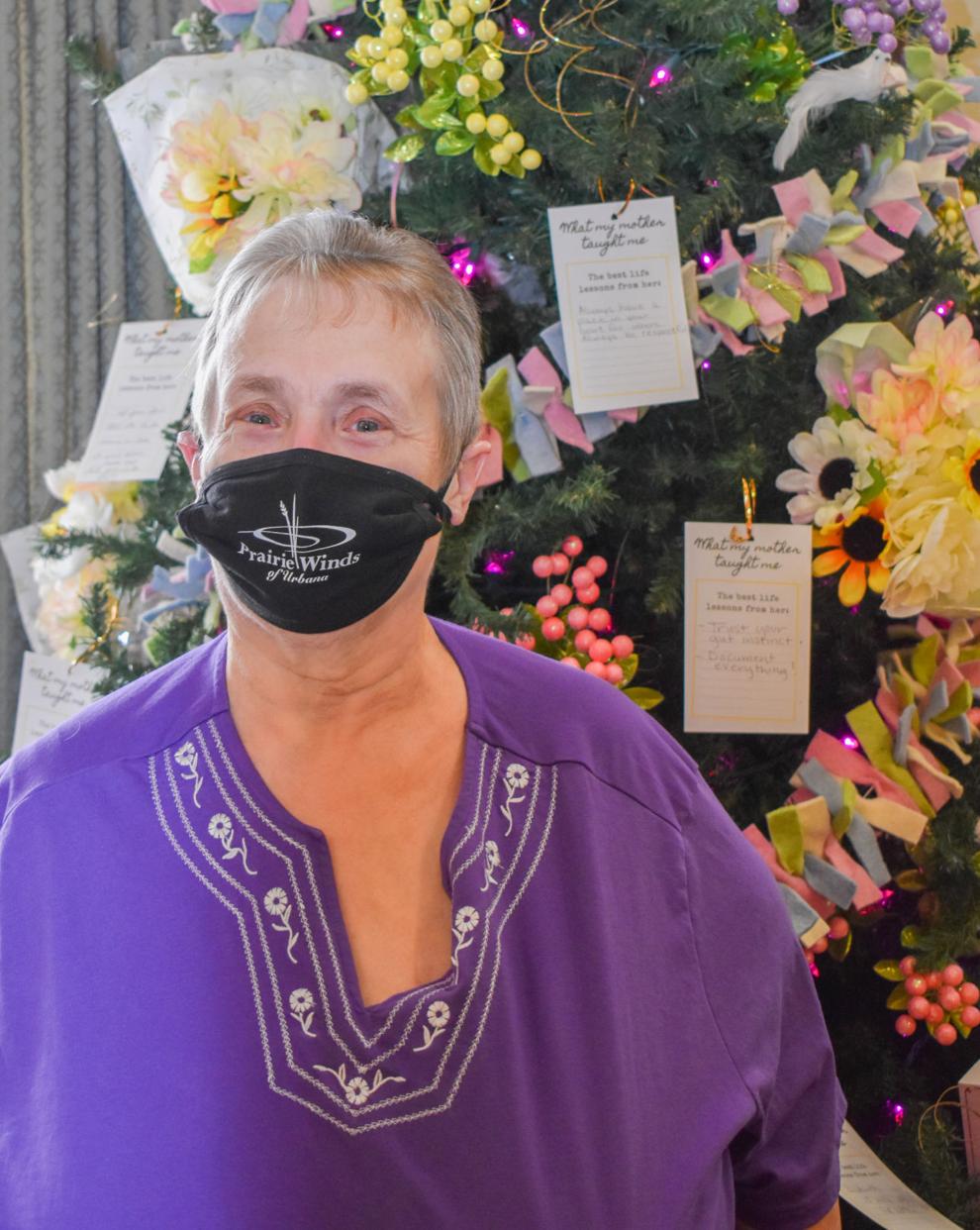 This Christmas wasn't all that different from most for Sharon Mounts, who traveled to her daughter's home in Gibson City from her apartment at Prairie Winds in Urbana, but that's what made it special.
"It was just so sweet to see the little kids open their Christmas gifts," she said. "I had a really good Christmas."
This last year has been especially tough for Mounts. She considers herself a people person. When residents congregate in the lobby or the dining area at Prairie Winds, she's constantly socializing.
So when she was told to stay in her room, she didn't take it well, particularly when she wasn't able to see any of her four kids on Mother's Day.
"It was devastating," Mounts said. "I cried every day that we were quarantined. It was rough. I'm not the type of person to sit 24/7 in a room. I like sitting with people and talking with them. We have got so many restrictions."
Mounts is originally from Utah, and her late husband was from Illinois. She moved back and forth from Utah and Illinois before finally settling in Gibson City. She misses the mountains of Utah, she said, but she made the best of living in Illinois.
"You get out of life what you put in it," she said. "You can make it enjoyable, or you can make it miserable, and I don't want to be miserable."
She was a strict mother, she said, but only because she wanted her children to succeed in life, and she believes she accomplished her goal. While she missed seeing people around the building, not seeing her children and grandchildren face to face was more difficult.
This year, she'll get to spend Mother's Day with her daughter, and to finally able to interact with people on a daily basis.
"It was very, very hard, but they're opening it up a little," Mounts said. "We're able to go down in the dining area to eat now, we can go play bingo, we can do arts and crafts, they can take us to the store, but it was very, very hard."
---
Jeannie Hutchison, Windsor of Savoy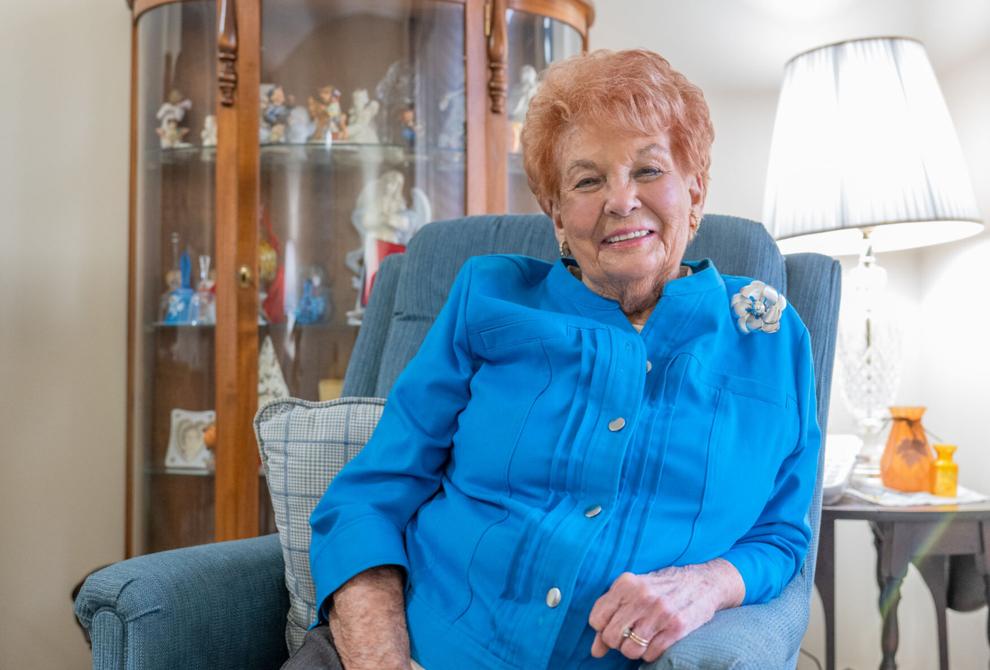 Jeannie Hutchison loved living on the 40-acre farm outside of Athens, Ohio, that she and her husband inherited from her parents. It was just down the road from the 140-acre farm she grew up on, where she helped tend to her family's orchards of apples, peas, plums and cherries, and took care of cows, chickens, turkeys and horses.
The land that she and her husband retired on wasn't a working farm. Rather, it was a beautiful place to be, with a pond and paddle boats and plenty of space between their home and the houses of neighbors she'd known her entire life.
"You knew everybody, and everybody was friendly," said Hutchison, who lived in Columbus for much of her adult life. "It was just a pretty place."
Six years ago, though, at the age of 85, she decided it was time to move.
After all, she didn't have any family in the area anymore. Her son, a retired Air Force officer, lived in the Champaign area since working at Chanute Air Force Base in Rantoul. It was only logical that she'd move to the Champaign-Urbana area, even though the thought of living in a place where she knew almost nobody was an uncomfortable one.
"I had no business being (on the farm) by myself," she said. "I knew nobody (in Champaign-Urbana) except for my son and daughter- in-law and my two granddaughters. I knew no one. It was frightening, and I was used to being around people who I had known all my life."
Quickly, though, she settled into Windsor of Savoy, making new friends and receiving visits from her son and his family multiple times a week.
When the pandemic hit, she was especially glad she made the move. Hutchison considers herself to be a social person, but she also enjoys her alone time. While she still saw people —including her family, whom she visited with from her second-floor balcony — she didn't mind having meals delivered to her door.
"It just wasn't as bad for me, I think, as it was for a lot of people," Hutchison said. "But you have to look on the happy side. Bluntly, nobody here died (of COVID-19), and as far as I know, no one was very ill with it. I felt very safe … I enjoyed that they brought all of our meals to us. I liked that. We were greatly pampered, let's put it that way."
Last Mother's Day, her son, and daughter-in-law and an assortment of her grandkids and great-grandchildren came to see her beneath her balcony. This year, she didn't know exactly what her family would do for her, but she was excited about it.
"Mother's Day has never let me down," she said. "They always come and send flowers, and Sunday, I'm looking forward to seeing grandchildren, great-grandchildren, and my son and daughter-in-law … It'll be a surprise. (My son) keeps saying, 'See you Sunday.'"