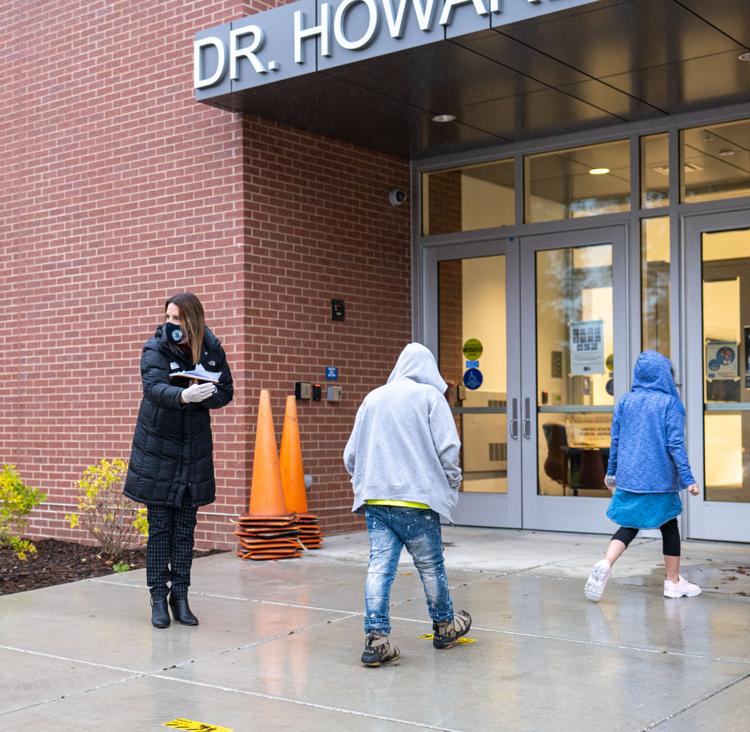 CHAMPAIGN — Not three weeks after 1,671 mask-wearing elementary students headed back to Unit 4 school buildings for the first time since March comes yet another cruel twist of a pandemic that's already had plenty.
After today, it's back to all-remote learning — until early January 2021 at the soonest. And all winter sports practices, which could have started as soon as Monday, have been officially called off, Superintendent Susan Zola announced in a letter to families.
"This return to remote learning is not due to increased cases in our schools but rather increased cases in our community," said Zola, whose district reported a total of 15 confirmed cases in elementary buildings (11 students, four staffers) during the first two weeks back.
Unit 4 announced the change in plans within minutes of Champaign-Urbana Public Health District Administrator Julie Pryde sharing a series of recommendations in response to pandemic-high positivity rates, rising hospitalizations and community spread of COVID-19.
They include:
— All K-12 county schools should pivot to all-remote learning as soon as possible, through Jan. 5.
While thousands of students in C-U have been in remote mode all fall — Uni High, Urbana district, Unit 4 junior high and high schools — thousands of others throughout the county await word from superintendents on Friday.
Mahomet-Seymour was still assessing what Superintendent Lindsey Hall called "an evolving situation."
Neither Rantoul school district was ready to make an announcement Thursday, either, with high school Principal Todd Wilson saying: "We are taking some time to absorb it so we can make the best transition possible if we have to go full remote."
Said Michelle Ramage, superintendent of the Rantoul City Schools district: "We know that the protocols we have in place are working and feel the schools are a safe place for our children, as we typically have very few students who have to quarantine for close contact at school. Unfortunately, we have staff absent as close contacts/symptomatic — themselves or their children — and have so few substitute teachers, that often we do not have adequate staffing to ensure adequate learning."
Asking schools to switch to remote learning isn't a reflection on the job they've been doing, Pryde said.
"Schools in our county are doing a great job," she said.
— All gatherings with anyone who doesn't live in your immediate household are strongly discouraged, Pryde said.
Group gatherings are among the most-cited causes of rising case totals that officials statewide have repeated in recent days — from birthday parties in Piatt County to Halloween weekend events attended by UI students.
Even small gatherings at Thanksgiving need to be off the table, Pryde urged.
— Houses of worship throughout the county are being asked to go back to all-remote services.
While Champaign's Sinai Temple, First Presbyterian, Pilgrim Missionary Baptist and others have remained remote-only throughout the pandemic, the majority of area churches have switched to a hybrid model, offering both online and in-person worship.
Along with new advisories for churches and schools, officials are asking bars and restaurants that aren't complying with current restrictions to begin doing so — immediately.
The surge in cases — now up to about 100 to 150 a day — isn't being driven by UI student transmission, Pryde said.
This is transmission largely being spread in the broader community through social gatherings — even small ones — and some restaurants and bars disregarding state-ordered Tier 1 restrictions that include no indoor service, she said.
"We have got to get this level of transmission down, and get it down soon," Pryde said.
Champaign Mayor Deb Feinen said there is "absolutely COVID fatigue" in the local community, but she urged everyone to cooperate with what's being asked.
"The next two months could really be the most devastating months with COVID," she said.
Cooperation with measures that can help reduce community spread will also help businesses in the community to remain open, Feinen said.
Urbana Mayor Diane Marlin agreed, and also pointed out many city employees needed for essential services — from police and firefighters to snow plow operators — won't be able to come to work if they're infected.
"We are asking again our people to think of our community and the larger impact," Marlin said.
Champaign County Administrator Darlene Kloeppel said it's already costing local governments hundreds of thousands of dollars in sick pay for COVID-infected employees who can't come to work.
Pryde also said Champaign County has abundant testing available, but she acknowledged Marlin was correct in pointing out testing at the state drive-thru test site at Market Place Mall is taking too long for results.