About this series: Thursday marks one year since the World Health Organization declared COVID-19 a pandemic. This week and next, we'll tell the local stories of people and places forced to change their ways.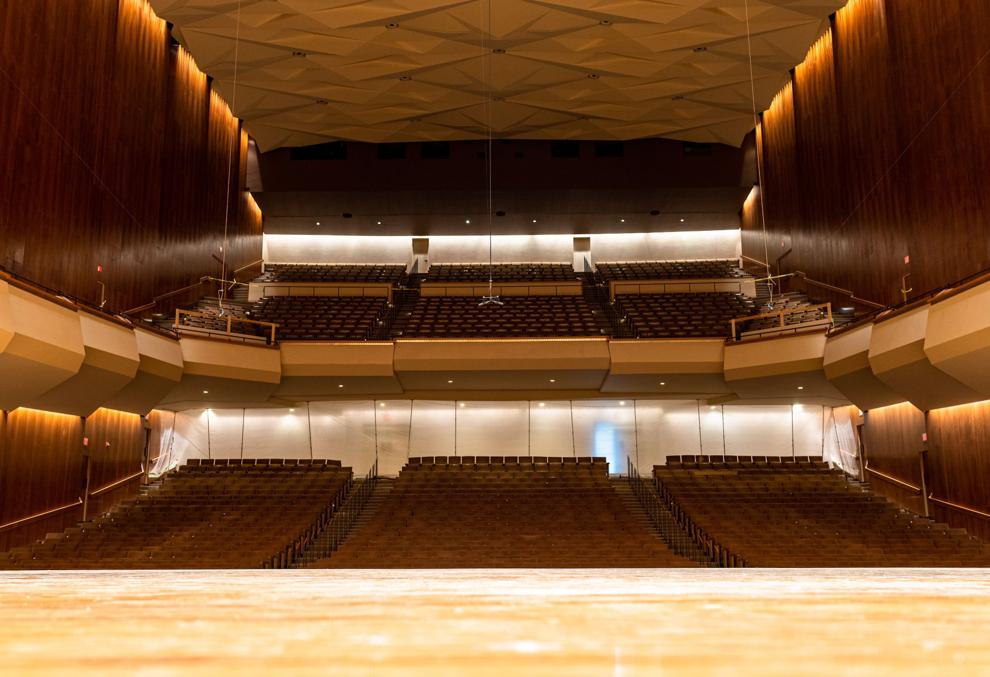 URBANA — For Pat Tuchman, working as an usher at Krannert Center for the Performing Arts was the perfect job when she was in college at University of Illinois in the mid-1970s.
Growing up in the small town of Hampshire on the outskirts of the northwest Chicago suburbs, she wasn't exposed to world-class performances like the ones she saw after helping people to their seats.
"We didn't have ballets, and we didn't have orchestras (in Hampshire)," Tuchman said. "I was like, 'OK, it's free. As long as I've got the evening free, I'll go to any performance I can be an usher at.'"
Ever since, Tuchman and husband Allan have been regulars at Krannert. They pick 30 to 40 performances out of the season schedule.
Sometimes, they're familiar with the performer. Other times, it's: "Hey, we've never done anything like this, let's just do it," Allan said.
Going to shows at Krannert is the Tuchmans' favorite hobby. It's also the center of their social lives. They've met longtime friends while sharing a show together.
"There's an entire social experience wrapped up around this type of live performance," Allan said. "You develop friendships. You might say, 'Let's get together afterwards for a drink,' or 'Let's get together beforehand for dinner.'"
Over the last year, the absence of in-person performances has left a void in the lives of people like the Tuchmans. They'll turn on music at home and watch live online performances, after which sometimes they'll give money to the artist or buy merchandise to help them through a difficult time. But it's simply not the same experience.
But if all goes well with the national vaccine rollout, the Tuchmans and other Krannert regulars may finally be able to get back in seats this fall.
"We'll be as ready as we possibly can to restart in-person events in our theaters in the fall possibly," Krannert Center Director Mike Ross said. "That may or may not be possible. It depends on a whole lot of things.
"It looks more possible that next spring semester, we'll be getting at least closer to that experience. And that's what we're all craving for."
Ross isn't simply Krannert's director. He's also a regular at shows who said he deeply misses the experience of taking in live performances.
He said
At a virtual conference with fellow venue directors in January, Ross said Dr. Anthony Fauci, the government's top infectious-disease expert, spoke to those assembled and seemed optimistic that if 70 to 80 percent of the American population was vaccinated by the summer, theater doors could reopen this fall.
Of course, the experience at Krannert's theaters won't be completely normal on Day 1 of reopening.
"We are continuing all of our dialogues with those folks, keeping them apprised of what our best guesses are about when this or that will be possible," Ross said. "It may be that certain art forms will be not as possible early in our stages of reopening. Some of them, by their nature, we may have to wait a little bit later after things reopen. But those dialogues and conversations are ongoing. We are committed to doing everything we can to support those working artists."
For now, Krannert is focused on the University of Illinois' academic pursuits. That includes shows by third-year master's candidates in dance choreography, which will both have a small audience and will be livestreamed.
When Krannert does finally open to the public, the Tuchmans admit it'll be a bit jarring to be around people after a year of isolation. Still, they can't wait to get back to experiencing live shows and enjoying friendships that were formed in Krannert's concert halls.
"My reaction is going to be storming the doors as soon as I can get back there," Pat Tuchman said. "I'm really anxious to get back."