URBANA — A standoff continued Thursday between local authorities and two local restaurants that were stripped of their food permits for continuing to serve indoors in defiance of state COVID-19 restrictions.
On Wednesday, the Champaign-Urbana Public Health District suspended the food permits of both Apple Dumplin', 2014 N. High Cross Road, U, and Merry-Ann's Diner, 1510 S. Neil St., C.
But on Thursday, Merry Ann's was continuing to operate and serve indoors. And Apple Dumplin' was making plans to do likewise today.
"I decided to take a day to decompress," Apple Dumplin' co-owner Jim Flaningam said Thursday. "I gave my employees a day off on this nice sunny day, and tomorrow I'll be open, business as usual."
The health district has already turned to the Champaign County State's Attorney's Office for help regarding Apple Dumplin's case.
State's Attorney Julia Rietz filed an ordinance-violation complaint Wednesday accusing restaurant co-owner Kathryn Flaningam of operating without a valid food permit. That case is set for arraignment at 10:30 a.m. Dec. 31.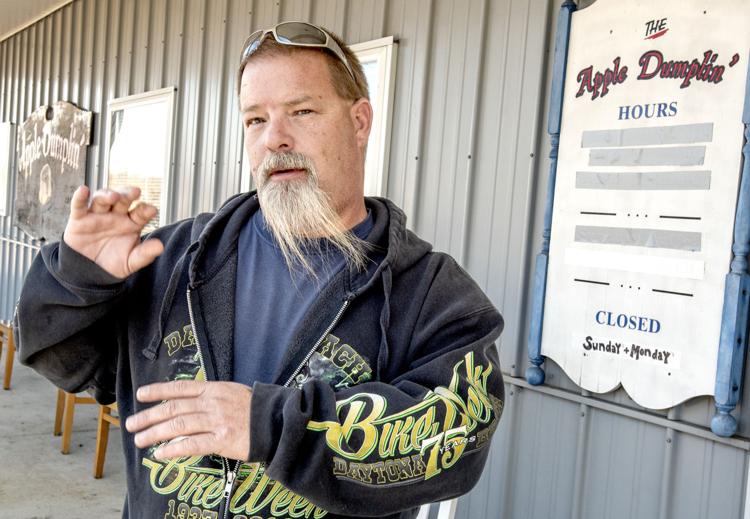 In turn, Jim Flaningam's lawyer filed a petition Thursday seeking a temporary restraining order on his behalf against health district Administrator Julie Pryde.
The county's complaint filed against Kathryn Flaningam is seeking a fine of $500 plus court costs and other relief the court deems appropriate. The fine could multiply if the restaurant continues to operate; Rietz said it can be applied for each day the violation continues.
Jim Flaningam contended that the matter "is for a judge to decide. It's not up to me or the health department."
Merry-Ann's owner Katie Pomonis had a similar response.
"We told public health they need to come back with a court order to shut us down, and they've not done that," she said, adding she doesn't understand why restaurants "are being singled out."
"I don't believe the law is behind public health, and I don't think that there is any scientific proof that it is more dangerous to be in a restaurant than any other retailer in town," she said.
Pomonis also contended in an emailed statement that the city, county and state lack the authority to prevent Merry-Ann's from doing business and that a safe environment has been created at the restaurant for staff and customers.
"At Merry-Ann's, we have a responsibility to our patrons to provide delicious meals at reasonable prices," she wrote. "We want to provide a paycheck to our hardworking and dedicated employees to provide for their families. We wish to fulfill our obligations and pay our rent, utilities and purveyors."
No indoor service at bars and restaurants, along with new lower capacity limits at stores, are among the state's Tier 3 mitigation restrictions that went into effect Nov. 20 as a result of surging COVID-19 cases and deaths.
The state reported 11,101 new cases Thursday, along with 196 additional deaths.