Coronavirus response | Ask the Admin: Separating pneumonia, coronavirus pneumonia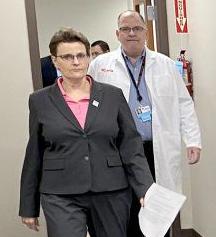 Submit your questions by emailing Health Report Deb Pressey at dpressey@news-gazette.com
****
What is the difference between pneumonia and coronavirus pneumonia, and will a pneumonia shot provide any protection against coronavirus pneumonia?
A: This is a great question. "Pneumonia" refers to an infection in one or both lungs.
According to local infectious disease specialist, Dr. Janet Jokela, pneumonia is caused by many different microbes, including bacteria, viruses (like coronavirus) and fungi. COVID-19 pneumonia is caused by the coronavirus SARS-CoV2.
Medications are available to treat most types of pneumonia, but not yet for COVID-19 pneumonia. Trials are under way evaluating different medications, and results are expected soon.
The pneumonia shot, or vaccine, prevents Streptococcal pneumoniae pneumonia and illness, and does not protect against coronavirus pneumonia. This vaccine is recommended for people with certain medical conditions and for specific ages.
In addition, the flu shot does not prevent coronavirus pneumonia, but it can prevent pneumonia caused by the influenza virus.
Sometimes, a patient can be infected at the same time with coronavirus and these other microbes. Not good. So get your recommended vaccines, and be well and be safe.