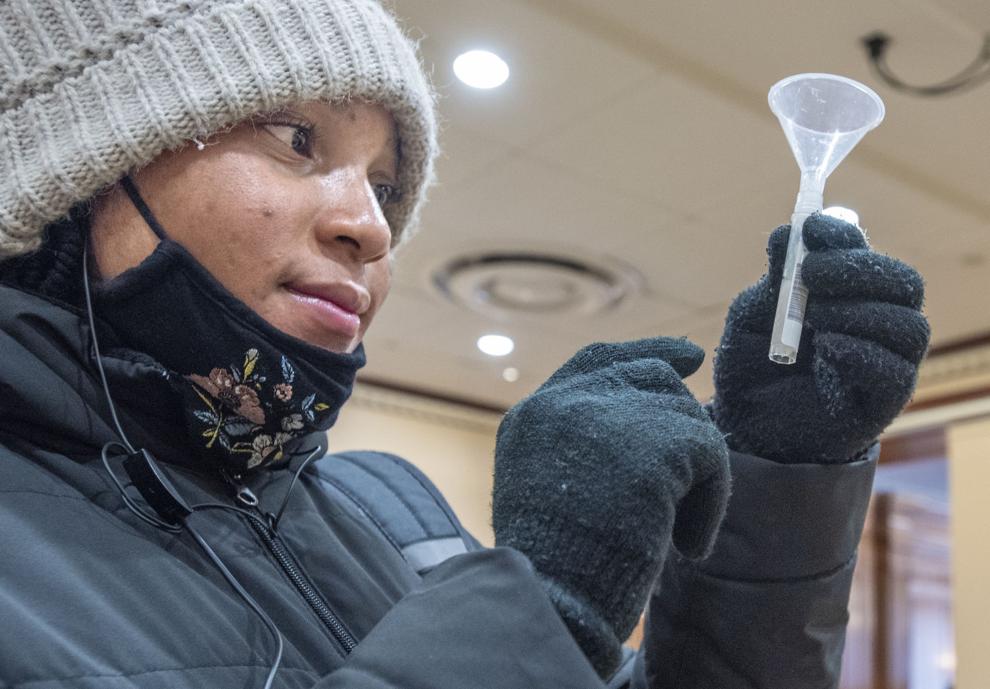 URBANA — Champaign County officials could potentially designate $140,000 to cover two months worth of weekly COVID-19 saliva testing for county employees through the University of Illinois.
The county board is set to discuss and vote on a resolution tonight, which, if approved, would authorize County Executive Darlene Kloeppel to execute an intergovernmental agreement with the UI to test county employees using the university's saliva-based testing system currently used on campus.
Kloeppel said details remain to be worked out in terms of how frequent the testing would be, where it would be done, and even how much the UI would charge the county for each one.
When testing for the county would start is also unknown. As of Wednesday, UI spokeswoman Robin Kaler said she couldn't name a date for when the UI would be ready to begin.
A memo to the county board from its Finance Chair Stephanie Fortado said $140,000 would cover once-per-week optional testing for all 841 county employees for eight weeks.
At $20 a test, the total for eight weeks would run $134,560, leaving a cushion available to provide targeted, short-term, more frequent testing for any office or section with known exposure, the memo states.
It's likely the cost of testing would run less than $140,000, and the savings could be returned to the fund balance, according to Fortado. The board could revisit the issue in April to discuss whether testing should be continued longer, she said
"The University of Illinois testing system provides reliable, rapid turnaround of results. We can promote the health and safety of our employees through the advantage of having the resources of a world-class research university in our county," she said in her memo.
Kloeppel said it's likely not all employees would opt to take part in testing, partly because some have been vaccinated for COVID-19. And each time vaccine eligibility expands, she said, the number of vaccinated employees grows.
Kloeppel said she's not opposed to testing county employees, but she has not taken a position on moving forward with the testing program. The $140,000 would come from discretionary money in the county general fund, and "this is how much we could take from the general fund without devastating it," she said.
The county would be working with the Champaign-Urbana Public Health District in establishing testing schedules in cooperation with union representatives and county officials, Fortado said.
Health district Deputy Administrator Awais Vaid said it will provide the county with multiple options based on how much funding is allocated and for how long.
Kloeppel said it's likely the testing initiative will have at least some opposition from Republicans on the board.
County Republican Caucus leader Jim Goss said the caucus would be discussing the proposal ahead of the board meeting and he doesn't plan to push the testing proposal.
If testing were grant-funded, he said, that would be one thing, "but all our employees have access to insurance and can get tested for free."