Coronavirus response | Former Illini shaken by incident in Chicago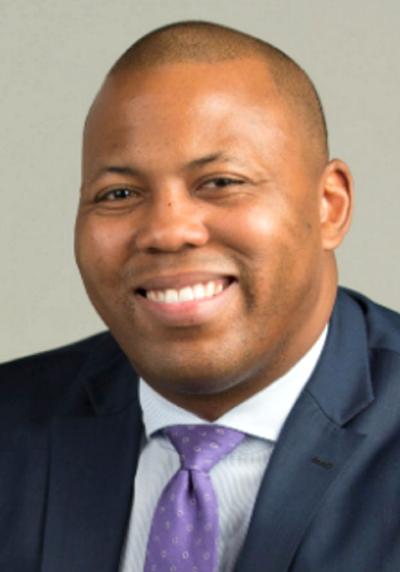 A trip to the store two Sundays ago in Chicago's South Loop turned into a headline-making story for former University of Illinois lineman Kam Buckner.
Now an Illinois state representative, he discovered the unforeseen consequences of wearing a mask in the age of COVID-19.
"I was out picking up some stuff," Buckner said in an interview with The News-Gazette. "It was normal."
He was dressed in casual clothes, wearing a hooded sweatshirt, sweatpants and gym shoes.
He was also following Gov. J.B. Pritzker's recent order by wearing a mask.
"Everything was fine until I left the store," Buckner said. "A uniformed officer approached me and made some weird small talk about the items in my cart."
The officer then asked to see Buckner's receipt.
"My receipt wasn't readily available," Buckner said. "I'm messy. I crinkled it up and threw it in my pocket. I had to find it."
The officer waited for Buckner to locate the receipt.
"I gave it to him. He glanced at it briefly and then asked for my ID," Buckner said.
Buckner presented his driver's license.
"I thought that also was weird, but I figured I should just comply and go from there," Buckner said.
The officer went to his nearby squad car.
"I'm assuming he ran my name for any kind of warrants," Buckner said.
After two to three minutes, the officer returned to Buckner, gave his license back and said "thanks,"
Buckner stopped the officer and asked: "Can you explain to me what was the impetus for this stop?"
Buckner said the officer replied: "People are using the COVID virus to do a lot of bad things and get away with it."
Buckner continued to describe the encounter.
"He said it in kind of a matter-of-fact way: 'I can't see your face, man and you look by you might be up to something.'"
Buckner's original plan was to let the incident go.
"I went home and oddly enough, I didn't think about it twice that day," he said. "I went along my normal Sunday process, made dinner and talked to a couple of my old teammates from the U of I."
On Monday, Buckner said he was upset with himself "for being so comfortable with it. I was uncomfortable that I was so comfortable."
So, Buckner started a long stream on Twitter to explain what happened.
'A heightened situation'
In one post, he wrote: "I can't help but think about whether or not my friends of different races ever got the 'prospect not suspect' talk. How many of them needed it for their survival? I think I know the answer. I've struggled with whether or not to say something about this publicly."
The masks, Buckner said, will be required moving forward, which adds to the significance of the encounter.
The officer never raised his voice or cursed at him, Buckner said.
"I didn't feel physically threatened," Buckner said. "Had he approached different or I had approached different at any point throughout that and we escalated, it could have turned into a situation that would have been much worse than this."
Since going public with his story, Buckner has heard from others who faced similar issues.
"I understand that we are in a heightened situation now. Everybody's stressed. Everybody's trying to figure out how to operate in this environment," Buckner said. "I also understand it's got to be a very rough time to be a first responder, a law enforcement person, just like it is to be a health care person. There's a lot going on.
"What I'm not that interested in doing is casting aspersions or oversimplifying it by calling names or saying things like racial profiling or racist or white privilege. There's enough of that that goes on.
"From where I stand at this vantage point, I want to have a more thorough, more lasting conversation about how we make sure we are operating in a more intentional fashion. Things could get scary very quickly."
Buckner got the name and badge number of the officer who stopped him. He wrote it all down as soon as he returned to his car.
"I did not identify myself as an attorney or as an elected official during the process," Buckner said. "I have spoken to the city, both the mayor's office and CPD (Chicago Police Department) about it, but I have not formally filed a complaint."
'Being responsible'
To Buckner, the most important point is to have the conversation.
"It could happen in Champaign. It could happen in Urbana. It could happen in Alton if we don't talk about it," Buckner said. "We've all been trained to operate certain ways. None of us have this experience that we're having now."
The reaction on social media to Buckner's story has been mostly positive.
"I've gotten a lot of support from folks," Buckner said. "I'm happy that people are wanting to talk about it. The one thing I don't like about it is I've read some of the back and forth on social media. A lot of people are divided on this. It's forcing folks to run to their corner.
"You've got either your pro-cop or your anti-cop. Either you're this or you're that, which is not the case. Most of life is somewhere in the gray area. It's complex and it needs context. Those conversations that are polar bother me."
Buckner is a proponent of the stay-at-home directive and the mask order.
"Those are the right things and the responsible things to do for the state," he said.
Buckner's father, Raymond, is in his mid-70s and a two-time cancer survivor. Raymond Buckner is in the high-risk group endangered by COVID-19.
"I look at wearing that mask as being responsible when it comes to my family," Buckner said.
Despite the recent incident, Buckner continues to wear his mask in public. His mother, Yvonne, makes them.
'Never' an issue in C-U
Buckner, a standout at Chicago Morgan Park, checked in at 6-foot-2, 265 during his Illinois playing days.
Signed by Ron Turner in 2003, he redshirted that season. Turner was fired after '04 and replaced by Ron Zook.
Buckner stayed with the team after the coaching change.
Did he have any experiences similar to the one two Sundays ago?
"My four years in Champaign-Urbana, never," Buckner said.
Buckner grew up on Chicago's South Side. His father was a longtime member of the Cook County sheriff's office. Buckner's uncle, Robert, worked for the Chicago Police Department.
Buckner took advice on dealing with law enforcement from them. And he listened to his coach at Morgan Park, Lexie Spurlock.
Since the coronavirus pandemic, he has talked to Turner and Zook and a "bunch of old teammates."
"That is one good thing that came out of COVID, to connect with people I haven't talked to in a decade," he said.
What is Buckner's message after his recent experience?
"These are unprecedented times. We're all on high alert. But we can't let that stress get the best of us and allow us to make decisions that are detrimental to us or other people," he said. "We are all in this together. We've got to figure out how to address some of the demons of the past but also not to let social distancing increase social ills."