Have a question for Julie Pryde? Email news@news-gazette.com and we'll pass it on
Want to vent? Submit a Letter to the Editor here
Tom's Mailbag? Just click here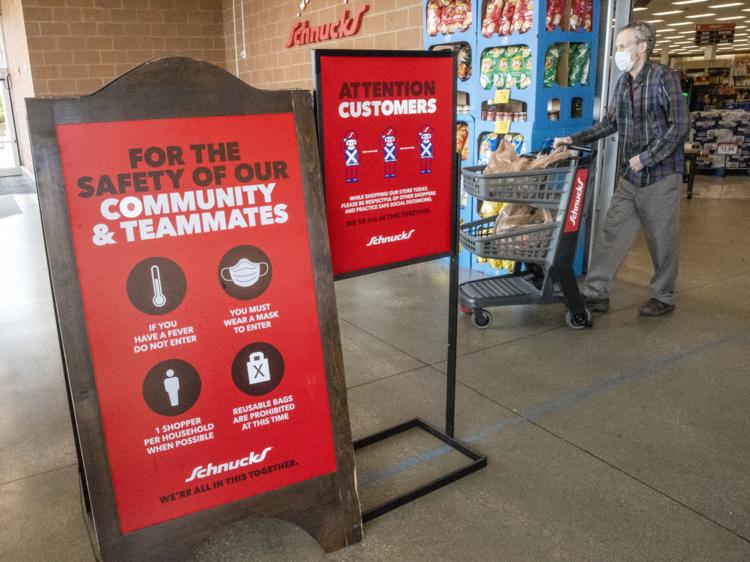 CHAMPAIGN — Have a complaint about shoppers ignoring the requirement to wear face masks?
Enforcement of this state order remains sketchy, and is largely left up to individual businesses, who are bound to make somebody unhappy no matter how they handle this sticky issue.
With some mask conflicts turning violent, Illinois retailers have been advised to rely on local police to enforce the state order to wear a face covering in public places where 6-foot distances between people can't be maintained.
A Champaign police spokesman, however, said enforcement is up to retailers.
"That's up to them to enforce," Tom Yelich said.
Studies have found that wearing masks is important to reduce the spread of the coronavirus, but about a third of U.S. adults continue to refuse.
About 65 percent of U.S. adults say they wear a mask all or most of the time, with most of the rest saying they only wear them some of the time, hardly ever or never, according to a Pew Research Center report released in late June.
At Market Place Mall, where both masked and unmasked shoppers were visible, mall security employees will ask those without masks on to wear them, but only in the common areas.
It's up to individual stores to deal with this issue within their own spaces, said Dennis Robertson, the mall's general manager.
"The individual tenants are able to decide how they apply the mask requirement," he said. "We focus on shoppers in the common area."
Mall security officers are also giving away masks for those who come without them, Robertson said.
"We're probably giving away several hundred masks a day," he said.
Champaign-Urbana Public Health District Administrator Julie Pryde said she was impressed on a recent trip to Market Place by how one store, Bath & Body Works, was handling COVID-19 safety.
"They were doing it right," she said.
Store employees were in front controlling who was coming in and out, she said. Capacity was being monitored. The floor had directional markings, customers were given bags and told where to find what they were looking for, and purchases scanned at the register were placed right back inside the customer's bag.
"When I left, they let in another person," Pryde said. "That is how to protect your employees and shoppers."
Both the C-U Public Health District and Vermilion County Health Department have been receiving many complaints about mask compliance.
The C-U Public Health District's environmental health department replies to emailed complaints, in part, by advising people to talk to the business managers.
The health district expects restaurant and store employees to be masked properly and to have adequate signs indicating that customers should wear masks and practice social distancing, but it can't require this, according to the environmental health department.
"The way the governor's executive order is written, it requires those over (age) 2 to wear masks in indoor public places, (but it does not require restaurants/stores to 'force' its customers)," the environmental health department writes in its replies to complaints. "Adults need to be doing their part by following the executive order, but some refuse to do so."
Doug Toole, administrator of the Vermilion County Health Department, said he's seen store employees in his county wearing masks, but fewer customers complying.
And he can imagine what a bind this puts store managers and employees in, he said.
The state order to wear masks in public places allows exceptions for people who should refrain from mask-wearing for medical reasons, Toole said, "and you can't always tell."
Should a store manager and employee confront a mask-less customer, that could lead to a conversation about someone's personal health condition, Toole said.
"It becomes an awkward conversation," he said.
Toole said he gets daily complaints about people not wearing masks, and what he can advise is opting for curbside pickup and/or letting managers know their concerns.
Retailers are largely trying to do what they can, Toole said. That includes providing hand sanitizer, limiting access and, in some cases, making aisles one-way, which "no one is paying attention to," he said.
The mask issue, however, can be a no-win for store managers no matter what they do, according to Toole.
"If they enforce masks, they're going to honk off some customers," he said. "If they don't, they're going to have some other people mad."
Rob Karr, president and CEO of the Illinois Retail Merchants Association, said mask conflicts in some businesses across the state have turned nasty, resulting in death threats, knives being shown and incidents of cans and melons being thrown.
What the organization advises retailers is to post signs and use their P.A. systems to remind shoppers to wear masks.
And for those who choose to confront customers who aren't in masks, ask politely.
"Don't engage in a confrontation. Don't let it escalate," Karr said.
Store managers can also contact police, Karr said, though they're advised to refrain from making a show of doing so.
Police are empowered to enforce mask wearing, Karr said, and "retailers have no authority.
"We can't physically restrain them, and denying access to goods and services is extraordinarily tricky to do," Karr said.
Yelich said Champaign police can respond to a mask dispute that's getting out of hand and investigate and enforce the no-trespassing law when shoppers without masks are asked to leave a business and refuse.
Otherwise, police strive to promote and help educate the public about the mask rule, with a goal of obtaining voluntary compliance, he said.
Here's how one grocery chain, Schnucks, is handling the mask requirement at its stores, according to a reply from the chain's corporate office:
— Schnucks provides employees with face masks to be worn at work.
— Signs are posted at entrances reminding customers they must wear a face covering, per Gov. J.B. Pritzker's order.
— An employee may approach customers as they enter the store to remind them of that requirement.
"If a customer does not comply, out of concern for our teammates' safety, we have instructed them not to confront non-compliant customers," the company said. "Teammates are empowered to contact local authorities to report violations inside our stores."