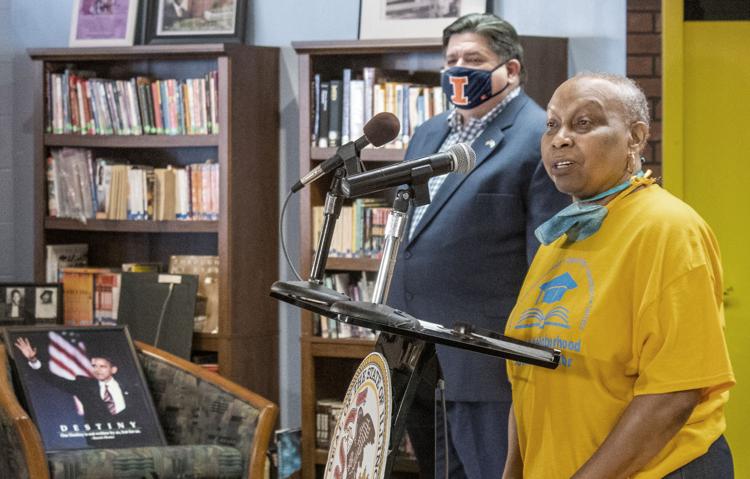 URBANA — Shortly after he moved to town as a junior in high school, a group of friends convinced Troy Webster to attend the summer and after-school programs at Urbana Neighborhood Connection Center.
Had he declined the invitation, his life may be on a different trajectory.
Each year, UNCC director Janice Mitchell takes students to visit colleges across the country, including trips to several historically black colleges and universities. That included Alabama State.
"To have the opportunity to go out there, it felt like home," said Webster, who is in his senior year at that school studying musical performance with an emphasis in voice.
Over the years, the 2017 Urbana graduate became a volunteer at UNCC, which provides help with homework, technology, summer learning opportunities and meals.
A few years ago, he became one of its few paid youth employees over the summer.
In 2020, he's being joined by more. One-hundred others aged 16 to 24 were provided job opportunities at UNCC, in local schools, at the Mahomet Area Youth Club, and at the Housing Authority of Champaign County through the COVID-19 Summer Youth Employment Program.
On Monday, Webster stood at a lectern in front of a group of bookshelves at UNCC and introduced Illinois Gov. J.B. Pritzker, who was visiting to speak about the program, which is being facilitated by the Illinois Department of Human Services.
"Troy," the governor said as he turned back toward Webster, "you're going to promise that even though you're going to school in Alabama, you're going to come back to Illinois? We need you.
"COVID-19 has completely turned the working world on its head," Pritzker added, "but young people still deserve a chance."
This summer, state representative Carol Ammons was asked for a local organization to facilitate the summer employment program. She immediately thought of Janice Mitchell and UNCC.
Mitchell works with area youth from morning until night. During the day, she's the Urbana School District's Community and Parent Liaison, and from the afternoon until late into the evening, she works as the director of UNCC, which she started 10 years ago. She does everything from writing grant applications to working in the kitchen to driving the center's buses.
"I'm not your typical executive director," she said. "I have food and sanitation certificates for five years, so if something happens in my kitchen, I can go in and I know the total operation. In terms of the vehicles that are parked out back, I'm certified to drive either one of them. On days we don't have drivers, Ms. Mitchell is out there at the schools picking up kids."
Not surprisingly, she already had the necessary certifications to run a site for the summer youth employment program when Ammons asked.
On Monday, Mitchell toured around a representative from the Illinois Department of Human Services as kids sat in three different rooms, socially distant with their masks on. Some learned about astronomy from an Illinois professor, while some played games, and others wrote on worksheets. The computer lab, where Urbana students will come this fall to participate in online school, was spaced out with clear shower curtains in between.
One of Mitchell's goals is to give students a vision of their future beyond high school graduation, like the one she gave Webster. The summer employment program aims to do the same, Ammons said, by combating problems caused by systemic racism.
"The governor understands that to get to the underlying issues," Ammons said, "we have to provide opportunity for young people in the state of Illinois, and the young people cannot be successful without the impetus in place to train them and to get them prepared for the modern economy and the workforce.
"Creating jobs and career-making opportunities, I believe is the responsibility of government. African Americans understand this process very well, that if you deny people the opportunity for access, you've actually set the course for their future. So it is critically important for us to do this program, and to do this program well."