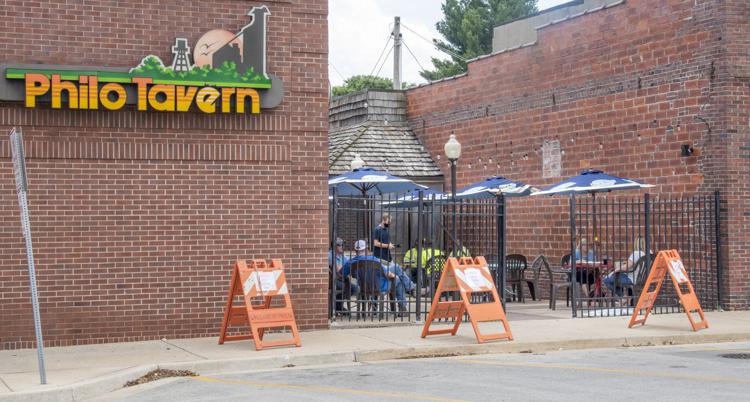 It's not a full-fledged return to pre-pandemic conditions but for many smalltowns and small businesses across the area, Phase 4 of Gov. J.B. Pritzker's "Restore Illinois" plan can't get here soon enough.
The past 94 days have been "devastating to our small businesses," says Dan Dickey, mayor of GIBSON CITY, which carved out room in its budget to offer interest-free $2,500 loans to so-called "non-essential" businesses that were forced to stay closed or scale back operations considerably.
"I'm anticipating at least a 25 to 30 percent reduction in city revenues," says Dickey, no fan of Pritzker's staggered reopening plan. "Personally, I believe this could have been managed in a much better way."
Elsewhere around the area, the pandemic hasn't hurt quite as bad as expected.
In the Champaign County village of HOMER: "The response in our community among the seniors was to shelter in place. Businesses did well because people were shopping less in Champaign-Urbana," Mayor Ray Cunningham says. "So far, our budget does not seem to be impacted as much as we had feared."
At last check, municipal revenue was down 16-plus percent in FARMER CITY — "and expected to drop off more as this continues," Mayor Scott Testory says.
"… While the executive order closure was hard on all of our businesses, it was particularly hard on two restaurants that were just starting up. Both were just months into business."
With the rules about to be relaxed as the state advances to Phase 4 on Friday, Editor Jeff D'Alessio asked area small-town mayors and village presidents:
On a 1-to-10 scale, with 10 being most damaging, how severe of a toll have the coronavirus pandemic and governor-issued executive orders had on your local economy?
ARCOLA
Severity score: 8
Summer in Amish country means tourism, an industry that's taken a beating from coast to coast. "Our downtown has had a decline even before COVID-19," Mayor Larry Ferguson says. "I know we and our collar cities moved quickly contacting our businesses that would benefit from new information handed down to us when we hit Phase 3."
ARTHUR
Severity score: 7 — 'at least'
Lucky for the village that straddles Douglas and Moultrie counties, "Arthur's two major manufacturing facilities were considered essential to the construction industry, as were our agriculture-related industries, so our community was fortunate that those businesses did not have to shut down," President Rod Randall says. "Our tourism-based retail industry did not fare as well."
BEMENT
Severity score: 4
"It has been the hardest on restaurants," says village President/small business owner Pat Tieman. "The other businesses remained open, except salons. I own Salon 101 in Bement. I am one of the fortunate ones who it didn't really hurt me financially like the restaurants." But don't cry for the Piatt County village of 1,941. "Bement is a resilient town and has been through tough times before," Tieman says. "We will weather this storm, too."
CATLIN
Severity score: 7.5
After being briefed about the state's fiscal shortfall by state Rep. Mike Marron, R-Fithian, the village got proactive, trimming 33 percent of projected expenses for the fiscal year ahead and looking for other ways to save a buck. "An example was to no longer allow garbage pickup down the alleys within the village, eliminating the continued rock and repairs to those alleys," Mayor Butch Schmink says.
The stay-at-home order and Phase 3 restrictions have taken a toll on local businesses, Schmink says, including Floral-n-Flair. "We know that the shutdown cost her a lot of business with the cancellation of prom, graduation and the inability for families to hold funerals. The Corner Bar was also shut down, directly costing the village video gaming tax and additional sales dollars."
The damage isn't confined to Catlin's corner of Vermilion County. OAKWOOD's rough projection also shows the local economy could "easily" see a decline in revenue by a third in the first quarter "and quite possibly into the second quarter," Mayor Clayton Woodard says.
CERRO GORDO
Severity score: 7
"This whole thing has been catastrophic for small businesses and small municipalities," says Acting Mayor Tim Allen. But it could be worse for the Piatt County town of 1,346, where village leaders "had us set up to where we could push through."
FAIRMOUNT
Severity score: 4
Far as President Dave Ferber can tell, business hasn't seemed to slip at the Vermilion County village's two biggies — Casey's General Store and Fairmount Redi-Mix. "My concern is with the small beauty parlors we have in the village," he says. "With the hard shutdown at the beginning, they had no income. We also have a small exercise facility that has not been able to open. I am hoping they will survive this pandemic."
Of greatest concern to Ferber is still TBD — the local government distributive funds that come from the state. "This money is our largest income source. ... Depending on the decrease, this could cripple our small community and could cause us to drastically alter the way we take care of our citizens and customers."
HOOPESTON
Severity score: 5
Some in Vermilion County's second-biggest city would probably rate the pandemic's impact a 10 out of 10 — "because this loss will never be made up," Mayor Bill Crusinberry says — but he'll go with half that score. "In April, we anticipated that this would have a major impact on our city revenue, so we passed a skeleton budget approving the expenses that were necessary for the day-to-day operation of the city.
"We have just this week scheduled a finance committee meeting to take a look at the March and April numbers to see how severely they have been impacted. With the unemployment numbers where they are, we know that our share of state income tax will be significantly reduced, and sales tax we need to look at. On one side, food and hardware stores seem to be doing good, but retail and restaurants have taken a big hit."
MAHOMET
Severity score: 7
No business has been immune to the economic conditions that accompanied COVID-19, but some have been impacted more than others, Village President Sean Widener says: "I, like many, look forward to returning to some form of normalcy."
PHILO
Severity score: 5
The lone Champaign County town of 1,000-plus without a confirmed COVID-19 case "has weathered the storm pretty well, in my opinion," Mayor Larry Franks says.
ROBERTS
Severity score: 5
In the Ford County town of 336, "every penny is crucial to our business owners' livelihood and subsequently to our village's budget and tax revenue," says Mayor Matt Vaughan, who's received reports that some's sales are off by as much as 60 percent. "One restaurant stayed open throughout the pandemic with curbside service and the local residents did a wonderful job of supporting them, but two other food/liquor establishments just recently reopened so their income was nonexistent for the majority of the past three months."
To make matters worse, three of the village's five churches have reopened but "the lack of physical meeting has caused some anguish among local parishioners," Vaughan says.
ROSSVILLE
Severity score: 9
"One of our new restaurants closed until things are reopened, and the other restaurant has been struggling," Mayor Richard Queen reports. "As far as our local government, funding such as sales tax has been reduced, which assists with the budget. I am sure fuel sales have been reduced since not very many had been traveling at first, except for essential workers — even with (gas) prices being lower."
ST. JOSEPH
Severity score: 7
"I want to stay optimistic that things won't be as bad as the projections seem to indicate," says Mayor Tami Fruhling-Voges, who acknowledges "our budget will take a hit and we will really have to watch our spending for the next couple of years.
"Thankfully, we have been fiscally conservative most years and will have our reserves to fall back on. Our local businesses need the ability to open at full capacity. The governor's current plan is putting them at risk every day that it continues.
"… Our residents have been super supportive, but it's time to let those in the community be free to determine their own level of risk. Our local businesses have done a great job so far keeping their employees and customers safe with their partial openings, but they can't survive much longer under these circumstances."
SAVOY
Severity score: 6
With municipal revenues expected to be down 25 percent, "major purchases or projects for this year will have to wait," President Joan Dykstra says. As for local businesses, "some are hanging on by a thread and will need substantial assistance; others are hurt but not devastated."
SULLIVAN
Severity score: 3.5
"Incredibly blessed" is how Mayor Richard Glazebrook would describe the state of the Moultrie County city of 4,483: "Our community has rallied together to work with businesses that have had rough times these last months. We've helped to provide outdoor seating at restaurants and bars, we've worked on grants with (Sullivan Chamber & Economic Development) and businesses, and are working to develop more ways to help families in our community."
Among the city's creative coronavirus era touches: enacting the RIPPLE program, in which the city gives credits of $25 and $50 on customers' utility bills based on how much they spend at community businesses.
TILTON
Severity score: 5
The Vermilion County village tapped into its healthy reserves to help fund 13 business stabilization grants worth a combined $65,000 last week. It's times like these that remind Mayor David Phillips: "We are a big part of small business."
TUSCOLA
Severity score: 7
The full financial picture remains unclear, "but early indications are definitely pointing in a downward trend," Mayor Dan Kleiss reports. "I will say that our small business entrepreneurs are very good at adapting to challenging business climates. So a big shoutout to our small businesses for their hard work to keep afloat so far. The city continues to look for ways to partner with our businesses to bridge the gaps between the different Restore Illinois phases."