Expected UI financial hit: $167 million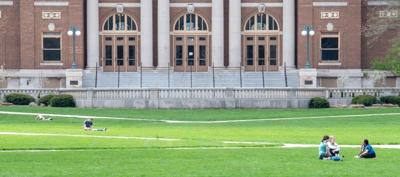 URBANA — The University of Illinois System is expecting a financial hit this fiscal year from COVID-19 of about $167 million, its chief financial officer said at Thursday's virtual board of trustees meeting.
Nearly $50 million of that comes from adjustments to student fees for housing, dining and other activities, Avijit Ghosh said.
"We have put in place a variety of cost-control measures to mitigate these adverse financial impacts," he said.
Travel expenses are currently on hold and will continue to be so "even after restrictions are lifted," Ghosh said.
And "units have also been instructed to control spending on supplies and services and non-essential construction and capital investments," he said. "Additionally, only critical and essential positions are being filled at the universities and the System to control personnel costs. And these restrictions are expected to continue going forward."
The UI received $63 million from the federal CARES Act, of which 50 percent goes directly to students for coronavirus-related financial aid.
"Federal stimulus funding will provide some relief to the universities, but it will be inadequate to cover the costs I mentioned," Ghosh said.
President Tim Killeen reiterated that he hopes and expects campuses to re-open in the fall, with detailed plans for what that will look like coming out in June.
"The effort will include a deep dive into issues such as how the pandemic will affect class sizes, residence hall occupancy, large sports or entertainment events, and other traditional campus activities," he said. "Things may not look exactly the same as they did when many of you saw our campuses last March. But I'm confident that with the appropriate protocols in place this fall, we will restore much of the face-to-face teaching, as well as lab-based research, residential life, and the other unique benefits that make our campus communities second to none."
Trustees also approved a new policy that will allow graduates to choose what name is printed on their diploma, as well as new sexual misconduct policies.
Faculty and staff will be prohibited from having intimate relations with undergraduates and those they supervise, and the UI will now conduct background checks of job candidates to look for findings of sexual misconduct, which could lead to a candidate being withdrawn from consideration.
The two proposed policies stem from a set of recommendations approved by trustees in November that are aimed at preventing sexual misconduct.