Subscribe: Print or online
News-Gazette covers: How the crisis has played out on A-1
For 24/7 coverage, follow us on Twitter, Snapchat, Instagram and Facebook.
Champaign County Health District: COVID-19 information
State map: COVID-19 cases by county
Have a story to tell? Email news@news-gazette.com
****
Champaign County crosses 500 cases
Another 23 cases were confirmed in Champaign County, according to the Champaign-Urbana Public Health District, bringing the total to 520.
Of those, 301 have recovered and three are hospitalized, down from five yesterday.
So far, seven people in Champaign County with COVID-19 have died.
The following zip codes saw an increase in cases from Thursday to Friday:
****
No new cases in Ford and Douglas counties; 2 more in Piatt
Douglas County remains at 27 confirmed cases of COVID-19, and Ford County remains at 20 confirmed cases, their health departments said Friday, as no new cases were confirmed in the past day.
Two more cases have been confirmed in Piatt County, bringing the total to 10.
****
Another case in Vermilion County
Vermilion County has one more confirmed case of COVID-19 — a resident in their 20s.
Of the 2,092 people in Vermilion County who have been tested, 38 in total have tested positive, or about 2 percent.
Of the 38 cases, one has died, none are currently hospitalized and 25 have been released from isolation.
****
Champaign planning for outdoor seating
The city of Champaign is developing a three-pronged plan to help bars and restaurants add outdoor seating, as will now be allowed under Phase 3 of Gov. Pritzker's five-phase re-opening plan.
This includes:
— Working with establishments that already have outdoor dining, primarily those in downtown, to determine how outdoor seating can comply with the state's new guidelines.
The city said it would work with businesses where outdoor seating can't be accommodated to find alternative solutions.
—The city is planning to create three "Downtown Picnic Parks" on portions of closed streets where customers can eat their carryout orders from local restaurants.
— The city is planning to allow restaurants to use their parking lots for outdoor dining where available.
The city is waiting on additional guidance from the state, but expects to have its outdoor dining plans finalized before central Illinois moves to Phase 3 next Friday.
****
Childcare centers asked to re-open in Phase 3
Gov. J.B. Pritzker announced more changes to Phase 3 of the state's five-phase re-opening plan, which all regions of the state are set to enter next Friday.
He asked childcare centers that aren't already open to prepare to do so in Phase 3.
For the first four weeks, they'll be limited to serving no more than 10 children per classroom.
If no health issues arise during that time, Pritzker said childcare centers will then be able to expand to serving larger groups, although not yet to their full licensed capacity.
During the stay-at-home order, emergency childcare centers serving essential workers were allowed to remain open.
Pritzker also said outdoor faith services would be welcomed during Phase 3, including drive-in church services.
"We continue to collaborate with faith leaders to ensure that they can hold services in safe and creative ways that allow for worship while protecting their congregants," Pritzker said.
****
110 more deaths in Illinois
Another 110 people with COVID-19 have died in Illinois, the state department of public health said Friday.
And of 25,113 new tests processed in the state, 2,758 came back positive, or about 11 percent of the tests.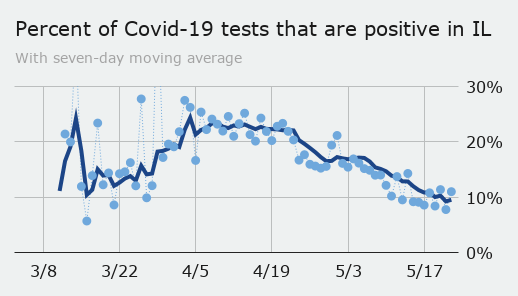 In total, 4,715 people with the coronavirus have died in Illinois, and 105,444 people have confirmed cases of the disease.
"Until we have a vaccine and reliable treatment, we need to learn how to coexist with COVID," said Dr. Ngozi Ezike, the director of the Illinois Department of Public Health. "The virus is still out there and your individual human behavior — including wearing a mask and keeping six feet of distance — those are the weapons that we have right now to overcome this virus. Let's continue to hang in there."
The new deaths were in the following counties:
— Boone County: 1 male 40s
— Cook County: 5 males 40s, 2 females 50s, 3 males 50s, 8 females 60s, 13 males 60s, 3 females 70s, 9 males 70s, 10 females 80s, 12 males 80s, 6 females 90s, 4 males 90s
— DuPage County: 1 female 70s, 1 female 80s, 1 male 80s, 1 female 90s, 1 male 90s
— Kane County: 1 male 50s, 2 males 70s, 1 unknown 70s, 1 male 90s
— Kankakee County: 1 female 80s, 1 male 90s
— Lake County: 1 female 50s, 2 males 50s, 1 male 60s, 1 female 70s, 1 male 70s, 1 female 80s, 1 male 80s, 2 female 90s, 1 male 90s, 1 female 100+
— LaSalle County: 1 male 70s, 1 male 80s
— Madison County: 1 female 90s
— McHenry County: 1 male 80s
— Peoria County: 1 male 50s
— St. Clair County: 1 unknown 90s
— Will County: 1 male 50s, 1 male 70s, 1 female 90s
— Winnebago County: 1 female 90s
****
With special event permits suspended through Sept. 7, Urbana's monthly Downtown Get Down summer festival series has been canceled.
The event is typically held the fourth Saturday of the month from May to August. It was launched last year and features live music, a kids zone, inflatables and games.
Its cancellation follows yesterday's news that the annual Urbana Sweetcorn Festival in August would be canceled.
****
MORNING BRIEFING:
■ Lawmakers could vote on a budget as early as today after working well into the night Thursday at the Capitol and a makeshift House chamber at the Bank of Springfield Center.
A 2,246-page amendment serving as an appropriations bill moved into third reading in the Senate on Thursday evening, meaning Senate President Don Harmon's House Bill 64 is eligible for full passage today after passing the House on Wednesday.
■ The Illinois House advanced a bill that would greatly expand voting by mail in the November general election, as well as make the day a state holiday this year.
By a 72-43 vote, with three members not voting, the House sent Senate Bill 1863 back to its original chamber. Senate passage is needed to send the bill to Gov. J.B. Pritzker to sign.
■ Four days after surpassing 400 confirmed cases, Champaign County is three away from topping 500 after adding 21 on Thursday.
The encouraging news: Of the now-497 cases, 271 are considered recovered and 219 are active, a significant change from a day earlier, when there were 239 active and 230 recovered.
■ Countywide, there are 22 active "outbreaks," C-U Public Health District Administrator Julie Pryde said. (An outbreak is defined by state health officials as two or more cases at the same facility).
The health district is seeing clusters of cases linked to employees congregating at work or after work, Pryde said. She urged that workers must maintain social distances in common areas such as break rooms.
■ All local businesses planning to reopen are encouraged to check out champaigncountysafe.org, said Champaign Planning and Development Director Bruce Knight.
The site includes safe reopening guidelines for various business segments, from hair salons to child care centers. Read more here.
BY THE NUMBERS
Illinois: 102,686 cases / 4,607 deaths
Champaign County: 497 (+21) / 7
Douglas: 27 (—) / 0
Ford: 20 (+1) / 1
Piatt: 8 (—) / 0
Vermilion: 37 (+3) / 1