URBANA — Large desks sit on the Urbana Middle School gym floor, spread evenly throughout the space.
Principal Joe Wiemelt and his staff planned to fit around 40 students, which would keep them under the limit of 50 people in a room, but most of the desks sit empty every day.
"I was expecting more," Wiemelt said, "because I figured there would be more students without WiFi at home or students that just wanted to get out of their home to focus because they had younger siblings and those sorts of things."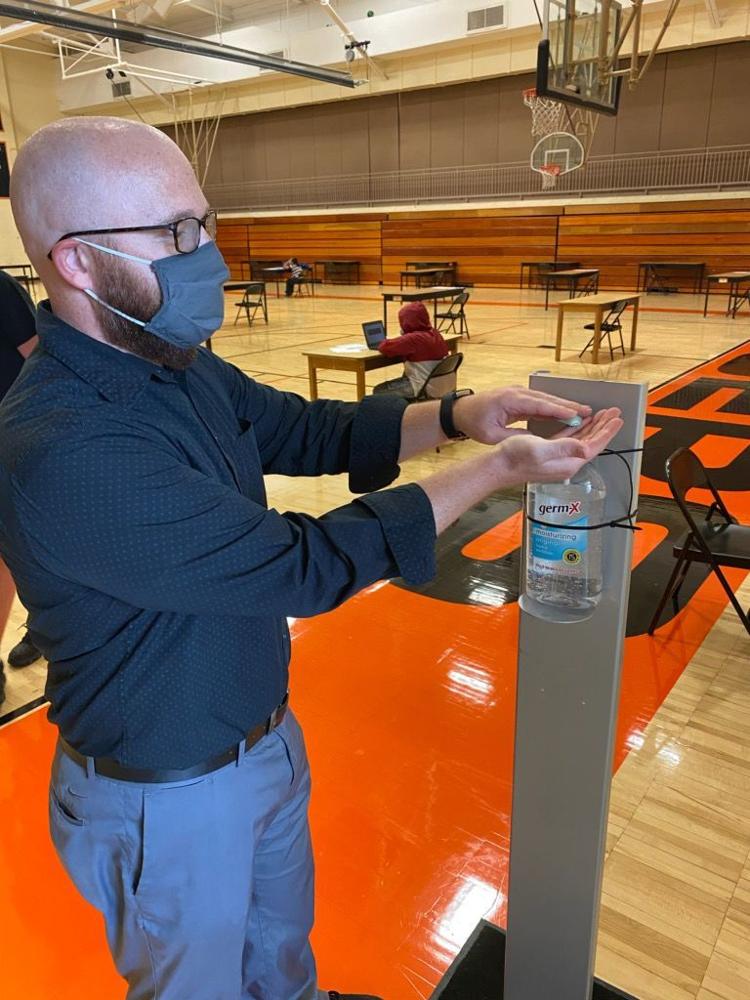 Students come and go through the outdoor gym doors, only leaving the gym to use the restroom. A staff member checks their temperatures. They're able to access a Chromebook, headphones and a microphone, and from there, they take synchronous classes for two-and-a-half hours with their teachers, many of whom are also in the same building.
A limited number of staff members are there to supervise.
"Students have been great," Wiemelt said. "They've followed all of the safety measures they need to be taking. They're wearing masks, staying 6 feet apart. … It's a controlled environment, because they're just coming in straight to a desk and then leaving straight out of the gym, so they don't really go into the school beyond the gym to use the bathroom.
"There's been very little interaction between students."
The district started out conservatively with which students were invited, including those who didn't have access to WiFi at home or students with more than one sibling at the school.
Wiemelt said they've now expanded the breadth of students able to come.
With at least seven more weeks of remote learning on tap, the gym is ready and waiting for an influx of students.
"I imagine as the school year progresses, we may get more students who realize it's easier possibly to come in and focus here," he said. "But maybe not, maybe it's harder to get in here, maybe they have to stay home and supervise siblings and those sorts of things. Time will tell, I guess, if we get more students or not."
For the students who file into the gym each day, the service has been incredibly valuable. One family, for instance, has multiple siblings at the school and not enough bandwidth at home to serve them all at once on separate computers.
Because of that, Wiemelt considers the remote learning site a success even though it hasn't been used as much as he envisioned.
"It's been very, very good," Wiemelt said. "For these five or six kids that do come, without our space, they wouldn't have been able to do remote learning at all because either they don't have WiFi at home or they don't have reliable access."