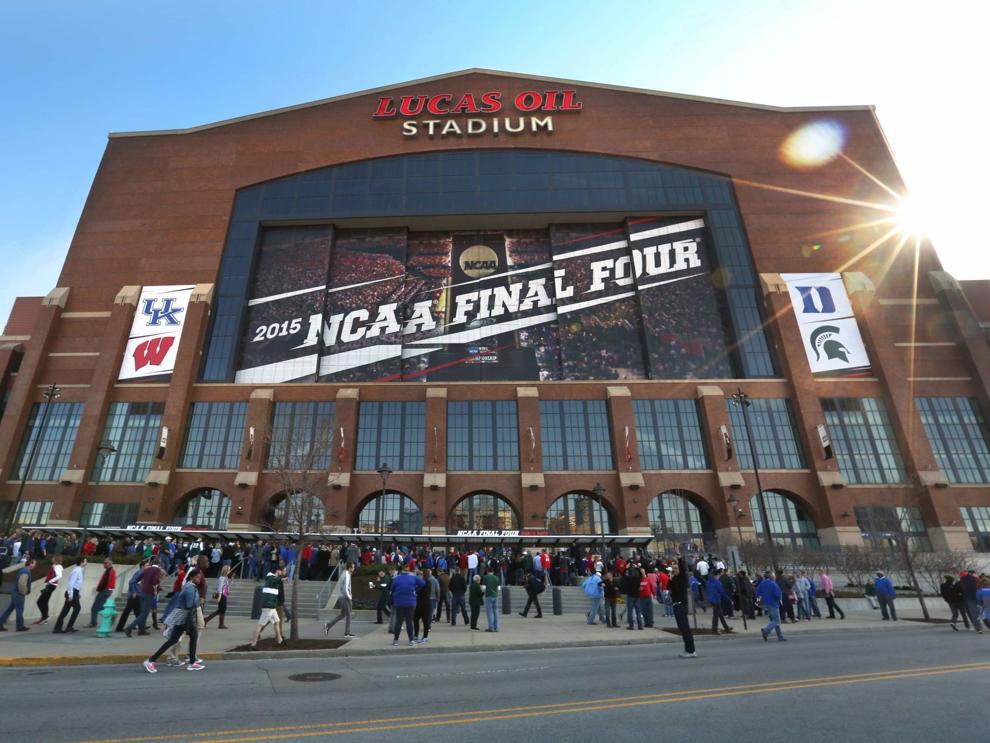 INDIANAPOLIS — Indianapolis had long been planning for this year's Final Four games.
Until January, organizers there weren't planning on hosting 67 games at six arenas over several weeks.
And until Friday, they weren't sure how many fans would be allowed in the arenas.
The NCAA announced that the arenas would be allowed to be filled up to 25 percent capacity, which includes all players, coaches, essential staff and family members.
Leonard Hoops, the president and CEO of Visit Indy, had been hopeful that some fans would be allowed, especially for the later rounds. So he was pleased with Friday's announcement.
"Four to six venues for all rounds at 25 percent capacity is a pretty decent amount of ticket opportunities for a good number of people to safely enjoy great college basketball in Indy," he said shortly after the announcement.
The city's work has been accelerated since the NCAA announced in January that the entire tournament would be held there.
The Big Ten tournament, held just before the NCAA tournament, was also moved to Indianapolis this year.
"We typically have years to plan," said Brett Kramer, direct of public relations for the Indiana Sports Corp., which is managing the local organizing committee for the NCAA tournament.
"Doing this in a condensed two-months period of time is extremely difficult. … Everybody's just working in super-speed to make it all happen."
Kramer said "it's hard to predict" how many out-of-town fans will show up to the city, but "we're getting prepared for all of the above here in Indy, making sure that our restaurants are good to go and have everything they need. Same with hotels."
The Ram, a popular sports bar for Illini fans in Indianapolis, won't be available, as it has permanently closed, and Illini athletics as of this week didn't have anything planned for traveling fans.
But restaurants are currently open at 50 percent capacity, Kramer said, with many taking reservations because they're filling up quickly.
While Indiana Sports Corp.'s events will be scaled back and outdoors, it still has several activities planned for the community.
"We are working on a lot of socially-distant and outdoors activation," Kramer said. "It won't be just walking around on empty streets. There'll be Final Four and March Madness fanfare and things going on."
The Indiana Sports Corp. is hiring 300 indie artists and musicians to do pop-up performances around the city.
"We are kind of planting musicians throughout the city to really add to the vibrancy and liveliness of downtown," Kramer said.
They're also commissioning basketball-court-themed murals around the city.
A biking tour and walking tour is also planned, Kramer said, which will show off "iconic downtown locations that have to do with basketball."
And at the popular Monument Circle downtown, the light show on the surround buildings will be basketball themed.
"We're really turning that into kind of a basketball-themed downtown party, so once the sun goes down, they'll reflect basketball-related content on there and (we're) just hoping to pump in some music, and anybody that's down there can, of course, watch the show," Kramer said.
Michael Huber, the president of the Indy Chamber, said local businesses are looking forward to the tournaments.
"The logistics required to safely and successfully host events like NCAA March Madness are significant, but their impact has reverberating effects for years throughout the Indianapolis region," he said in an email. "New community collaborations are forged, local businesses see an influx of new customers and audiences across the globe get an introduction to Indy. … The economic impact of such an undertaking is more than just dollars and cents; it's an opportunity to showcase the collective strength of our community."
Even if fans don't make it into the arenas, Kramer said she hopes they still visit to watch the games, "even if it's at a local bar or place to watch it on the television."
"We're hoping people do that and they come to Indy," she said. "But of course, we're also hoping they come in and they do it in a safe manner as well."