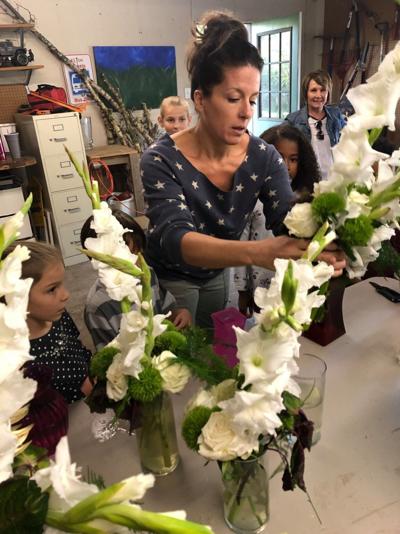 Are you feeling like you'd like to do something positive to help others through the pandemic, but you just don't know what?
Champaign-based floral designer Andrea Hunt-Shelton has been continuing her CU Petal Project throughout COVID-19, putting donations to work along with her own donated time by making and delivering floral bouquets to nursing home residents, hospital patients and others who may be cheered by a gift of flowers.
"It's a nice little way to be able to do something, because I know everybody kind of feels what can I do," Hunt-Shelton said.
A little background about her: Hunt-Shelton is a Champaign native who went to Central High School, moved away for college and has lived in several other states before returning to her hometown in 2016 and bringing her floral business, A. Hunt Design, along with her.
She originally started the business in San Diego about eight years ago, she said, and "it kind of follows me wherever I go."
Hunt-Shelton originally set out for a career in theater, but she was always interested in becoming a florist,she said.
She currently works out of her home studio in Champaign.
Orders for weddings, funerals and other events are, of course, down due to the pandemic, she said, but she's still receiving orders for home-delivered flowers and is also supplying vases of flowers for Carle Foundation Hospital's Gift Shop.
The mother of two sons, ages 5 and 6, Hunt-Shelton said CU Petal Project has helped her sons and other kids learn about being kind and generous to others.
In the pre-COVID-19 summertime, she said, they'd make bouquets and leave them around downtown and Campustown areas for people to find to brighten their days.
Also, pre-pandemic, she organized "give days" when parents and kids could come to her studio and make bouquets with leftover flowers to give away around the community.
While that's not possible now due to the pandemic, she said, donations to CU Petal Project continue helping her deliver donated vases of flowers to nursing homes to give to their residents who need them most.
She also filled a donor's request to use a $100 gift to make floral arrangements for Carle hospital to give to patients who need them, she said.
Hunt-Shelton also accepts used floral vases people have at home to use for donated flowers, she said.
There's a link to CU Petal Project and how to donate and otherwise get involved on Hunt-Shelton's website at ahuntdesign.com.
Tenants donate
After Royse & Brinkmeyer Apartments offered tenants a $25 rent credit in December with an offer to match it for any tenants willing to donate the rent credit to C-U at Home, hundreds opted for the donation option.
After 313 tenants kicked back their rent credit to donate to the agency that serves the homeless in the Champaign-Urbana area, Royse & Brinkmeyer was able to donate $15,650 for C-U at Home's One Winter Night fundraiser coming up Feb. 5, according to Rick Williams, ministry development assistant for C-U at Home.
"It's been a year where people more than ever appreciate 'home.' We suspect that folks without a home will also be the most vulnerable and affected by the labor and health crisis of 2020," said Royse & Brinkmeyer CEO Collin Carlier. "Additionally, we have been generally amazed and impressed with our residents' willingness to help others."