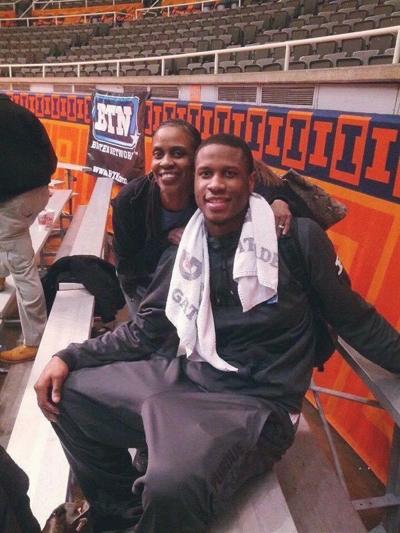 This fall, many college athletes are stuck playing in front of few or no fans at all.
There are pros and cons that come with these conditions.
The good part: It allows players and coaches to lock in and focus without all of the outside distractions. It also allows the athletes to compete in a safer environment.
The bad part: the lack of motivation that comes with playing in front of no fans. Fans play a big role in a team's success by giving players that extra boost of energy. That is what causes teams to go on runs throughout the game.
Playing in the Big Ten as a member of Purdue's basketball team, I experienced a lot of hostile atmospheres. Like Indiana University.
Purdue and IU are the ultimate rivals, even before the Gene Keady and Bobby Knight days. I remember walking into the arena and hearing the fans call us some of the foulest names you could think of. They had all kinds of signs and personal information on our whole team. They did whatever needed to get under our skin.
People really take this rivalry game to heart.
There are some die-hard basketball fans in the state of Indiana, and you have a choice to be on either side: Purdue or IU. You can't be both.
The anticipation leading up to the game is crazy and something I had never seen before. Fans camped outside the arena for up to two days. To be an athlete seeing that type of love and support from fans makes you want to play your heart out for them and give them what they came to see — a show.
Another really hostile environment I experienced was the University of Illinois.
The UI was nowhere near as hostile as Indiana, but it's my hometown school, so I knew a lot of the faces in the crowd. It seemed like everywhere I looked, I knew someone. I had a lot of emotions going into the game because as a kid, I dreamed about playing on that same court, in front of a sold-out crowd. I was able to make it happen and in front of all of my close family and friends.
I believe I gave out close to 35 tickets that game. It was an unbelievable experience.
I say all of this because, yes, it is possible to play sports without fans, I just don't think it's the same. Fans bring a certain type of energy to the game that you just don't get on your own.
Don't get me wrong, players can still be excited and hyped up about a game, but the energy in a gym of a close game filled with raging fans is unmatched.
I understand the circumstances that are keeping us from allowing fans in games.
When it's safe to attend again, I think the energy will be through the roof.
Jay Simpson writes for The News-Gazette. His column appears Wednesday, Friday and Sunday. He can be reached at jsimpson@news-gazette.com.