Jim Dey | Stay-at-home order hardly ruff on area dogs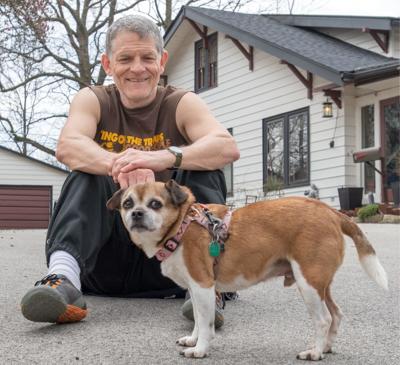 The steamy dog days of August are still a few months away.
But days for dogs have arrived in late March and early April as homebound pet owners head outside with leash in hand to get some exercise.
Take Korina Ryan and her friend, Chris Revial. They live in Mahomet and have three dogs.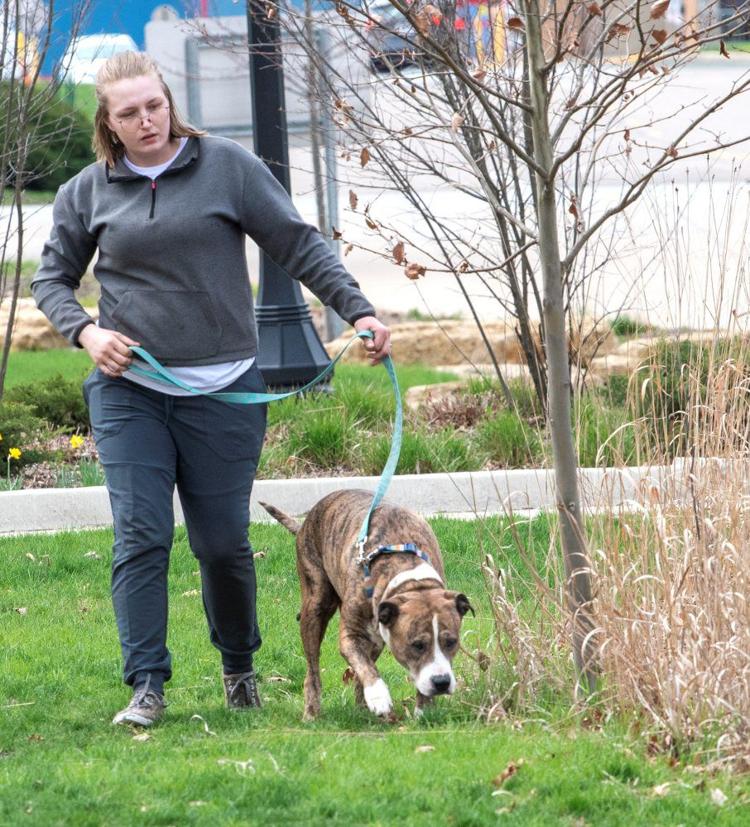 On Friday, they decided to drive to Glenn Park in Champaign so their big dog, Bella, could enjoy the surroundings.
"We used to live around here, and it's nice," Ryan said. Bella "likes to walk in the tall grass."
What about their other two dogs? Well, they, like many dogs, have issues when it comes to transportation — one gets car anxiety on long drives and the other tries to jump out the window.
"We try not to take them all in the car," Ryan said.
Over at Clark Park, located north of the Champaign Country Club, Mike Martin, a building contractor, was taking a noontime stroll with Gus, his Yorkie mix. While Martin was walking Gus, his wife was walking their other dog elsewhere.
"We walk them separately because they do better by themselves," Martin said. "They just get ornery when they walk together."
Martin is a regular dog walker, but he said his dogs are getting extra walks now that he's working from home because of the coronavirus pandemic. He said he's not alone.
"I notice more walkers period, with and without dogs," he said.
Jim and Katrina Kotowski were walking with their dogs — Vinnie, an Australian Shepherd, and Bootsy, a Puggle — near Clark Park early Friday afternoon.
Regular dog walkers, they decided to take a different path instead of heading to the retention pond on Washington Street.
"It's a big deal for me to be walking the dogs" in the early afternoon, said Katrina, a University of Illinois residence hall employee who's following the admonition to stay home.
The couple said their dogs "always get walks."
"Vinnie will drive us crazy if he doesn't get walks," Jim said.
"Bootsy is more into hot dogs," Katrina added.
Every dog has his say, one way or another.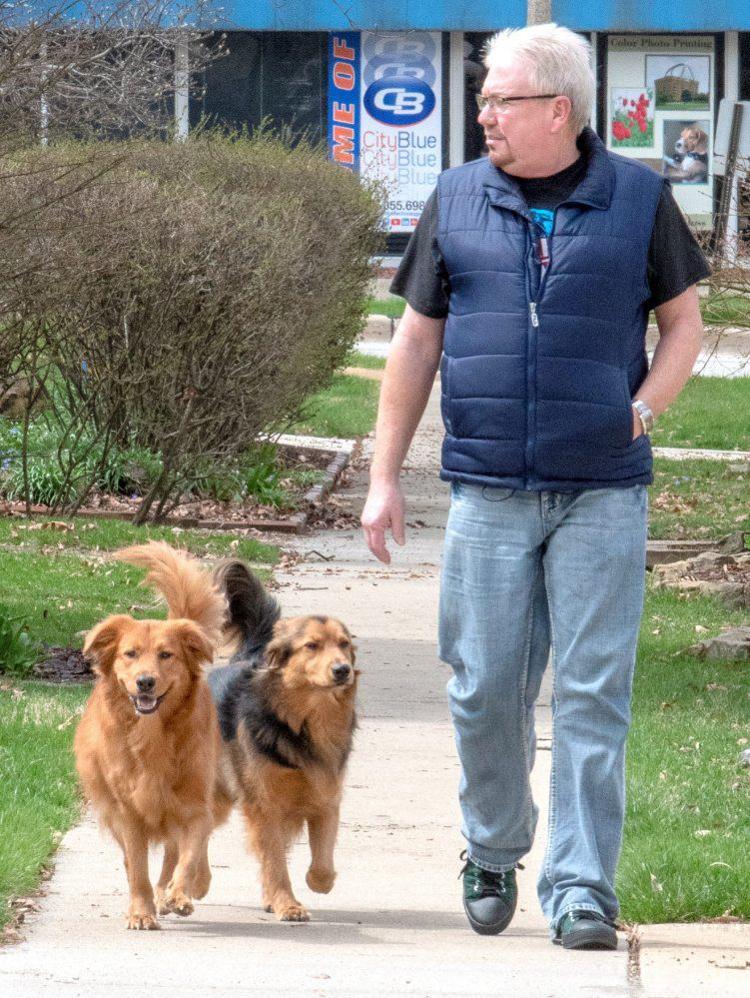 Jim Rich and two of his three — Berkeley and O'Malley, both mutts — were killing time near Glenn Park. Rich said all three of his dogs — litter mates — are extremely well-behaved and stay near him, no matter what the temptation.
A retired accountant from State Farm who drives part time, Rich said he and his dogs planned to follow up their walk by working in the yard. Not the dogs, of course.
Later in the day, there will be more people — and maybe even the same people walking the same dogs.
People are getting increasingly antsy in the midst of Gov. J.B. Pritzker's stay-at-home order, many of them finding that walking the dog feels as good for them as their pets.
Jim Kotowski said it's his impression that, for whatever reason, more people are getting outside when the weather is good.
"It's nice," he said. "They seem friendlier."