Steve Hoffman, editor of Community Media Group's Piatt County Journal-Republican, reports:
Piatt County Transportation has announced that a driver has tested positive for COVID-19.
The employee last worked on Wednesday, and was tested Saturday after experiencing mild symptoms.
"We are confident all protocol for PPE was followed, therefore there is minimal risk to our riders and staff," said PIATTRAN Director Jami Trybom. "We have reached out to anyone who rode with that driver on Tuesday or Wednesday."
She said the driver is not a Piatt County resident.
PIATTRAN drivers have been wearing masks, and social distancing requirements have been observed on buses since the COVID-19 outbreak began.
The service will continue to operate, but "out of an abundance of caution," Trybom said rides scheduled Tuesday for those in higher-risk health categories are being canceled.
"Be assured we will do our best to update you if the situation should change. It our goal to be as transparent as possible with any health or safety concern," she said in a release.
Questions can be referred to Trybom at director@piattran.org or by calling 217-762-7821.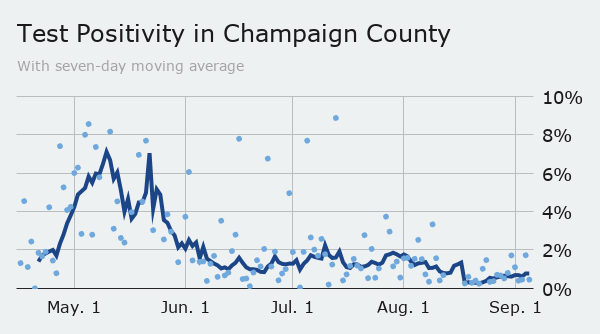 Of 9,246 new tests in Champaign County, 42 came back positive Sunday, a rate of 0.5 percent.
The county's seven-day positivity rate stood at 0.8 percent.
Other numbers of note:
The number of county residents hospitalized with COVID-19 remained unchanged from Saturday, at three.
Active cases rose by 38, to 888.
For the entire pandemic, 286,906 tests have produced 2,806 confirmed cases.
Here's an updated rundown of county ZIP codes with active cases followed by their total number of cases, according to C-U Public Health District data:
61820/Champaign: 635 active, 1,029 total
61801/Urbana: 94 active, 234 total
61821/Champaign: 34 active, 353 total
61822/Champaign: 32 active, 218 total
61873/St. Joseph: 22 active, 51 total
61802/Urbana: 18 active, 273 total
61874/Savoy: 13 active, 81 total
61866/Rantoul: 12 active, 279 total
61853/Mahomet: 11 active, 111 total
61880/Tolono: 5 active, 43 total
61863/Pesotum: 3 active, 10 total
61843/Fisher: 2 active, 32 total
61878/Thomasboro: 2 active, 8 total
61877/Sidney: 1 active, 16 total
61845/Foosland: 1 active, 10 total
61847/Gifford: 1 active, 8 total
61849/Homer: 1 active, 6 total
61859/Ogden: 1 active, 4 total
61875/Seymour: 0 active, 6 total
61864/Philo: 0 active, 11 total
60949/Ludlow: 0 active, 6 total
61840/Dewey: 0 active, 5 total
61871/Royal: 0 active, 5 total
61872/Sadorus: 0 active, 3 total
61816/Broadlands: 0 active, 1 total
61851/Ivesdale: 0 active, 1 total
61862/Penfield: 0 active, 1 total
---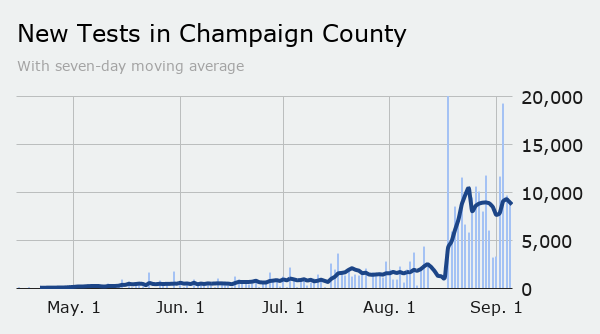 CHAMPAIGN COUNTY: 924 cases in 11-to-20 age group
Here's an updated breakdown of confirmed county cases by age group, according to CUPHD data:
11 to 20: 924 cases; 27.9 percent of all tests in Champaign County
21 to 30: 719 cases; 30.4 percent of tests
31 to 40: 367 cases; 11.8 percent of tests
41 to 50: 258 cases; 9.5 percent of tests
51 to 60: 206 cases; 8.8 percent of tests
10 and under: 131 cases; 1.9 percent of tests
61 to 70: 107 cases; 5.6 percent of tests
71 to 80: 51 cases; 2.3 percent of tests
81 to 90: 32 cases; 1.2 percent of tests
91 to 100: 11 cases; 0.4 percent of tests
---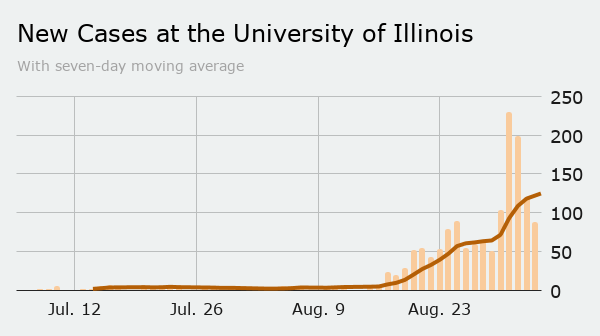 UI CAMPUS: 1,138 new cases since classes started on Aug. 24
Of 14,841 tests Thursday on campus, 88 new cases emerged, according to new data provided by the University of Illinois.
With Labor Day weekend totals yet to be added, the seven-day positivity rate on campus stood at 1.1 percent.
Since students began moving in on Aug. 16, there have been 1,420 new cases.
Since classes began on Aug. 24, there have been 1,138 new cases.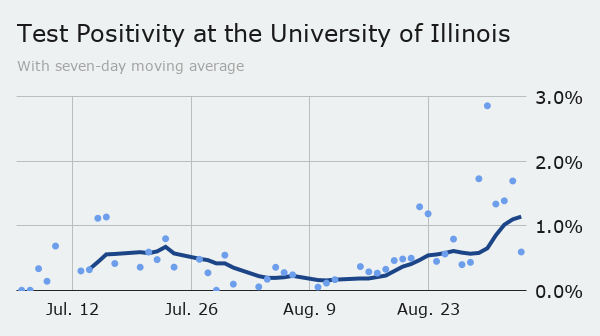 Here's a breakdown of new, unique cases by day, according to the UI's COVID-19 dashboard:
Thursday, Sept. 3: 14,841 new tests, 88 new cases
Wednesday, Sept. 2: 7,089 new tests, 120 new cases
Tuesday, Sept. 1: 14,367 new tests, 199 new cases
Monday, Aug. 31: 17,227 new tests, 230 new cases
Sunday, Aug. 30: 3,640 new tests, 104 new cases
Saturday, Aug. 29: 2,895 new tests, 50 new cases
Friday, Aug. 28: 15,030 new tests, 65 new cases
Thursday, Aug. 27: 15,123 new tests, 60 new cases
Wednesday, Aug. 26: 6,812 new tests, 54 new cases
Tuesday, Aug. 25: 15,850 new tests, 89 new cases
Monday, Aug. 24: 17,656 new tests, 79 new cases
Sunday, Aug. 23: 4,474 new tests, 53 new cases
Saturday, Aug. 22: 3,326 new tests, 43 new cases
Friday, Aug. 21: 10,877 new tests, 54 new cases
Thursday, Aug. 20: 10,742 new tests, 52 new cases
Wednesday, Aug. 19: 6,300 new tests, 29 new cases
Tuesday, Aug. 18: 6,162 new tests, 20 new cases
Monday, Aug. 17: 9,064 new tests, 24 new cases
Sunday, Aug. 16: 2,453 new tests, 7 new cases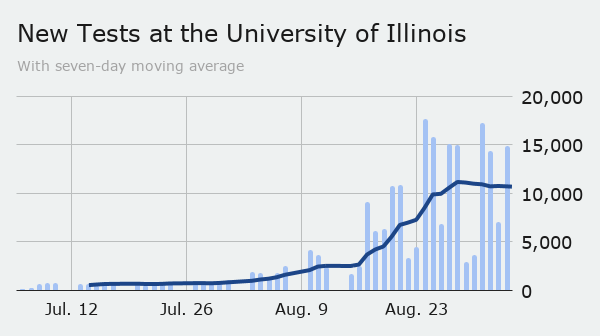 ---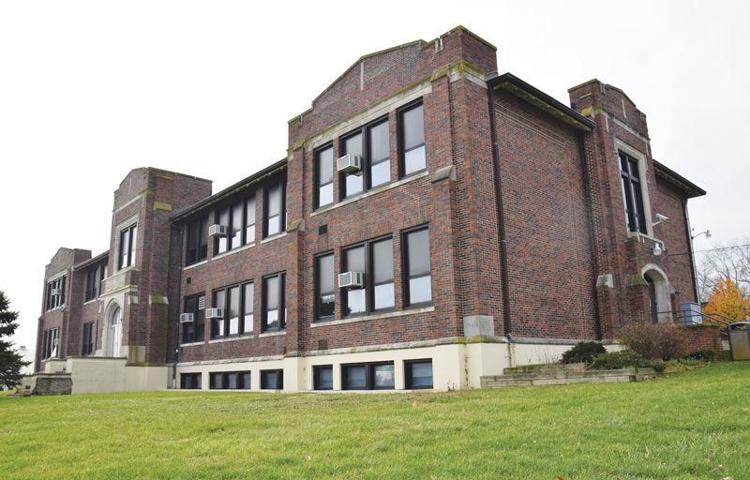 CERRO GORDO: High school to go all-remote after seven positive tests
From the Piatt County Journal-Republican's Steve Hoffman:
Students at Cerro Gordo High School are being moved to remote learning until at least Sept. 21 after seven people there tested positive for COVID-19 since Thursday.
Four of the cases were reported Thursday and Friday, with another three over the weekend.
In-person learning will continue at the elementary and junior high schools.
"We are committed to providing your child and our staff with a safe and healthy environment. In order to accomplish that, we need everyone's help when you are out in public: Please wear masks indoors, social distance, and frequently wash or sanitize your hands," the district posted on its website and social media on Sunday.
"Thank you for your understanding and ongoing cooperation with our COVID prevention policies and procedures as we work to help protect your children, your families, and our staff and their families."
The announcement also stated that the district will "continue our ongoing monitoring of students and staff for signs and symptoms of illness and evaluation of illness reports to promptly identify possible outbreaks. Our custodial staff will continue to deep clean and disinfect the areas impacted by potential exposure to the COVID-19 virus."
The school district is coordinating its efforts with the DeWitt-Piatt Bi-County Health Department to identify individuals who have had recent contact with the COVID-19 positive individuals to prevent further spread of the virus within the school and community.
---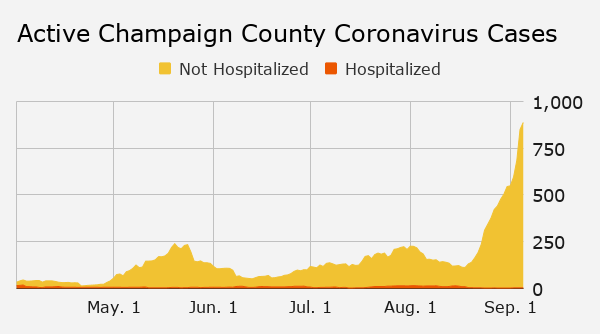 VERMILION COUNTY: 1 new case, 1 new hospitalization
A resident in their 30s was the 369th total and lone new case reported Sunday in Vermilion County.
Also, Vermilion County Health Department Administrator Doug Toole wrote in an email, "one of our positive cases has taken a turn for the worse, and is now hospitalized."
---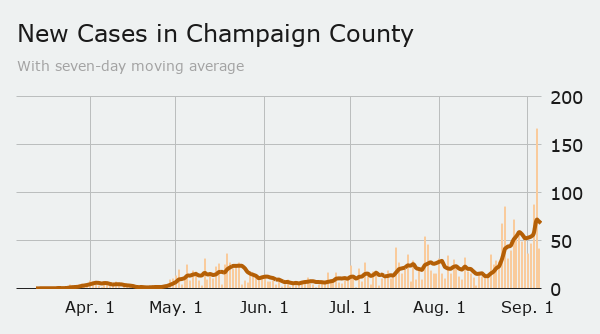 DOUGLAS COUNTY: 242 confirmed cases
For the second straight day, just one new test came back positive in Douglas County, local health officials reported Sunday.
Saturday's involved a female in her 50s, Sunday's a 19-year-old male.
In announcing its 242nd confirmed case on Facebook, the Douglas County Health Department reiterated a Labor Day weekend warning, writing residents to avoid "large, crowded public venues where the chances of incidental exposure to COVID-19 rise exponentially. While you may be following best practices, not everyone around you is."
---
STATE: 46,496 tests, 1,403 cases, five deaths
Of 46,496 new tests statewide, 1,403 came back positive Sunday, a rate of 3.0 percent.
The state's seven-day positivity rate now stands at 4.04 percent.
The Illinois Department of Public Health also reported five lives lost to COVID-19 on Monday:
Cook County: 1 female 60s, 1 female 70s
Jefferson County: 1 male 80s
Morgan County: 1 female 70s
Pike County: 1 male 80s