Monday's coronavirus update | Champaign County positivity rate down to 4.8%; Pritzker 'worried about my family's safety' after protest
Subscribe: Print or online
News-Gazette covers: How the crisis has played out on A-1
For 24/7 coverage, follow us on Twitter, Snapchat, Instagram and Facebook.
Champaign County Health District: COVID-19 information
State map: COVID-19 cases by county
Have a story to tell? Email news@news-gazette.com
****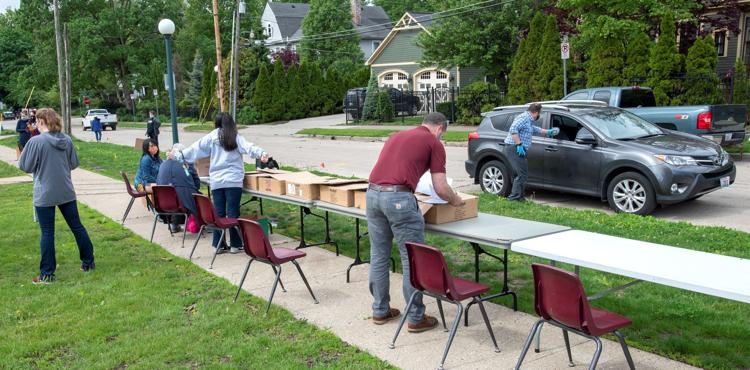 ****
Signs at a Reopen Illinois weekend rally outside the Capitol in Springfield — including one comparing J.B. Pritzker to Adolf Hitler — left the governor shaken, he said during today's COVID-19 daily update.
"Yes, I have to admit I am worried about my family's safety," Pritzker said, referring to images of "swastikas, pictures of Adolf Hitler and references to me and my family," in response to a reporter's question.
"Yeah, I'm concerned. But I also want you to know I'm undeterred from the path we're on, we're doing the right thing, and the vast majority of people in Illinois are doing the right thing."
Pritzker, a Democrat, said he also took issue with Republican U.S. Senate candidate Mark Curran making fun of the governor's requirement that Illinoisans wear masks in public places, and his encouraging crowd members to visit U.S. Sen. Dick Durbin's Springfield home.
A Curran campaign spokeswoman pointed out late Monday that Pritzker's account of what was said at Saturday's rally — that the candidate shouted Durbin's home address and encouraged supporters to surround it — was greatly exaggerated. 

According to a video of Curran's comments, he only pointed in the general direction of the senator's home while speaking at the rally, saying: "Senator Durbin lives over there. I'm sure he'd welcome us all (for) a few cocktails. We could talk about what he did for the last 38 years, watching Illinois become the fiscal nightmare of the United States."
Further, Curran spokeswoman Linda Prestia added, the Republican candidate for senator saw no Nazi symbolism (a term used in other news accounts of the rally) and wouldn't have participated if he did. 
"Mark Curran was asked by are-Open Rally organizers to speak at this event and he personally did not see any nazi signs," Prestia said in an email Monday night. "Had he even seen one, we assure you Mr. Curran would have been among the first to ask them to leave. He was the Sheriff of Lake County and takes things like this seriously."
****
8,609 TESTS, 412 POSITIVES IN CHAMPAIGN COUNTY
Champaign County continues to fall well under a key marker for the state's central region to move from Phase 2 to Phase 3 of Gov. J.B. Pritzker's five-phase reopening plan.
Under Pritzker's plan for four regions of the state, non-essential businesses such as hair salons and retailers could open as early as May 29 — with capacity and other safety restrictions in place — if certain milestones are met, including a COVID-19 positivity rate of 20 percent or less.
Of the 8,609 people tested in Champaign County as of Monday, about 4.8 percent — 412 — had tested positive, according to the public health district.
****
CHAMPAIGN COUNTY CASES: 217 RECOVERED, 188 ACTIVE
The number of confirmed cases in Champaign County surpassed the 400 mark Monday, with the addition of 25 new positive tests.
That sent the county's total to 412 ahead of Tuesday's launch of a free, drive-thru, state testing site outside Market Place Mall.
Of the 412, 217 are considered recovered and 188 active.
The number of hospitalized residents increased for the first time in a week, from three to four.
The new cases included one in 61847 ZIP code (Gifford), which becomes the 18th ZIP code in Champaign County with at least one reported case.
A rundown of confirmed cases by ZIP code, according to C-U Public Health District data, which doesn't distinguish between recovered and active:
— 109 cases: Rantoul/61866 (up six from Sunday)
— 71 cases: Champaign/61821 (up six from Sunday)
— 65 cases: Champaign/61820 (up five from Sunday)
— 55 cases: Urbana/61802 (up four from Sunday)
— 36 cases: Champaign/61822 (up one from Sunday)
— 31 cases: Urbana/61801 (up one from Sunday)
— 12 cases: Savoy/61874 (no change from Sunday)
— 12 cases: Mahomet/61853 (up one from Sunday)
— 4 cases: St. Joseph/61873 (no change from Sunday)
— 4 cases: Tolono/61880 (no change from Sunday)
— 3 cases: Pesotum/61863 (no change from Sunday)
— 3 cases: Ludlow/60949 (no change from Sunday)
— 2 cases: Thomasboro/61878 (no change from Sunday)
— 2 cases: Homer/61849 (no change from Sunday)
— 1 case: Gifford/61847(first case reported Monday)
— 1 case: Sidney/61877 (no change from Sunday)
— 1 case: Penfield/61862 (no change from Sunday)
****
IDPH: 2,294 NEW POSITIVE TESTS, 59 FATALITIES
Illinois crept closer to joining New York and New Jersey with 100,000 confirmed COVID-19 cases, reporting 2,294 positive tests Monday for a total of 96,485.
For the third straight day, the number of new coronavirus-related deaths statewide stayed out of triple digits. After reporting 74 Saturday and 51 Sunday, state public health director Dr. Ngozi Ezike announced 59 fatalities during Monday's daily COVID-19 state briefing.
Illinois' death toll now stands at 4,234. Monday's fatalities spanned eight counties:
— Coles County: 1 female 90s.
— Cook County: 3 males 40s, 2 females 50s, 3 males 50s, 4 females 60s, 7 males 60s, 4 females 70s, 8 males 70s, 1 unknown 70s, 1 female 80s, 10 males 80s, 1 unknown 80s, 2 females 90s, 3 males 90s, 1 unknown 90s.
— DuPage County: 1 female 50s, 1 female 80s.
— Kane County: 1 male 80s.
— Kendall County: 1 female 90s.
— St. Clair County: 1 male 70s.
— Will County: 1 male 50s.
— Winnebago County: 1 female 90s, 1 male 90s.
The statewide seven-day rolling positivity rate, from May 9 to 15, is 14 percent. IDPH processed 21,297 COVID-19 tests in the past 24 hours.
Across Illinois, 4,120 residents who tests positive for COVID-19 were hospitalized. Of those, 1,096 were in intensive care units and 636 were on ventilators.