Your guide for today's virtual tour of memorable places and spaces on and around campus: native Kentuckian JOHN WILKIN, who since 2013 has served as the UI's Juanita J. and Robert E. Simpson Dean of Libraries and University Librarian.
Where I was when I got great news
I was in my office when I got a call from the Library of Congress. My first thought was that I'd made someone very important angry.
It turned out that it was the chair of the Hugh Atkinson Memorial Award committee calling to tell me that I'd received the award. I was a bit overwhelmed because of the nature of the award — "librarians who has or have worked in the areas of library automation or library management and has made contributions (including risk taking) toward the improvement of library services or to library development or research" — but especially important because Atkinson was our library director when he revolutionized the way we think about inter-library cooperation.
Previous award winners include our own Paula Kaufman.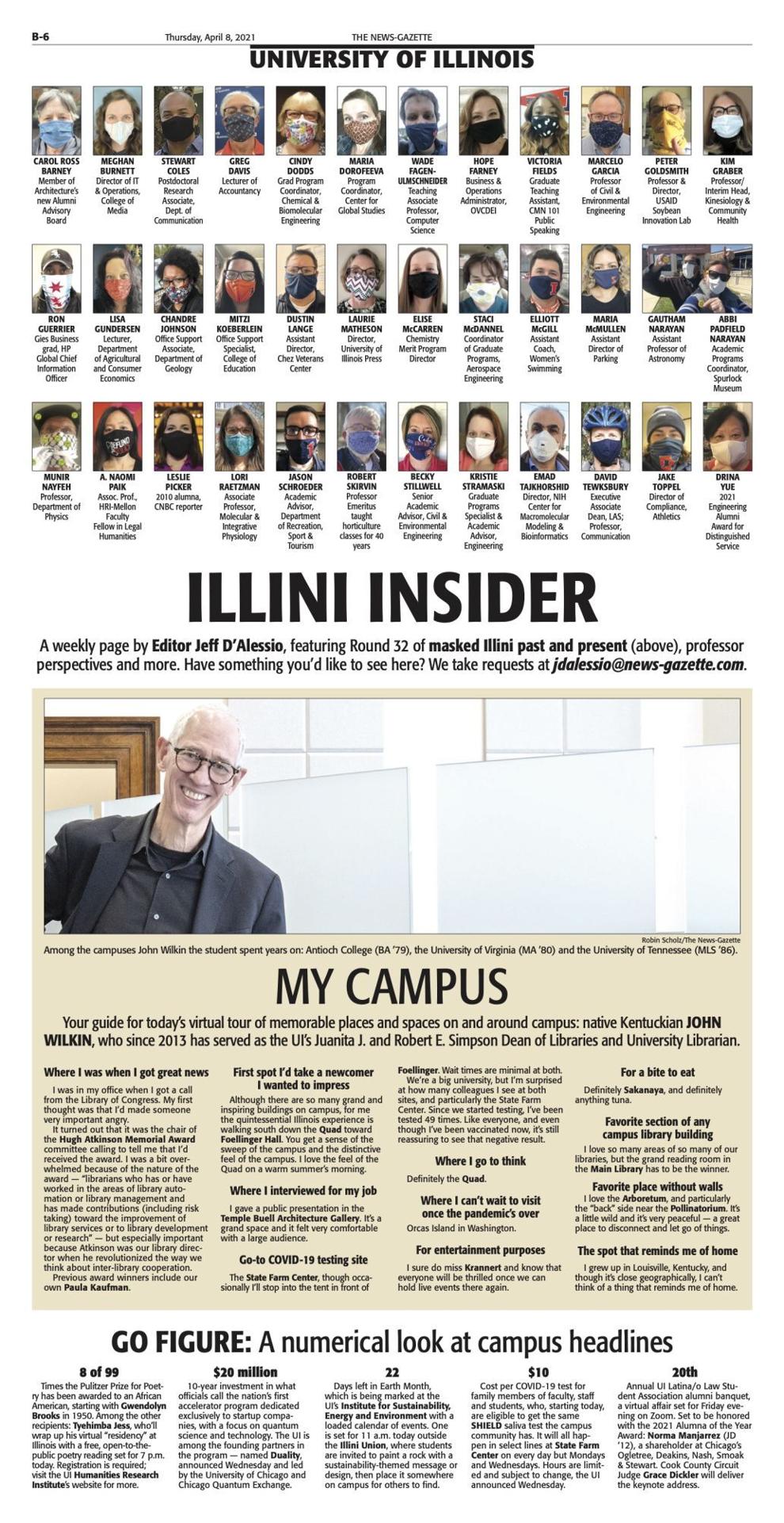 First spot I'd take a newcomer I wanted to impress
Although there are so many grand and inspiring buildings on campus, for me the quintessential Illinois experience is walking south down the Quad toward Foellinger Hall. You get a sense of the sweep of the campus and the distinctive feel of the campus. I love the feel of the Quad on a warm summer's morning.
Where I interviewed for my job
I gave a public presentation in the Temple Buell Architecture Gallery. It's a grand space and it felt very comfortable with a large audience.
Go-to COVID-19 testing site
The State Farm Center, though occasionally I'll stop into the tent in front of Foellinger. Wait times are minimal at both.
We're a big university, but I'm surprised at how many colleagues I see at both sites, and particularly the State Farm Center. Since we started testing, I've been tested 49 times. Like everyone, and even though I've been vaccinated now, it's still reassuring to see that negative result.
Where I go to think
Definitely the Quad.
Where I can't wait to visit once the pandemic's over
Orcas Island in Washington.
For entertainment purposes
I sure do miss Krannert and know that everyone will be thrilled once we can hold live events there again.
For a bite to eat
Definitely Sakanaya, and definitely anything tuna.
Favorite section of any campus library building
I love so many areas of so many of our libraries, but the grand reading room in the Main Library has to be the winner.
Favorite place without walls
I love the Arboretum, and particularly the "back" side near the Pollinatorium. It's a little wild and it's very peaceful — a great place to disconnect and let go of things.
The spot that reminds me of home
I grew up in Louisville, Kentucky, and though it's close geographically, I can't think of a thing that reminds me of home.