Subscribe: Print or online
News-Gazette covers: How the crisis has played out on A-1
For 24/7 coverage, follow us on Twitter, Snapchat, Instagram and Facebook.
Champaign County Health District: COVID-19 information
State map: COVID-19 cases by county
Have a story to tell? Email news@news-gazette.com
****
A sudden spike in COVID-19 cases in Rantoul has been linked to an outbreak at the hog processing plant Rantoul Foods.
As of this afternoon, there were 32 confirmed cases among Rantoul Foods employees, according to Champaign-Urbana Public Health District Administrator Julie Pryde.
The number of total cases in Rantoul today also stood at 32, but not all Rantoul Foods employees live in Rantoul or even in Champaign County, Pryde said.
Rantoul Village Administrator Scott Eisenhauer said village officials were notified April 27 that there were two confirmed COVID-19 cases at Rantoul Foods.
The Champaign-Urbana Public Health District took two immediate steps, establishing testing for employees at the plant and working with management to implement infection control measures, he said.
The plant was permitted to reopen April 29, with the anticipation that additional testing would likely turn up more cases, Eisenhaurer said. The case count at the plant had grown to 20 by this past weekend, he said.
Pryde said meat processing plants have already received guidance from the Illinois Department of Public Health and federal agencies because they're known to have outbreaks.
Last week, the United Food and Commercial Workers International Union said at least 5,000 meat packing workers and 1,500 food processing workers have been directly impacted by the virus, and 20 have died.
Additionally, 22 plants, both union and nonunion, have closed at some point in the last two months, impacting more than 35,000 workers, according to the UFCW.
As part of its response to the outbreak at Rantoul Foods, the local public health district has gotten additional information to the plant and has been doing monitoring there, Pryde said.
"We're working closely with them, and we will monitor them closely," she said.
Tracing close contacts of the infected workers at the plant was still underway Monday, Pryde said.
****
10 NEW CASES IN CHAMPAIGN COUNTY
After reporting four new positive tests on Sunday, Champaign County is back in double digits today, announcing 10 confirmed cases of COVID-19.
That brings the county's total to 183. Of those, 110 are considered recovered and 67 are active, with five patients hospitalized.
In other area counties:
— Douglas: No new cases Monday, 20 total.
— Ford: 1 new case, 10 total.
— Piatt: No new cases, 6 total.
— Vermilion: 3 new cases, 22 total.
****
The number of confirmed COVID-19 cases statewide grew by 2,341 today, to 63,840, Gov. J.B. Pritzker announced at today's daily briefing in Chicago.
Illinois' death toll rose to 2,662, with the announcement of 46 additional deaths.
The fatalities spanned 11 counties:
— Cook: 1 female 20s, 1 female 30s, 1 female 40s, 1 male 50s, 2 females 60s, 1 male 60s, 2 females 70s, 3 males 70s, 6 females 80s, 1 male 80s, 1 female 90s, 1 male 90s.
— DuPage: 1 male 70s, 1 female 80s, 1 male 90s.
— Iroquois: 1 female 60s.
— Lake: 1 male 50s, 1 female 70s, 3 males 70s, 2 females 80s, 1 male 80s.
— Macon: 1 male 70s.
— Madison: 1 female 60s, 1 male 90s.
— Monroe: 1 male 70s.
— Sangamon: 1 female 100-plus.
— St. Clair: 1 female 80s.
— Will: 1 female 30s, 1 male 50s, 3 females 70s, 1 male 80s.
— Winnebago: 1 male 50s.
****
CHAMPAIGN PARKS, COURTS OPENING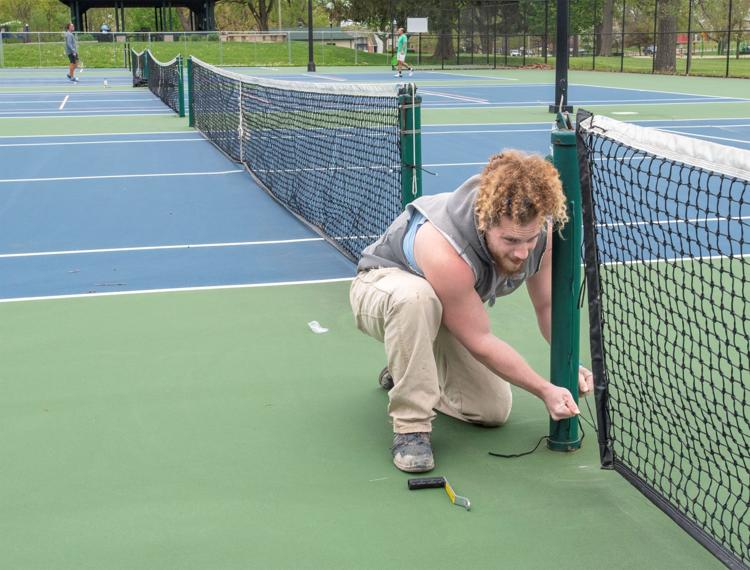 Tennis and pickleball courts, as well as dog parks, are scheduled to reopen Tuesday in Champaign-Urbana, the Champaign Park District said Monday.
"We got the go-ahead from Public Health," Champaign Parks Executive Director Joe DeLuce told The News-Gazette's Ben Zigterman.
At the tennis and pickleball courts, residents will only be able to play singles, not doubles, DeLuce said.
And at the dog parks, guests will need to bring hand sanitizer and clean their hands after entering the gates, keep a safe distance from each other and not touch other people's dogs, DeLuce said.
"We need people to make sure they follow the restrictions," he said. "They could be closed back down if they don't abide by the rules."
He said more parts of the parks could be re-opened in time, but that will be up to the state and local public health districts.
"We'd be willing to open more, but need to get their permission," DeLuce said.
****
HARVEST MOON REOPENING FRIDAY
General manager Ben Harroun said this morning that Harvest Moon Drive-In will reopen Friday.
The popular Gibson City hangout, in its 31st year, has parking spaces for 500.
But Harroun said he'll use only half of the spots due to social distancing, adding that other guidelines will be announced later today.
"We will be open seven nights a week," he said. First up: 'Trolls World Tour' on screen 1 and 'Onward on screen 2.
Food stands will be open, he said.