Unitarian Universalist Church of Urbana Champaign
New Open Hearts memorial marks local lives lost in pandemic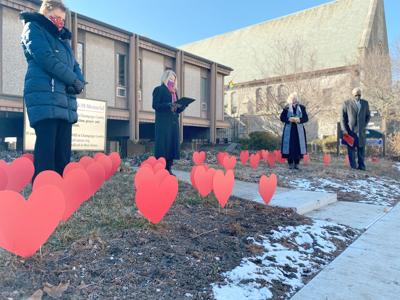 URBANA — With COVID-19 deaths steadily climbing in Champaign County, a local church is providing something its leaders say the community has lacked throughout the pandemic: a visual remembrance of lives lost and a place to mourn them.
On the Tuesday's first national day of mourning for victims of the pandemic, a new memorial called "Open Hearts" was dedicated at Unitarian Universalist Church of Urbana Champaign.
As of Tuesday, it included 102 hearts in front of the church at 309 W. Green St., U — one heart for every local life lost to COVID-19 — but more will be added as there are additional deaths in the county, according to the Rev. Florence Caplow, the church's lead minister.
Also to be added to the hearts will be names of the people they represent — for those families that want to share the names of their lost loved ones, Caplow said.
She marvels at the sheer number of lives lost nationally in the pandemic, which just passed 400,000.
"I mean, that is an inconceivable number," Caplow said.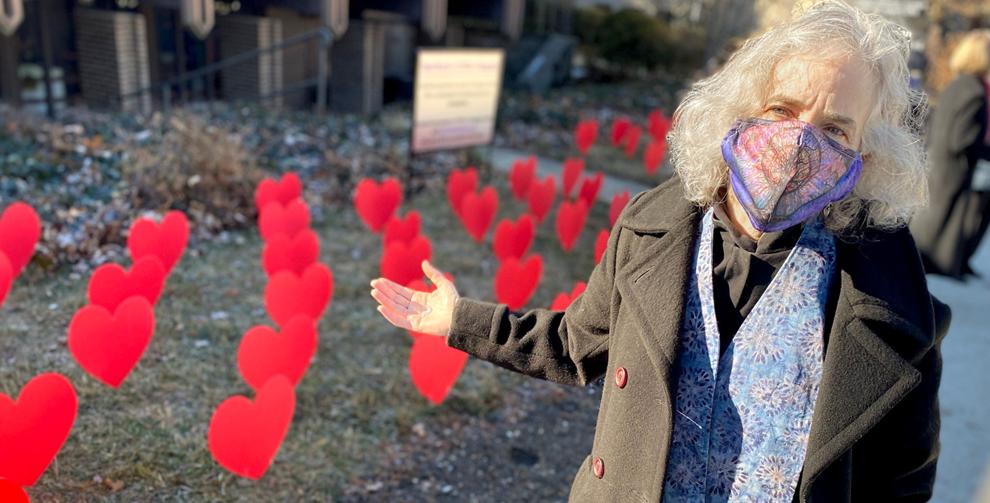 That large a number can be difficult for people to comprehend, but placing a heart in front of the church for each Champaign County resident who has died with COVID-19 may help people better grasp that behind those numbers have been human lives, according to Caplow.
"Suddenly, it's not separate from who we are, and I think that's what we haven't had," she said.
Champaign County's total COVID-19 deaths climbed to 102 Tuesday, with that number including dozens of additional deaths than when planning for the memorial got underway in December.
The idea for the memorial came from a conversation she had with church member Julie Laut, as they were discussing the lack of real ways for the community to grieve COVID-19 deaths, Caplow said.
"It was heartbreaking to see that number almost doubled from the time we started thinking about this," Laut said.
Caplow said grief for COVID-19 deaths has been compounded by the inability to mourn the losses together with others.
"We have been in the middle of a catastrophe for nearly a year now, but deaths are often anonymous and we have been cut off from ways of grieving collectively," Caplow said. "We hope that this memorial will be a place of reflection and support for our C-U community."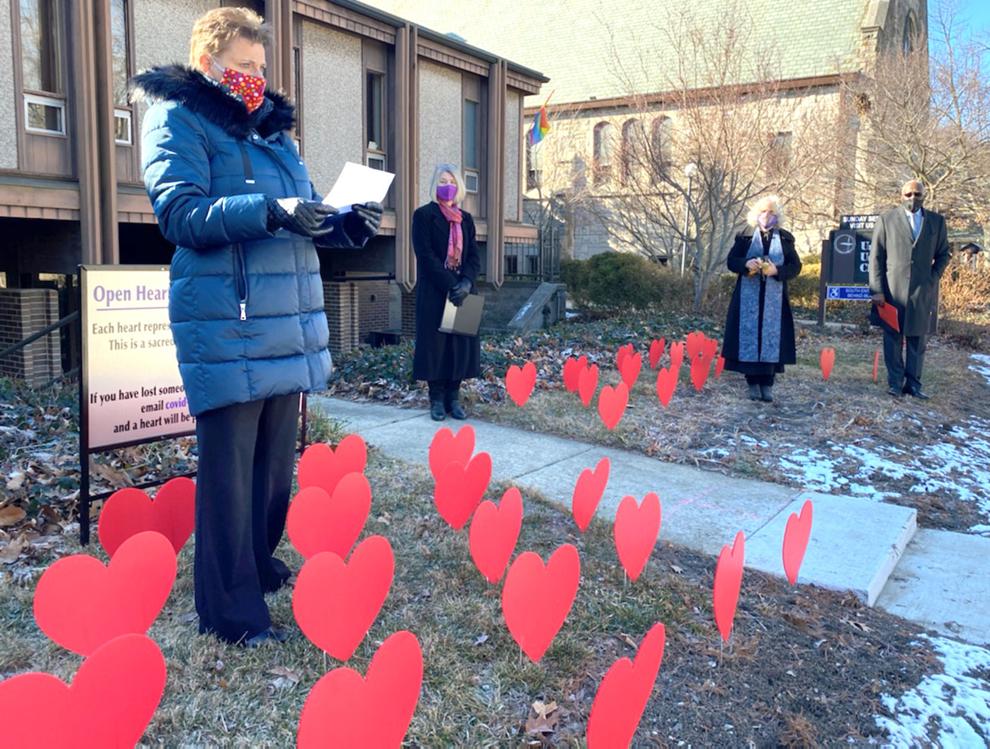 University of Illinois Chancellor Robert Jones, one of several local officials who came to the dedication, called the memorial "a moving symbol" allowing the community to "remember our loved ones, to see their faces and hear their voices."
Champaign-Urbana Public Health District Administrator Julie Pryde described those 102 COVID-19 fatalities this way:
"These are individuals who had families, friends, colleagues and neighbors who are now left to grieve their loss, sometimes in isolation," she said. "We also know that there are many who have lost family, friends and colleagues who have died in other parts of the state, country or world.
"They too are often left to grieve alone. We also know that, sadly, there will be more deaths in our community before this pandemic is brought under control."
Caplow said the memorial will remain at her church for a couple of months, and then other local churches will be offered an opportunity to host it on their grounds.
"I hope this idea spreads across the country so we can really do something to recognize all these lives," she said.
Anyone who would like to share the name of a loved one who has died of COVID-19 in Champaign County can provide that information by emailing the church at covid-memorial@uucuc.org.