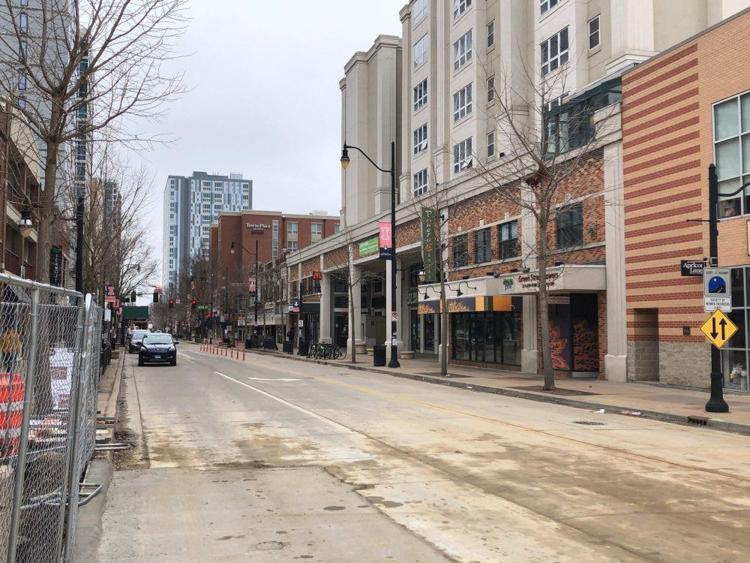 URBANA — The University of Illinois Academic Senate's executive committee will take up a resolution Friday calling on the administration to immediately end the semester, among other things.
Due to the coronavirus pandemic, faculty began teaching classes online Monday, the first day back from spring break.
"A number of University instructors and students are unfamiliar with online learning, University online platforms have never been used to deliver courses en masse, and the quality of instruction will suffer in hastily created online courses," a draft of the resolution states.
It calls on the administration to "end immediately the Spring 2020 semester and direct instructors to calculate final grades based on the first eight weeks' assessments or convert to pass/fail."
The administration has no plans to end the semester early, UI spokeswoman Robin Kaler said Monday.
"No, we are not considering ending the semester early," she said. "We are committed to continuing to delivering on all of our missions, including providing a world-class education to our students, while doing everything possible to keep everyone safe."
But she said news is coming this morning about the UI's grading policy for this semester.
"We'll be announcing information about grading tomorrow morning," she said Monday.
Other universities — including Columbia, Harvard, MIT, Georgetown and North Carolina — have moved to some form of pass/fail in the wake of the coronavirus moving classes online.
One school — Kentucky's Berea College — canceled the rest of its semester.
"Campus leadership has been working for some time on the transition to alternative educational delivery methods," Kaler said.
The Senate Executive Committee met virtually Monday with the Zoom video-conferencing app and discussed procedures for how the 250-plus-person academic senate will provide feedback on the resolution.
They'll receive a questionnaire, and the executive committee will meet again Friday.
Student: Not everyone has WiFi access
The resolution also cites the financial duress many students and their families could soon be under, given the closure of non-essential businesses in Illinois, and the closure of schools, which "has imposed hardships on instructors, staff and students caring for young children and limiting their ability to prepare online courses."
The resolution also cites the lack of Internet access some students have, something UI junior Cristal Caballero noted in a letter accompanying it.
"This transition to online instruction depends on access to resources such as WiFi, computer hardware and software, and private study spaces that are inaccessible to many first generation and low income students. When I first heard of this transition, I planned to use the public library," she wrote.
And at home, "many of us have many more responsibilities," she said, such as having "to care for and homeschool our younger siblings who are also required to stay at home."
Health insurance hike under scrutiny
The resolution also calls on the UI to prorate tuition and fees, and to roll back the 33 percent increase in health care premiums for undergraduate and graduate students passed two weeks ago by UI trustees.
The hike will take the undergraduate rate from $544 to $723 a semester and the graduate rate from $696 to $927.
UI student affairs spokeswoman Chantelle Thompson said the increase was driven by more students opting out of the program, especially those with fewer claims.
"The current university student health insurance plan is losing approximately 5 percent per year due to undergraduate students opting out to remain on their parent's insurance plan," Thompson said.
The students who remained on the university plan are using it more, particularly in the areas of digestive health care, maternity, mental health, respiratory and musculoskeletal claims, Thompson said.
'We do not surveil classes on Zoom'
She also noted that the UI currently has the fourth-lowest insurance rates in the Big Ten and, with the increase, would rank eighth if none of the others increased their rates for next year.
The resolution also calls on the administration not to use the pandemic as an opportunity to permanently move more classes online or to surveil classes using UI-provided Zoom accounts.
"We do not surveil classes on Zoom," Kaler said.
The resolution is sponsored by African American studies Professor Erik McDuffie, gender and women's studies Professor Mimi Nguyen, Asian American studies professor A. Naomi Paik, Latina/Latino studies Professor Gilberto Rosas, anthropology Professor Kathryn Clancy and chemical engineering Professor Brendan Harley.