Sunday's coronavirus update | Unit 4: Show your school spirit; Cases top 1,000 statewide
For 24/7 coverage, follow us on Twitter, Snapchat, Instagram and Facebook.
Champaign County Health District: COVID-19 information
State map: COVID-19 cases by county
Have a story to tell? Email news@news-gazette.com.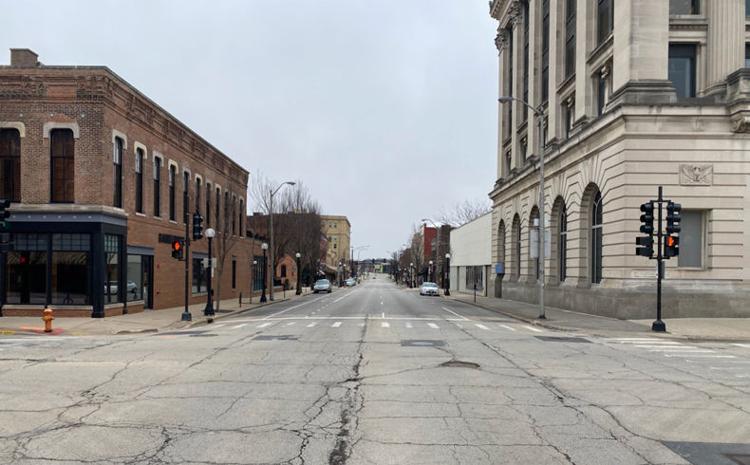 ***
Classes are canceled statewide for at least a few more weeks but Unit 4 is urging students to display some school spirit while at home starting Monday.
In a letter Sunday, the district encouraged students, families, teachers, staff and administrators to put on their school shirts ("if they have one") at 6 p.m., "go outside to their front lawns, driveways, by the mailbox, parking lot, etc., and loudly recite any/all" of three pledges/songs:
1. The Pledge of Allegiance.
2. "Their School Pledge and/or School Song (if one exists)."
3. "A family-selected song or pledge."
Then, at 7:30 each night, "students, families, teachers, staff and administrators are encouraged to go outside on their front lawns, driveways, by the mailbox, parking lot, etc., and shine a flashlight or cell phone to the sky and loudly recite the following: 'Goodnight everyone at [School Name] and in the Unit 4 School District. Sleep well. We can't wait to see our friends and teachers again soon!'"
"Navigating these unprecedented times means challenges and adjustments to our daily routines that were unthinkable just a few weeks ago," the district wrote. "Routines and schedules are an important way for children to maintain a sense of stability, security and structure, and we are sure that students are feeling the effect in their lives as well.
"In times of social distancing, it is important to rally together as families, as neighbors, and as a community to help each other remain as upbeat and as connected as possible. With that in mind, Unit 4 is offering ideas to help us maintain our school spirit and sense of community while unable to do so in our typical settings.
"... We encourage everyone in Champaign Unit 4 Schools and across the community to make the best of the situation. Remember that we are in this together and can help lift each other. Wouldn't it be amazing to hear the strength of our voices rise up each evening?"
***
UI: ALL EMPLOYEES WILL BE PAID
The University of Illinois said it will continue paying its employees their expected wages and benefits.
"We write to share our COVID-19 Pay Continuation Protocol, which ensures all our employees have the pay and benefits security that we promised and that you expected, and to be clear that pay and benefits will not be affected by any COVID-19-related policies or changes," Chancellor Robert J. Jones and Provost Andreas C. Cangellaris wrote in a massmail. "Please be assured, the pay and benefits for your current appointment will continue without interruption."
The COVID-19 Pay Continuation Protocol states that "all employees will continue in the same pay, leave and benefit status that was in place as of March 9, 2020 for the duration of the employee's current appointment."
Employees who can do their work remotely are expected to continue doing so during their regular work hours and will be paid at their current rate.
Employees who are working remotely, but who can't continue their regular work, are "expected to remain available for work and continue to provide as much serviceas possible."
"Where possible, employees may be temporarily assigned work that can be undertaken remotely," the policy states. "Employees will continue in paid work statuseven if all options and opportunities to perform service have been exhausted."
Hourly workers will be paid "in accordance with the number of hours/week that would have been expected to be performed" for as long as they were expected to work.
"For example, student appointments will expire with the standard May 15, 2020 end date," the policy states.
And for employees assigned to sponsored programs who can't work remotely, "effort will be reported at expected or planned levels during this declared disaster period."  — Ben Zigterman
***
296 NEW CASES
At his daily briefing, Gov. J.B. Pritzker saluted the many helping hands during the ongoing fight against the spread of COVID-19, from animal shelters to restaurants to schools.
"Hope is all around us and can be found in every corner of this state," he said.
IDPH Director Dr. Ngoze Ezike announced 296 new cases (bringing the statewide total to 1,049), including an infant, and three deaths — a Cook County man in his 80s, a Chicago man in his 80s and a McClean County woman in her 70s.
Ezike said it is still unknown if a pregnant woman with COVID-19 can pass the virus to her fetus or baby during pregnancy or delivery.  According to the Centers for Disease Control and Prevention, no infants born to mothers with COVID-19 have tested positive for the COVID-19 virus.  In these cases, which are a small number, the virus was not found in samples of amniotic fluid or breastmilk.
***
DEATH IN McLEAN COUNTY
The McLean County Health Department said a female in her 70s has died due to COVID-19. She had tested positive earlier this week.
"We are deeply saddened by this loss. Within McLean County Government, our hearts go out to the family and friends who are mourning the loss of their loved one. We cannot even begin to understand how they feel, and we send our sincerest condolences," McLean County Health Department Administrator Jessica McKnight said in a statement.
MORNING BRIEFING:
— Gov. J.B. Pritzker said penalties for not complying with the stay-at-home order that took effect at 5 p.m. Saturday range from self-policing to low-level criminal charges.
"We hope that people who might see somebody else doing something that's against the order might say something to them," Pritzker said Saturday.
He said that if a police officer saw a group of more than 10 people, he or she would need a court order to stop it. In extreme cases, he said, individuals not complying could be charged with reckless conduct, a misdemeanor.
"We're not looking to put people in jail or to fine them for this kind of activity," he said. "What we really want is for people simply to obey the rules."
"People are still encouraged to go outside, and if the weather allows, to go on a walk, to take your dog on a walk, to take your child out, and so on," he added.
The order is effective through April 7. Although testing and information is limited, Pritzker said, he will start to re-evaluate the order once the daily upward curve of confirmed cases ends.
"That will tell us that it's working," he said. "And then as that moves, we'll be able to project further when we might be able to change some of the rules that we've got currently."
All is quiet in downtown Champaign as snow begins to fall. pic.twitter.com/UwbrUjOqwK

— The News-Gazette (@news_gazette) March 22, 2020
— While restaurants are allowed to continue carry-out and delivery service under Pritzker's order, a wave of them announced Saturday they're closing until further notice.
Among them: both Black Dog locations, Champaign's Houlihan's and downtown Champaign's Esquire Lounge, Watson's and Neil St. Blues.
— If you want to be heard during the public-comment portion of Monday night's Urbana City Council meeting, you'll have to do it from afar.
Because of the stay-at-home order, the council chambers won't be open to the public for the meeting, which can be streamed on UPTV.
Comments can be submitted by email at CityCouncil@urbanaillinois.us before 7 p.m. Monday, phoned in during public-comment period at 312-626-6799 (ID number: 334 290 573) or submitted in real time by computer via Zoom (zoom.us/j/334290573).
The number of confirmed COVID-19 cases in McLean County climbed to seven after three positive results were reported Saturday. The new cases include a woman in her 20s, a woman in her 70s and a man.
***
Local contacts
Public health said testing priority will be given to patients hospitalized with severe respiratory illness as well as staff or patients part of a cluster of two or more possible confirmed cases in a residential setting that serves more vulnerabel populations such as an assisted living facility.
The following resources are provided for those who believe they have the virus:
CUPHD
— (217) 239-7877
— email: coronavirus@c-uphd.org
— online: www.c-uphd.org
Carle
— (217) 902-6100
— Online screening tool at carle.org to screen and educate patients about COVID-19.
— A smart form will guide patients through questions to assess their symptoms and risk and provide guidance on how, where or if
a patient should seek care.
OSF
— 833-OSF KNOW (833-673-5669)
— The COVID-19 Nurse Hotline is staffed by OSF registered nurses around the clock, and during heavy usage times, by
other OSF health care professionals.
— Clare, the virtual assistant chatbot on osfhealthcare.org, is equipped to begin screenings for and educate the public about COVID-19.
— OSF COVID Companion is a free text messaging tool that the public can use to receive guidance about COVID-19. To subscribe, users can text OSF to 67634.
Christie Clinic
— (217) 366-4070, 8 a.m. to 5 p.m., Monday-Friday
— Online: christieclinic.com or follow Christie Clinic on social media.
— Christie Clinic has a drive-through testing facility outside its clinic at 1801 Windsor Road, C. Patients identified through
screening to need testing will be directed there; they need to call ahead before coming.