Sunday Special: A fall without football
On what was supposed to be college football's opening weekend, Memorial Stadium sits empty. The Big Ten's decision to wait until spring not only affects players, coaches and fans, but also community members with emotional and financial ties to the sport. Here are their stories.
The ticket taker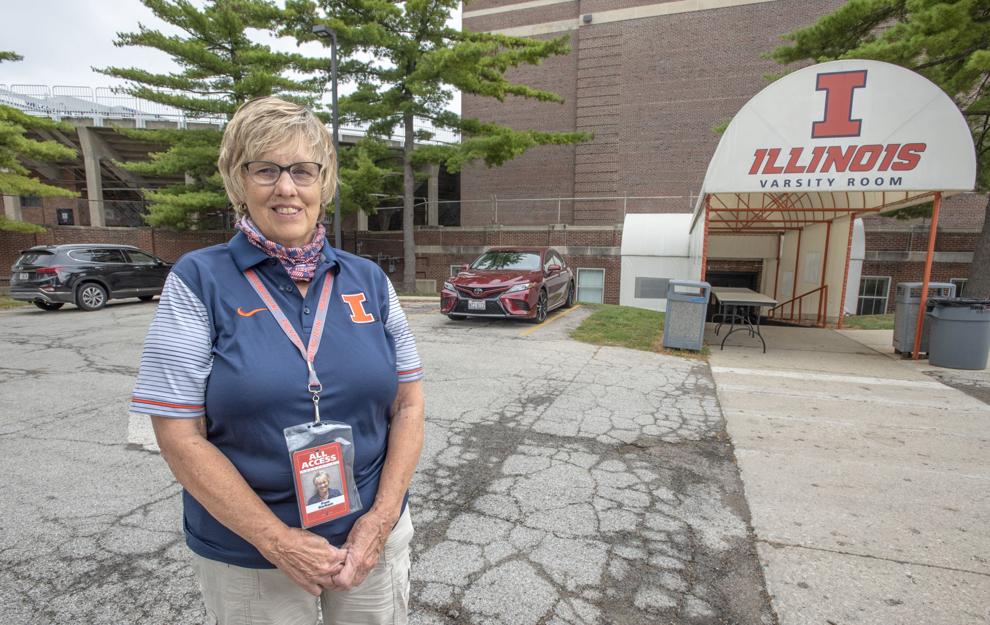 CHAMPAIGN — Pam Barham was hoping to get up early Thursday for the Illini football game against Ohio State. Instead, she had the option to sleep in.
Barham works for the University of Illinois' athletic-events management team. On game days, she supervises the gate workers.
"We go in at 5:30 in the morning, even for a night game," Barham said. "That's just our normal schedule."
It takes a large crew of ticket takers and ushers to manage a football game. Many of the workers are retirees, who are paid minimum wage for their efforts.
"It's just extra income," Barham said. "It's good Christmas money or birthday money.
"Most everyone who works, works because they love being around sports," she added. "We all would love to get back doing what we've been doing for so many years."
Barham started working for events management in 1989. It's part of her routine.
During football training camp, she is one of the friendly faces who greet reporters as they go to watch the team practice.
The COVID-19 pandemic and resulting postponement of college football created a hole in her schedule. Now what?
"I'll probably be watching a sporting event on TV or playing solitaire," Barham said.
When she started helping at the UI, Barham never imagined missing games because of a global pandemic.
"We're just in a very unusual time right now," Barham said.
She was preparing for the season when the games got called off.
"We were just sad," Barham said. "We're used to being involved on the outside of the stadium or the ushers on the inside.
"We're all adapting and we're all very hopeful we'll get to be back there sometime in the very near future."
There are many unanswered questions about the possible return of football. Will the games be at campus sites or neutral domes? Will fans be allowed to attend? And what time of the year are we talking?
"We're all waiting to see what happens in the next couple of weeks," Barham said. "Hopefully, we'll hear something."
Barham is in charge of a large crew at Illinois football games, somewhere in the 150-160 range. The workers are paid by the hour, with shifts lasting 6 to 6.5 hours.
During the games, Barham is stationed in the compound area, which is located in the Varsity Room parking lot. She also circles the stadium, helping where needed.
Barham, 72, hasn't worked an event on campus since March, when Illinois hosted a gymnastics meet. She was in the stands for the final men's basketball game of the season against Iowa on March 8.
The parking-lot attendant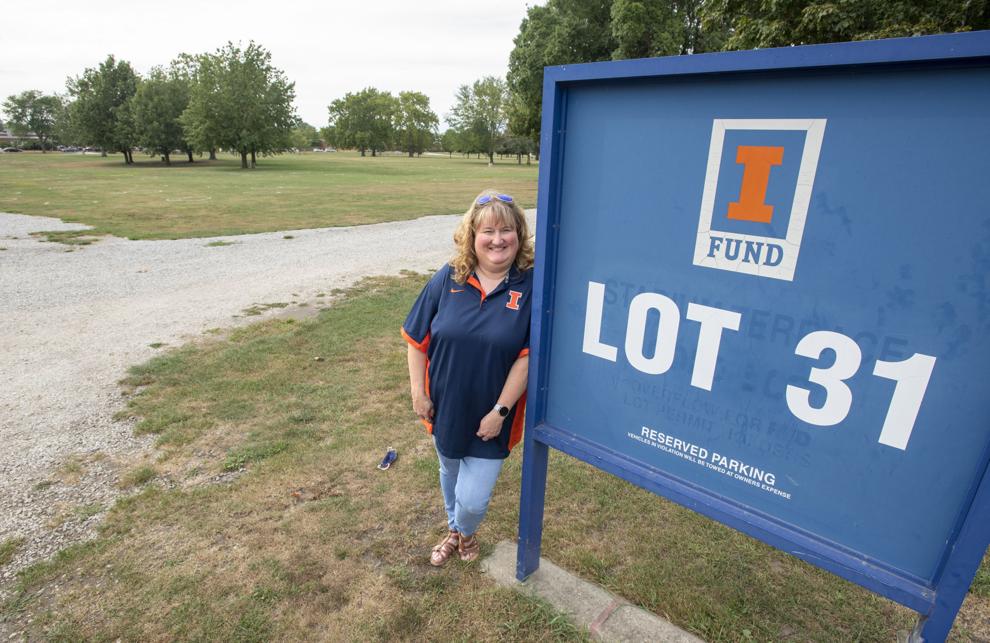 CHAMPAIGN — Angela Phillips drives to campus in the dark of early morning before each 11 a.m. Illinois football kickoff to open the gates of the parking lots west of Memorial Stadium.
Before big games or especially exciting seasons, fans may already be there, preparing to roast pigs and set up large tents.
"I usually have people lined up by like 4 in the morning," Phillips said. "It's a whole-day atmosphere for them. It's not as heavy as it was many, many years ago, when we were obviously winning, but with the season coming back and the teams getting better, it was definitely coming back last year. We were really looking forward to this year."
In the lots, Phillips was eager to see improvement as well. Last year, her team switched to scanners for parking passes, which was confusing for some early on.
"I was hoping this year we would see a lot more improvement since last year was our first year for those, as the crowd gets used to them," she said.
Phillips began the job 15 years ago, when she saw a wanted ad. As a single parent of two young boys who needed extra cash and loved football, she jumped at the chance.
Since then, she's been a staple in Lot 31, a grass-covered field across the street from Grange Grove.
It was enjoyable from the start.
She's been an Illini fan since she was a kid in Tolono, when her family would make the short drive north for Illini home games. Right away, she loved sharing the excitement of game day with fellow fans.
A few years ago, she was promoted to a supervisory role, a job that she enjoys, even if it gets chilly riding around in a golf cart as the weather grows colder.
A few years ago, her 22-year-old son began working as a parking attendant, and her 19-year-old son was set to work with her this year.
"It's something that I really enjoy, so I hope to do it for many more years," she said, "just being around outside with the crowd and the fans, and just the overall excitement that a game day brings."
The Block I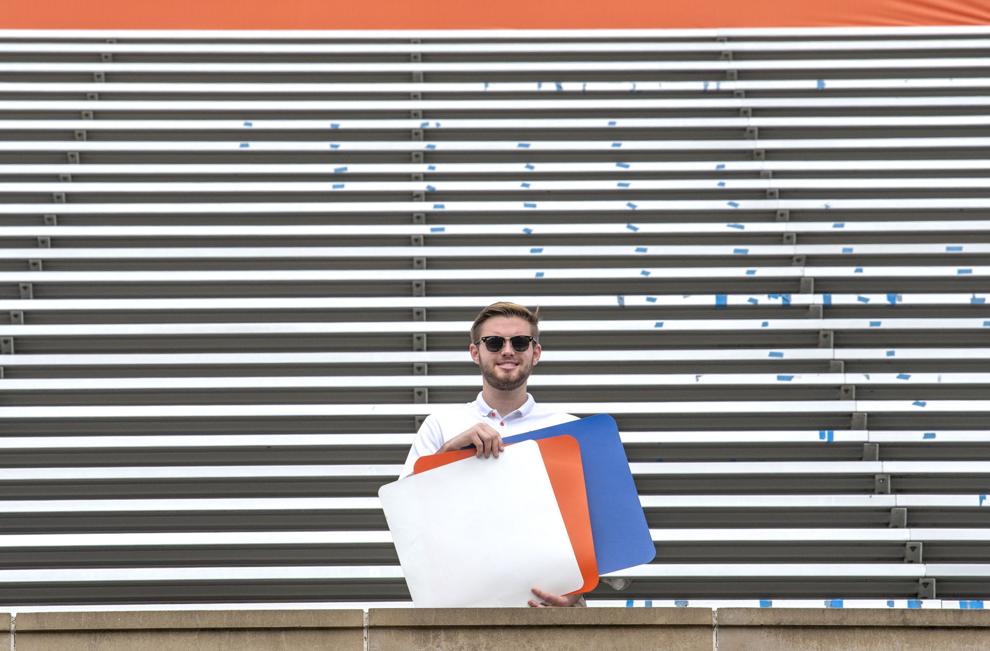 CHAMPAIGN — John Sullivan didn't grow up an Illinois fan. In fact, the Crystal Lake Central graduate rooted for Wisconsin. Shhh, don't tell anybody.
But when he came to the University of Illinois in 2018, Sullivan's football allegiance changed. Like a light got switched on.
He went all in for Illinois sports, joining the student booster group and attending as many games as possible.
"I just became a huge fan," Sullivan said.
This year, Sullivan is vice president of the Block I.
Sullivan had planned to be in the stands for Thursday's Illinois-Ohio State game. The Big Ten had other ideas.
On Aug. 11, Commissioner Kevin Warren announced the football season would be delayed because of the coronavirus pandemic.
"Obviously, there's a little bit of disappointment," Sullivan said. "I figure at the end of the day, the players' safety is what has to come first. I think what (the Big Ten) did was right."
He said the extra time before football resumes allows for more and better testing.
"I do believe there will be a season at some point," Sullivan said. "We've just got to make sure it's when it is best for the players."
When the decision to pause the season was first announced, members of the student group were upset. Over time, the attitude has changed.
"People were a lot more understanding than I initially thought," Sullivan said. "There's a lot of excitement toward football seasons. We're expected to be pretty good this year. Obviously, I'm a little bit biased."
Not having games will hurt his organization financially. But ...
"We're still planning events," Sullivan said. "It's going to be non-football events more than anything else."
Suddenly, Sullivan has free time on the weekends.
"Honestly, I'll probably be watching the Cubs or the NBA," Sullivan said. "I'm a big Cubs fan."
Will he watch college football?
"Of course," Sullivan said. "Especially the premier teams in the SEC and ACC. It's a little sad knowing that the Big Ten has to wait a little bit."
Sullivan realizes nobody is to blame for the postponed games. And that you have to keep the absence of sports in proper perspective.
"There are bigger things going on than football," he said. "Obviously, football is amazing. But everyone's health and safety is the top priority right now."
Sullivan is a junior majoring in recreation, sports and tourism.
He is keenly aware of the dangers of COVID-19 because he has a pre-existing condition. Sullivan was diagnosed as a Type 1 diabetic in 2008.
"I've been pretty on top of it," Sullivan said. "I'm very fortunate."
Before the season was postponed, Sullivan was nervous about attending games. But he warmed up to the idea after hearing about plans for social distancing and mandatory mask wearing.
Sullivan is optimistic football will be played again. He just doesn't know when.
"The first time back is going to give me chills," Sullivan said. "Being there and cheering with your fellow students, nothing beats it. It's a once-in-a-lifetime experience. When we are able to do that again, it's going to be awesome."
The hotel manager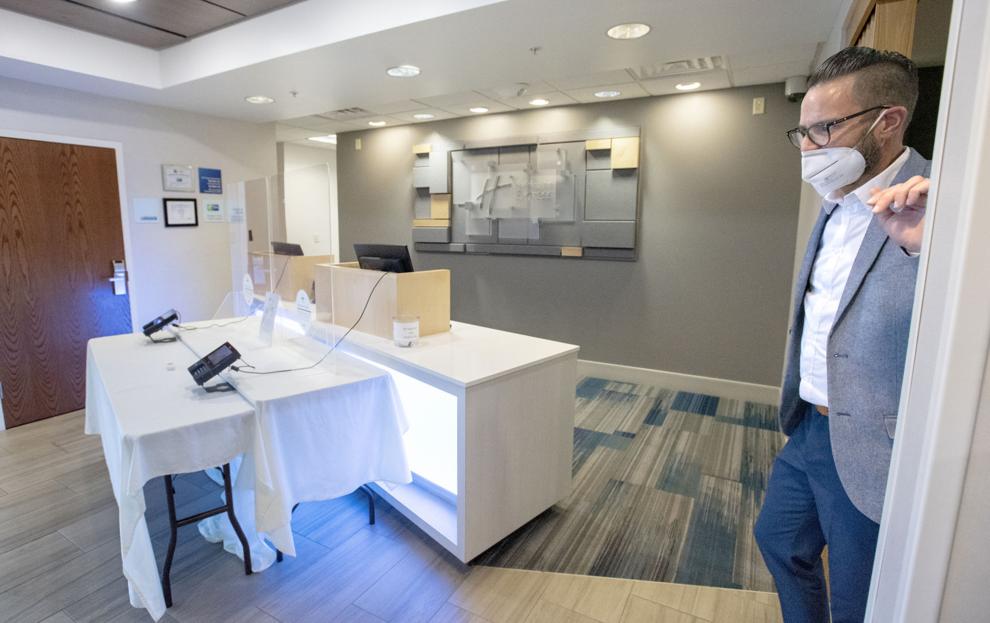 URBANA — A year ago, the Holiday Inn Express on North Lincoln Avenue in Urbana would probably be sold out this weekend, likely far in advance.
So this year, "yeah, we're absolutely going to feel the effects" of no college football, General Manager Kevin Dandrea said.
Originally from Madison, Wis., he said he understands the importance of a large university nearby.
"When you have businesses, especially near a university … they count on those special events," he said.
The Holiday Inn Express doesn't do anything special for fans on game days besides "sell them clean rooms," but Dandrea said, "We're going to miss our football games. … Not only do they help business, but they're fun events and fun clientele."
He said the hotel typically sells out well ahead of time for game days and other big-event weekends, such as Moms Weekend and commencement.
"We were disappointed but understood when the season was at first going to be decreased in attendance," Dandrea said. "And then to find out when it was canceled altogether, we understood, but when events like that are canceled, it absolutely affects our business."
He said business isn't "anywhere near last year."
"We're doing our best to stay optimistic and wait patiently until things resume to our former normal, or close to that."
The program hawkers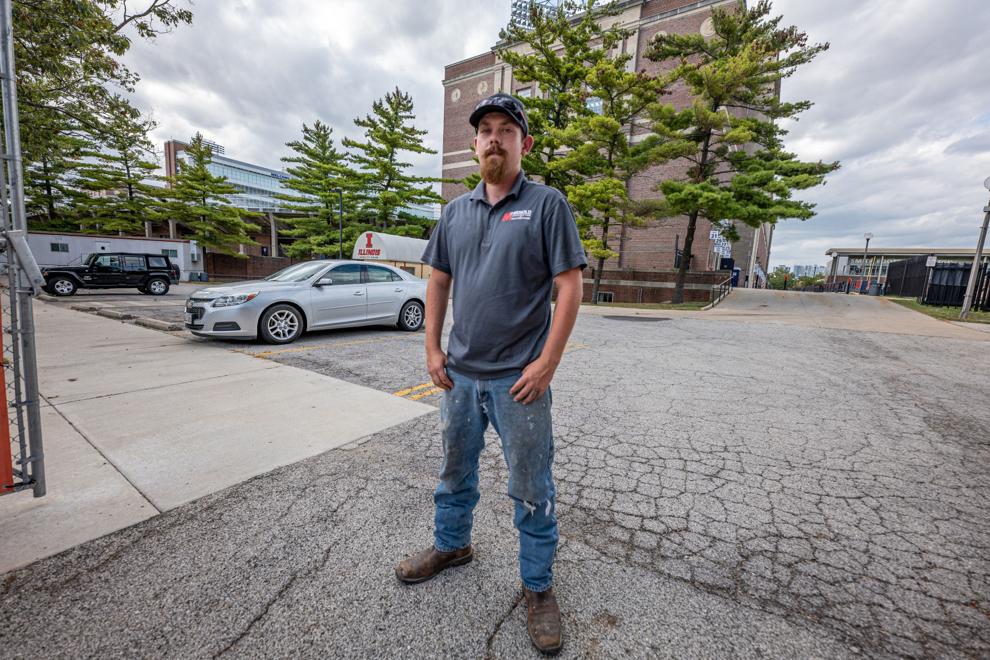 CHAMPAIGN — When encouraging families to join him and fellow Holy Cross Parent-Teacher Club members to sell programs at Illinois football games, the pitch is simple for Aaron Hartnett.
"For kids who haven't been to a football game, it's a great experience," Hartnett said. "You come work for an hour and a half, you miss out on the first quarter, and then we have seats in the stadium where you can go sit."
Of course, there's a job to do, hawking programs throughout the stadium. In the last three years, Hartnett has learned the tricks of the trade, and he knows which days will be good for business, like games against Wisconsin and Iowa, and which will be less so, like a date with Western Kentucky.
Anywhere from six to 20 families show up each game day, with students from preschool through eighth grade. When they're done, they're allowed to find an open seat inside the stadium. During the colder games toward the end of the season, when the group gathers beneath the Horseshoe, they're allowed to go on the field before the players arrive.
While it's technically work that helps pay for Holy Cross' athletic department, Hartnett doesn't want it to feel like it. 
He uses it as a way to expose his children and others to new things. Kids develop socially as they're forced to interact and convince fans to buy their product. He tries to use it as an opportunity to help the sky kids break out of their shell.
"I don't want the kids to be like, 'I'm actually working,'" Hartnett said. "They are, yes, but I want these kids to have fun." 
For Hartnett and his third-grade son, Michael, this year will be a break from tradition.
"This will be our first season missing any sports in about five years," he said.
Like so many others, those experiences will be wiped away this year, never to be replaced. 
The school has hawked programs for about 30 years, Hartnett said. They're paid a flat fee, but the experience is about more than the money.
"It's just a fun thing," Hartnett said. "I know a lot of the kids, (including) my boy, are going to miss it this year."
The tent company

CHAMPAIGN — On a normal Illinois football game day, staff from Herriott's Rents Tents and Events are typically at Memorial Stadium several hours early doing what they do: setting up tents.
"Some tents we can only set up on game day because they're in the street, so we have strict timelines we have to follow to get the tents ready in time for fans to enter the stadium," event coordinator Maggie Cascone said. "Then those have to be down immediately following the game so the street can be opened back up."
In the two or three days leading up to game day, Herriott's staff are also setting up the tailgating tents around the stadium.
"Everyone would be working to get everything installed and up and ready to go," Cascone said. "We fill Grange Grove, and then we pretty much fill the corporate tailgate area in Lot 31. Obviously this year, that's not a business that we have, unfortunately."
Like many other businesses, Herriott's has had to pivot, and has found a captive audience among restaurants looking for as much outdoor dining space as they can get.
"We're definitely thankful for those restaurants that have supported us," Cascone said.
Herriott's has put up tents for Scotty's Brewhouse, the Original Pancake House, Pia's, Bunny's and Courier Cafe, among others.
But that hasn't quite made up for the other lost income. Herriott's still has 15-20 furloughed employees, Cascone said.
"Unfortunately, no, we haven't been able to make up the income that we lost," she said.
And as a football fan, Cascone said she'll miss the games.
"Personally, I'm a football fan, so I look forward to the football season. It will be different for me. I'm hoping the NFL plays," she said. "Professionally, we would be out there right now, getting everything set up and ready to go, and making sure every tent, every table, every chair is set exactly as it was supposed to be. And we just don't have that."