Sunday Special | Coronavirus and the community, Part IV
By now, every corner of our community has been touched by the coronavirus pandemic. As he will until the crisis subsides, Anthony Zilis spent a fourth week telling the stories of those affected.
THE NEW MOTHER
'It's obviously not what I would have expected our experience to be'
Weighing in at just 3 pounds, 6 ounces when he was born March 20 at Carle Foundation Hospital, Noah Woodyard was so tiny and premature that he was whisked away from his parents after a few minutes of joy and taken to the neonatal intensive-care unit, which would become his home during his first several weeks of life.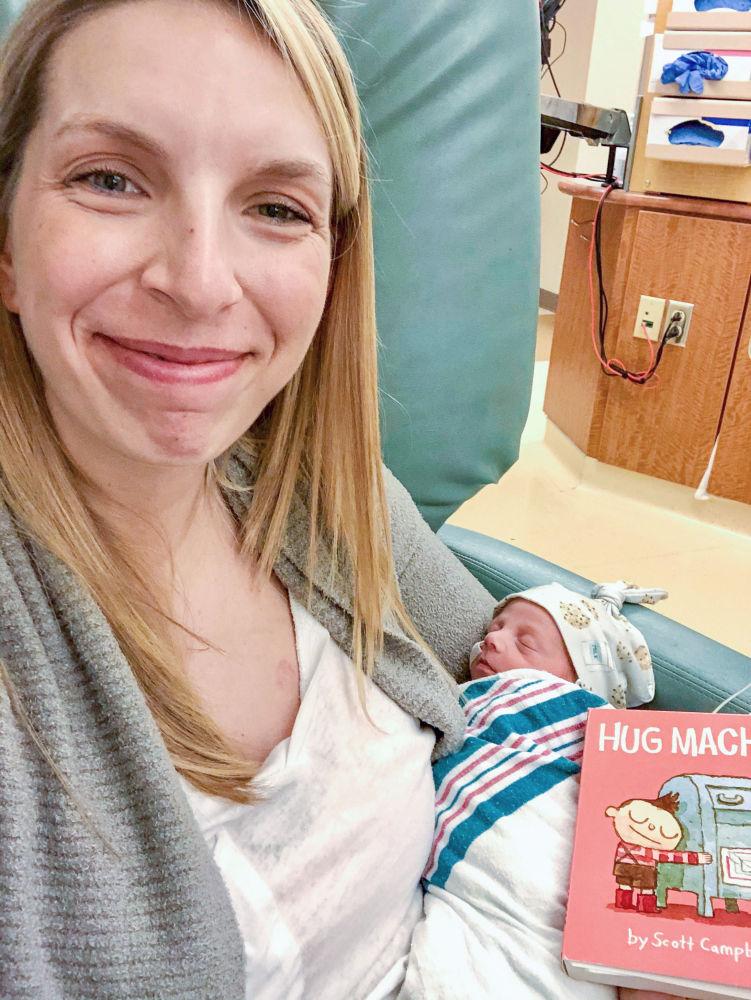 This isn't how Alyssa and AJ Woodyard imagined the birth of their first child.
No family celebrated by their side. Their first trip home as new parents came without their baby. And three weeks into their son's life, they still haven't all three been together as a family, save for those few fleeting minutes after his birth.
"It's obviously not what I would have expected our experience to be," Alyssa said, "where he's in a room where he's in a box with lots of beeps and sounds and wires and things."
The Woodyards consider themselves lucky. Their child is healthy for a baby born 10 weeks premature, even if their first two weeks as parents have been a strange existence.
Amid ever-changing rules during the coronavirus pandemic, only one parent is allowed in the NICU at a time. For the first few days, one of them was there around the clock by their son's side, but visiting hours have since been changed to 9 a.m. to 9 p.m.
Now, they have to wear a mask every time they see him. When they pick him up, they have to be careful as to not disconnect him from the cords stuck to his body.
No visitors are allowed, so they video chat with family and friends as they hold their tiny child, who now weighs around 4 pounds, although his mom says he's long and lanky.
When they get to the hospital, the parking lot that was frustratingly packed during their prenatal appointments is nearly empty, and they park on the first level.
Alyssa takes the day shift while AJ works his jobs on a farm and for an agricultural startup. He arrives in the morning and at night, although the new visiting hours have made things more difficult.
They've gotten by at night by being able to view a livestream of their baby. While it isn't nearly the same as being next to him, it's comforting.
Aside from following the news, Alyssa barely noticed the world changing around her after she was put on bed rest Feb. 20 due to complications, so the first days at the hospital when she was admitted on March 16 were jarring.
Slowly, though, she's somewhat gotten into a rhythm in this bizarre start to parenthood, however exhausting. While he's healthy, Noah will likely still stay in the hospital for at least another month.
Sometime soon, probably in mid-May, Alyssa and AJ Woodyard will pack Noah up into his car seat and walk through the front door with their baby.
They'll finally get to experience the joy of being together as a family, even if visitors might still not be allowed.
"It's hard to even imagine," Alyssa said. "I think it'll be pretty emotional when the three of us can be in the same space and not be rushed and not have medical staff around.
"So, it'll be really, really emotional and sweet in the best possible way."
THE FUNERAL HOME DIRECTOR
'Everybody right now is focusing on family'
The 10 family members in the room kept a distance of about 10 feet, but to them at this moment, it may have seemed much closer.
After all, they had been quarantined separately for weeks, Owens Funeral Home Director Julia Yost said. A parent's death brought them back together.
"They were all able to be present," Yost said, "and I could see how much that meant to them to all be there for their parent."
There's no receiving line at funerals these days. The people who would've been in it, standing as they accept hugs, handshakes and condolences, are now the only people allowed in because of CDC regulations. Before, eight pallbearers took on the role of carrying the casket, but now, only six are allowed.
At first, the new rules were a shock to people.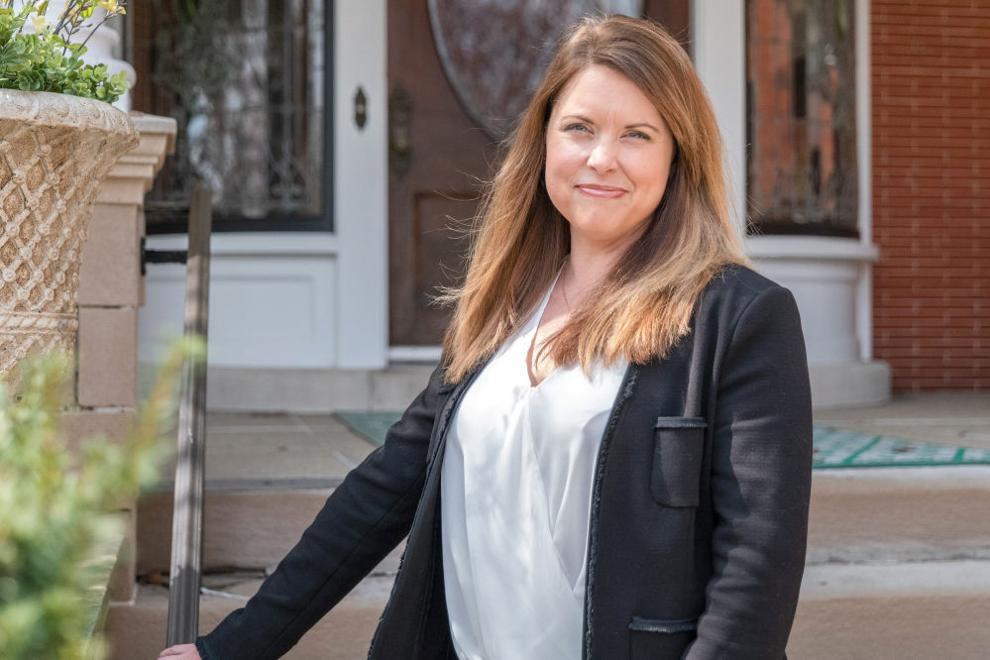 Now, Yost said, people are used to this new way of life, and it's brought a new dynamic to funerals. Some are still formal, but others are less so. While most would like to have a bigger funeral to celebrate their loved ones, it's also allowed those closest to the deceased to have a moment together without some of the stress that comes with holding an event for around 75 to 100 guests, a typical range for funerals at Owens in normal times.
"I think everybody right now is focusing on the family, and I think funerals are no exception," Yost said. "People are focusing on their immediate family and they're able to spend that time with their immediate family. It's not so much that when the public comes in that it's a bother, but I think people are relieved of their social obligations. People are able to focus on each other and focus on their immediate family. It doesn't seem to be hindering anyone from a grief perspective."
Yost is acutely concerned with her clients' mental state. After receiving a master's degree in psychology, she became a licensed counselor and worked in the mental-health field all around the country.
Fifteen years ago, she was back in town when her father, Jim Yost, asked her to come work for the family business, which was founded in 1925 by her great-grandfather on her mother's side. After directing her first funeral, she felt fulfilled, and she hasn't looked back. Since the death of her father in 2014, Julia has run the funeral home along with her brother, Jay.
While most may consider the job morbid, a childhood spent around the funeral home and a degree in psychology have helped her compartmentalize.
Helping people grieve is a crucial job to Yost, even if it's not in the way they envisioned.
For instance, while that family of 10 couldn't touch or breathe on one other, they were eager to lean on each other.
"Even after the service, they stayed and talked and just kind of remembered their mom," Yost said. "It was nice to see."
THE PARENT OF A CHILD WITH SPECIAL NEEDS
'I worry about regression'
As the extended break from school in Illinois dragged on, one day rolled into the next for Nicole Morgan.
Her business, where she sells sensory-friendly clothing, required attention along with the vocal lessons she teaches, but more important were the educational, emotional and physical needs of her son Maxwell, who has special needs.
It nearly kept her too busy to realize that Maxwell's birthday was fast approaching.
"Everything's just melting together," she said. "We're trying to make the weekend special, like it's an actual weekend, and during the week, we're doing this. You do what you can do. There are definitely good days and there are bad days."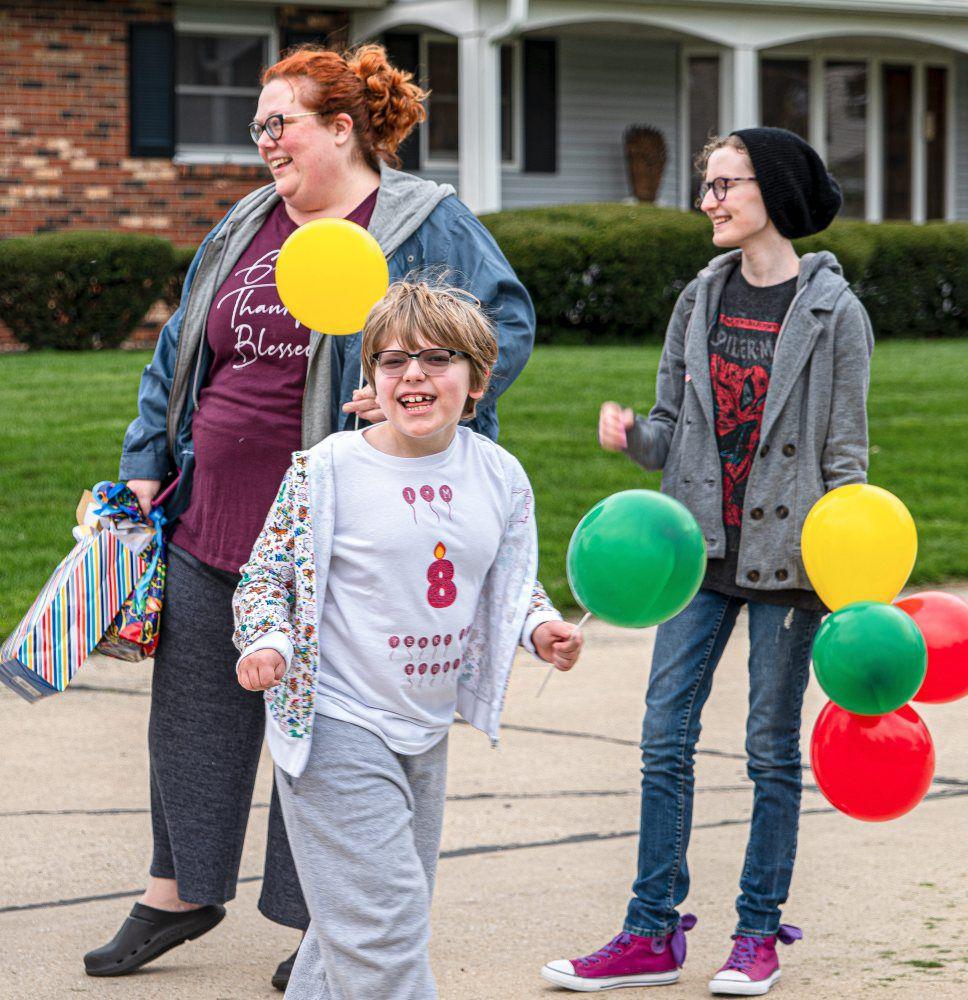 Tending to her son's needs at home is no foreign concept to Morgan. A few days after he was born eight years ago, doctors realized he had a stroke while he was in the womb. At six months, he began having infantile spasms, which are clusters of 75 to 100 seizures in a short period of time.
Doctors told Nicole and husband Jason that Maxwell likely wouldn't be able to walk or talk. Over the years, he bucked those expectations.
At just over a year old, he began to walk with a walker. His first language was sign language, but at 3 years old, he began speaking in full sentences.
As a second-grader at Carrie Busey Elementary, Maxwell is thriving. He enjoys school, and he's reading at a third-grade level. He also receives plenty of special education, including physical, occupational, speech and developmental therapy in addition to home therapy. He works on depth perception, writing, typing and his strength on the right side of his body, which was affected by the stroke.
With schools closed for an undetermined amount of time, filling those needs is more difficult.
"I worry about regression," Nicole said. "When he came home, it was kind of like summer came early, and I didn't have time to plan for it. It's just been this limbo where apparently, we're supposed to go back after April 30th, but are we really? It would almost just be better if they were like, 'No more school for the rest of the year.' Because then I could continue to plan."
His therapy at home isn't the same as being at school, but Morgan said Maxwell's teachers and school have been "phenomenal" with providing activities, and his special-education teacher has gone over therapy he can do at home.
In other ways, the Morgans are using this time to their advantage. Maxwell absorbs himself in educational games on his iPad, and Nicole signed him up for sign-language classes through the Chicago Hearing Society.
"He just really loves it," Nicole said. "His first-grade teacher posted it on Facebook and I was like, 'Oh, my God, Maxwell will be all over this.'"
There was one thing Nicole couldn't replicate. Maxwell turned 8 on Monday, and he was supposed to have friends over to watch a movie and eat cake.
But Nicole is trying to make sure joyous experiences aren't lost, so she put something together that he'll likely remember for life. She put a call out on Facebook for people to line up their cars and drive by the house to wish him a happy birthday. Dozens responded, yelling out their windows and honking their horns as Maxwell stood on the sidewalk with his family, holding signs and balloons.
"We're just trying to make it as special as we can with what's going on," she said.
After the procession of cars was finished, Maxwell was still waving balloons and pumping his left fist as he smiled and shouted.
"That," his mother said, "was incredible."
THE LIBRARY WORKER
'It's really eerie to be in there without our customers'
Libraries are supposed to be quiet, but not this quiet.
The Champaign Public Library is a gathering place at some times; at others, it's a place where people come to sit alone at desks in front of large, floor-to-ceiling windows with books and computers in front of them while kids play in the area designated for them.
Maintenance Manager Larry Damski has made many friends at the library during his three decades working there, and right now, he misses them as he walks through the rows of books and the empty chairs and tables with an electrostatic cleaner, all by himself.
"It's eerie," he said. "It's a large building, and I go in every day for a couple of hours, and I check the HVAC system to make sure it's running properly. I'll be mowing tomorrow, just things that need to be done. But it's really eerie to be in there without our customers."
Some of the services the library offers are still available after years of moving certain things online, like the e-library, résumé services, practice tests for the ACT and more. People can get virtual library cards online without having to go near a physical book.
But one service in particular can't possibly be made available during the stay-at-home order. It's simply a place to go — for the homeless, for college students, for parents and their small children, and more.
Damski's job is to make it as clean and comfortable as possible for them.
"I feel like I'm fulfilling a need for the public," Damski said. "I'm a very lucky person."
Damski remembers an ice storm in the '90s that kept the library closed for multiple days, but compared to this, that was quick.
For his part, Damski can't wait until people start coming in again, filling up those chairs and tables and milling through the stacks of books as he tries to clean without disturbing the calm quiet that washes over the library on a normal day.
"I miss our customers," Damski said, "and I miss our co-workers a lot."
THE RETIREMENT COMMUNITY
'A lot of improvising'
Paula Martin considers herself a hugger.
In normal times, a day hardly goes by when she doesn't give or receive a warm embrace with the residents of Clark-Lindsey Village, where she works as the wellness and activities director.
Of course, physical contact isn't allowed at Clark-Lindsey over fears of an outbreak of COVID-19, which has caused waves of death across the country.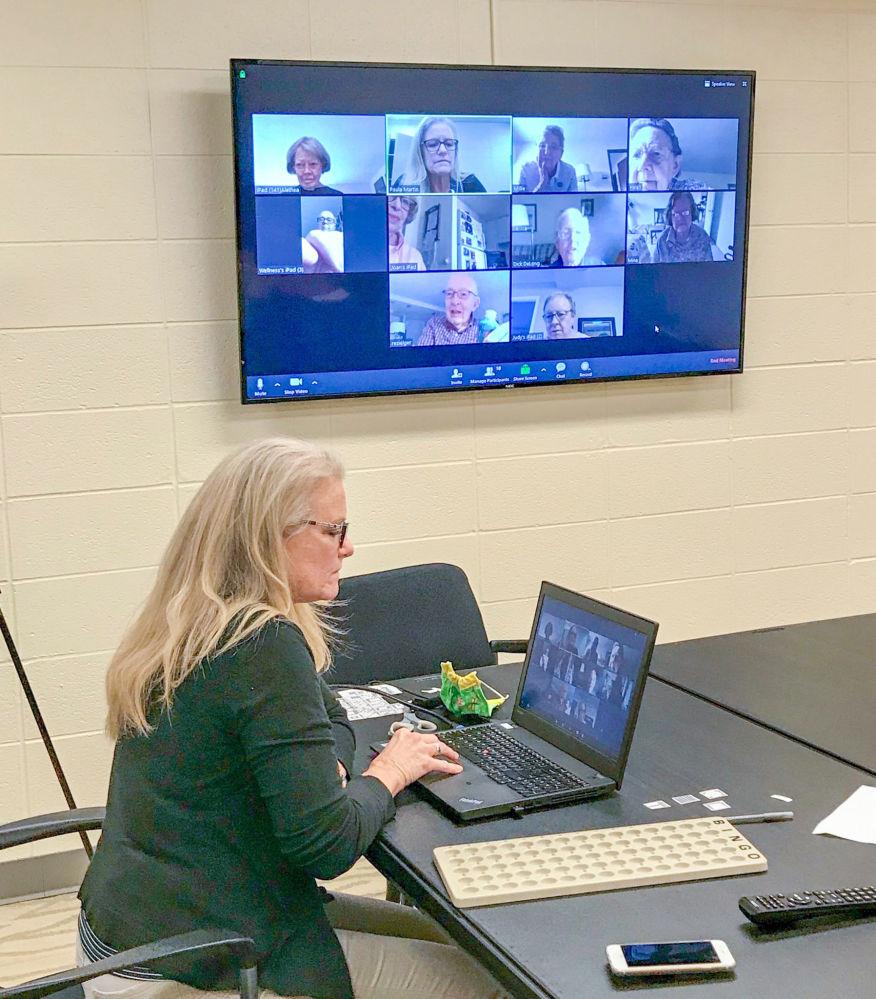 "I can't tell you how hard it was to stop hugging residents and to be with them," Martin said, holding back tears. "That was really tough."
The facility is closed to outside visitors, and social-distancing guidelines are observed among staff and residents.
It's a strange time for Martin, who is usually rushing to an exercise class or another activity if she's not interacting with a resident. Normal activities aren't allowed, but Martin and the rest of the Clark-Lindsey staff wanted to make sure the people living there weren't cut off from the outside world.
"We've had to do a lot of improvising and learning how to get activities and to keep residents involved as much as possible," Martin said.
While physical interactions aren't permitted, the staff has spent weeks coming up with ways to keep the residents connected and happy.
They've set up scavenger hunts around the facility and use the in-house TV station to let staff and residents submit messages to everyone else.
"Keep happy thoughts and smiles," one read, "because I can still see the twinkle in your eyes."
Another said, "I hope I recognize my CLV friends in a couple of months without a visit to their beauty or barber shop."
Residents have also shown a willingness to learn new technology now that it's the only way to communicate with the outside world. They've used apps like Zoom to set up bingo games and workout classes that seniors can play in their apartments.
Another app allows residents to take tours of museums and zoos and take virtual trips.
Some of the technology they're using has been available at Clark-Lindsey for a while, but many residents haven't had a convincing reason to learn something new. That's changed.
"I would say the one thing that is different now that wasn't before is the desire to learn," said Karen Blatzer, director of marketing. "These circumstances have brought up a new opportunity where it's, 'Oh, I think I am going to learn that, because that is the only way to have more connections and have more entertainment.'
"I think that desire to learn makes the whole process easier."
Some residents are taking that virtual interaction to the next level, holding dinners with each other over Zoom.
While human contact may have stopped, personal interaction hasn't.
"People really care about each other," she said. "We know each other. We're friends. They're my family. I walk into work and I'm as comfortable there as I am at home. And if you can do that at a job, oh my gosh, it's got to be the best place to work. I'm talking every day for the last 23 years."
THE ACCOUNTANT
'I think a lot of small businesses are going to go out of business'
In normal years, Larry Buhrmester takes a week off starting around April 20. After working for a few more weeks, the accountant who owns his own firm takes a nice, long vacation in June.
This year is far different.
"It's just going to be spread out," Buhrmester said, "and I'm not sure when we're going to be able to travel."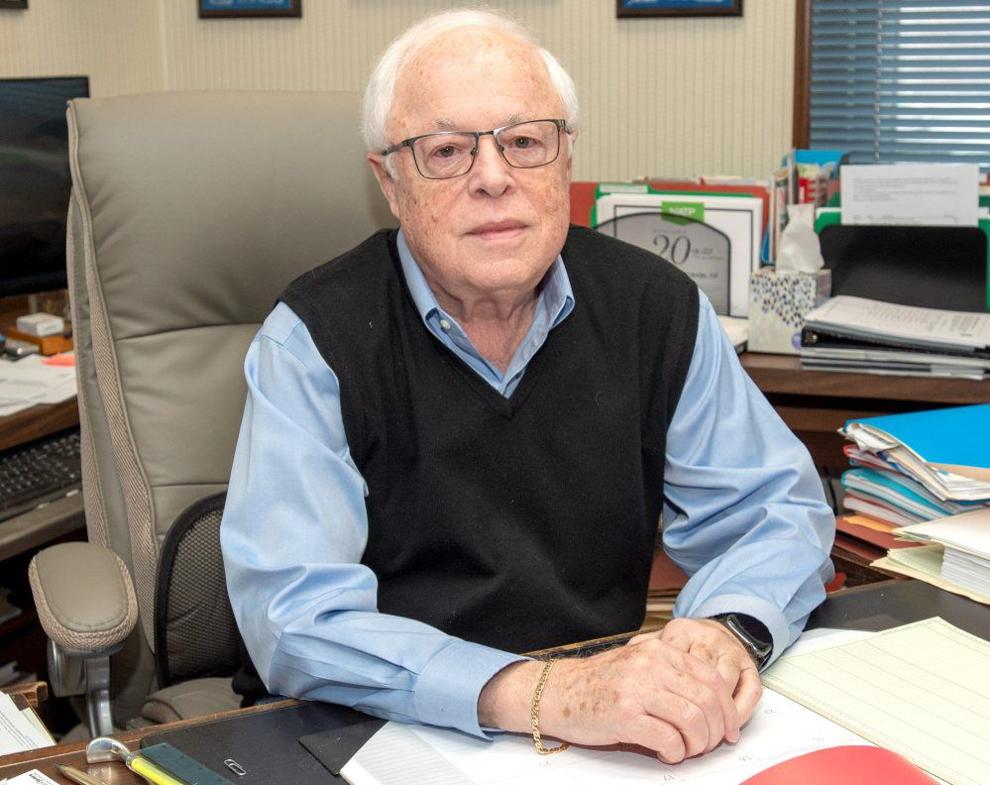 The deadline for filing federal and Illinois income taxes has been pushed back three months, all the way to July 15, stretching out the workload for accountants like Buhrmester. Meanwhile, his business clients are scrambling to obtain small-business loans and emergency loans under the Paycheck Protection Program that can help businesses pay their employees and, in some cases, stay alive.
The problem is, it isn't clear how to obtain those loans. Applications, Buhrmester said, are fairly easy to fill out, but banks, which may be taken by surprise, haven't been able to process them in a timely fashion.
"I do not have any first-hand knowledge of any local (Small Business Administration) loans approved yet, and time is of the essence on this if they're going to stay afloat," Buhrmester said. "I had one client that said he applied last week, and as of (Tuesday), he had not heard anything from them. His comment was, 'By the time I get my loan, I'll be out of business.' It's not good."
Normally, Buhrmester doesn't mind the challenge of learning the tax laws. It's what keeps the job interesting and new from year to year as he tries to help his clients comply and pay as little as possible. But this year is interesting in a much different way. The changes involve the added stress of keeping businesses from folding. And on top of that, income taxes will trickle in for three extra months.
"It's been very hectic," Buhrmester said. "It's going to be very tough. I think a lot of small businesses are going to go out of business, but I hope that's not the case."
THE JUDGE
'It is literally a totally and completely empty courthouse'
Judge Tom Difanis makes sure to look defendants in the eye when they're entering a guilty plea.
He looks for cues to make sure they fully comprehend the rights they're giving up. They may turn to their lawyer, a sign they're attempting to understand the weight of the plea.
"You're making sure that they're making eye contact with you and hopefully understanding what you're saying," Difanis said.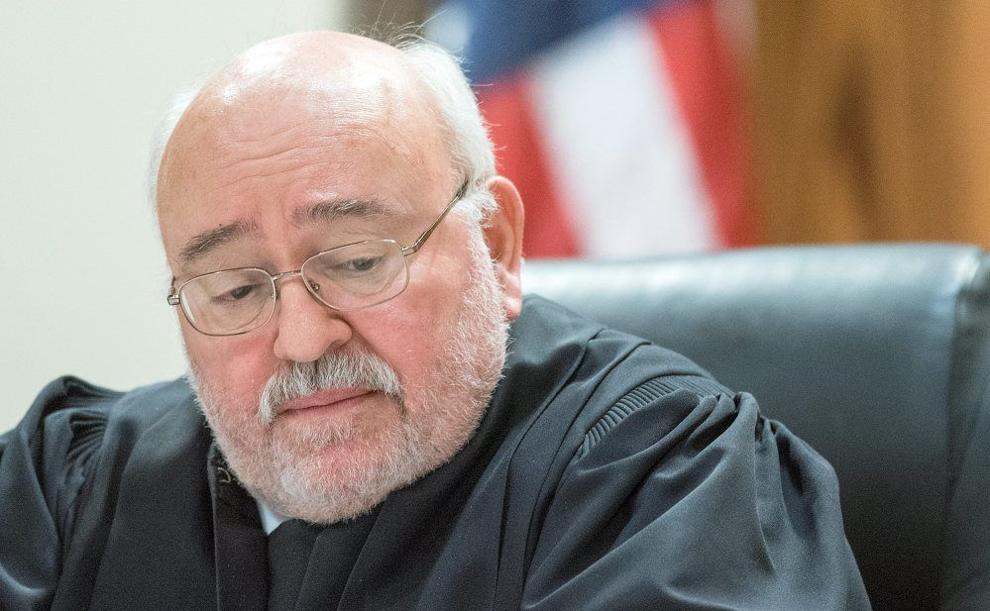 His ability to do that vanished with myriad other things when the courthouse closed to general business on March 16 to limit the spread of the coronavirus.
Normally, Difanis is joined by dozens of workers spread throughout the courthouse. Friends and families of defendants fill courtrooms along with attorneys.
Now, he sees only a few people each day. Only two clerks, a court reporter and four security guards from the sheriff's department occupy the 146,000-square-foot building for much of the day.
After discussing the week ahead with the sheriff, the state's attorney, the public defender, the circuit clerk and the probation director on Mondays, he meets with other judges, some in person and some over video chat.
Each morning, he takes care of search and arrest warrants. Then, he presides over pressing matters like juvenile-detention hearings and other arraignments. He does preliminary hearings by video if the defendant is in custody and also oversees emergency orders of protection.
"It is literally a totally and completely empty courthouse," he said. "Obviously, it's unusual, and I've never experienced it before."
When business returns to normal, an overflow of traffic, small-claims and child-support-enforcement cases will need to be heard, Difanis said. How that'll happen remains to be seen, and will need to be worked out with the state's attorney and the sheriff's office. The court will likely open partially at first, he said, with normal cases being heard but only essential personnel present.
"We started making plans on Monday of, 'What happens when we open?'" Difanis said. "It's going to be a little bit different."
Six months before he's set to retire, Difanis said he misses the staff he's worked with for the last few decades. The courtroom hasn't been this lonely in his 25 years as a judge or his 48 years working in the courthouse, which began when he was named assistant state's attorney in 1972.
"It's unusual times, and it'll eventually be over," he said.
"Hopefully, it'll be over before I retire," he added with a laugh, "but that remains to be seen."
THE YOUTUBE KIDS
'They can understand better coming from another kid'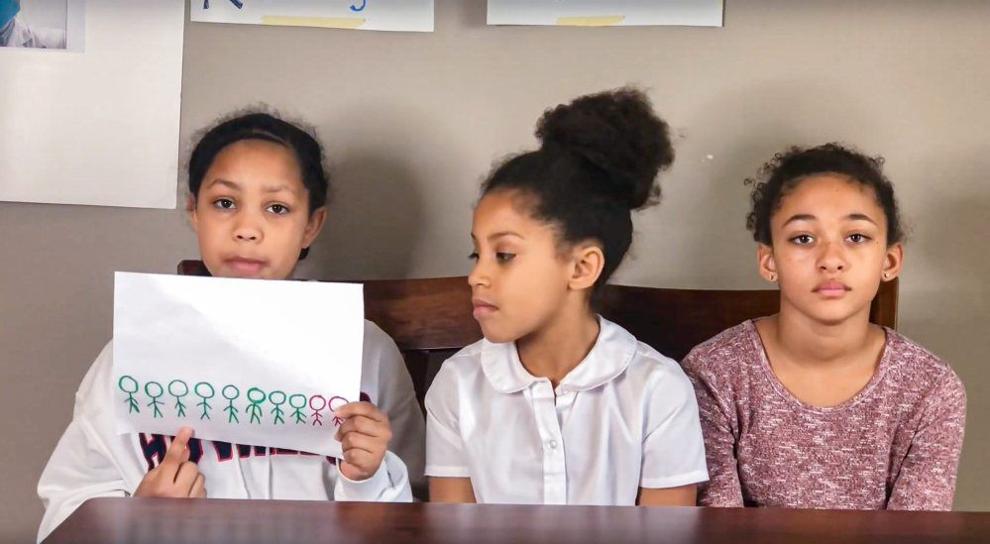 The first video Cali Cooper made didn't necessarily have civic meaning. It was just fun.
As a fourth-grader two years ago, Cooper had become engrossed with making slime, a gooey glue-based substance that became the latest fad a couple of years ago.
"At first I thought it was something she was doing to stay in with the trends and be a YouTube star," said her mother, Christina.
As it turned out, it wasn't the slime that drew her fascination. It was the video production.
Over the last two years, she's added several videos to her YouTube channel.
And over this extended time away from school that will likely bleed into summer, she made a video with her sisters and a friend that they hope contributes to civic discourse among kids like them.
On a suggestion from the mother of a friend, who is a nurse like her own mother, Cali and her sisters, fourth-grader Catalina and first-grader Caira, and their friend, Aliyah Enoch-Wilmore, made a video explaining the COVID-19 pandemic and why it's important for people to stay at home.
"It's more familiar and they can understand better coming from another kid," Cali said.
While their friend's mother helped gather information for them, the Coopers and Enoch-Wilmore wanted to make sure they weren't simply reading off a script. They studied so they knew what a pandemic was, the importance of washing hands, what it meant to flatten the curve, and what a virus does to the body. In the video, they teach each other about the pandemic instead of simply speaking to the camera.
"They were like, 'OK, let's figure this out,' 'What does this mean to me,'" Christina Cooper said. "Because there were a lot of technical terms."
They shot the video in about two hours and Cali edited it together in iMovie, adding in a few effects but taking care not to make it too flashy. Her video-editing experience over the last few years has taught her to quickly cut clips together rather than letting a long conversation play out over several minutes.
"It was my little sisters, so of course it took awhile for them to memorize the lines, but it worked out in the end," Cali said. "The day after that, I had all the stuff to edit the video. I wanted to make it kind of simple."
The Coopers and Enoch-Wilmore haven't ruled out making more videos that help other kids understand issues that seem complicated on their face.
As a sixth-grader, Cali is already putting her evolving skills to productive use.
"As she kind of progressed, she's gotten really good at editing and putting in the different effects, and it's so impressive how well she's done," her mother said. "Especially (the COVID-19 video), I got to catch a glimpse of the production, and when I saw the final product, I was impressed."
THE 'EASTER BUNNY'
'I might make a little bit of a fool of myself'
Michael Madden has grown to love the little town of Farmer City, where he moved with his wife and third-grade daughter four years ago.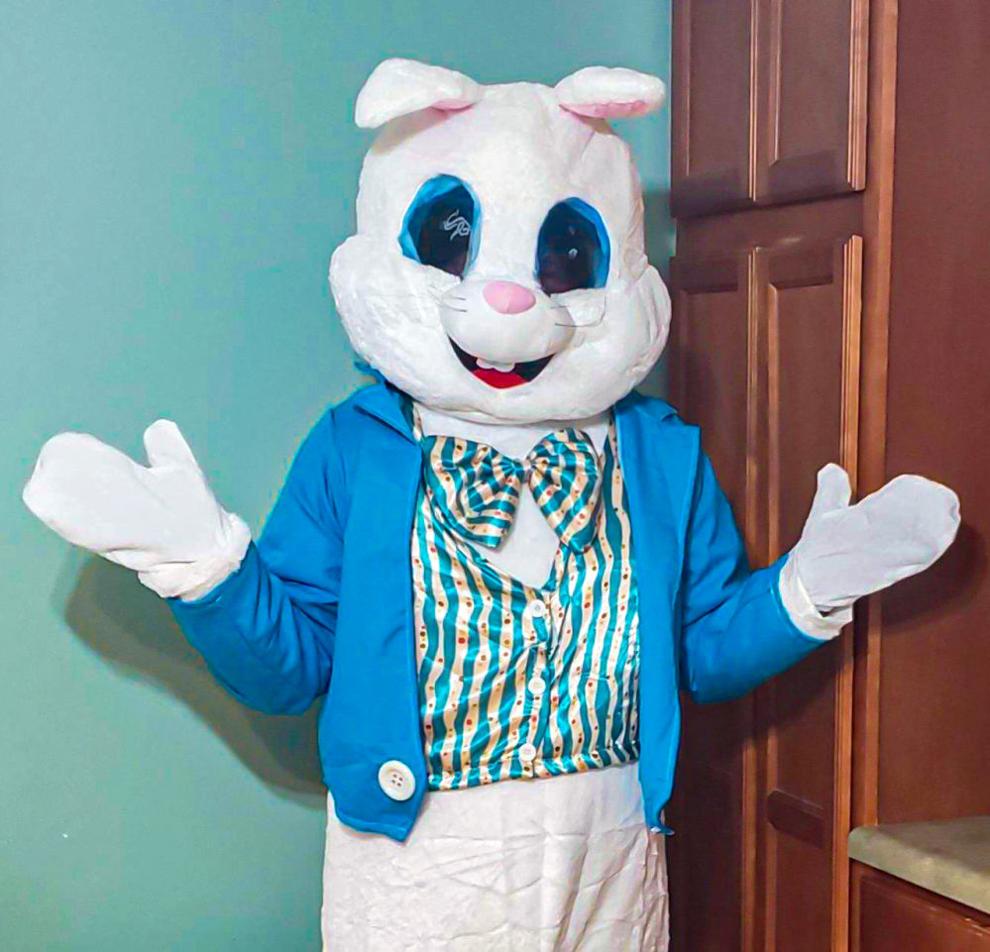 The Atwood native is simply a small-town person. People enjoy helping each other in his town and making each other's lives better. With a population of 2,000, it isn't difficult for new residents to ingratiate themselves with a majority of the community.
Social distancing, though, has put a stop to those interactions. Madden, who was already taking daily walks with his wife and daughter, wanted to change that.
"I just kind of had the idea one morning," he said. "I was like, 'I'm already out, why not do something fun?' We love being out in our community."
An idea began to form. Easter was coming up, and there would be no egg hunts around town or celebrations with family.
So the Sunday school teacher who's studying to become a pastor took out his computer and began searching for a costume that would light up faces around town.
"I said, 'I might make a little bit of a fool of myself walking down the street in an Easter Bunny costume,'" he said, "'but if it makes some kids smile, why not?'"
He found a white costume with giant blue eyes to peer through that fit the bill. And last week, while his wife and daughter walked alongside him, he put on the costume and trekked across town. Each day, they'd hit different neighborhoods. His church, Farmer City Methodist, put out the area he'd cover each day. And after long days locked in the house, families would come outside their homes, and others would drive by to see the Easter Bunny.
"The kids are really excited to see the Easter Bunny and so are the parents, just to see the joy on their kids' faces," he said. "We're all missing out on a lot right now, for good reason. To be able to have some normalcy and see the Easter Bunny, parents have been even more excited than the kids have been."
In addition to those parents and kids, Madden has found a surprising audience.
"Actually, the best reactions have come from semi drivers," he said. "Every time they see the Easter Bunny, they get really excited and honk their horn."