Sunday Special | Coronavirus and the community, Part IX
By now, every corner of our community has been touched by the coronavirus pandemic. As he will until the crisis subsides, Anthony Zilis spent a ninth week telling the stories of those affected.
The double graduate
'That's two graduations in my life that I won't get'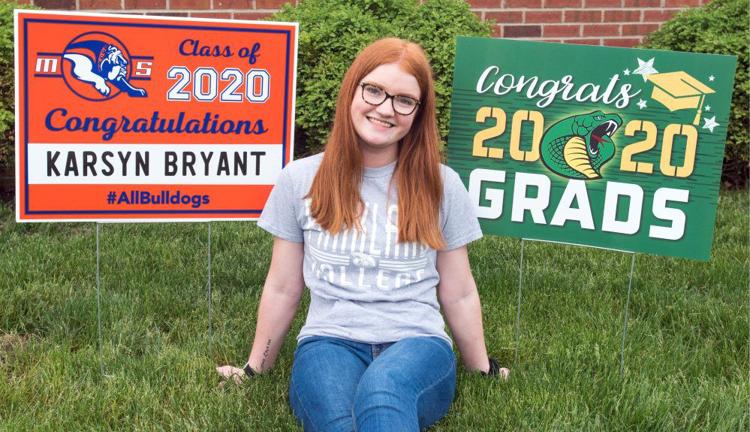 Karsyn Bryant enjoys filling her day with productivity.
That's why in January 2017, when she was a sophomore at Mahomet-Seymour High School, the then-15-year-old decided to use her two study-hall periods to have her mother drive her to Parkland College to take classes.
The next year, she became a full-time college student while wrapping up her high school coursework online.
"I would say that every minute of every day was accounted for during that time, and I was even taking night classes that didn't get out until 9:30 at Parkland just to get everything in," she said. "It was overwhelming at times, to be sure.
"If I had papers that were due the same time both at the high school and at Parkland ... the high school didn't care that I had Parkland homework to do, and Parkland didn't care that I had high school homework to do."
On Thursday, Bryant was supposed to walk across the stage at Krannert Center's Foellinger Great Hall and receive her associate degree from Parkland, over a week before she officially graduated from Mahomet-Seymour, where she'd again walk across the stage at Krannert.
She did walk across a stage, but it wasn't quite the same. At Mahomet-Seymour, graduates are being filmed receiving their diplomas. On Saturday, she'll sit at home watching two virtual commencements.
"It's really weird, but even just walking across the stage, it's really cool to still be able to do it," she said. "That's the tough part of having two graduations at the same time. Now they're both canceled, so that's two graduations in my life that I won't get."
The school closures have been strange for a student who's always on the go. While she finished her high school credits in an online format last year, she says it's different when classes are built to take place in person.
After finishing high school last year, Bryant began working at a bank while she finished her first college degree.
Of course, Bryant will have more graduations in her future. She plans on earning her bachelor's degree in social work from the University of Illinois in two years before getting her master's in the same subject and heading to law school. She then hopes to go into family law and eventually open her own firm, she said, so she can, "Be busy but still have time to have a life."
She's already been through the intensity of earning a diploma and a degree at once, though, so no amount of work will take her completely off-guard.
"It gave me more time to process what I'm doing and be like, 'Wow, that was actually really tough,'" she said. "It made me proud of myself to just be like, 'Wow, this is tough, but looking back, (doing both) was really tough and now I get to just focus on college.'"
The medical student
'I didn't ... set out to write a children's book'
After a long day of studying for medical school in mid-March, Anant Naik had an idea for a poem.
The second-year medical student at the University of Illinois couldn't help in the current crisis in the way he wanted after students were removed from the hospital, where he was on a pediatrics rotation. So he wrote about people who were making impacts, including but not limited to doctors and nurses, and drew some illustrations to go along with them.
"Initially, I was going to post it on social media," Naik said, "but after sharing it with some friends, they said it could be really cool as a children's book. After that, I changed and modified the poem until it looked more like a book. I didn't sit down and set out to write a children's book."
About a month after he sat down to write a poem, he held in his hands his self-published children's book, titled "Heroes of a Pandemic."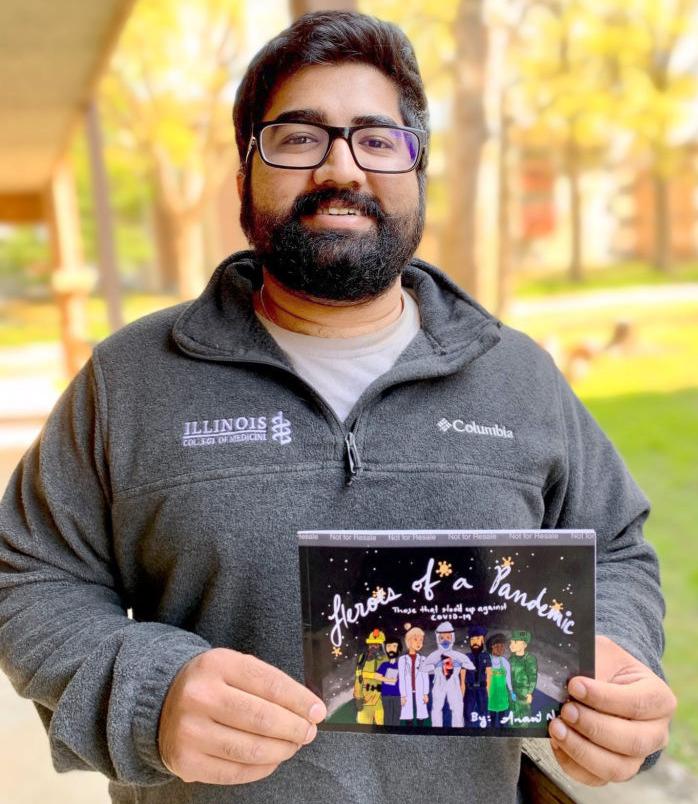 This wasn't a road Naik necessarily expected to go down.
He wrote for his student newspaper at the University of Minnesota, where he went to undergrad, but his artwork was less formal. Painting and drawing were simply hobbies he was passionate about. Naik, though, wanted to find a way to make a difference during the pandemic, and his pediatrics rotation put him in a child's mindset.
"I realized that a lot of kids are confused as to what's going on, but parents don't really have good explanations for them as to why they need to be at home, and their parents can't really explain what's going on," he said. "I was trying to synthesize a narrative that the kids could understand as to what is happening in the world at the moment with the pandemic, what is the story of the pandemic, and also offer a positive lens to look at it through as the story is going on.
"That's why I picked up the idea to honor the sacrifice that the people on the front line are making. Not just the doctors and the nurses, but also the grocery store workers, the truckers and various other people, and synthesize it into a story, and that became this book."
The book takes children through the origins of the pandemic and its implications, highlighting doctors, nurses and other essential workers throughout.
All proceeds from the book go to Doctors Without Borders, an organization that helps health care systems in need around the world in myriad ways. For Naik, that simply added another layer of what he could do to help while he's not allowed inside the walls of a hospital.
"When you think about the phrase 'flattening the curve,' we're only flattening the curve so that we're adjusting to the capacity of the health care system," he said. "For many countries around the world who don't have a health care system or a mature health care system, flattening the curve means something entirely different from that.
"This book honors the heroes of the pandemic to fund the heroes that are emerging in other countries."
The nostalgia of commencement
'What surprised us was all the creativity we got'
Michelle Huls Rice and her colleagues at the Grainger College of Engineering knew they couldn't recreate the joy and nostalgia that comes with graduation in a remote setting. They decided leave the live online ceremony to the full university commencement.
But they wanted to bring some emotion to students who were capping off four years of college through their computer screens.
"Because campus is doing something live already, we didn't want to add to that experience for them," Rice said. "We didn't want them to feel like they had to be attached to their computer screens all day. We wanted to give them something to open after the live experience."
In a ceremony where students are siloed in their own homes, they decided that they'd incorporate the ultimate song of togetherness and unity for University of Illinois students and alumni: the Alma Mater.
In a time when touching and closeness are forbidden, the typical decorum for the song is from a world that doesn't currently exist. Fans raise their arms up and put them around their neighbors' shoulders.
The College of Engineering, though, asked graduating seniors to send in footage of themselves singing the song. In the span of a couple of weeks, a few dozen videos came in.
"I think a lot of us were a little bit nervous because we were asking people who don't normally sing to sing for us and to videotape themselves," said Tommy Figel, a graduating UI senior and intern at the college. "We didn't know what to expect. I think what surprised us was all the creativity we got."
Figel is quickly becoming immersed in compiling videos of remote performances. The communications major works with a musical-theater company called iTheatrics, and a few weeks ago he put together what they called a "Zoomsical," a musical made over Zoom.
Putting together a compilation of graduates singing "Alma Mater" would be similar, aside from the fact that the singers aren't necessarily trained performers. The untrained singers, though, made up for it. All wore Illini attire, and some sang with their families. Dogs were included, and one graduate hopped around on a pogo stick.
"That's honestly what brought it together, the videos themselves all had a little bit of something unique, regardless of whether they could sing or not," Figel said. "Our team is really happy with what we got because we were nervous that people would want to send in videos of themselves singing. It ended up turning out very well."
In all, 33 videos came in. Most followed the directions and sang along to the track Figel provided. Some, he had to tweak. He filled out the background with a track from one of the school's a cappella groups.
While some of the videos may be goofy, he thinks the video gets across the nostalgia the song evokes like it does when it's played in Memorial Stadium.
"It's a little bit somber and kind of sweet," he said. "It's definitely feel-good, but the goal at the end of it is definitely to tug at some heartstrings."
Like many of his fellow graduates, Figel is unsure what his future will hold. This summer, he'll continue editing musicals over Zoom with iTheatrics. He hopes to continue the video-editing path in some sort of communications role and eventually wind up writing, editing and directing films.
While that future is on hold, Figel thinks the last few months have been a fascinating learning opportunity for people who want to produce their own videos or simply communicate.
"I can't speak for everybody, but for myself, a lot of our summer internships or jobs are canceled or postponed, so there's a few months when I feel like a lot of seniors will be sitting tight while waiting for news to unfold," Figel said. "I think in those few months, we're going to get a lot of cool, creative content. I think people will have time to think and reflect on their time at Illinois and what's best for them. I think it'll be a cool couple of months to see what people do with the new normal."
The acting class
'It just seemed like something I had to do'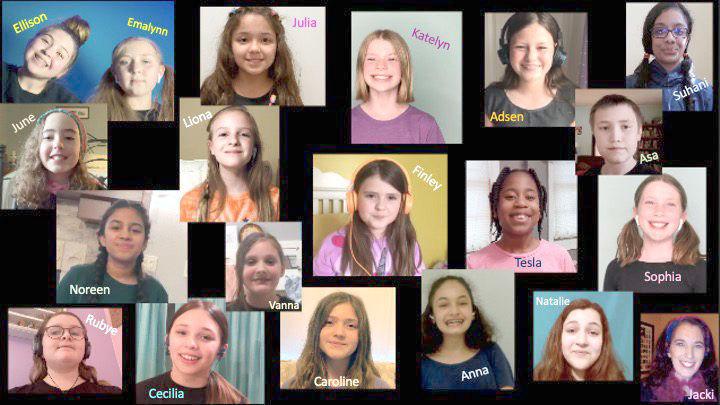 March 9 was a sad day for Jaclyn Loewenstein, when she turned out the lights on the final show at SoDo Theatre. Her acting school, Class Act, had educated young actors at SoDo for 11 years, but the theater's lease wasn't renewed, with a the building's owner deciding to rent it to a new bar.
Loewenstein decided she'd take a break from teaching before planning her next steps. Then, all theaters went dark, and Loewenstein decided she needed to fill the void.
"It just seemed like something I had to do," she said. "Even though I was planning to take this time off after leaving SoDo, things just changed."
Loewenstein saw that Beat by Beat Press, a publisher of children's musicals, had put out one specifically made to be organized remotely called "The Show Must Go Online," and she put word out to her most experienced actors. The play was about a musical that was canceled due to the COVID-19 pandemic, with the actors convincing their drama teacher through a series of songs that they can produce the show electronically.
Instead of holding a traditional casting process, the actors looked over the script and ranked the roles they saw themselves playing.
Loewenstein then called each actor individually and helped them scout their homes for the best location to film.
"I'd look in their bedroom or living room and figure out the best place to stage it. I'd look at their shots and help look at lighting that they had, natural lights and lamps, and I guided them through that and talked about props they needed, costumes and things that they needed, and anything else special," she said. "They would send it to me, and a few of them nail it on the first try and some of them I would give it back to them and give them some feedback and have them do it again."
The musical culminated with a song sung by all of the students about how the school play can go on with the use of technology, and even though the cast is separated, they can connect through art.
Loewenstein originally planned on cutting a short clip of each actor singing a piece of the song and putting it together in one string. But then she began laying the performances over each other, and the individual performances became an ensemble.
"Once I had three of the kids' voices in there, I was so moved by the sound that was coming out of them, and I was just creating a choir right there," Loewenstein said. "I just kept adding in more videos and decided pretty quickly that this was going to be more powerful if I put them all together. ... I think they're all such dynamic natural performers that it's really fun to see all of their faces up there at once and hear their beautiful, young, innocent voices. I thought it was really powerful."
After three days of editing, Loewenstein hosted a YouTube premiere, where 160 people — including the cast — watched it together for the first time. In a week, the show surpassed 5,000 views. Beat by Beat Press liked it so much, it hosted a Q&A with Loewenstein so she could give tips to other directors about how to put it together.
Loewenstein isn't sure of her next step as the theater community grapples with the inability to perform shows in front of live, in-person audiences. After putting together this performance, she's more confident than ever that theater can still take place, even when performers and audiences are sequestered in their homes.
"So many people can relate, even if they aren't theater people and haven't had shows canceled," she said. "I think everyone can relate to the idea of having a loss during this time. ... I feel a responsibility to fill that gap as much as I can."
The historic theater
'To see it dark week after week ... that's a hit. You really, really feel it'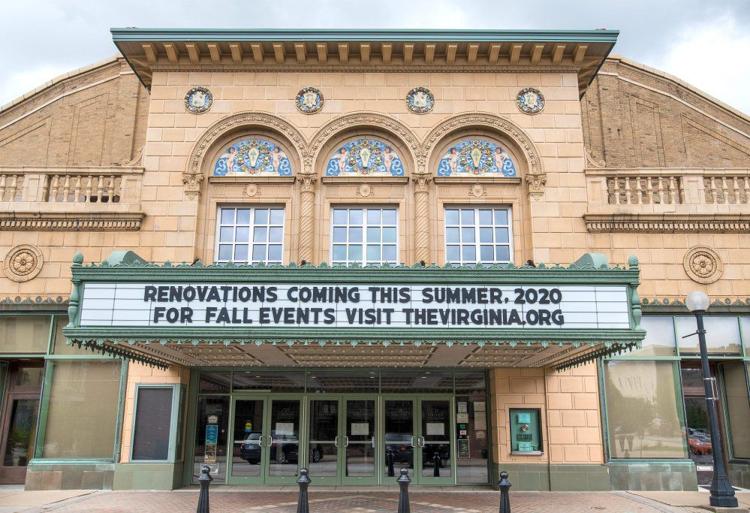 The calendar reminders pop up on Steven Bentz's phone every so often for events the director of the Virginia Theatre had to cancel or postpone, including Ebertfest, and shows by David Sedaris and Gordon Lightfoot.
Whenever Bentz starts getting used to the reality of the world of the COVID-19 pandemic, the phone in his pocket snaps him back to a different time.
"The reminders hit me every day that this is what we're supposed to be doing tonight," he said. "It's obviously been a huge disappointment."
The theater has been dark for months, and Bentz isn't sure when shows will return in their normal form. Luckily, the theater had already planned to close from June 15 to Sept. 1 for a restoration that will include the installation of a new sound system.
When audiences return, the auditory experience will be completely different for those sitting in most parts of the theater.
When that will happen is up in the air, but Bentz and his staff at the Virginia are making plans for when Champaign enters Phase 4 of the state's reopening plan later this year. At that point, gatherings of 50 people or fewer will be allowed.
Of course, that means most of the theater's large events won't be able to happen. That possibility won't exist until the area makes its to Phase 5 of Gov. J.B. Pritzker's plan, which won't happen until "a vaccine or an effective treatment or enough widespread immunity that new cases fail to materialize," the governor said.
"Our thinking is, at that point, that's a small, private event, that's a small, onstage performance, or that's film," Bentz said. "Fortunately for the Virginia, it has that flexibility where it's a movie palace as well as a live concert venue.
"So, we're able to focus a little more attention on film screenings and shaking up that program, adding new dimensions for our film-screening program because there's another opportunity to entertain the public and engage them in small groups, because it's kind of perfect for that."
Bentz and the Virginia staff are having to think of creative ways to keep engagement with the theater alive. They're planning on drive-up concession sales for at-home movie nights starting this week. They've talked about hosting performances with small audiences that stream online and private screenings of movies in the massive theater.
The theater, though, was constructed to bring thousands of people together, sharing a moment as they all look up at the stage. It won't serve that specific purpose for months to come.
"For 99 years, that is a place for family members and friends to make memories," Bentz said, "and to see it dark week after week ... you just think of the thousands and thousands of people that were supposed to attend the event, and that's a hit.
"You really, really feel it."
The summertime ice cream shop
'There's just no being too careful, so we take it above and beyond'
Thursday evening was a warm, sticky night in late spring, the kind that normally attracts a line out the door at Custard Cup as customers fill the tables out front.
Those tables, though, were empty. A few customers went in and out of the doors. A slow stream of cars rolled through the drive-thru as Julia Davis took ustomers' payments and handed them their desserts with gloves on and a mask covering her face.
"We get geared up, and we get real excited for these upcoming months," manager Ashlee Rhodes said. "So, in January and February, we're thinking months ahead of what we're needing to do and what's happening.
"Your hard work doesn't go down the drain, but just like everywhere else, it was a big shocker."
Rhodes said Custard Cup was able to keep on most of its staff at reduced hours due to the drive-thru business. Those workers wear gloves and masks at all times. The gloves are sanitized in between every interaction. The masks never leave the store.
When they wash their hands, they have a timer that tells them when to stop. Customers who come in must wear masks. They set their payment on the table, and the cashier picks it up as they back away.
"There's just no being too careful so we take it above and beyond and go a little further," Rhodes said. "We don't want to risk our crew, we don't want to risk our customers."
Rhodes said the pandemic has changed what people deem acceptable in terms of social norms. For instance, a cashier or drive-thru worker wouldn't previously have worn gloves, Rhodes said, because that would come with the implication that they're making food as well.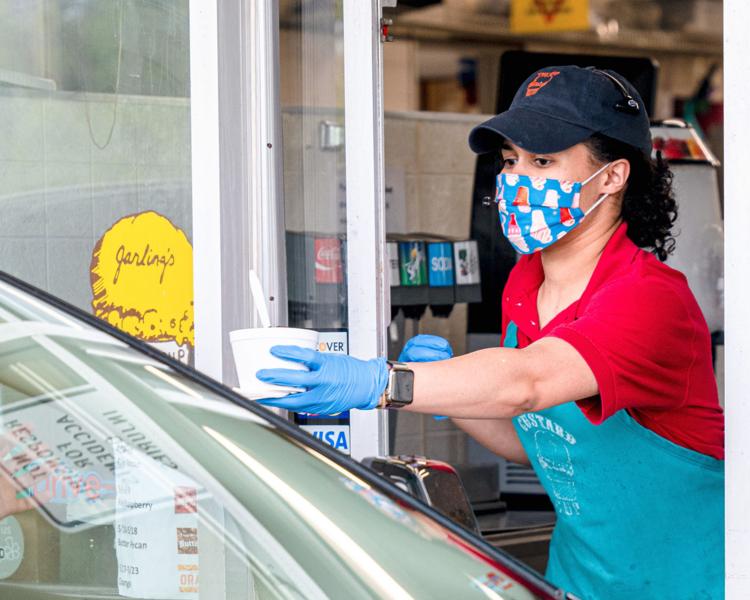 "The norm has become, 'I know that that person wearing gloves is taking my payment and not making my food,'" Rhodes said. "We've had so many customers say, 'I'm so glad you're wearing gloves while taking my payment as opposed to questioning us on, 'I hope you're not making my food, too.'"
Those warm nights with packed tables don't appear to be returning any time soon, and Rhodes understands the reality that restaurants are facing.
But right now, she and her workers are focused on what she can control: shelling out treats to customers in a safe way.
"It's there and present for absolutely everyone in this town and in the state," Rhodes said. "We're approaching everything cautiously, and as long as we're doing everything we're doing to keep our workers and our customers safe, we're only looking at the positive and working for the best."
The third-grade field trip
'History of the town comes to life for them'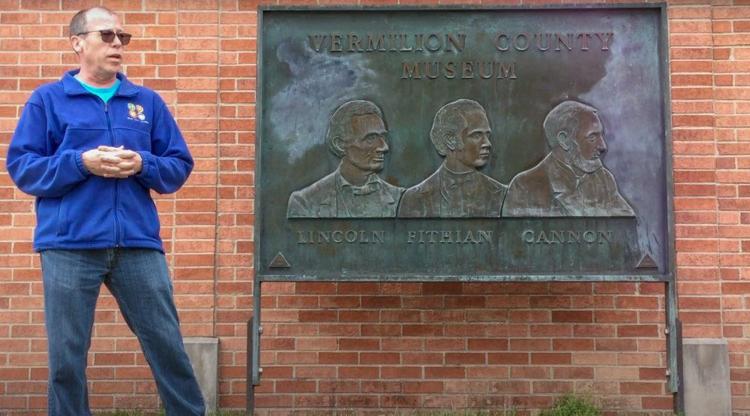 Matt Thompson went into his classroom on Monday evening, a rare occurrence since the COVID-19 pandemic canceled in-person school for the rest of the year. He safely packed up the things his students had left at school with the full expectation they'd come back after spring break so he could send them home with their parents, who drove up to the school and stayed in their cars while the items were placed in their trunks.
It's an anti-climactic end to the school year that normally ends in excitement for the third-grade students at Mark Denman Elementary School in Danville. The year culminates in a multi-week lesson on the history of the city, ending with a trip around town to visit historical sites.
"We were pretty devastated," Thompson said. "We brought up that our kids wouldn't get our field trip and all of the things that our kids wouldn't get."
The members of the school's third-grade team, though, are problem-solvers and the most creative people Thompson's ever worked with, he said. So they began brainstorming.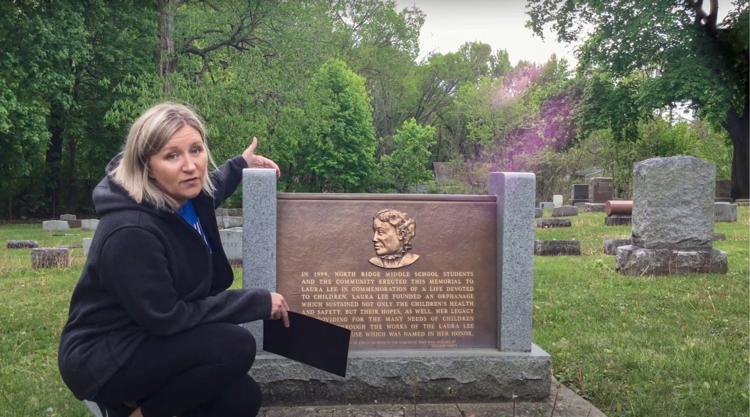 "They really enjoy learning about the people from the history of the town," Thompson said, "and then it comes to life for them when they go and see the places. ... We got to talking and we decided we would really like to bring the field trip to them. And so we came up with this idea of doing a virtual field trip."
They quickly came up with a plan to take trips to various places and record them. They'd go to the Vermilion Museum; the homes of Dr. William Fithian, a personal friend of Abraham Lincoln, and Ward Hill Lamon Layman, Lincoln's bodyguard; and the gravesites of prominent Danville natives like town founder Dan Beckwith, whose body was taken from his coffin, and record themselves giving the students a tour.
Then they'd curate the video and share it on Class Dojo, the app they use to communicate with students and parents throughout the year.
It wouldn't be quite the same as the popular field trip they take every year, but it was a way to keep their students engaged while they're at home. They want their students to become invested members of a town they care about.
"We think that it's important for them to know about the history of our town and to be a part of it and feel a part of it," Thompson said. "We also think that education is about more than what we do in the classroom."
The senior singalongs
'Life doesn't have to come to a halt'
For Becky Hanson, there's something special about beating on a drum. It's a feeling the Clark-Lindsey Village resident has known since she played the bass drum in high school band, and it's one she gets three times each week as she leads fellow residents in singalongs in the hallways of the retirement home."I love beating on the drum," Hanson said. "If you can beat on the drum, it kind of releases you."
For the last year or so, Hanson and Ron Black have led singalongs at Clark-Lindsey, starting when Black took his guitar to a public room in the facility.
Black strummed on the instrument he learned as a kid, playing the songs that his fingers haven't forgotten since his days playing in a dance band.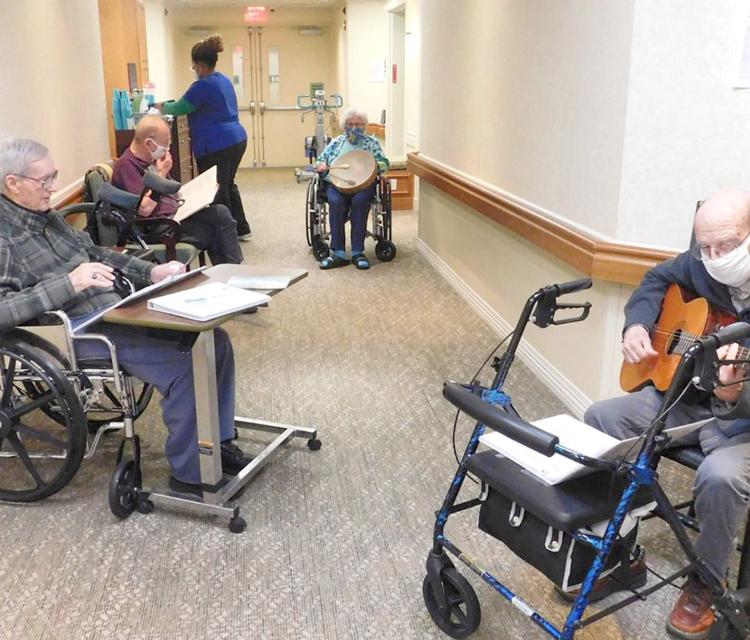 "I just started playing, and people started singing," Black said, "and it just started picking up all on its own."
The pandemic hasn't stopped Black and Hanson from playing, even though it's changed the format of their singalongs. At 4 p.m. four days a week, either Black or Hanson will lead that day's session in the hallway, where seven to eight fellow residents will sit on chairs and belt out classic melodies like "You Are My Sunshine," "On Top of Old Smoky" and "A Bicycle Built for Two."
On Fridays, they both play, Hanson banging on her homemade drum and Black strumming the guitar and singing.
"We wanted to continue to keep the opportunity there to allow them to continue to do what they love and what we enjoy participating in," said Nancy Vinson, Clark-Lindsey's life-enrichment supervisor. "The only way to do that was to put them in the hall and keep them going."
In a time when Black and Hanson stay in their apartments most of the day, not allowed to leave the facility or take visitors, they're still able to share the release of music. To Vinson, that's incredibly important.
"We want them to continue their love for music and their ability to play," Vinson said. "During this COVID time, life doesn't have to come to a halt. We're trying to maintain as much of a norm as we can.