COVID-19 pandemic
Sunday Special | Impact of coronavirus on local sports community, part VIII
The sports world is still on hiatus because of the global health threat caused by the coronavirus pandemic. As he will until the crisis subsides, sports editor Matt Daniels spent the week telling the stories of those affected by the pandemic in a variety of ways.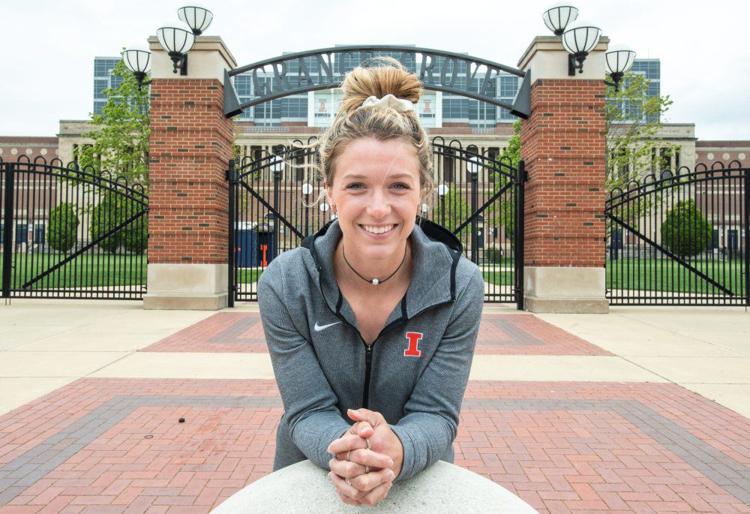 THE GRADUATING ILLINOIS ATHLETE
'It's been a really, really incredible experience'
Taylor Edwards had a big family dinner set for Saturday afternoon back in her hometown of Arcola.
Nothing elaborate for the 23-year-old two-sport athlete at Illinois. Just some of Lisa Edwards' best cooking.
"We'll celebrate," Edwards said. "Just a chance to get together and reflect a little bit."
This weekend was slated to mark an important milestone for Edwards. Walking across the stage at Memorial Stadium to be recognized for her master's work in recreation, sport and tourism. It's the same major she received an undergraduate degree for last May, so she's experienced the feeling of getting her diploma and the euphoria of a college graduation ceremony.
Yet she knows she's missing out on not getting the chance to participate at the same event in 2020. Illinois was supposed to hold commencement ceremonies on Saturday, but they weren't held in-person because of the coronavirus pandemic.
"When you reflect on graduation and you're in the moment of walking across the stage, you're constantly being reminded how great a school the University of Illinois is and finally realizing you accomplished obtaining a degree from one of the best schools in the nation," Edwards said. "It kind of shifts your focus from sports and athletics to what is something you really get to be proud of. You reflect on that with all of your peers and classmates. It really is a special moment. Even though I still got a chance to walk for my undergrad, I still feel a little bit at a loss just because I have different peers and different colleagues that I could have shared that moment with."
Edwards received the UI's Big Ten Medal of Honor on Thursday, an award dating back to 1914 that recognizes one male and one female student-athlete from the graduating class of each Big Ten school that demonstrates excellence on and off the field throughout their college career.
It's one of many accolades Edwards has achieved during her five years at Illinois, the first four of which were spent pitching for the Illinois softball program and the last one spent as a member of the Illini women's basketball team.
The 5-foot-7 right-hander compiled a 37-19 record with a 3.41 earned run average during her Illini softball career, making 61 starts and throwing 357 2 / 3 innings. Her role on the women's basketball team was much less significant, playing in six games and scoring two points this past season, but she is glad she used her final season of eligibility towards one of the four sports she played in during her time at Arcola.
"I remember telling myself to enjoy it as much as I could because I knew it was going to go by so fast," Edwards said. "Just knowing I didn't have a full year with the girls and it was only going to be about nine months, I really wanted to savor it. The season is long and it's a grind, but I really tried to slow things down. In the midst of that, I really had so much pride for Illinois and I was really thankful for the chance to get to do it."
The path to Illinois is one Edwards didn't initially think she would travel when she was in high school.
"Honestly, for me, I had always aspired to go away for school," Edwards said. "Prior to graduating from Arcola, I was done with the cold. I wanted to get away. I knew, because I had planned on playing softball, that the opportunities would be better in warmer states. I looked into going into Texas, Baylor and Florida. This was before Illinois ever came along or started recruiting me."
But once the Illini showed some interest in Edwards and she visited the campus, she was sold.
"They were the first school to offer me any kind of scholarship," Edwards said. "Once I got on campus and saw the opportunities there, I fell in love, and I never really considered going anywhere else. When I take a step back and think about the what-ifs — had I gone far away or if I had gone to a different school — I don't think I'd ever go back and re-do the decision because it felt like immediately I was embraced by my teammates and my coaches. That's not to say everything was easy, but even when it got hard, I knew I had my family close and had such a strong support system. It's been a really, really incredible experience."
Moving forward, Edwards is weighing her future options. She ultimately wants to work on the administration side in college athletics, but is deciding whether she wants to pitch for a team in Switzerland later in 2020.
The opportunity came up last year, but Edwards decided she wanted to pursue the college basketball route before her time at Illinois ended.
"I forgot about it for a while, and when it came time to make plans for the future and what was next, I really have a knack to travel and make the most of being young," Edwards said. "I reached out to the coaches over there to see if they would still be interested in me coming over and pitching for them. I told them that as soon as the basketball season ended, I would start training again and they were happy to welcome me to join them. I was actually committed to doing that in January and then the pandemic broke out. We're just kind of waiting to see what travel restrictions get lifted."
For now, she is spending time with her family in Arcola and spending some more moments in Champaign given the short commute to her hometown. She's catching up on running, listening to a variety of podcasts and even trying to learn the guitar, with younger brother Beau giving her lessons.
"I'm trying to become a little bit musically-inclined," she said with a laugh. "I can't say I'm too far along, but I have been trying to pick that up."
If the past five years have shown anything about Edwards, she's a quick learner. A dedicated teammate. A model student. And someone who will always cherish her time at Illinois.
"When I think back to the days that I was aspiring to be a Division I athlete and compete at the highest level, that came from just watching other athletes compete on TV and just being in that moment where you're locked into the game and your teammates are counting on you," Edwards said. "I remember getting to be a part of those big moments on the softball team. It fulfilled and confirmed that I was exactly where I needed to be."
---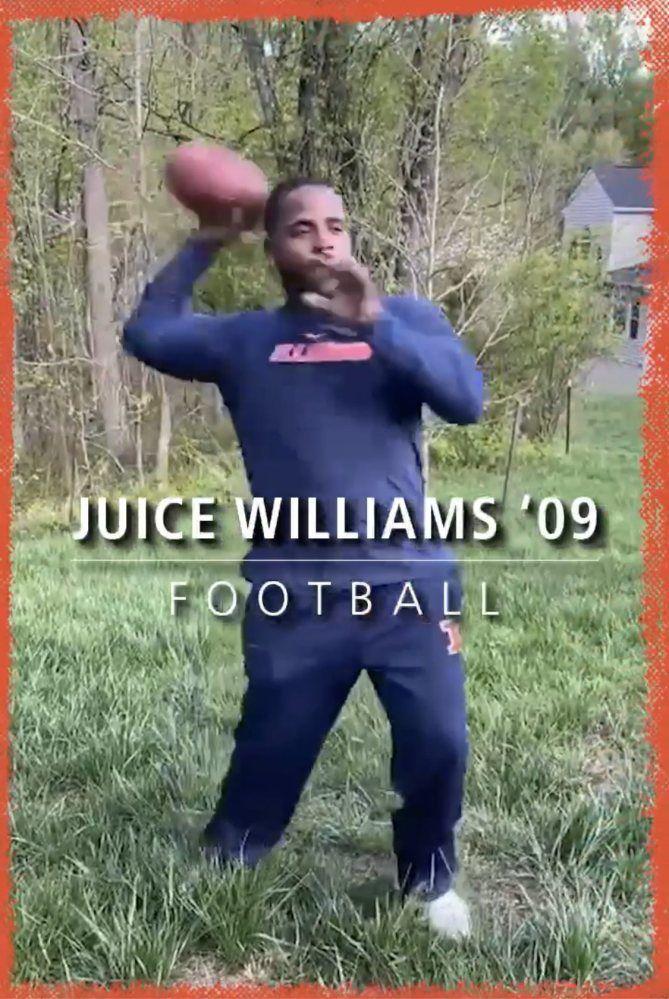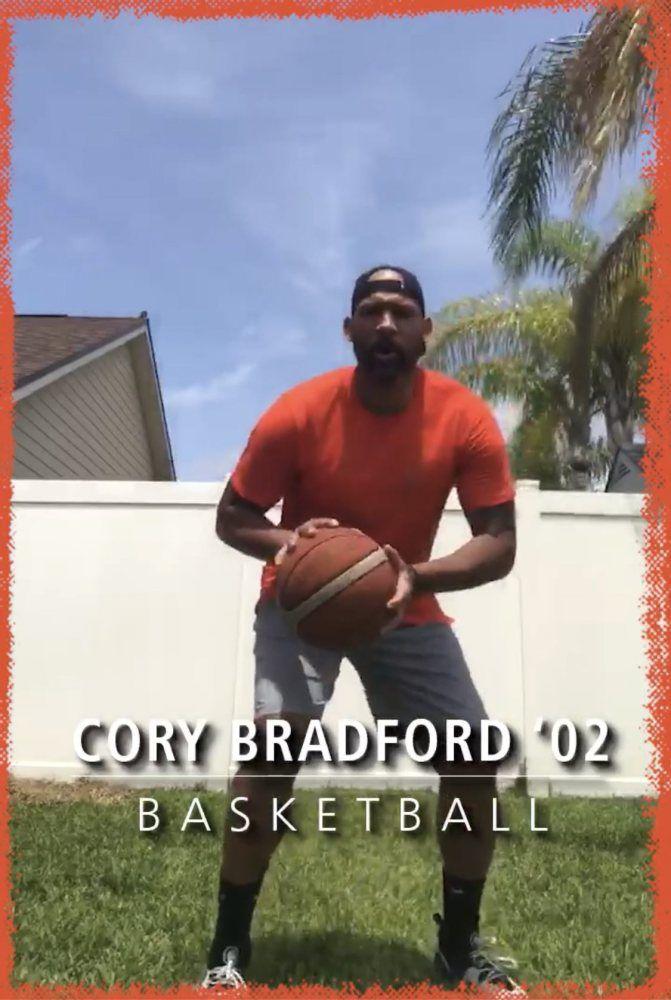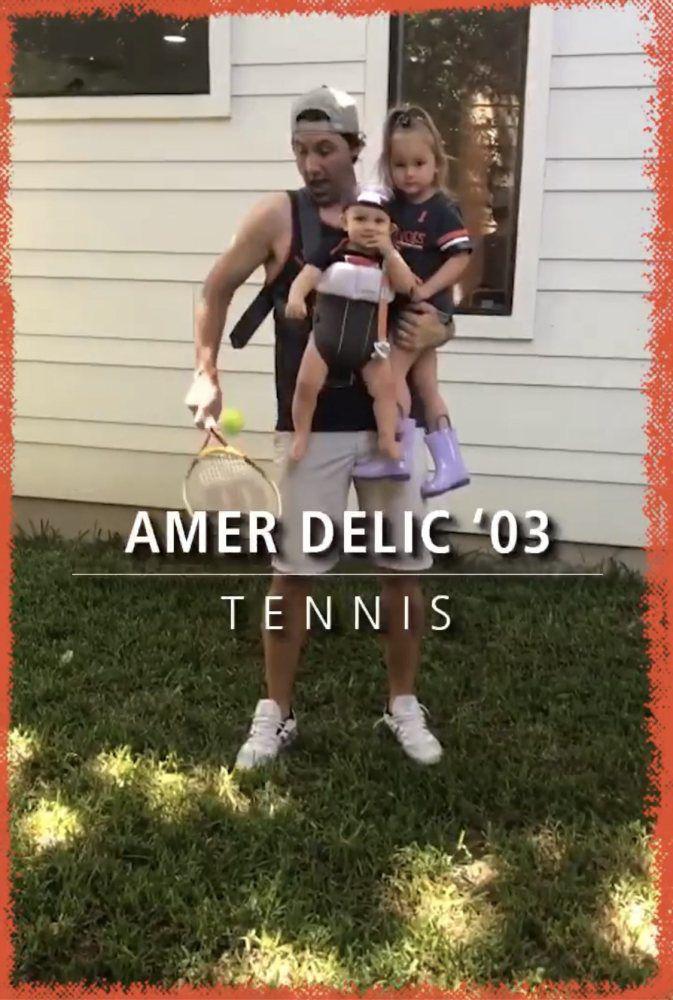 THE VIRTUAL GAME OF CATCH
'Better than I could have ever imagined'
The video lasts only 72 seconds and took three weeks to put together.
But for Grace Duggan, the 27-year-old social media strategist for the Illinois athletic department, the finished product exceeded her expectations.
"It sounds cheesy," she said, "but the video reminds me of the purity of sports and the happiness they bring."
Illinois sports, obviously, are missing this spring because of the coronavirus pandemic. But Duggan helped follow through on an idea that former standout Illinois quarterback Juice Williams sent her. He wanted to have former Illini athletes engage in a game of catch — albeit virtually — to try and lift people's spirits in these uncertain times.
Williams reached out to Duggan on the Illini athletics Instagram account with a video he saw from the Oregon athletic department that he thought Illinois could possibly replicate.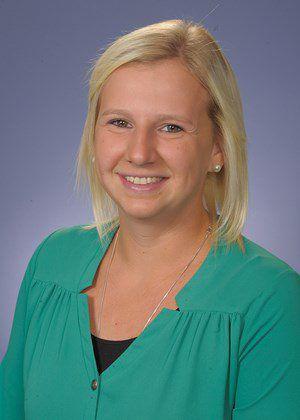 "I really liked the idea," Duggan said, "and thought that having an all-alumni version would be really fun to put together."
So Duggan, along with Williams, went to work.
"Juice began to reach out to alumni within his circle and I began reaching out to other alumni on social media," Duggan said. "Every single alumni that responded was an immediate, 'Yes, I'd love to do this,' and followed up with a, 'Thanks for thinking of me.'"
The video features 13 former Illini — Williams, Amer Delic (men's tennis), Vanessa DiBernardo (soccer), Cory Bradford (men's basketball), Jordyn Poulter (volleyball), Jenna Smith (women's basketball), Darrin Fletcher (baseball), Perdita Felicien (women's track and field), Allie Bauch (softball), Mike Poeta (wrestling), Giana O'Connor (women's gymnastics), Dylan Meyer (men's golf), Louise Kwong (women's tennis), Kendall Gill (men's basketball), Nicole Evans (softball) and Katie Murray (soccer) — all playing a game of catch.
Williams starts it off, tossing a football, followed by Delic bouncing a tennis ball on his racket before delivering a forehand.
The process continues for each athlete, concluding with Murray juggling a soccer ball.
"The concept is pretty simple: catch a ball from your right, say, 'Go Illini,' and toss the ball to your left," Duggan said. "Each alumnus only sent one video and that was really all we needed."
Once Duggan had all the videos, she relied on Leah Bodin from Fighting Illini Productions to put together the final product, which was published on May 9.
"I sent them to Leah with my notes," Duggan said. "She ran with the project and put together a video that was better than I could have ever imagined."
---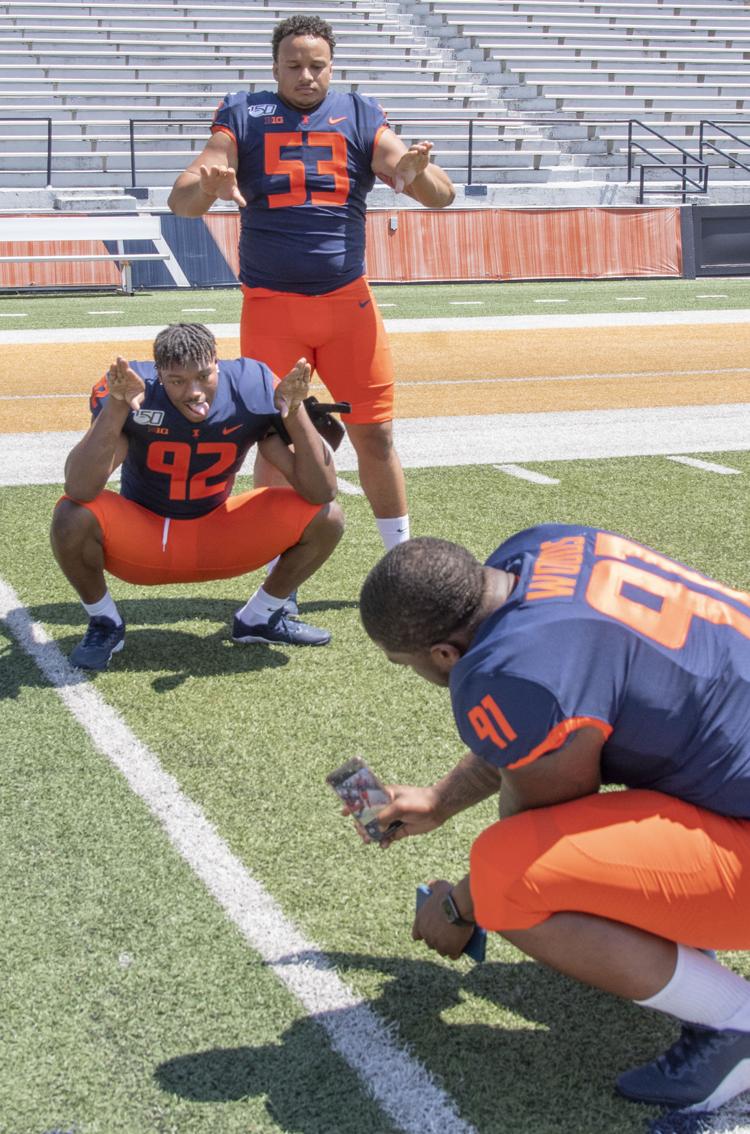 THE ILLINOIS FOOTBALL PLAYER
'I definitely want the season to start on time'
Kendrick Green felt like he had to cough the other day when he was doing some shopping at Wal-Mart.
A moment that, more than two months ago, he never would have thought twice about.
Such is the time living amid the coronavirus pandemic, even for a starting offensive lineman at Illinois like Green is.
"I was like, 'Man, you better hold that in,'" Green recalled. "I didn't want everybody looking at me like I had the virus. It's definitely different."
That's an understatement. For the 6-foot-4, 310-pound Green, this spring was supposed to see him get 15 workouts in with his Illini teammates on campus in Champaign. Instead, those workouts were canceled before they ever got started. Now, it's unclear if Illinois will start its season on time with the opener against Illinois State on Sept. 4 less than four months away.
"I feel like spring ball is where I always make my biggest jumps," Green said. "That's the time I don't have to worry about getting ready for another team. I can just work on my basics. That's where I can improve."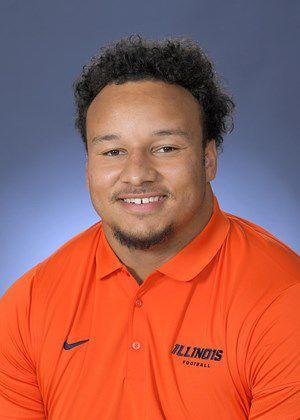 Green has started the last 25 games for Illinois, mainly at left guard. He is one of four returning offensive line starters, along with center Doug Kramer, right tackle Alex Palczewski and left tackle Vederian Lowe.
The Peoria native has spent most of his time the last two months in Champaign, but has made the 90-mile trip back to his hometown a few times.
He and Illini defensive tackle Jamal Woods have bought bikes, checking out places in C-U they had never noticed. Like the gardens at the Japan House in Urbana.
"I had never seen that before," Green said. "We rode by and checked that out. That was pretty cool. We just go on some insane bike rides, mainly out of boredom."
One of the strongest Illini on Lovie Smith's roster, Green is missing the weight room at the Smith Center. He's doing workouts from home, relying on pushups heavily, along with jumping rope and running up and down his block.
He's even pushed a truck.
And lifted some heavy rocks, too.
"It's kind of getting old," Green said. "Some days I'm doing none and taking a day off. Some days I've done over 300 pushups. Running is always tough for me, but I've pushed through a few miles before. I'm ready to actually get access to a weight room and keep progressing on my body like we had all made during the offseason and keep building with that. This pandemic is slowing us down."
Green is hopeful summer workouts can take place. Right now, the Big Ten has placed a moratorium on all organized team activities for every program through June 1.
"The summer is always huge for us to get in shape and ready for camp," Green said. "That's almost more important than having training camp. It's a time to build your body up. The season is not going to do anything but tear it down, so you want to build that armor up because you're going to get worn out during the season."A season that will likely be unlike anything the 22-year-old Green, who also wrestled and played baseball in high school at Peoria, has ever seen. Or experienced.
"I've heard things about us playing football in February. On a team with a bunch of guys from Florida, I don't think that's going to go over too well," Green said with a laugh. "I definitely want the season to start on time."
If it does, it may take place without fans in the stands. Green has a hard time wrapping his head around the fact no one may be in attendance at Memorial Stadium.
"No fans at the games would be kind of insane to me," Green said. "That's just like a really big scrimmage, I guess. The fans are a huge part of the game. Say we have a big play or a big hit, and all you would hear was the sideline? I don't know, man, but it'd be different."
---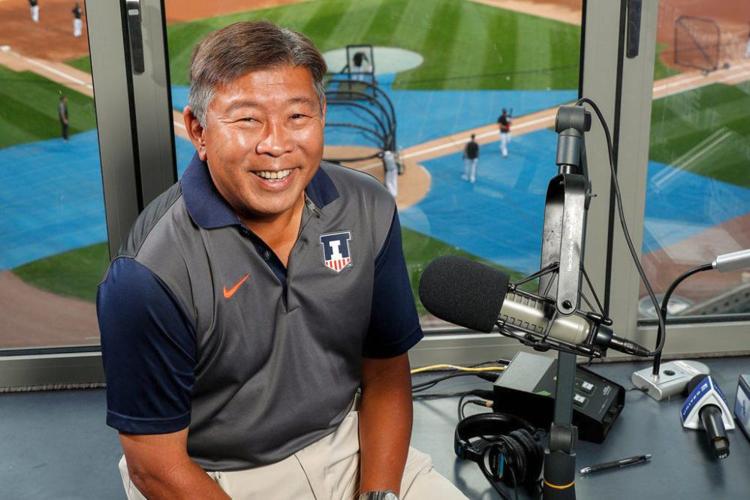 THE PUBLIC ADDRESS ANNOUNCER
'I'll feel very relieved to get back in and see a stadium again'
Gene Honda saw, up close and personal, a sight this past week he likely didn't think he would have two months ago.
The Blue Angels doing a flyover of Chicago, with the Navy pilots passing overhead at his apartment in the north side of the city.
"I got a beautiful view of that," Honda said in his deep, baritone voice that is so familiar to thousands of sports fans. "I saw them from my patio."
The 65-year-old Honda is doing well health-wise amid the coronavirus pandemic, but the public address voice for the Chicago White Sox, Chicago Blackhawks and Illinois football, has mostly stayed inside since mid-March.
"I've got a pizzeria across the street and a Chinese restaurant a block away," he said. "If I really need the exercise, there's a grocery store four blocks away."
Of course, these life events he's talking about underscore the fact Honda hasn't set foot inside Guaranteed Rate Field this Major League Baseball season for a White Sox game. Or inside the United Center since early March for a Blackhawks game. Or at the Final Four in Atlanta in early April, where he was set to handle his normal PA duties at that sporting event.
And who knows when he might get to venture down to Memorial Stadium in Champaign, where he attended college at Illinois, for an Illini football game in 2020.
"Sports seemed to really bring attention to this period that we're now in," Honda said in reference to the NBA suspending its season on March 11 and the NCAA tournament getting canceled the next day. "In an odd turnabout, it's going to be sports that brings us out, too. Whichever league starts first — and you shouldn't pin a badge on whoever starts first — will be of such relief that you probably will have people watching the sport that never have in the past."
Honda said he is staying connected to co-workers via Zoom.
"Once a week, a bunch of us with the White Sox have been having a Zoom happy hour," Honda said. "The shortest one has been an hour and a half. It's wonderful because those are the people you miss the most."
With no sports that he does voice work for, Honda said he has had some other voiceover opportunities, plus his regular work with PBS as well, to fill some of his time.
"They haven't been kicking my door down," he said, "but I've been getting some requests."
Honda has worked White Sox games since 1985 and done the same for Blackhawks games since 2001. He's seen both franchises achieve the ultimate thrill of earning a title, with the White Sox winning the World Series in 2005 and the Blackhawks hoisting the Stanley Cup in 2010, 2013 and 2015.
Whenever he does return to work and sees what will likely be empty stadiums and arenas, he knows he'll think the same thoughts of others at first.
"You might look around and go, 'Huh?'" he said. "Once the game starts, though, your habits and experience will kick in. Whether there's no fans or 40,000 fans, you're going to take it as a game and get into the zone of the game."
Technology and the advancement of what scoreboards can show during games has changed how Honda goes about his job through the decades.
But he's adapted. And is still one of the most well-known PA voices in the country.
"There's two things about my job: One is that I hope I'm still walking by the time I get to go back to my jobs," Honda said with a hearty laugh. "But two, my job is to give you relevant information. I've been lucky, whether it's basketball, hockey, baseball, football or any other sport, you tend to get tunnel vision once you start working."
Once the health situation improves and Honda is able to leave for work at a White Sox game, Blackhawks game or Illinois football game, he already knows what emotion he'll experience.
"I'll feel very relieved to get back in," Honda said, "and see a stadium again."
---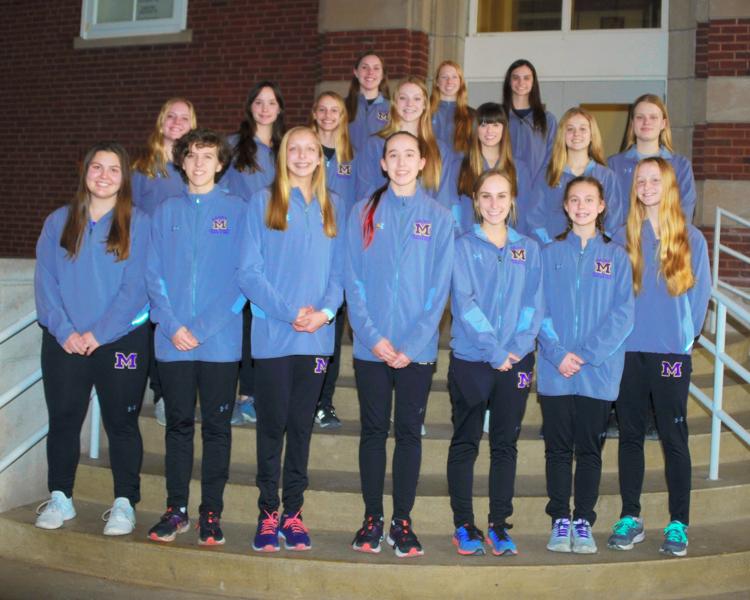 THE HIGH SCHOOL TEAM
'The potential was there to win a state title'
Cully Welter could already picture the scene.
Sunny skies. Warm temperatures. A look of excitement and anticipation on the faces of the Monticello girls' track and field athletes he coaches, with the Sages getting ready to hoist history into the air on a late Saturday afternoon in May in Charleston.
"The potential was there to win a state title if we competed to our capabilities," Welter said.
Except the aforementioned scene at O'Brien Stadium won't get to become reality next weekend on the campus of Eastern Illinois University. The girls' state track and field meet, which was scheduled for this upcoming Thursday through Saturday, was canceled last month in response to the coronavirus pandemic, denying the Sages a shot to win their first-ever state title in the sport.
Optimism was high around the Sages this outdoor season. Rightfully so after Monticello finished third at last year's Class 2A state meet, with key returnees in seniors Emelia Ness and Mattie Lieb, among others, set to lead the way.
Instead, all the Sages can look back on in 2020 is a handful of indoor meets and missed opportunities to cement their legacy state-wide on the outdoor scene.
But Welter said the seniors that didn't get the chance to compete during the outdoor season have already left an impression for future Monticello teams. The group continued the run of success during their high school careers, with Monticello winning five straight sectional titles from 2015 to 2019.
"They have been the nucleus of the greatest six-year stretch for girls' track and field in school history," Welter said. "More importantly, they have been a pleasure to coach these past four years. They came into a successful program and although they made their mark right away, they were appropriately deferential to those who had already established a winning culture. They became leaders of the program, managed to avoid complacency and have actually continued to improve each year. They will be the standard by which all future teams are measured in terms of overall success."
Once Welter and the Sages found out their season was canceled, the veteran coach offered up words of encouragement in a trying situation. Especially to the seniors.
"I was empathetic because this is a group that really embraced all of the positive qualities of high school athletics, and I know how much they were looking forward to this season," Welter said. "They have already accomplished a lot, individually and collectively, and they should be proud of those achievements."
This past Thursday was supposed to see Monticello in action at the Mattoon Sectional, with the expectation a strong contingent of Sages would return to Coles County next week for the state meet. How much does Welter wishes he were making multiple trips south next week?
"That is definitely an understatement," he said. "It still seems a little unreal and, to be honest, I try not to think about it too much."
Nor does he spend too long contemplating what the fall sports scene might look like now, too. Welter is about to enter his 12th season coaching Monticello's football team. His previous 11 teams have all reached the playoffs, including the 2018 team that went undefeated at 14-0 and won the program's first state title.
"We constantly preach about the small window of opportunity we are given to participate in high school athletics and encourage kids to make the most out of every moment," Welter said. "In a small school, there are a lot of kids who play sports in the spring and the fall. I would hate for some of them to have to experience this again."
But Welter is trying to stay optimistic that Monticello football will kick off its 2020 season on time at 7 p.m. on Aug. 28 against Olympia on Monticello's home field. No sports this spring in the Piatt County town of roughly 5,500 is already leaving a void.
"Extra-curricular activities comprise a higher percentage of the identity of smaller communities, but I think there is a great connection between participants and community members because there is a greater familiarity with each other," Welter said. "Hopefully we get to play and we use these circumstances to recognize that participation is a privilege."
---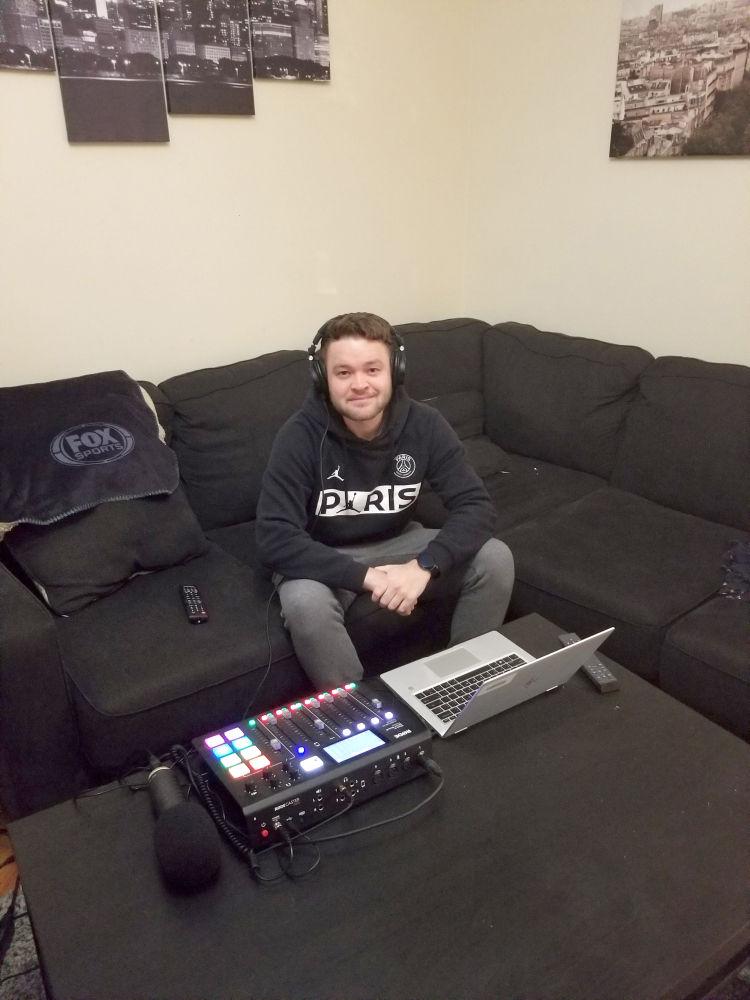 THE SOCIAL MEDIA PRODUCER
'We can turn some of the negative effects of the pandemic to positives'
Growing up in Champaign, at the height of Illinois basketball popularity, Alex Roux had a dream assignment planned for the third weekend of March.
Conducting a live stream social media broadcast of former Illini great Dee Brown watching the Illini's first-round NCAA tournament game from the digital studio at BTN's office in downtown Chicago.
"Needless to say," Roux said, "it was disappointing that never became a reality."
Blame the coronavirus pandemic, which canceled the NCAA tournament and altered plans the 26-year-old Roux — who has worked at BTN for 3 1 / 2 years as its social media producer — had lined up this spring.
The 2012 Champaign Central graduate and 2016 University of Illinois graduate was set to help BTN provide coverage at the Big Ten tournament in Indianapolis in mid-March and at the Final Four in Atlanta during the first weekend in April.
Instead, he's hunkered down in his Chicago apartment, still producing content for BTN on its variety of platforms during the pandemic.
"We've recognized that we can turn some of the negative effects of the pandemic to positives, knowing that a lot of prominent Big Ten personalities' schedules have suddenly opened up and that a tool like Zoom is now almost universally accessible," Roux said. "We also have a deep archive of footage, so we've re-purposed old highlights and had Big Ten legends Zoom in to virtually reminisce on them."
Roux, who also hosts BTN's 'Take Ten,' podcast, has caught up with former Wisconsin men's basketball standouts Frank Kaminsky, Sam Dekker, Ben Brust, Zak Showalter and Josh Gasser to recount their memorable 2014-15 season that ended in the NCAA championship game, along with former Michigan men's basketball coach John Beilein, former Iowa tight end T.J. Hockenson (now with the Detroit Lions), former Nebraska running back Ameer Abdullah and current Illini men's basketball player Giorgi Bezhanishvili, among others, during the pandemic.
Even without conducting in-person interviews the last two months, Roux said the feedback he's heard from the variety of guests he's talked to is positive.
"It's already changed people's comfort level, including my own, when it comes to recording conversations at home and on camera," Roux said. "Where I would have suggested a phone interview before, I'll now suggest a Zoom video call. It's changed our output on Twitter, Facebook and Instagram as well. If someone says something interesting on those Zooms, we've found fans respond better to seeing the subject say it on video rather than hearing an audio quote over B-Roll."
Before the pandemic struck, too, Roux was enjoying watching his alma mater have a successful basketball season again. The play of Ayo Dosunmu, Kofi Cockburn and others on the Illini roster made the trash-talking around the BTN office a little less noticeable in Roux's direction.
"It was great to follow, especially since quite a few co-workers have given me a hard time the last 3 1 / 2 years as alums of other Big Ten schools," Roux said. "Illinois had a likeable team that resonated with observers beyond its fan base, and it showed. People at the office and in our social media mentions usually had positive things to say about Ayo, Kofi and the rest of the guys. The most common theme I heard was, 'It's good for the conference to have Illinois basketball back.'"
Of course, Roux missed out on watching Illinois in the NCAA tournament. And seeing what Brown would have said about the team's play in its first-round game.For now, though, he's making the most of the work opportunities he has from home, setting up his makeshift office with his coffee table serving as his new desk and his living room couch his new work chair.
"The day before the stay-at-home order took effect, I was able to grab some audio equipment from our studio downtown, which has been a lifesaver while recording content and interviews," Roux said.
Plus, the former Champaign Central boys' basketball player is staying in shape this spring with more time to get in some runs.
"I'm passing the time with a lot of binging TV shows, a lot of podcasts and a lot of running," Roux said. "I think I've covered most of the north side of Chicago by now while running as a way to stay in shape and get out of the house."
---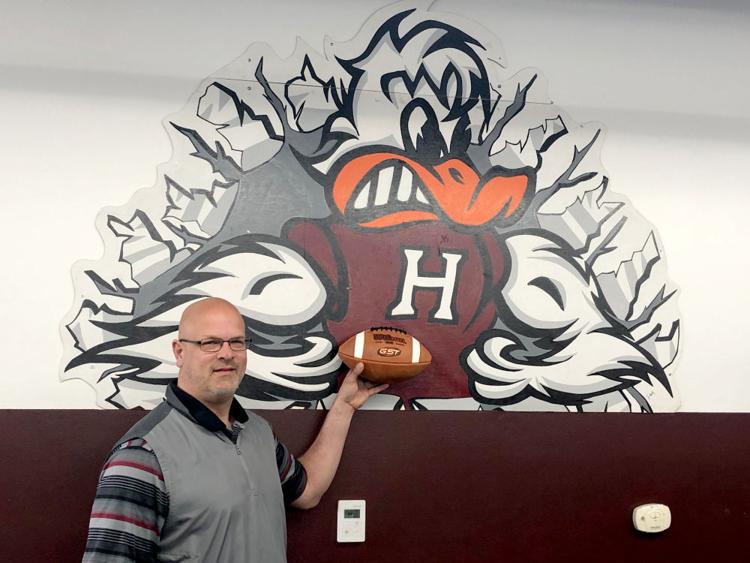 THE NEWLY-HIRED FOOTBALL COACH
'I'm just excited that I have the opportunity'
Sitting six feet apart from three other people in a board room at Havana High School that he recently just met, Matt Leng started to get a good feeling.
The former Fisher football coach was in the small Mason County community of roughly 3,300 residents last month for the first time, hoping to stand out enough in an interview with Havana Superintendent Mathew Plater, Havana principal David McKinney and Havana athletic director Nathan Brady to become the school's new football coach and join the staff as a teacher, too.
"It wasn't an interview, though," Leng said. "It was just us talking. We got to share ideas and philosophies. The banter among us four was really, really good."
Leng left the meeting still with a good feeling. He took a tour of the school. Checked out the football field and other facilities.
"I knew when I walked out of there that day," Leng said, "that I wanted to be the head football coach there."
He'll get the chance.
Havana approved the hiring of Leng as its next football coach at its April 21 board meeting.
The 48-year-old Leng plans to move from Rantoul, a place he's called home the last 20 years, to the town roughly 100 miles from Champaign County by the end of June.
"I never thought that I would be in this situation, but to be able to do this one more time, is really a blessing," Leng said. "For me and my DNA and where I'm at in my life, it's where I want to be and caters to my ability. With everything that is going on in the world, there's a lot of uncertainties, but I'm really, really thankful."
Leng compiled a 69-68 record in 14 seasons coaching Fisher, guiding the Bunnies to the Class 1A state quarterfinals in 2005 for the program's best postseason run. He stepped aside at Fisher after the 2015 season before coaching in an assistant role at Rantoul during the 2017 and 2018 seasons.
He took the 2019 season off from a coaching role, but a February conversation with Fisher principal Jon Kelly, a former assistant coach on Leng's staff with the Bunnies and the school's athletic director when Leng resigned in 2015, played a difference.
"As we're sitting there talking and reminiscing, he goes, 'I think you have enough fuel in the tank to do it one more time,'" Leng said. "That's when I got really inspired and motivated. I started looking around. Out of the clear blue, I sent my stuff to Havana. They called me up and the rest is history."
Kelly is glad to see Leng will get another chance to lead a high school football program.
"I am excited for Matt and this new opportunity that he has in front of him," Kelly said. "I think it could be a really good fit for him. He is passionate about coaching kids and teaching them about the game of football. I got the feeling his fire for coaching has been reignited."
Plater said he was pleasantly surprised to receive Leng's resume last month.
"We are in a teacher shortage in Illinois, and to be honest, many times districts are forced to take who they can find — a body — instead of the rock star educator we would all love to have," Plater said. "After looking over his materials and doing a little research on his past at Fisher, we got very excited to have a shot at more than just a body to fill a position. Of our handful of applicants, he was the only veteran applicant with a proven track record of success."
Of course, becoming a new coach at a new school in a new town amid a global health pandemic that we're all living in presents some challenges for Leng. Havana is coming off a 5-5 record last season, with the Ducks reaching the playoffs for the first time since 2012. Leng hasn't met any of his new players yet, but has had the chance to interact with some assistant coaches at Havana.
No plans are in place currently for any summer work since the Illinois High School Association has said summer contact days are on hiatus because of the coronavirus pandemic.
"That's a little nerve-wracking but everybody is on the same playing surface in Illinois," Leng said. "We don't know if we're going to be playing football in September or in March or April or whenever. We don't really know right now, but I'm not too stressed out or worried about that. I'm just excited that I have the opportunity."