It's not a full-fledged stay-at-home order, Gov. J.B. Pritzker stressed Tuesday, but the new rules that take effect at 12:01 a.m. Friday across Illinois come with some of the same mitigation measures that bogged down business in the spring.
"The best way for us to avoid a stay-at-home order is to stay home," Pritzker said in announcing the state's Tier 3 resurgence mitigation plan Tuesday in Chicago.
He repeated a line Illinoisans likely haven't heard the last of: "If you don't need to do it, don't do it."
That especially goes for interacting with people outside your own household.
Rather than spending Thanksgiving with extended family, "we are asking people to choose Zoom," Pritzker said. And, "you should not attend dinners, events, gatherings or meetings outside your own household."
"To be very clear," Pritzker added, "we are relying on you here. Nobody will go door-to-door to check on you. But we're asking people to hold themselves and each other accountable."
Among the new rules, which can be read in full at news-gazette.com:
— For those who may be running low on toilet paper: Retail stores — including "big box" brands that sell groceries, like Walmart and Meijer — will be limited to 25 percent capacity, the same as health and fitness centers.
— Grocery and convenience stores will be limited to 50 percent capacity.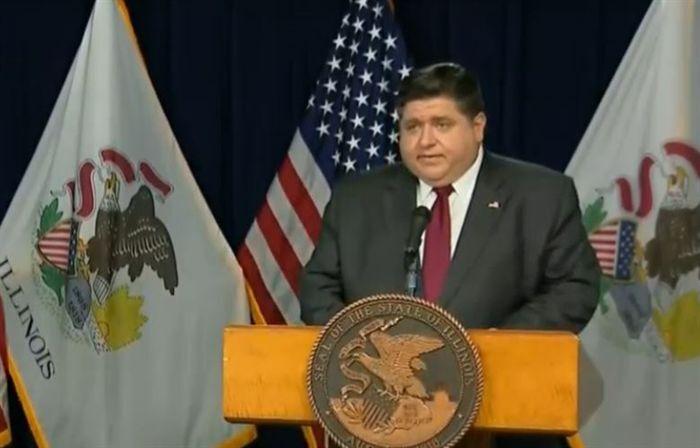 — Personal care services must operate at the lesser of 25 clients or 25 percent of capacity but can remain open as long as everyone wears a face covering throughout the appointment.
— Bars and restaurants must shut down at 11 p.m. and not reopen before 6 a.m. As has been the case under Tier 1 restrictions in East Central Illinois, no indoor dining is allowed.
— Also forbidden: all indoor group sporting and recreational activities; the use of video gambling terminals; and gatherings in meeting rooms, banquet centers, private party rooms, private clubs and country clubs.
— Closed: all indoor recreation centers — theaters, performing arts centers and indoor museums.
— Funerals are capped at 10 family members.
As for schools, Pritzker said the decision whether to offer any version of in-person learning would be up to local districts. Last week, Champaign County schools were advised by C-U Public Health Administrator Julie Pryde to pivot as soon as possible to all-remote learning, through Jan. 5.
Some did (Unit 4, Rantoul elementaries, schools in the Catholic Diocese of Peoria). Many others resumed in-person learning this week, with plans to reassess in the days ahead whether to switch following Thanksgiving break.
Pritzker also pleaded with employers statewide to keep workers at home in the weeks ahead if possible.
"All workplaces that have remote capabilities should have their employees work remotely," he said. "If you are able to work at home, you need to do so."
Unlike previous 30-day orders, the plan unveiled Tuesday has no set end date, with the data determining how soon rules can be relaxed in individual regions, Pritzker said.
To move out of Tier 3 and onto the less-restrictive Tier 2, according to the state, a region must meet three criteria:
— A seven-day average positivity rate below 12 percent for three consecutive days.
— Greater than 20 percent available ICU and hospital bed availability for three consecutive days.
— Declining seven-day COVID hospitalizations average in seven of the last 10 days.
And if the rules don't bring down positivity rates and hospitalizations?
"If these measures don't start to bend this curve, it is clear that we're going to have to take more difficult measures and go to a stay-at-home order," Pritzker said.
The new rules came on the same day that the state announced 12,601 newly confirmed cases, 97 additional deaths and, most troubling of all, rapidly rising hospitalization numbers.
As of Tuesday, state public health Director Dr. Ngozi Ezike said, one out of every four patients hospitalized in Illinois had COVID-19 — "and that number is only going to grow," she added.
"The second wave is now here," Ezike said, and "it's more dire than what we saw in the spring."