For 24/7 coverage, follow us on Twitter, Snapchat, Instagram and Facebook.
Tom's Mailbag: Submit your question here
Champaign County Health District: COVID-19 information
State map: COVID-19 cases by county
Have a story to tell? Email news@news-gazette.com.
***
A day after area golf courses draw large crowds, the state has shut them down.
The Illinois PGA said on Twitter: "Despite an interpretation stating that golf courses could remain open during the Stay at Home Order, the state of Illinois is now prohibiting golf courses from opening. Golf course maintenance & carry-out service for club restaurants is permitted."
Courses that were open today include Lake of the Woods in Mahomet, Willow Pond in Rantoul and the UI layouts in Savoy.
****
IROQUOIS COUNTY MAN TESTS POSITIVE
Carla Waters of Community Media Group's Iroquois County Times Republic reports that a man in his 50s is the first confirmed case of COVID-19 in Iroquois County.
Dee Ann Schippert, Iroquois County Public Health Department administrator, made that announcement at a press conference this afternoon.
The man was tested March 23 by a medical provider.
"The individual is a man in his 50s located in Iroquois County," she said. "The individual is at his home, is doing well and is cooperating with public health officials. He will remain in isolation per Illinois Department of Public Health guidance until he is released by the Iroquois County Public Health Department. At this time, we are not releasing an additional details on the individuals. We are expecting his privacy."
****
CHAMPAIGN CO. TOTAL NOW 10
Champaign County has two new COVID-19 cases — a woman in her 30s and a man in his 50s — local officials said Thursday.
That brings the county total to 10.
More than 2,500 people in Illinois have confirmed cases of the new coronavirus, with 673 more confirmed Thursday, according to the Illinois Department of Public Health.
And seven more people have died from the COVID-19 disease, bringing the state total to 26.
Gov. J.B. Pritzker pleaded with Illinoisans who used Thursday's rise in temperatures as a green light for "hosting parties, crowding down by the lake or playing a pickup basketball game in a public park," thereby "spitting in the face" of healthcare workers.
"Throwing all caution to the wind in the midst of a deadly pandemic is not acceptable," he said during today's daily COVID-19 briefing in Chicago.
"I am begging you: Please, if you don't have to be out, stay inside."
****
WORLDWIDE TOTAL: 500,000
The number of people around the world who have contracted coronavirus has surged past 500,000, based on a count kept by Johns Hopkins University.
That news from AP comes as U.S. deaths from the pandemic have now topped 1,000, in another grim milestone for a global outbreak that is taking lives and wreaking havoc  on economies and established routines of life. Worldwide, the death toll climbed past 22,000, according to Johns Hopkins University's running count.
A record-high number of Americans applied for unemployment benefits last week as layoffs engulfed the United States in the face of a near-total economic shutdown caused by the coronavirus. The surge in weekly applications for benefits far exceeded the previous record set in 1982.
****
PLAYGROUNDS CLOSED
A clarification from the Urbana Park District about what's open (its parks) and what's off-limits (playgrounds of all types):
"This week, we put up signage advising people not to use the playground equipment due to CDC recommendations. We are now emphasizing that this is not an 'ask,' this is an order from the governor," UPD public information and marketing manager Mark Schultz said today in an email.
Playgrounds were among the facilities ordered to close in Gov. J.B. Pritzker's statewide stay-at-home order, a list that also includes hair salons, tattoo parlors, schools, gyms and amusement parks.
Urbana's parks, natural areas and trails remain open. All programs, events and rentals have been called off.
****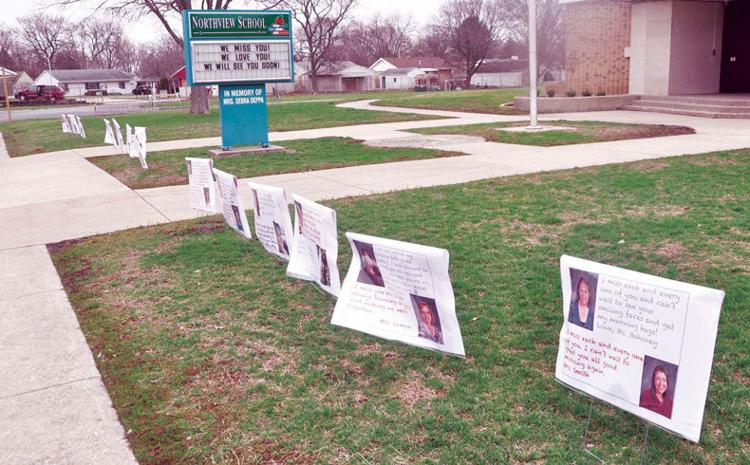 SIGN OF THE TIMES IN RANTOUL
From Dave Hinton, editor of Community Media Group's Rantoul Press:
Northview Elementary teachers wanted to find a way to stay in touch with their students during the COVID-19 hiatus, so they got inventive.
Principal Kelly Mahoney had the staff write messages to their students and print them out on posters.
The posters are displayed on the front lawn of the school, where students can walk by or drive by and read them.
"This way, they can know their teachers are thinking about them and care about how they are doing," Mahoney said.
The teachers are also keeping in touch with the students in other ways — calling their homes or writing them letters to check in on them and tell them "hi."
****
NEW NORMAL IN MONTICELLO
From Steve Hoffman, editor of Community Media Group's Piatt County Journal-Republican (and one of four people in the room for last night's Monticello school board meeting):
It was still a public meeting, but six of seven school board members attended virtually through Zoom Wednesday night, a first for the district.
The only people actually in the Monticello High School Media Center were Superintendent Vic Zimmerman, board President Gary Huisinga, school staff member Buz Sievers and yours truly.
"I thought it went as well as it could go," Zimmerman said. "It was very odd for our board members, as I think they enjoy getting together to do the district business."
Even under the current executive orders mandating that most Illinois residents stay at home, and that gatherings be of no less than 10 people, the school board meeting was still open for those who wished to attend.
Just in case, individual tables replaced the usual rows of chairs for the potential audience, with each spaced apart enough to afford suitable social distancing.
School is currently on hold until at least April 7.
****
URBANA TRAIN SHOW CALLED OFF
New additions to the list of closings and cancellations:
— This weekend's two-day Lincoln Square Village Train Show. "We'll be back next year," event chair Mike Lehman said.
— Savoy's April 1 village board meeting.
— State legislative sessions scheduled for next — the House was to meet Tuesday through Friday, the Senate Tuesday through Thursday. "For now, we are taking it day by day and urging everyone heed the advice of health care professionals by practicing social distancing, regularly washing hands and avoiding all unneeded travel," said Senate President Harmon, D-Oak Park.
****
'EXPERIMENT IN EMERGENCY INSTRUCTION'
In a Q&A with the UI News Bureau, School of Information Sciences instructor and e-learning veteran Melissa Wong weighed in on a number of topics, including the challenges of moving to online teaching in a tight time frame:
"Robust, high-quality online instruction takes time to plan and develop. Oftentimes, faculty members are given release time and paired with an instructional designer to create material and adapt their teaching approach and assignments. Currently, we have institutions saying to faculty members, 'You have five days.' Going online that quickly is challenging.
"There are legitimate concerns with whether some of these online tools can keep up with increased usage. Also, we know some students don't have access to technology they need such as a laptop and home wireless. These students had been using campus computer labs and smartphones.
"Faculty members need to ask themselves: Were students going to a coffee shop and using its WiFi? Are they now dependent on a data plan? Are they sharing one laptop with two siblings at home?
"Faculty members also are isolating at home, and many are suddenly homeschooling their own children. There are some unique struggles people are going through. This is more an experiment in emergency instruction than true online instruction."
****
CARLE: EQUIPMENT WANTED
The Carle health system said it's participating in a community-wide collection of personal protective equipment needed by health care workers and first responders throughout the community.
The priority need is for boxed, unused procedural N-95 and surgical masks, but face shields, goggles, gowns, ventilators and hand sanitizer are also needed.
Carle said it's unable to accept donations of medicines and exam gloves.
Donations of these items can be taken to the Champaign-Urbana Public Health District, 201 N. Kenyon Road, C, to the north conference room door, from 8 a.m. to 5 p.m. weekdays.
Donors are asked to call 239-7877 when they arrive, and a staff member will come out their vehicles to collect the items.
***
MORNING BRIEFS
If you haven't filed your state income tax forms, there's no hurry: On Wedneday, the deadline was pushed back three months, to July 15. If you have filed, don't worry: The state plans to continue processing refund checks on schedule.
Hoping to give small businesses and a sagging economy a boost, state officials also announced three new initiatives — including the Downstate Small Business Stabilization Program — that will provide a combined $90 million in emergency assistance..
Know of a business or organization that's bending the rules of Illinois' stay-at-home order? You can call the Champaign-Urbana Public Health District hotline at 217-239-7877 or send an email to coronavirus@c-uphd.org.
Joining a crowded closings and cancellations list: July's Balloons Over Vermilion (will resume in 2021) and all office work at State Farm facilities nationwide (employees will work from home).