Thursday's coronavirus updates | 21 new cases in Champaign County; Pryde: 22 active 'outbreaks' of 2 or more cases
Subscribe: Print or online
News-Gazette covers: How the crisis has played out on A-1
For 24/7 coverage, follow us on Twitter, Snapchat, Instagram and Facebook.
Champaign County Health District: COVID-19 information
State map: COVID-19 cases by county
Have a story to tell? Email news@news-gazette.com
****
The number of confirmed COVID-19 cases in Champaign County grew by 21 today, to 497.
Of those, 271 are now considered recovered and 219 are active, a significant change from a day earlier, when there were 239 active and 230 recovered.
Five residents remain hospitalized.
Countywide, there are 22 active "outbreaks" in Champaign County, C-U Public Health District Administrator Julie Pryde said today. (An outbreak is defined by state health officials as two or more cases at the same facility).
Public health is seeing clusters of cases linked to employees congregating at work or after work, Pryde said.
She urged workers must maintain social distances in common areas such as break rooms.
Employees who don't live in the same household shouldn't be driving to work or eating lunch together, she said.
****
37 CASES IN VERMILION COUNTY
Three new cases were reported today in Vermilion County, according to the local public health district.
The county's total now stands at 37, including one death.
****
STATE GUIDANCE COMING 'VERY SOON'
Hair salons and barbershops will receive guidance from the state on what precautions will need to be in place "very soon," Gov. J.B. Pritzker promised at this afternoon's daily COVID-19 briefing.
"We have guidance documents that are being prepared to make sure people have enough time to open safely," Pritzker said.
Salons and barbershops will likely be allowed to reopen for business — with social distancing rules and other safety precautions — a week from Friday, when all four regions statewide are expected to advance from Phase 2 to 3.
****
1 NEW CASE IN FORD COUNTY
Ford County reported its 20th confirmed case this afternoon.
Of the 20, 13 have been released from isolation, six remain in isolation and one resident has died.
****
ILLINOIS CHAMBER CALLS FOR CHANGES 
"Barring some catastrophic thing that happens in the next eight days," all four regions will move from Phase 2 to 3 a week from Friday, Gov. J.B. Pritzker said.
But that won't bring back many of the jobs that could be gone forever or put a major dent in record-setting unemployment figures, state leaders have acknowledged.
That prompted Illinois Chamber President and CEO Todd Maisch to call for the governor to begin giving unemployment figures the same weight he does public health metrics when determining when regions can advance a phase in the state's Restore Illinois plan.
"Over 16 percent unemployment is its own crisis and the unemployment statistics need to be considered on equal footing with public health metrics," Maisch said in a statement.
"The administration has assembled a team of public health officials charged with bringing down COVID-19 statistics. The administration needs to appoint a team that is every bit as committed to bringing down the unprecedented figure of 16.4 percent unemployment in Illinois.
"Taking unemployment into account would encourage a more comprehensive and equitable reopening that incorporates ideas from the business community, like those in Senate Bill 3993 that Leader (Bill) Brady introduced yesterday."
****
29,307 TESTS A NEW 24-HOUR HIGH
On the day Illinois public health officials reported a single-day high 29,307 COVID-19 tests conducted statewide, the number of newly confirmed cases rose by 2,269.
That puts Illinois' total 102,686 cases, including 4,607 coronavirus-related fatalities, with the addition of 87 today.
IDPH Director Dr. Ngozi Ezike said 4,107 Illinoisans are hospitalized statewide with COVID-19, including 1,088 in ICU beds and 609 on ventilators.
The newly reported fatalities span 14 counties:
— Cook County: 1 male 20s, 1 male 30s, 1 female 40s, 1 male 40s, 2 females 50s, 6 males 50s, 3 females 60s, 5 males 60s, 2 females 70s, 5 males 70s, 2 males 80s, 8 males 80s, 3 females 90s, 4 males 90s.
— DuPage County: 1 male 60s, 1 female 70s, 1 male 70s, 2 females 90, 1 male 90s.
— Kane County: 1 male 30s, 1 male 60s, 1 male 70s, 2 males 80s, 4 females 90s.
— Kankakee County: 1 male 70s, 1 male 80s, 2 males 90s.
— Lake County: 1 female 60s, 2 females 70s, 2 females 80s, 1 female 90s.
— Livingston County: 1 male 70s.
— Madison County: 1 male 70s, 1 female 90s.
— McHenry County: 1 female 70s.
— McLean County: 1 female 70s, 2 females 80s.
— Rock Island County: 1 female 90s.
— Sangamon County: 1 female 80s.
— Stephenson County: 1 male 60s.
— Will County: 1 male 70s, 2 females 80s.
— Winnebago County: 1 female 50s, 1 male 60s, 2 females 80s, 1 male 90s.
****
From our Mary Schenk this morning in court:
URBANA — The attorney for a St. Joseph gym that was court-ordered last week to close has appealed to a higher court and the gym will remain closed while the legal machinations continue.
Champaign County State's Attorney Julia Rietz said a hearing scheduled Thursday before Judge Tom Difanis for a restraining order on The Zone, 109 N. Main St., was continued by agreement by her and Thomas DeVore, the Greenville attorney representing the business.
"His appeal alleged that we failed to attach sufficient documentation to our request for the temporary restraining order," Rietz said of DeVore's filing with the Fourth District Appellate Court in Springfield. "Our response says his appeal was not timely because he didn't seek dismissal of the emergency TRO in the trial court."
Difanis granted the temporary order May 14 and it was served that afternoon on the business, where folks were working out. A sheriff's deputy stood by while they left.
Rietz had presented Difanis with evidence that the gym had reopened in violation of Gov. J.B. Pritzker's order that such non-essential venues remain closed until the spread of coronavirus has substantially slowed.
However, the business reopened May 13 in defiance of the order, following a May 6 letter that DeVore sent to Rietz, Sheriff Dustin Heuerman, and Krista Jones, president of the Champaign County Health Department. In it, he outlined the plans of D&K Fitness, the operators of The Zone, to reopen, maintaining that to do so was not a risk to public health.
Rietz, unlike many state's attorneys in other smaller area counties, responded with the request for the restraining order and a notice of public closure from the Champaign-Urbana Public Health District. She countered that its reopening was "significantly endangering the public health and welfare."
More in Friday's News-Gazette
****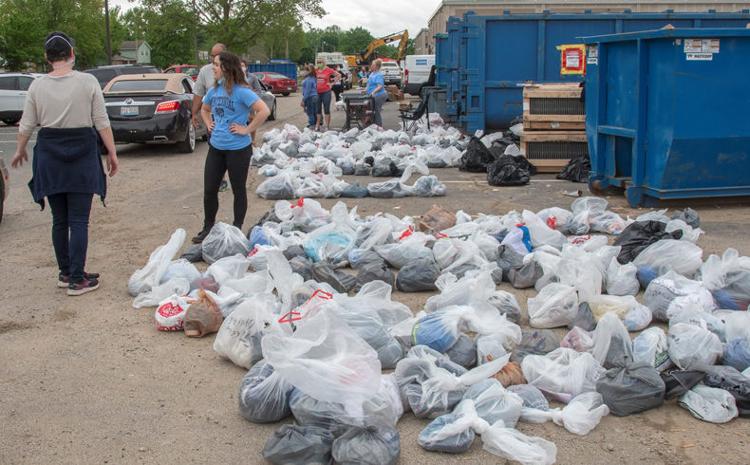 MORNING BRIEFING:
■ Good news, golfers: The edited version of the state's Restore Illinois plan also allows foursomes to share a tee time (it's twosomes only now) and carts to return to courses (one person max, unless your playing partner is a family member) starting a week from Friday.
■ Lost in the hubbub Wednesday: Illinois becoming the third state to surpass 100,000 confirmed cases, previously only reached by New York and New Jersey. Five states have reported more coronavirus-related deaths than Illinois.
■ Active cases (239) now outrank recovered ones (230) in Champaign County, a rarity during the pandemic. The number of residents hospitalized remains five.
■ Eleven of the 27 cases added to the county's total are residents of Champaign's 61820 ZIP code, which has had 86 cases. That's second only to Rantoul's 61866, which saw its total grow by nine, to 127.
■ Barring a major change in the state's social-distancing rules, the local late-summer lineup won't include Urbana's Labor Day Parade or Sweetcorn Festival. C-U's mayors both signed emergency orders that suspend through Sept. 7 the issuance of special-event permits needed for activities that draw big crowds to public property. Should the public-health outlook improve, both mayors said they'd reconsider granting permits on a case-to-case basis.  
■ Douglas, Ford and Piatt counties each reported one new case, with Piatt's involving a 46-year-old female health care worker in Champaign County. "She is having no signs or symptoms at this time," said DeWitt/Piatt Bi-County Health Department Administrator David Remmert.
BY THE NUMBERS:
Illinois: 100,418 cases / 4,525 deaths
Champaign County: 476 (+27) / 7
Douglas: 27 (+1) / 0
Ford: 19 (+1) / 1
Piatt: 8 (+1) / 0
Vermilion: 34 (—) / 1